How one resort is saving the world, a grain of sand at a time
On a recent trip to Honolulu, the director of sales at a major Waikiki hotel looked down from an upper-floor patio and remarked to me, wistfully, that the famed beach needs more sand. It's true. The fringe of sugar-soft powder is narrower than it once was, but what most visitors don't realize is that Waikiki Beach is man-made. Almost all that sand was imported—from California, China and elsewhere in Hawaii—and erosion and sea rise are washing it away.
Globally, in fact, the world is running out of sand. As a recent report in the journal Science noted, it's in demand for much more than beaches. Concrete, roads, glass and electronics, shale gas extraction and land reclamation projects all depend on sand. Over-exploitation of global supplies is damaging the environment, endangering communities and promoting conflict. Amazingly, organized crime groups in India, Italy and elsewhere have gotten into the illegal sand trade, and Asian countries have begun fighting over sand.
Enter Kurt Bjorkman
But can anyone imagine Waikiki without sand? Maybe Hawaiian authorities should get in touch with Kurt Bjorkman.
He is general manager of The Ranch at Laguna Beach, a 97-room luxury resort in Southern California. And he makes sand.
His resort was first in the continental United States to install a GL Sand Machine, a "glass crusher" that returns all beer and wine bottles emptied on his property back to the sand from whence they came. Made in New Zealand, the device pulverizes glass once bound for an off-site recycling center—and all the effort, energy and expense that entails—into sand that replenishes a specially designated bunker on the hotel's nine-hole Ben Brown's golf course. Tongue-in-cheek signage informs golfers unlucky enough to be in that sand trap that they are blasting their way out of someone else's party.
"Did you know 40 percent of all glass bottles put in recycling bins end up in the landfill?" asks Bjorkman, a self-professed sustainability news junkie.
It only takes four cases of wine bottles, he says, to produce five gallons of sand. For weddings, he does a special crush with champagne bottles and presents a locket filled with the green sand as a memento to the bride, her bridesmaids and the families. For meetings, he's thinking of filling hourglasses to present as a reminder of the event's sustainability.
Upping Your Green Game
Why is this so noteworthy?
Planners know the fundamentals of green meetings. Reuse, recycle, reduce has become a mantra in hospitality, initially sparked by Al Gore's documentary An Inconvenient Truth in 2006 and the subsequent penciling out of all the money that is saved via eco-efficiencies. But we in the meetings world need people such as Bjorkman to remind us there is always more to be done. As headlines remind us daily, now is not the time to think of environmental stewardship as yesterday's news.
He also reminds us that with such effort comes recognition.
National Geographic Society recently chose The Ranch at Laguna Beach as one of its Unique Lodges of the World, a prestigious collection of boutique properties spanning 30 countries and six continents. Only three other lodges were selected in the United States. Bjorkman says the society's sustainable tourism inspector spent a week onsite, evaluating operations and meeting with everyone from him to the kitchen staff. The property was vetted, based on the pillars of environmentally friendly practices, protection of natural heritage, protection of cultural heritage and support for local communities.
Other major sustainability initiatives include an irrigation system that uses recycled and filtered water; a partnership with Clean the World, which repackages and distributes partially used guest room soap and other personal care products to impoverished people around the world; and a partnership with The Ecology Center of Southern California in a half-acre garden—the largest organic garden in Laguna Beach—that yields seasonal veggies, fruit and herbs for the resort's signature restaurant, Harvest.
Other community outreach programs include teaming with Chefs to End Hunger, which delivers excess prepared food to local food agencies, and a staff volunteer project that has removed more than 2,500 pounds of trash and debris from Aliso Creek Channel in Mission Viejo.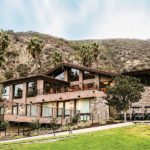 The Ranch at Laguna Beach (pictured), which dates to 1962, has just finished a top-to-bottom renovation of its 87-acre campus, which offers 6,000 sq. ft. of indoor meeting space, including a 3,000-square-foot ballroom with windows overlooking a scenic canyon and a 3,000-square-foot patio. A popular venue for team building, lunches and early-evening receptions for up to 150 attendees is known as Scout Camp; it's an environmentally protected area landscaped with hundreds of native plant species and a 7,000-square-foot event pad.