New names and more choices from veteran cruise operators give planners options
When Amy Robb, meeting group broker at Meetings Made Easy, was charged with rewarding 75 high-achievers with an incentive meeting that would be memorable, she suggested a cruise on Celebrity Cruises out of Fort Lauderdale.
"It is an easy way to give people options," she said.
Once on board, they can choose how they want to spend their time—testing their luck in the casino, attending a Broadway-style show, disembarking on adventurous excursions or sleeping in their cabin. Turnkey team-building options include everything from sushi-making classes from itame (chefs) to laser tag and miniature golf.
Culinary options are just as limitless. On the world's biggest cruise ship, Royal Caribbean's 228,000-ton Symphony of the Seas, 22 restaurants and 42 bars lure with Italian classics by celebrity chefs and Instagrammable candy concoctions. "That way everyone is happy," Robb reported.
A wave of hospitality brands that earned their reputation on land—Marriott International, Disney and Virgin Group, to name three—have recently announced their entry or expansion into the cruise market. Combined with new options designed just for groups from the big names in the industry, including Celebrity and Norwegian Cruise Lines, planners can now choose the experience that best fits their event. Following are some channel-markers to help you navigate your group's next meeting at sea.
Group Bonvoy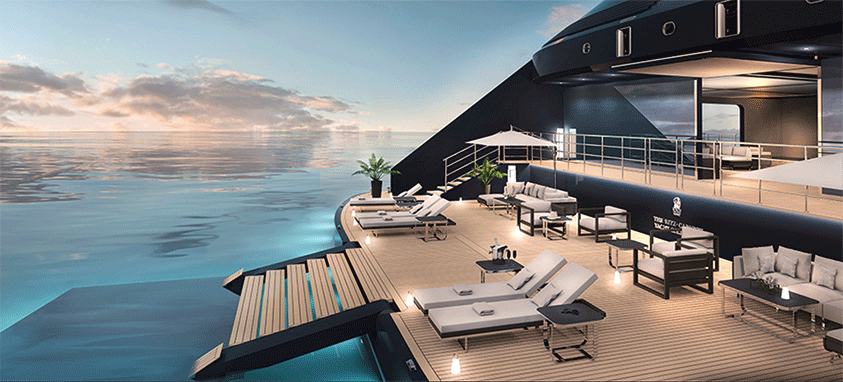 The Meetings at Sea program, coming in 2020 from Marriott International, could simplify the trip from the ballroom to the bridge. The Ritz-Carlton Yacht Collection will offer a fleet of three floating, 149-suite hotels, custom-built for cruising. They will feature private terraces, multiple dining venues, tech-enabled meeting room space and, of course, Wi-Fi. A flexible wall system allows suite layouts to be modified to fit the size of the group.
Brian King, global officer of global sales for Marriott International explained, "You can visit many countries—yet unpack just once." The trips can be easily coordinated with pre- or post-cruise events at luxury hotels, from Aruba to Mykonos, Greece.
Additional signature experiences available through the new Marriott Bonvoy rewards program include spa treatments, sunrise yoga and an encounter with a spiritual shaman, a day spent protecting wildlife, swimming with turtles in Tobago Cays and visiting a winery in Bordeaux with a sommelier. All are designed to operate at a relaxed pace to give attendees plenty of time to savor the activity and place.
Limitless Voyages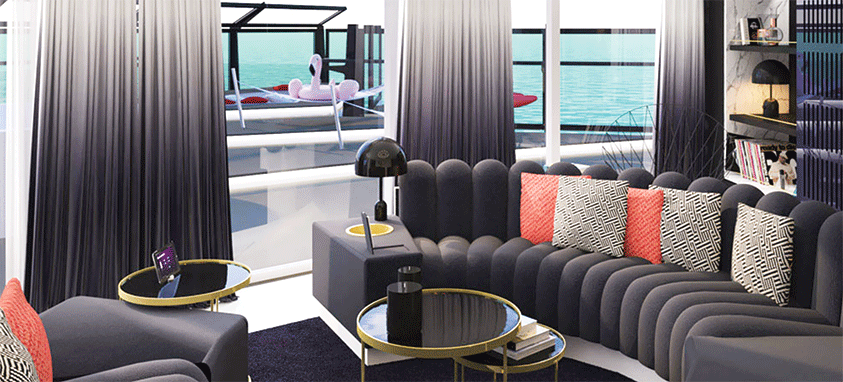 A new, adults-only cruise line, Virgin Voyages, will embark on its maiden trip in April 2020. A joint venture of Virgin Group and Bain Capital, it is the brainchild of Richard Branson, who said he likes to enter industries where he feels "the consumer is being cheated and there is room for improvement." Expect features that could shake up expectations for on-board experiences.
The stays, described as "24/7 festivals at sea," do away with buffets, tips and single-use plastics. Culinary choices inspired by iconic restaurants from around the world are included in the price of the cruise. Staterooms feature tablets with an app to control everything and a satellite beaming free, high-speed wireless service to the ends of the vessel. The first ship, Scarlet Lady, will operate from a home port in Miami and accommodate 2,800 "sailors."
Happiest Places on Water
Disney Cruise Lines leverages its trademark hospitality brand to deliver a high-touch experience for passengers of all ages. Extravagant live shows and 3D Disney movies under the stars bring favorite stories to life. Themed trips can add to the fun. From Star Wars to Marvel characters, everyone can get in on the fun of sailing with princesses and super-heroes.
In 2020, Adventures by Disney will feature group cruise packages in Europe, Alaska and the Caribbean. Adventure guides bring the destinations to life with storytelling and carefully planned tours that hit all the most important spots, without all the lines.
Star Power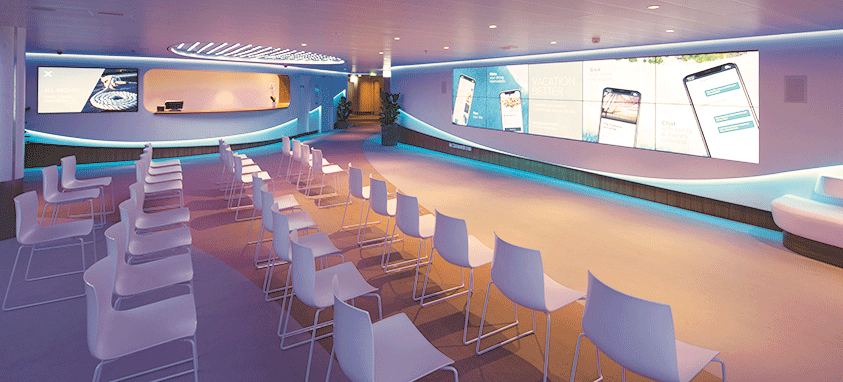 Miami-based Celebrity Cruises has been treating people to luxury water adventures since 1988 and prides itself on the attention to detail in its diverse fleet of vessels. The company is spending more than $500 million to renovate the fleet of mega-ships, with assistance from elite hospitality design firms.
The Celebrity Revolution, which was reimagined and unveiled this year, includes upgrades, such as an exclusive retreat sundeck with a hot tub and cabanas, cashmere mattresses and new restaurants featuring innovative culinary concepts inspired by the global foodie movement and available for group buyouts. A plus for groups, comprehensive Xcelerate Wi-Fi will keep everyone connected, even when they are unplugging. Speaking of unwinding, new spa options include a Persian Garden thermal suite, a Turkish bath, an infrared sauna and salt therapy.
Coming in 2021 is the intimate, 100-passenger Celebrity Flora ship, designed specifically to ferry groups to the natural beauty of Galapagos Islands. The ship, and a smaller, sister vessel, Celebrity Xpedition, embody a sustainability ethos that includes advanced energy efficiency and an open-air stargazing platform.
Short and Unique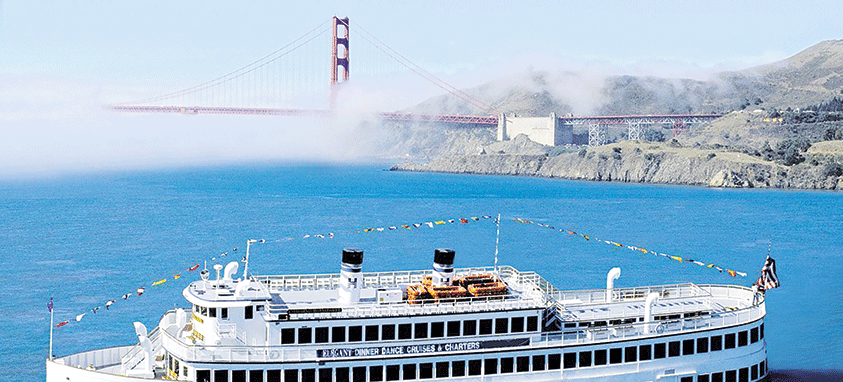 A floating meeting doesn't have to require a suitcase. Hornblower Cruises & Events offers one-, two- and three-hour excursions out of the California destinations of San Francisco, Newport Beach, Marina del Rey and San Diego, as well as New York City. These convenient outings take attendees out of the office mind-set.
Forget about the booze cruise. Turn a sunset excursion into a team-building activity with a salsa cook-off, scavenger hunt or wellness retreat. One option in San Diego is to stock the bar with fruit-infused waters, pipe in relaxing music and bring along a yoga, Pilates or Zumba teacher. Or, go ahead and imbibe, but turn it into a wine workshop where attendees produce and pitch their wine concoctions with the help of a trained sommelier. While sniffing and swirling to test varietals and blends, team participants just may find they enjoy working together.
Smart Tip: A planner loyalty program makes it easy to program in multiple unforgettable trips each year for top performers, clients and other VIPs.
Cruising Unchained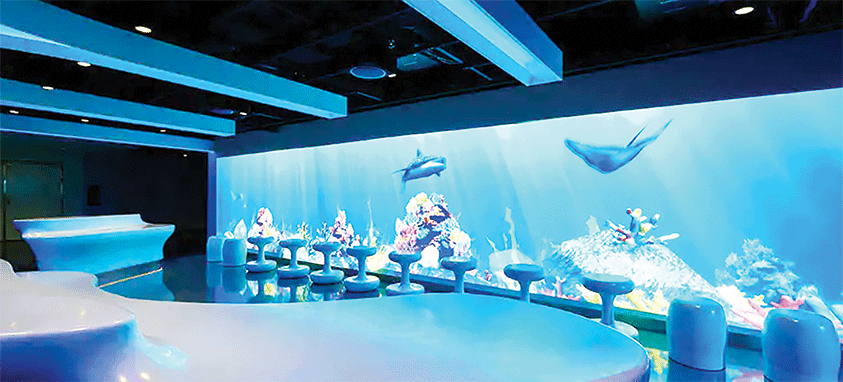 Norwegian Cruise Lines offers what it calls freestyle cruising, with flexibility built into all 65 itineraries, bound for 52 countries. Adventures range from plank walking to deck parties and an actual carting racetrack on Norwegian Bliss, a 4,004-person vessel that cruises in Alaska, the Bahamas and to the Mexican Riviera. It also features a rewards program that will appeal to frequent cruisers.
Music-themed cruises bring the festival on board with cross-genre bands fronted by music superstars. With six music venues on one ship, artists as diverse as Emmylou Harris, Bon Jovi and The Trailer Park Boys have entertained groups day and night.
Don't Leave Anyone Behind
Before your group can board, you have to get everyone to the dock. Robb of Meetings Made Easy suggests flying everyone in the day before so no one misses the boat due to a delayed flight. Holding a welcome reception the night before at a hotel property will let everyone get to know each other before the gangplank is raised. This is also a perfect time to take a group photo.
Once aboard, meeting concierges can help everyone feel included by planning personalized meals. Lisa Vogt, associate vice president of corporate incentives and charter sales at Celebrity Cruises, says chefs—and the entire crew, for that matter—are carefully trained to accommodate any special needs. With so many choices, finding something that fits all diets and tastes usually isn't difficult.
Include Plus Ones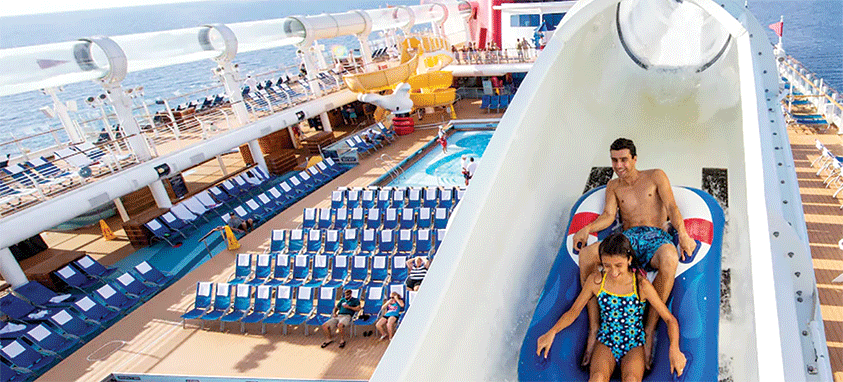 Allowing attendees to bring significant others will increase attendance and control costs, Robb says. "The idea of leaving a spouse home with the kids for six days while you cruise to Mexico doesn't always go over well," she explained.
Also, most cruises are priced based on double-occupancy, so it often doesn't cost much more to include a family member, and it is a nice way to recognize the role a supportive family plays in a high-achiever's success.
Some cruises encourage bringing the kids, as well, by offering kids camps and themed areas. The extreme example of this is Disney Cruise Line, which caters to younger travelers with staterooms designed for families, waterslides, costumed pirates and princesses, and nightly fireworks.
Tips for a Smooth On-Boarding
Even though cruising is considered a one-stop shop for creating a memorable event, careful planning is required to ensure the meeting's goals—whether it is rewarding the sales team or cocooning the executive board for some high-level planning—are not disrupted by any unexpected elements other than a killer sunset over the ocean.
Negotiate for Unlimited Pina Coladas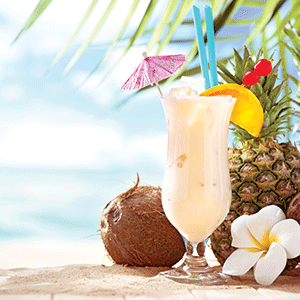 While most things on the boat are included, alcohol often isn't, and as many times as you explain that in emails before the event, it can be uncomfortable if guests are hit with a big bill for all those drinks from the pool bar upon disembarking.
Celebrity Cruise Lines offers the Go Big, Go Better, Go Best program, which allows the planner to choose between offering complimentary beverages, Wi-Fi or gratuities at the base level, with two of the options at the higher price and three for a premium.
Planners can also gift attendees with onboard credits that can be used at shops or for additional excursions. Ask your representative on whatever brand you are booking to negotiate a package and then explain it to attendees before they board.
Find the Right Size
The trick is to find a ship that is big enough to offer all the amenities attendees want, but not so big that they never see each other as they pass on the lido deck.
Assigned seating at dinner can help people touch base after a day of individual activities. Buyouts of restaurants can give the impressions of a party within a party, where everyone knows their name.
Time It Right
If you do your homework and can be flexible on dates, you can get better prices and avoid the awkward situation of placing a group of accountants on a ship full of spring break partiers. Also keep in mind that even though a trip is billed as a seven-night voyage, you can customize the stay by embarking at the site of a later stop or departing at an earlier destination.