Catalina Canyon Resort & Spa, Avalon, California
Unique touches make small meetings and executive retreats even more special
Colin Cowie, party-planning maestro, believes meeting experiences can help retain employees by making participants feel special while simultaneously reinforcing a company's story.
"Romance them," Cowie says. "Everyone is looking for an experience. We've learned how to make [attendees] feel special. It's all the small touches that tell your story."
Last month, Cowie introduced a new concept in planning with the debut of an onsite event salon at Rosewood Sand Hill hotel in Menlo Park, California. One of the key meeting properties in Silicon Valley, Rosewood is a magnet for venture capitalists thanks to its central location between San Francisco and San Jose, and it has purposefully evolved as a networking hub, with a bevy of intimate spaces for people to connect.
Now, it has the distinct advantage of a team of planners and the new The Event Studio by Colin Cowie, designed to showcase event trends and possibilities.
"I'm like a kid in a candy store," Cowie says about accenting Rosewood's variety of event space. "I have so many places to play."
Here are two dozen properties and destinations for small meetings and executive retreats where participates can meet and play.
The Brazilian Court, Palm Beach, Florida
A Taste of Luxury
The new collaboration between Cowie and Rosewood Sand Hill blends event expertise and luxury for a concept that is well suited to Silicon Valley's international audience and expectations. The one-stop shop for high-end soirees and corporate gatherings displays a curated collection of chinaware, flatware, linens, glassware, flower arrangements and other personalized event amenities sourced by Cowie from leading Bay Area vendors.
The Forbes Five Star property features 121 guest rooms and suites, and 16,876 sq. ft. of indoor and outdoor event space, including a 2,769-square-foot ballroom and three boardrooms. The 2,372-square-foot presidential suite can be reconfigured for an exclusive, luxury experience.
Silicon Valley got another boutique property in March when The Clement in nearby Palo Alto opened as one of the most innovative, personalized and unique luxury hotels in the country. The 23-room Clement sets a new standard for personalized accommodations with an all-inclusive concept that features personalized concierge services. For example, in-room mini-refrigerators are stocked with each guest's favorite wine, beer and cocktails. Networking takes place in the cozy living room, outdoor terrace and rooftop deck.
In the heart of Napa Valley's foodie capital of Yountville, Vintage Estate is a 23-acre property that includes the 112-room Villagio Inn & Spa and 80-room Vintage Inn, both AAA Four Star rated. This California property provides a variety of meeting, including an outdoor pavilion and gardens that offer 16,000 sq. ft. of event space, and a historic barrel room that has 2,700 sq. ft. There's unprecedented access to an amazing number of award-winning restaurants and their celebrity chefs. Tiny Yountville boasts The French Laundry, Bouchon Bistro and Ad Hoc, all by Thomas Keller, and Bottega Napa Valley by Michael Chiarello.
The Brazilian Court in Palm Beach, Florida, defines luxury. And considering the famous Forbes Four Star resort dates to 1926 in one of America's most upscale towns, it actually helped create the concept. Steps from some of the finest shopping, dining and art galleries on famous Worth Avenue, the 80-suite resort features award-winning Cafe Boulud, created by world-renowned chef Daniel Boulud. The hotel offers 3,850 sq. ft. of indoor and outdoor event space, which is ideal for small meetings and executive retreats. The 1,152-square-foot ballroom boasts a dramatic glass skylight. The 720-square-foot conservatory holds up to 70 for intimate, glamorous receptions.
"We want our guests to enjoy an atmosphere that is sophisticated yet completely relaxed—somewhere they can come any time of day to meet, eat and drink in a beautiful setting," says Leticia Bilotta, general manager of Brazilian Court.
Escape the Ordinary
Executive retreats that transport corporate brain trusts to someplace unique often facilitate problem-solving and creative thinking for which the gathering was intended. From fresh mountain air to off-the-beaten-path resorts, there are unlimited options for executive retreats and small meetings.
The Alisal Guest Ranch and Resort, near Solvang, California
The Alisal Guest Ranch and Resort, 3 miles outside Solvang, California, is big and small. The private 10,000-acre getaway in Santa Ynez Valley wine country is huge when it comes to amenities, including two 18-hole golf courses, 100 quarter horses and 50 miles of riding trails, and its own spring-fed lake.
It's possible to rent the ranch for $50,000 a night, taking over its 73 premium guest suites and studios and its 6,000 sq. ft. of meeting space. Executives will appreciate access to a private chef and unique dining venues such as the shores of Alisal Lake and rodeo arena. Save time for a spa treatment after horseback riding or a round of golf.
Located 80 miles from downtown Chicago and 50 miles from Milwaukee in Fontana, Wisconsin, The Abbey Resort is the only full-service resort on the shores of Lake Geneva. It celebrated its 50th anniversary in 2013, with a multimillion-dollar renovation of meeting space, common areas and the exterior. Seasonal ice skating and boat rentals, along with bicycling, sand volleyball and disc golf, will keep everyone in the group happy when not meeting in the resort's 40,000 sq. ft. of space. The Abbey has 334 suites and 13 luxury villas.
Lied Lodge & Conference Center in Nebraska City, Nebraska, really doesn't have any peers, focusing equally on sustainability initiatives and unique meeting experiences. Designed as a gathering space for Arbor Day Foundation members, it has evolved into a multipurpose conference center with environmental programs. There are 140 guest rooms and suites, and meeting space for up to 200. The 260-acre property features an Arnold Palmer-designed golf course, with conservation principles in play such as the importance of windbreaks to the life of creeks and the use of native grasses, which require less fertilizer and pesticide use.
A longtime favorite of corporate executives during ski season, Sun Valley Resort in Idaho offers as many types of lodging and meeting space as activities. There are 108 and 105 guest rooms at Sun Valley Lodge and Sun Valley Inn, respectively. Apartments, cottages and condos account for 227 more guest rooms. The resort has 35,000 sq. ft. of indoor and outdoor event space, including 11 areas designed for under 150 attendees. Even the 8,470-square-foot ballroom can be divided to the perfect size for 150.
The resort boasts 18 lifts with 2,154 skiable acres, including 121 total runs. The gondola and chairlifts provide access to hiking and biking trails when weather permits. Among the 45 holes of golf is a Robert Trent Jones Jr.-designed course. The tennis center has 17 courts and there are three heated outdoor pools.
"Hosting a meeting or event in a location like Sun Valley can stimulate the mind while offering guests the opportunity to experience all that the outdoors has to offer," says Tim Silva, vice president and general manager of the resort. "Sun Valley is a perfect fit for meetings of all sizes. A classic destination for many groups over the years, Sun Valley offers the best of both worlds: a state-of-the-art meeting space nestled within one of the world's best year-round resort destinations."
Conveniently Close
When you only have a one- or two-day window to sneak away from the office or gather for a post-convention executive retreat, convenience will be your friend if you're seeking a venue and destination that inspires.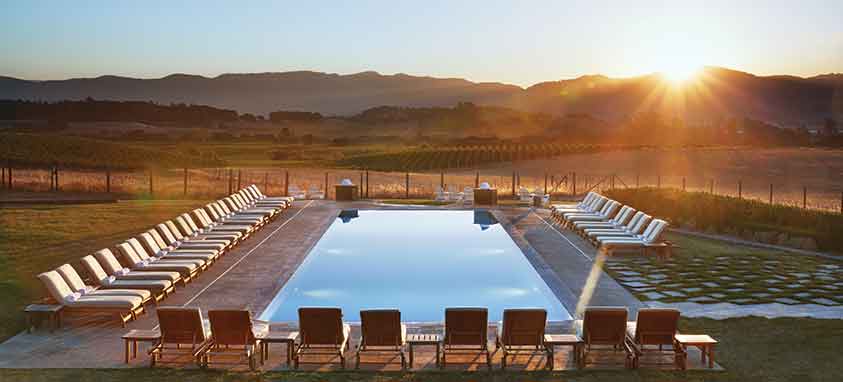 Carneros Resort and Spa in Napa, California, is about as convenient as it gets for companies based in the San Francisco Bay Area and those meeting there for citywides. The beauty of this resort is that it's one of the first properties you get to in Napa Valley, providing a wine country experience en route and onsite. Meeting venues include a 75-person hilltop dining room with floor-to-ceiling windows and outdoor patios, a 1,872-square-foot ballroom and a courtyard. The 28-acre property, which has completed $9 million in renovations this year, offers 86 cottages and 10 suites.
"What people like about meeting at Carneros Resort and Spa is that we bring the passion of food, wine and service in a one-of-a-kind setting," says Ricardo Ramirez, director of sales. "Our planners tell us we are the true essence of the wine country and the ideal location for their executive retreats and meetings. We make the planning process easy."
Thirty minutes north of Seattle, Tulalip Resort Casino is a 370-room AAA Four Diamond luxury property that provides easily accessible entertainment when meeting in the Pacific Northwest. Enjoy a concert at the 3,000-seat amphitheater or check out a comedy act in the 1,665-seat Orca Ballroom. The 4,784-square-foot Chinook Ballroom can be divided into four rooms or combine sections to accommodate 100 to 500. There are six other small meeting rooms, including two boardrooms.
Situated on 2,500 acres of unspoiled paradise, Ocean Reef Club is 50 minutes south of Miami International Airport (MIA) in Key Largo, Florida. The oceanfront resort has 275 guest rooms and suites, and more than 30,000 sq. ft. of indoor and outdoor meeting space. America's only living coral reef is in its backyard for snorkeling and diving. There are two 18-hole championship golf courses, 20 tennis courts, a 175-slip marina for boating and a spa.
Break away from the Greater Los Angeles area for an island retreat that's less than an hour away. Catalina Island Chamber of Commerce & Visitors Bureau loves to help groups arrange small meetings and executive retreats. Catalina is accessed via ferry from four Southern California ports—Dana Point, Newport Beach, Long Beach and San Pedro. To really wow participants, consider flying them via helicopter from one of the local airports.
A key property for executive retreats, Catalina Canyon Resort & Spa has two conference rooms that hold 80 and 150, respectively, and unique outdoor event space. The 75-room resort has a restaurant and bar, a spa and a heated pool, and is walking distance to Avalon town center and Art Deco Catalina Casino, which dates to 1929. Santa Catalina Island Company has six properties on the island, including the 71-room Pavilion Hotel, 91-room Hotel Atwater and Mt. Ada, a mansion with six guest rooms, all in Avalon. Catherine's Terrace at Descanso Beach Club can accommodate up to 250 for receptions and 160 seated theater-style.
Diablo Valley Tourism Business Improvement District, which includes the city of Concord, California, is 28 miles from San Francisco and 32 miles from Napa Valley. It features one of Northern California's recreation jewels in Mount Diablo State Park and its towering 3,849-foot peak. Concord Pavilion, an outdoor concert venue that is rentable, and Waterworld California add to Diablo Valley's fun factor. Meetings properties include the 329-room Hilton Concord, which has 20,000 sq. ft. of meeting space, and the 324-room Crowne Plaza Concord/Walnut Creek, which has 26,300 sq. ft. of meeting space. Clarion Hotel of Concord offers 198 guest rooms and a recently renovated 4,500-square-foot ballroom.
The Main Attraction
Come for the meetings, but stay for the attractions. There's nothing wrong with meeting in a destination that offers plenty to do, including theme parks, professional sports and historic landmarks.
Sheraton New York Times Square Hotel has a concierge available 24 hours a day to help guests take advantage of Broadway shows, sporting events, concerts and sightseeing tours. The hotel features 1,785 guest rooms and 60,000 sq. ft. of versatile event space amid the iconic sights of Midtown Manhattan.
Hilton Orange County Costa Mesa is the perfect base camp to enjoy all that Southern California has to offer. The property is less than a mile from Orange County Performing Arts Center and South Coast Plaza. The Major League Baseball Angel Stadium and Disneyland are 12 and 14 miles away, respectively. In case business calls for your group to attend a major convention at Anaheim Convention Center, it's 13 miles from the Hilton. Five minutes from John Wayne Airport (SNA), the 486-room Hilton has more than 50,000 sq. ft. of flexibility indoor and outdoor meeting space, including boardrooms and two private outdoor courtyards with water features.
Harbor Magic Hotels in Baltimore features three distinct small meeting properties that allow groups to enjoy Maryland's vibrant waterfront and experience local history. A shuttle connects the three properties so guests may experience each property to get the most out of their time in Baltimore.
Pier 5 Hotel is next to Baltimore's National Aquarium, behind Power Plant Live entertainment complex and a stroll from Inner Harbor promenade. It offers 66 guest rooms and 7,234 sq. ft. of event space. Dating back to 1770s, The Admiral Fell Inn is a member of Historic Hotel of America. The 80-room property features a rooftop venue with panoramic harbor views. The Inn at Henderson's Wharf was founded in 1893 and named for pre-Civil War merchant John Henderson. The former tobacco factory is a luxury hotel with a waterfront deck that accommodates 100 and a colorful tavern that dates to the 1750s. The Inn is less than 2 miles from the MLB Oriole Park at Camden Yards.
Make Networking & Fun Priorities
One of the beauties of small meetings and executive retreats is the maneuverability of the group, which often leads to really fun activities that reward participants and help them engage with one another.
Naples Grande Beach Resort on Florida's southwest coast offers inviting accommodations and cool things to do. There are 474 lodging units, including 50 garden suites, to go along with 83,000 sq. ft. of indoor and outdoor event space. The resort's Gulf of Mexico beach is premier, and kayaking is stellar. The recently renovated golf course, about 15 minutes away, has a new clubhouse to create a private, luxury experience with a built-in reception venue.
With the capacity of a grand meeting hotel and the intimacy needed for executive retreats, Rosen Shingle Creek in Orlando offers 1,501 guest rooms and suites and 490,000 sq. ft. of event space. There are 191 suites that are well-suited to executives; three presidential suites each measure 1,744 sq. ft. and include a spacious living room that can be used for small meetings and networking. Post-meeting activity options feature Single Creek Golf Club, lighted tennis courts, nature trails, sand volleyball and, of course, nearby Orlando attractions such as SeaWorld Orlando and Universal Orlando.
The Lake Tahoe area of California and Nevada is perfect for executive retreats, with luxury resorts and mountains to explore. A four-season destination, skiing is as popular here as summertime fun on awe-inspiring Lake Tahoe.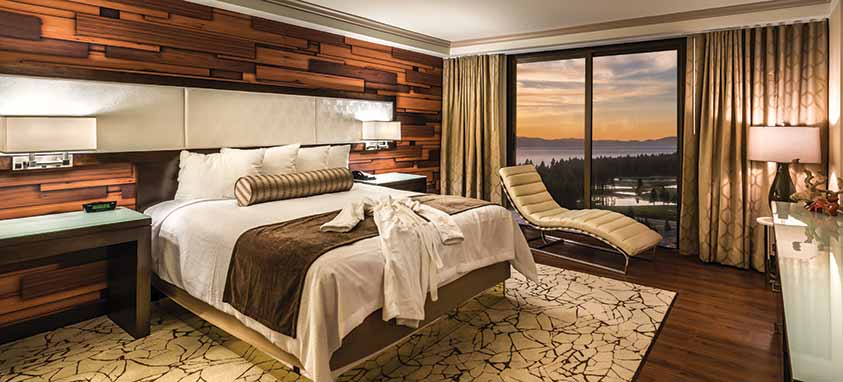 Montbleu Resort Casino & Spa, a Lake Tahoe property in Nevada, is owned by Tropicana Entertainment and is the place to go for nighttime fun. It offers traditional gaming and club action along with regularly scheduled entertainment. The 438-room Montbleu also features a spa, distinct restaurants, concerts and 16,000 sq. ft. of event space.
The Ritz-Carlton, Lake Tahoe is a AAA Five Diamond retreat 6 miles from historic Truckee, California. The Ritz features ski-in, ski-out access in winter and mountain concierge services for golfing, mountain biking and hiking in the summer. It's connected by intermountain gondola to the nearby Village at Northstar. A year-round destination, there are 170 guest rooms and 23 private Ritz-Carlton Residences, and 15,000 sq. ft. of meeting space. The resort is building an exclusive lakeside beach club that is scheduled to open next summer.
"Our meeting rooms are such a variety of sizes that they can be personally customized to groups to make them feel special," says Robin Penning, communications manager for The Ritz-Carlton, Lake Tahoe. "Some other places can overwhelm groups with their size."
---
Event Trends, Courtesy of Colin Cowie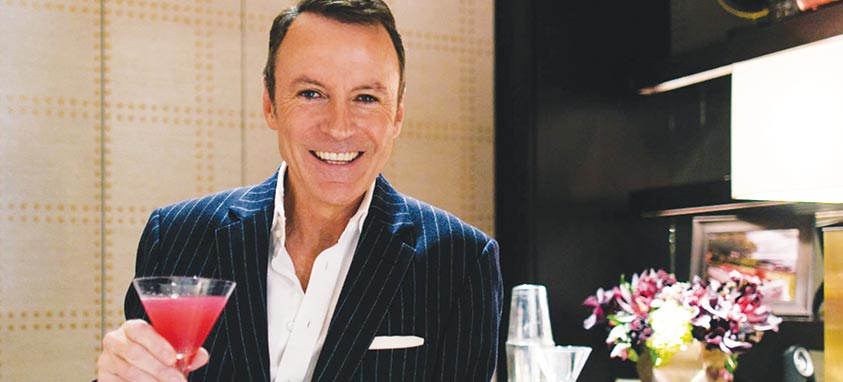 Colin Cowie is an event planner extraordinaire and regular contributor for NBC's Today show. His latest project is The Event Studio by Colin Cowie, which opened in September at Rosewood Sand Hill hotel in Menlo Park, California. The trend-setter shared the following seven concepts event planners should consider implementing.
All about branding: From placing the company logo on bottled water to custom M&M's in the company's colors, creative touches like this are a great way to reinforce the brand.
Embrace corporate colors: Use linens that match the corporate colors versus the proverbial white you see everywhere.
Custom dining experiences: Instead of the traditional coffee and tea breaks that are the same each day, ensure that each experience is completely different. Work with the F&B team to customize offerings, and when possible, bring in local brands that are iconic to the destination. Bring the destination to them.
Residential-style merchandising of event space: Make the space more comfortable and appealing to attendees by creating a residential-style atmosphere with couches and side tables situated throughout the room, and by placing beautiful books, flowers and accessories on the tables.
Creative snacks that change throughout the day: For afternoon snacks, for example, use chocolate covered espresso beans and set up an espresso station where guests can help themselves at any time in the room instead of having to wait for the next coffee break. There's also renewed emphasis on healthier food and beverage options.
Unique spaces outside the boardroom: Instead of being confined to the meeting space, when weather permits, find outdoor spaces that are much more inspiring.
Personalized experiences for attendees: Make your guests and delegates feel welcome by personalizing experiences and amenities such as bags, money clips, notebooks, notepads and pens. Don't forget to personalize experiences outside of the meeting spaces, as well. For example, at the end of the day, when people retire to their rooms before heading out to dinner, have a custom, make-your-own martini kit waiting in each room for them to enjoy after a long day of meetings.
---
Smart Dispatch: Farmhouse Inn Serves Up More than Michelin Fine-Dining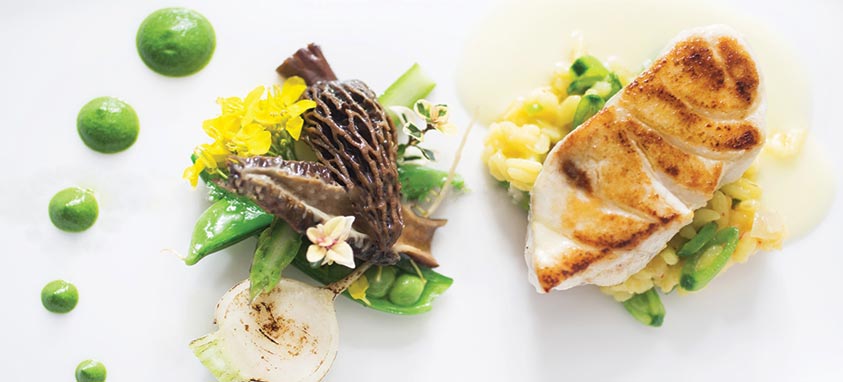 Known more for its culinary distinctions than for hosting executive retreats, Farmhouse Inn in Forestville, California, is slowly gaining in popularity as a destination where work and pleasure blend to foster productivity and unforgettable experiences.
Dating to 1873 when it really was a farmhouse, the boutique hotel and its Michelin-starred restaurant are smack-dab in the middle of Sonoma County's Russian River Appellation. There are tons of nearby wineries tucked away on off-the-beaten-path roads, giving groups a full-fledged wine country tour.
Farmhouse Inn's concierge can coordinate bike rentals so small groups can pedal from tasting room to tasting room to soak up the best of California's viticulture. Of course, other forms of transportation are available for groups more into tasting than biking. The Farmhouse also arranges offsite team-building activities through local outfitters.
Onsite, Farmhouse Inn, which opened in 2001, is larger than you might think, with six historic cottages and 19 other lodging units on the 6-acre property. All 25 guest rooms and cottages are available for buyout, creating a quick getaway for San Francisco-based executives or the perfect incentive destination to tag on to the beginning or end of a convention staged in Bay Area meeting cities.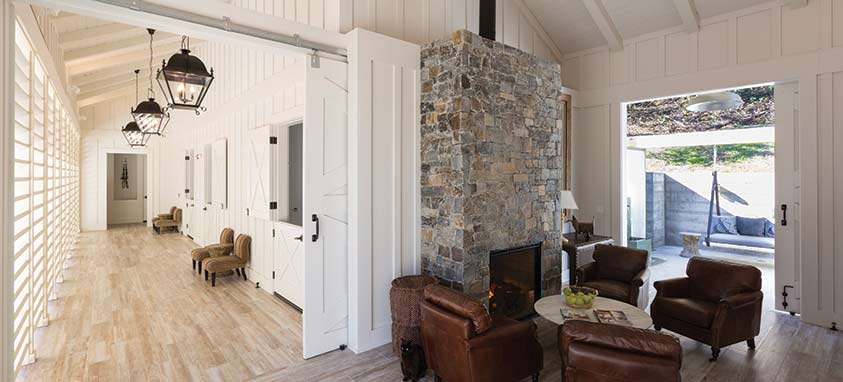 Maintaining its farmhouse flavor, the spa is designed like a barn, with treatment rooms resembling individual stables. The outdoor pool is so tranquil and inviting that guests often choose to remain on property rather than explore wine country.
Meeting space is becoming more important to co-owner Joe Bartolomei, who is a fifth-generation native of the Russian River. Current meeting space is limited to the historic restaurant, cottage living rooms and outdoor terrace. A new boardroom is expected to be complete next year and will hold up to 18.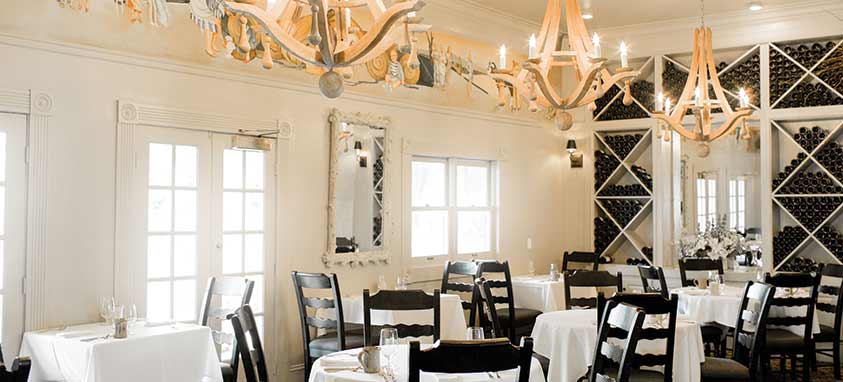 Long before wine dominated Russian River agriculture, Bartolomei's family was growing hops and shipping its product to beer-makers in Milwaukee. As hops gave way to grapes and farm-fresh food to support the region's renowned culinary scene, Bartolomei and his co-owner sister, Catherine, capitalized on both by opening their famous restaurant and their own wine label, Lost & Found, which produces about 1,000 cases a year.
The constant spotlight illuminating the Farmhouse Inn restaurant is justifiably bright, and it was only a matter of time before the meeting and incentive world found out there's much more to the historic yellow manor than Michelin fine-dining.
−Holly Woolard