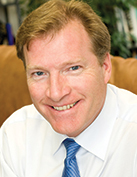 The lure of British Columbia is hard to resist. Vancouver, Canada's West Coast hub, draws visitors from around the world for its pristine beauty, surrounded by coastal mountains overlooking a vast blue expanse of the Pacific Ocean. Amid its stunning natural setting, Vancouver is one of the most diverse cities in North America, with a modern, cosmopolitan core experienced in places such as Steveston Village, an authentic fishing enclave and major culinary destination.
It's for these reasons Dave Gazley, vice president of meeting and convention sales for Tourism Vancouver, made this world-class city his home more than 20 years ago. The Winnipeg native began his career at what is now the Delta Hotel by Marriott Winnipeg. But after many trips to Vancouver, he fell in love with the island and eventually made the transfer to destination management, joining Tourism Vancouver in 1992.
Under Gazley's direction, the organization has enhanced its reputation as a meetings and conventions heavyweight, generating more than $1 billion in economic impact to the region. It was in no small part due to Vancouver's ability to attract world-renowned events such as the 2010 Olympics. Representing Canada on the world stage, Gazley presented to the International Olympic Committee Evaluation Commission during Vancouver's bid for the winter sporting event, creating an accommodation model for the Olympics that had never been accomplished before.
"Bidding for, leading up to and hosting the Olympics is a career highlight for many in Vancouver," he says. "Welcoming the world to your home is pretty special. The energy of the city during the Olympics was something I have never felt before or since."
However, he has come close. In January, Gazley co-chaired the local host committee for Professional Convention Management Association (PCMA) Convening Leaders annual meeting—a huge milestone in his career. With the partnership and support of Tourism Vancouver, Destination Canada and Vancouver Convention Centre, Gazley recognizes the hard work and dedication it takes to bring such major events to his city. This includes the Meeting Professionals International (MPI) World Education Congress in 2010; he notes that it produced the best post-event survey results the organization had ever seen.
In 2014, Vancouver began hosting TED Talks, gathering a prominent community of speakers and experts to share their perspectives from a forward-thinking city that's recognized as a leader on global issues such as sustainability. For example, the city's meeting facilities, including the expanded LEED Platinum-certified Vancouver Convention Centre (VCC), implement sustainable practices in all operations, embracing its eco-friendly ethos.
"The expansion of VCC was a tremendous accomplishment for the meeting and convention industry in Vancouver," Gazley says. "Our community really came together to ensure we did everything we could to open the expansion with as much quality business on the books as possible…It was a true team effort."
---
Smart Moves
Michele Lawrie
Michele Lawrie has joined the Visit Phoenix convention sales team as director of national accounts for the Greater Chicago area. A Chicago native, Lawrie comes to the destination management organization after spending three years in health-care information management. Prior to that, she worked in the sales division for Hyatt Hotels Corporation, working for seven years as director of worldwide accounts in Chicago.
---
Mark Jeffrey
Miramonte Resort & Spa, A Destination Hotel, announced Mark Jeffrey as general manager of the luxury property in Indian Wells, California. He comes from Horseshoe Bay Resort in Texas, where he also was general manager. Jeffrey began his career more than 20 years ago as director of services at Omni Rancho Las Palmas Resort in Rancho Mirage, California. In his new position, he will oversee all hotel services and staff development, including guest satisfaction, finance and employee morale.
---
Edan Ballantine
Edan Ballantine was appointed general manager of Hyatt Regency Mission Bay Spa & Marina in San Diego. Ballantine is responsible for management and operations of the 429-room landmark hotel. Most recently, he was general manager of Hyatt Regency New Brunswick in New Jersey. For the past 19 years, he has served in various roles, including director of rooms, and food and beverage at Hyatt properties across North America.