Richard C. Kessler is CEO and Chief Operating Officer of The Kessler Enterprise, Inc.
Hometown: Savannah, Georgia
Career: At age 23, Richard Kessler became the right hand to real estate developer Cecil Day and helped found Days Inn of America in 1970. From 1972 to 1975, he founded and led five estate development and operational companies. In May 1975, at the age of 29, Kessler became president and CEO of Days Inn and one year later, chairman. During this period he grew it into a very profitable national company. The chain was sold in 1984 and Kessler began his independent venture, The Kessler Enterprise, Inc., where he serves as president and CEO. In April 2010, seven hotels in The Kessler Collection launched the Marriott International Inc., Autograph Collection. Kessler served on the Industry Advisory Council of the American Hotel and Motel Association for seven years and has helped develop outstanding hospitality practices nationwide.
The Kessler Collection hotels: Casa Monica Hotel, St. Augustine, Florida; Kessler Canyon, DeBeque, Colorado; Castle Hotel, Orlando, Florida; Grand Bohemian Hotel, Orlando, Florida; Grand Bohemian Hotel, Asheville, North Carolina; Beaver Creek Lodge, Colorado; Bohemian Hotel Celebration, Florida; Bohemian Hotel Savannah Riverfront, Georgia; Mansion on Forsyth Park, Savannah, Georgia; Grand Bohemian Hotel Charleston, South Carolina; Grand Bohemian Hotel Mountain Brook, Alabama.
Mansion on Forsyth Park, Savannah, Georgia
Why is Savannah a great place to live, visit and meet?
First of all, it has the deep, rich history of the South that can be seen throughout the town. The South is known for its hospitality and Savannah (the Hostess City) offers the epitome of that. For those who are interested in interior design and architectural design, Savannah is a wonderful place to observe and enjoy truly a visually stimulating city. Another great element of Savannah is that it's a walking city; there is no need to jump in a cab to go somewhere. If you stay in any of our (The Kessler Collection) properties, you can literally walk anywhere within the destination. It's very convenient.
What's the most important thing you learned from working side by side with Cecil Day of Days Inn Hotels?
There is no one clear thing I learned working with him. The working relationship was very different than one might expect: Cecil wasn't a teacher. Cecil would give me responsibilities and I took the initiative to do them and figure out how to do them. The thing I enjoyed the most about working with him is that he gave me full reign to what needed to be done—it was always an easy relationship.
Do you recall an instance that you knew you would start your own luxury hotel collection?
During my time with Days Inn, I was starting up a separate division to do boutique hotels in the early 1980s. We had one property in Savannah and one in Orlando. It became clear to me that there was a market for boutique hotels that no one else in the industry was doing in 1980. After we sold Days Inn, I took some time doing other things in life and when I re-entered the hotel market a few short years later, it became very clear to me that I wanted to focus on one thing: boutique hotels.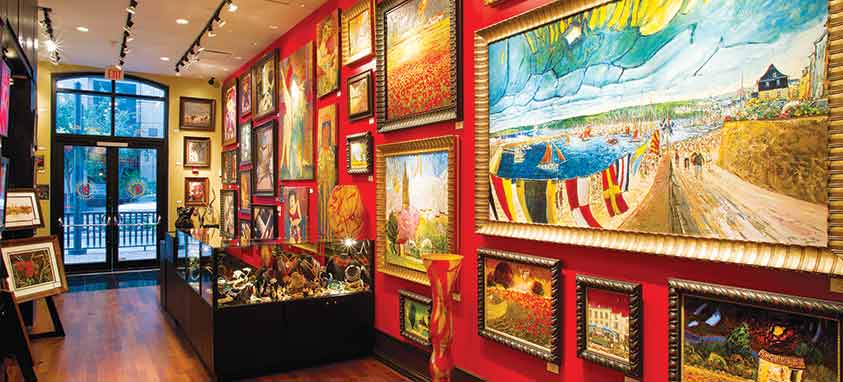 Grand Bohemian Hotel Orlando
The Kessler Collection includes several properties that have the word "Bohemian" as part of their names. What's the story behind the names?
I went to the Bohemian Club in California and was inspired by this. The Kessler Collection paints a redefined "Bohemian Experience" for guests, rooted in the history of Bohemian cultures, including classical European Bohemia, unconventional and colorful gypsy lifestyle and funky California free spirits. The bohemian approach to life defines the character of each hotel, where guest can feel a little creative, edgy and free.
Which properties among The Kessler Collection best reflect your personality?
This is hard to say, since each one reflects my personality in different ways. If I really narrow in on three, I would have to say Grand Bohemian Hotel Orlando, Mansion on Forsyth Park in Savannah and Grand Bohemian Hotel Asheville. With Grand Bohemian Hotel Orlando, being the first Grand Bohemian we developed, I put a lot of thought into this property and it was certainly about art and music. It was the theme and basis for Grand Bohemian hotels—beauty, art and music. Mansion on Forsyth Park started with a historic building, and my interest in historic structures was reflected through this project.
The development also created a challenge—blending a historic building and reflecting the old with the new. One thing I like about Mansion on Forsyth Park is that it's a very romantic hotel; the colors, the layout, the art and how we brought architectural pieces like columns from New York state mansions and Vietnamese Ballrooms. This certainly reflects part of my personality. Grand Bohemian Hotel Asheville features dozens of Red Stag mounts and that is something that really taps into my interest in hunting.
The $250 million conversion of the old Georgia power plant into the Plant Riverside project is expected to transform the riverfront. What part of the project excites you the most?
This is the first project I've ever done that is a multiuse development, where it's a combination of hotels, live entertainment and 13 F&B operations. I've always wanted to do a theme park and in a way it's my mini-theme park. There will be tons of music and entertainment constantly happening. It has so many opportunities to be creative, more than just doing a single hotel. It's in my hometown, where I've done six or seven hotels before, so this is the crowning project. There will never be a mixed-use development done in the historic district of Savannah because there isn't a site available. So we were fortunate to obtain this 1,100 feet in the historic district along the river, with a 1912 historic protective building on it.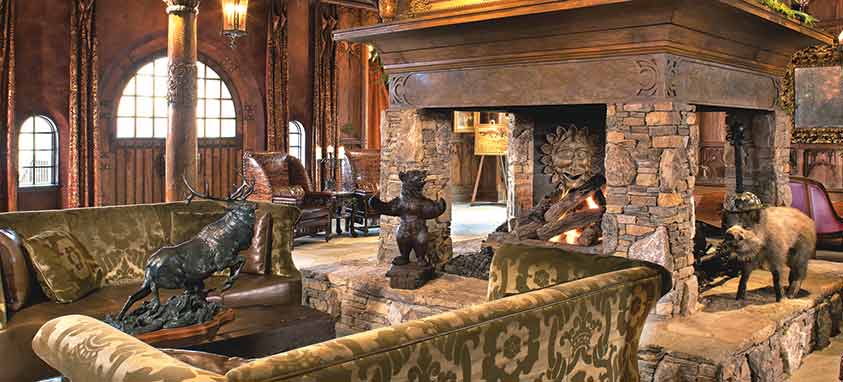 Grand Bohemian Hotel Asheville, North Carolina
Why do you pursue projects that involve historic, adaptive reuse opportunities? What's up next for The Kessler Collection?
First of all, you're preserving an important piece of history and repurposing a structure in a way that the original building wasn't meant to serve. It also allows for federal tax credits that help fund some of the costs of preserving a historic building. Also, these buildings are in very strategic locations. For example, Plant Riverside had a fence around it for 100 years and it was closed off to the public, which is crazy to think about considering it sits along the river and on one of the most visited areas within Savannah, River Street.
There is a lot in the pipeline for The Kessler Collection; we are always looking to expand into emerging cities. After the August groundbreaking of Plant Riverside, we'll be looking to break ground on projects in Charlotte, North Carolina; Greenville, South Carolina; and Sandy Springs, Georgia, outside Atlanta. All this will probably be happening at some point in 2017, hopefully.
If you hadn't become involved in hotel development, which other career path do you think you would have followed?
I could have done other types of developments, which would have been one career path. I also would've enjoyed being in the high-end jewelry business, trading color stones—I've always been fascinated with that. In high school, I considered being involved in the Lutheran community, whether it was as a pastor or in another role, because I'm interested in theological education, which is evident by what I've done today with the New Ebenezer Retreat Center and Treutlen House of Boys in Rincon, Georgia, and the Reformation Collection of imprints and manuscripts at Emory University in Atlanta.
I'm interested in music—not being a performer, but being in the music/entertainment industry. When I was in my graduate program at Georgia Tech, I went to Nashville to make introductions and had the opportunity to see people recording music, spoke with talent searchers and promoters, and had the chance to go where they were cutting records in the late 1960s. I looked into the music industry pretty carefully and if something had opened up in that area, I would have pursued it and enjoyed it.
Searching for top young talent and promoting it is in a sense is what I do within the Kessler hotels. Notice how I integrate my interest in music into our hotels: Bosendorfer pianos, our curated Bohemian Beats CD and very good music systems. At Plant Riverside, we will have a pipe organ concert every day at lunch time that will be played throughout the whole development and plaza outside, and it has a 4,000-seat live entertainment venue that was designed into the project. My love for music is also seen through the Kessler Excellence in Teaching Award, which provides scholarships for teachers in the performing arts.
What's your favorite thing to do in your free time in Savannah?
Walk down Bull Street. It goes around all the parks in Savannah, one park after the next, so you really have nice coffee shops, art galleries, antique shops and beautiful estate homes along the way. I really enjoy getting up in the morning, and I walk from Broughton Street all the way to the end of Forsyth Park (along Bull Street) and turn around and come back, it's about a 45-to-50-minute walk. It's such a beautiful walk, covered in live oak trees, statues and monuments, and great architecture, so it's something I really enjoy doing. It's the essence of Savannah.
To learn more about The Kessler Collection properties in Charleston, South Carolina, and Savannah, Georgia, see the Emerging Meetings Cities article.