Tips for making wellness work in a post-pandemic world
downtime
Like many industries, spa and wellness took a major hit at the hands of COVID-19. According to a 2021 study from the International Spa Association (ISPA), spa revenue and spa visits fell by 35 percent in 2020. This resulted in the industry having to be nimble and creative to entice spa-goers back into the treatment room, with spas introducing rigorous sanitation protocols, updated menus, touchless treatment options and outdoor experiences.
It seems the efforts are working. According to Yelp, searches for spas grew 26 percent year-over-year in June 2021 and 22 percent in July, while massage searches were up 16 percent in June. Still, the challenges of spa shutdowns resulted in reduction of staff. While spas are working to re-open and meet increased demand—and your attendees are looking forward to having wellness back into the mix during their meetings and events—you need to be prepared. Sanitization and staffing are likely going to be the two biggest factors that can impact the spa, fitness and wellness portion your next event this year and beyond.
Spa Sanitation & Safety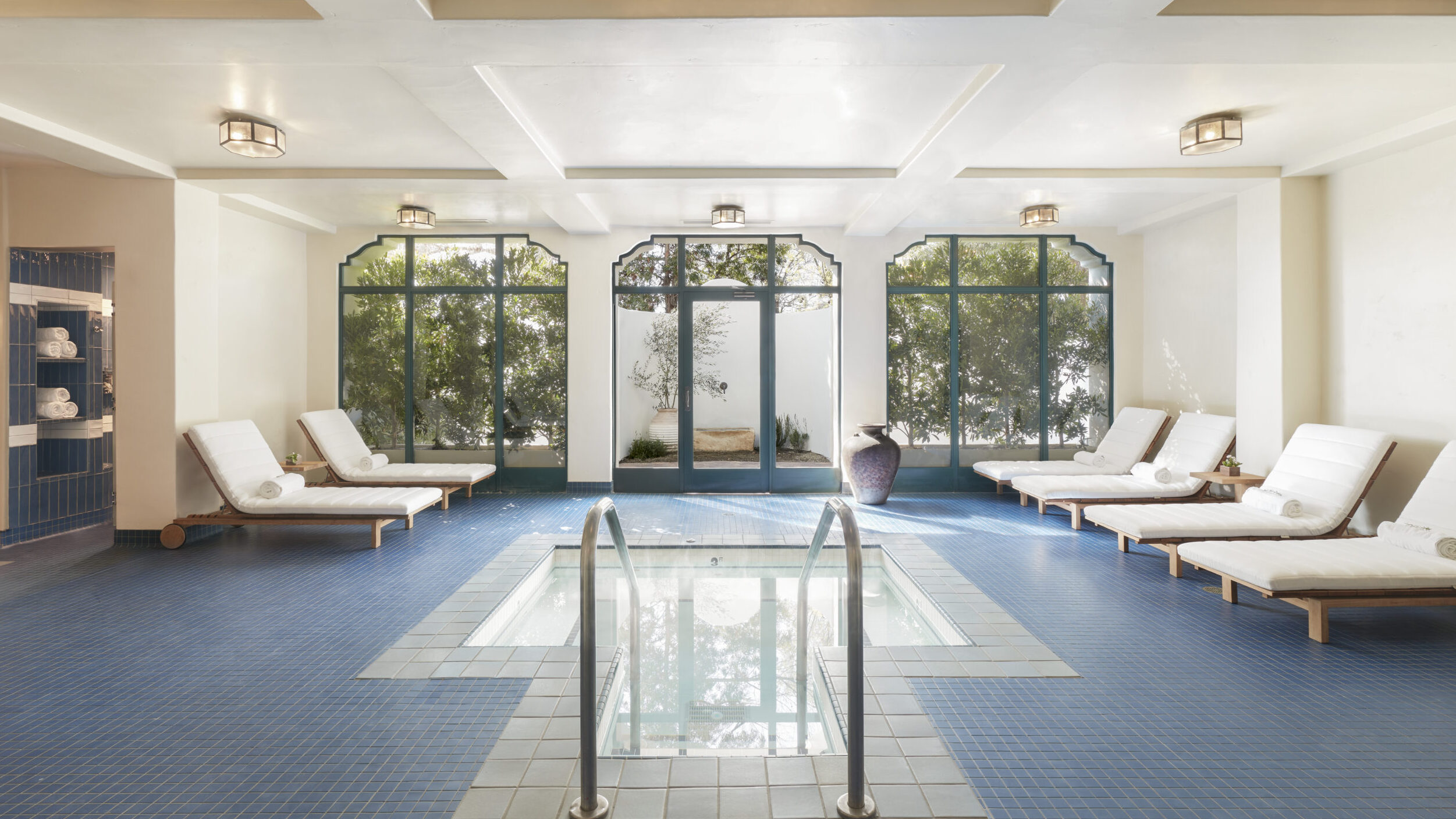 For the safety of your meeting attendees, your staff and the teams at your host properties, spa sanitization should be a top priority. Thankfully, most spa and wellness centers have developed meticulous methods to keep everyone healthy.
See also: Reframing the Concept of Self-Care (for the Busy MeetingProf)
The easiest thing to do is to remind your attendees that they should cancel any appointments if they are feeling ill. Because of the nature of Covid, many spas now accommodate last-minute cancelations without fees or penalties.
"Guests are asked to contact Spa Ojai at least 6 hours prior to an appointment time to reschedule treatments should they be experiencing a sore throat, high fever, chills, sneezing, coughing or runny nose," says Chris Kandziora, senior vice president of sales and marketing and facility operations for Ojai Valley Inn in California. "Cancellations due to illness will not be charged a cancellation fee." The spas at Red Rock Casino Resort & Spa, in Summerlin, Nevada, and Green Valley Ranch Resort Casino & Spa, in Henderson, Nevada, are two other properties that waive the cancellation fee for any guest that does not feel well.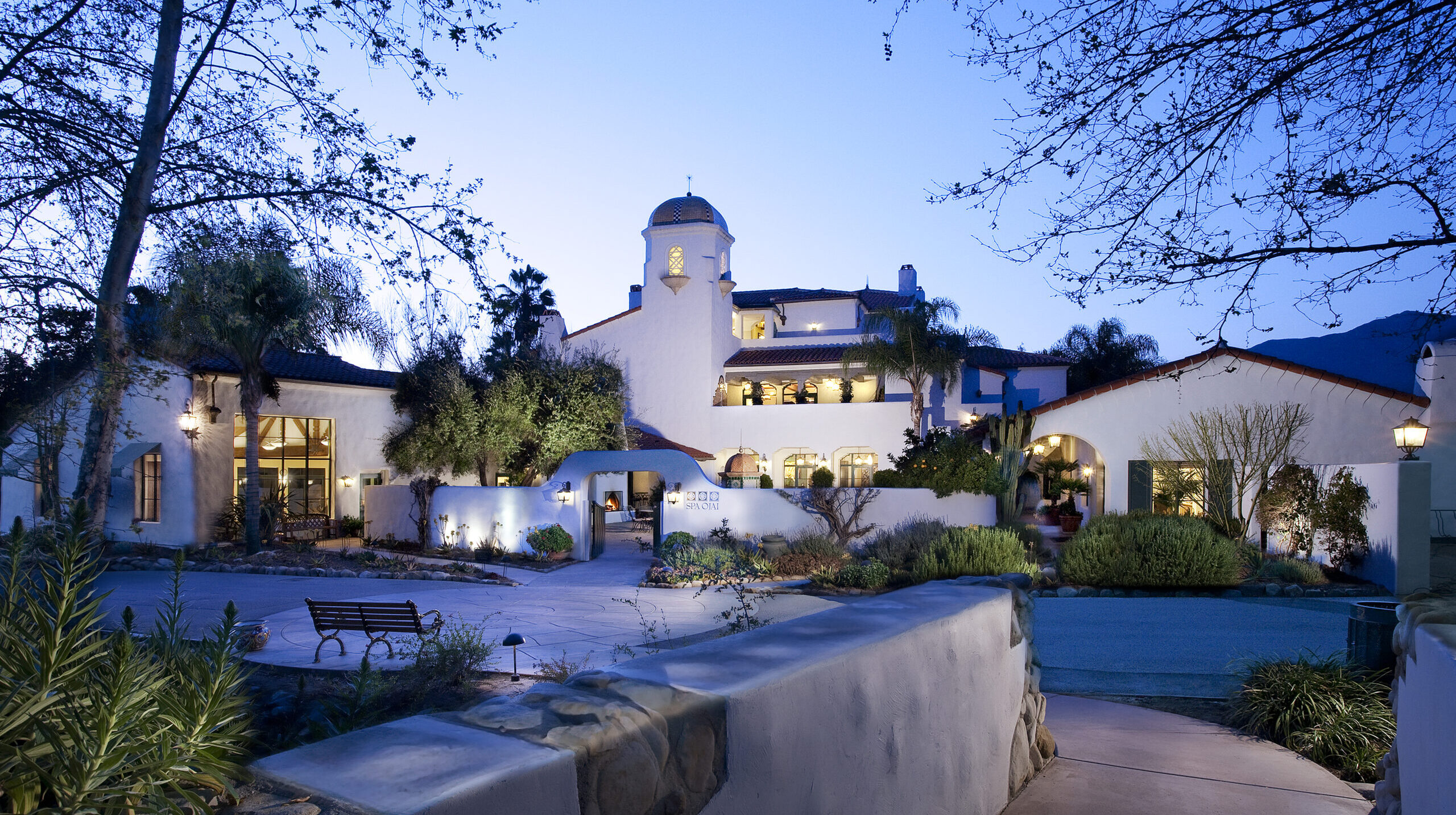 Beyond that, ask your spa contacts about their safety and sanitization protocols. ISPA created an extensive re-opening toolkit that many spas have adapted. Look there for best practices, and ask if your host spa has implemented these standards. Also, most properties have their policies posted on their websites, which is something that is helpful to share with meeting-goers who may have safety concerns.
Some locations, like  Pechanga Resort Casino, in Temecula, California, have either incentivized or required staff members to be vaccinated or tested regularly, and most require staff members to wear masks. "Pechanga is still one of the only resort/casinos in the country to offer an incentive for their employees to receive a vaccination," says Jon Chir, Pechanga's catering director. "All team members who showed proof of vaccination received a $100 gift card, and Pechanga has spent approximately $250,000 on its Thank You gift cards to its team members. All Pechanga team members also wear masks at all times."
Hilton Sandestin Beach Golf Resort & Spa in Florida does not require masks but strongly encourages anyone who is not fully vaccinated to wear one. "If guests prefer a team member to wear a mask during a service, it is also at their discretion," says Shanelle Lucas, director of spa operations. "Similarly, if any team member is uncomfortable working on a guest, they can refuse service at any time. Upon arrival, we also recommend guests shower in our facilities prior to use of the wet amenities or before accessing the massage, facial and body treatment rooms. All treatment rooms and workstations are sanitized after every client."
Some properties have implemented staggered schedules and rigorous protocols to ensure safety. "At Spa Ojai, reservations are required, and we are closely following county ordinances regarding face masks," says Kandziora "We have staggered treatment times to 30 minutes in between so we can properly sanitize the room prior to the next guest and have consciously taken less appointments so the spa environment does not feel crowded."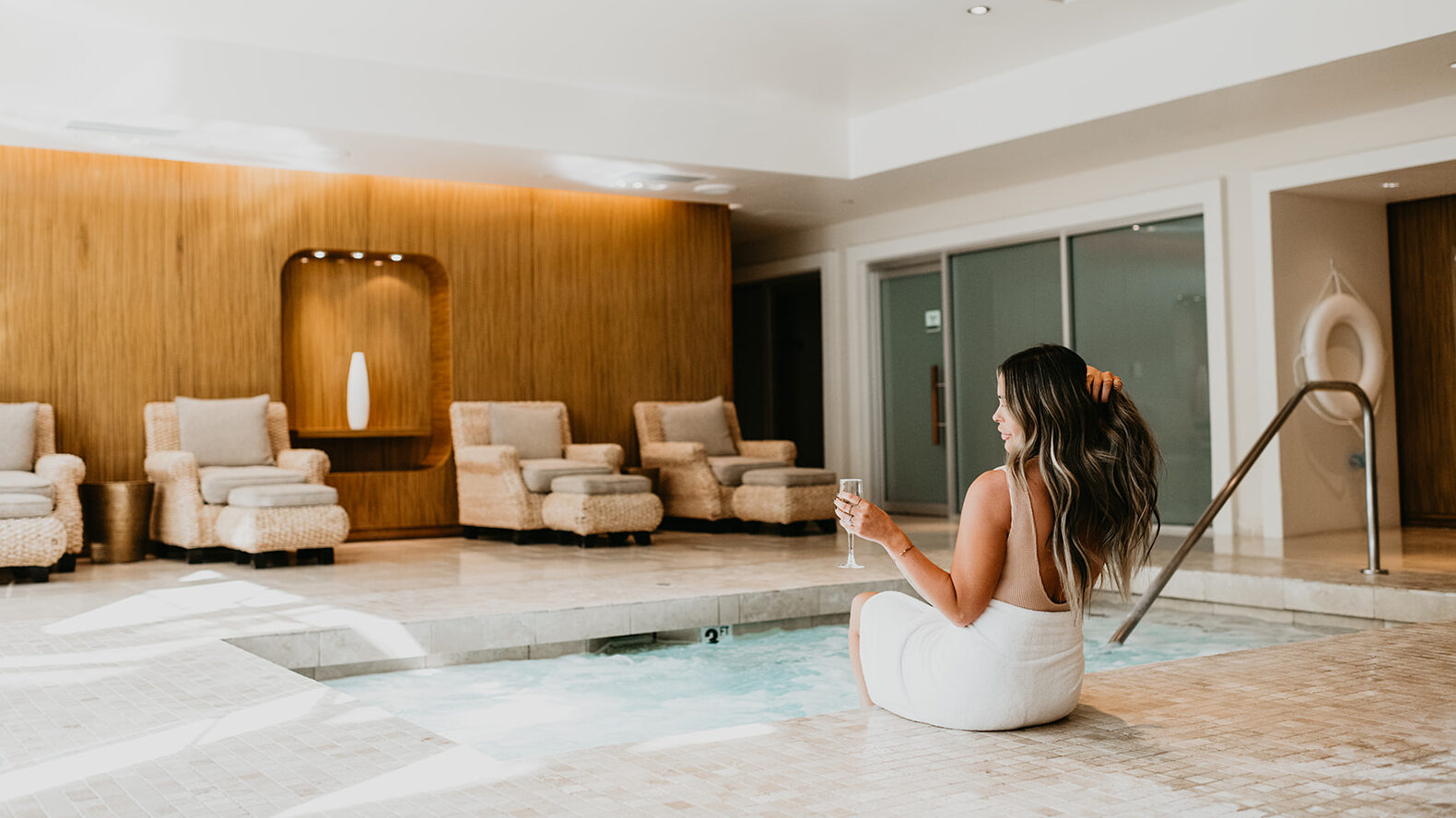 The spas at Red Rock and Green Valley Ranch Resort have signage at every stopping place throughout the spa, according to Patrick McDirmit, regional vice president of Trilogy Spa Holdings, which manages both spas. "At each of these places, we have hand sanitizer and masks and reminders to socially distance, and we have a sanitation attendant to ensure all surfaces in each treatment room are disinfected properly with a certified product with a one-minute cure time," he says. "All of our staff are required to wear masks at all times, and our skincare providers wear a face shield in service. We do require our massage guests to wear their mask while face up on the massage table during service, as well."
Montage International has also updated its COVID protocols. Along with enhanced sanitation practices, the brand's spas feature adjusted relaxation areas for social distancing and pre-packaged food and beverage amenities to reduce the number of guest touchpoints. Additionally, in the locker room, instead of having things like razors, shaving cream and dental kits available for all to touch, spa attendants deliver these items, as well as extra towels, directly to clients on a tray.
Fitness Focus
Properties are being equally careful with their fitness spaces by implementing sanitization protocols and reducing capacity when possible. For example, the Spa Ojai Gym equipment is sanitized after each use, and cleaning products are available in the fitness center for guests to clean equipment before or after their session. At the fitness areas in both Red Rock and Green Valley Ranch, class capacity has been reduced so that guests can socially distance in class. "We require masks to be worn while working out and while in class," says McDirmit. "A sanitation attendant to disinfect equipment and surfaces as well as reminding our guests to socially distance and wear a mask."
Spa Pechanga reopened its fitness facility in the summer of 2021. "The Pechanga Cares protocols that are in place throughout the resort are also in place within our fitness facility, which is connected to the spa," says Vicky Naputi, director of the spa for Spa Pechanga and The Cove at Pechanga Resort Casino. "Guests have peace of mind knowing that all machines, weights, surfaces, high touchpoint areas, and more are cleaned and sanitized with hospital grade-cleansers throughout the day."
See also: 10 Peaceful Properties to Celebrate Yoga Month
Lucas says she and her team keep a close eye on the fitness center at Hilton Sandestin and have refused entry when capacity has been reached. "We have reduced our indoor yoga classes from eight to four, so guests are able to comfortably continue a healthy fitness lifestyle while maintaining a safe distance," she says.
Alfresco Appeal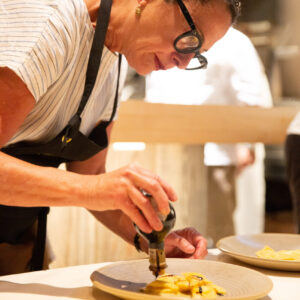 Some people simply feel better—and safer—outdoors. Whether its spa or fitness, getting outside is an ideal option for meetings and events, both for the experience of fresh air and for the comfort of attendees. ISPA's study found that 40 percent of spas now offer outdoor services, so be sure to ask your host property about the option of scheduling outdoor spa services, either at the spa or in other picturesque areas of the property.
Another great choice is to take advantage of exciting outdoor fitness and wellness programming, such as seaside yoga and Pilates at Hilton Sandestin, which is situated on one of the most beautiful beaches on the Emerald Coast of Florida. Golf and pickleball are two other active endeavors that have skyrocketed in popularity in the last 18 months, so be sure to ask about potential group activities that involve either or both.
Ojai Valley Inn offers private hikes, geocaching adventures, tennis, and golf, as well as complimentary bikes to explore the surrounding area, horseback riding classes, surf lessons, rock climbing adventures, paddleboarding, kayaking, fishing, and more. Some of these activities can be reserved for small or large groups.
Another cool option is planning a special event at The Farmhouse at Ojai. "This is such an incredible asset for meeting planners," says Kandziora. "With a one-of-a-kind venue, we can offer cooking classes and wellness educational events for attendees that focus on any theme or interest."
Making It Work
As with almost every aspect of planning an event post-Covid, advanced planning, flexibility and communication are important parts of the process, particularly since there have been significant staffing shortages in hospitality and wellness. "I think it starts with an honest conversation between the planner and the hotel," says Ojai's Kandziora. "It's not a hidden secret that most industries are facing staffing challenges. When planning an event—whether its spa, fitness, or any activity—ask your hotel partner if they are truly comfortable with their ability to staff it or if the event should be restructured to allow for a leaner staff."
With most spas operating with reduced capacities, planners may need to allow more time for groups to have services, advises Huey. "Also, ensuring that the guests who are having services get their health questionnaires filled out and return in advance of the services is a key point to allow for the groups to move easily through the facility. Ensure items like gratuities, services charges, and more are arranged in advance, so the attendees don't have to focus on that as they leave. Lastly, ensure that all safety standards that the spa has in place are articulated to the groups in advance so that those coming in for services will know what to expect when they arrive to the spa."
For spas, one suggestion is a buyout, where you can then have greater control of the scheduling and timing of spa services. If a buyout isn't in your budget, work closely with the spa team to find solutions that work, even for last-minute spa requests. "We utilize a waiting list that we constantly update and reference," says Hilton Sandestin's Lucas. "We also take advantage of the fact that we are a full-service spa so while one service may not be available, we have a wide array of other great treatment options."
"The best thing we can do to maintain the integrity of our luxury product is not overpromise or stretch our offerings beyond what we can handle," says Kandziora. For spa, fitness, wellness, and beyond, this is a sound strategy that is ideal for the wellbeing of your team and your attendees during your next event.
Amazing Amenities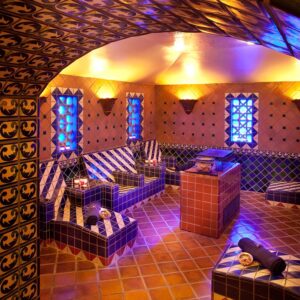 According to the experts, spa-goers are taking advantage of spa amenities, including water circuits, sauna and steam rooms, salt rooms, ice rooms, and more, now more than ever. This makes sense considering that these are often self-guided, touchless experiences that allow guests to enhance their wellbeing and feel safe by social distancing, particularly those who may not yet feel comfortable with the high-touch aspect of many spa services.
An excellent example is Se Spa at Grand Velas Riviera Maya in Mexico. It has an extensive hydrotherapy area that includes a sauna, an ice room, a hot tub and cold plunge, a color therapy steam room, sensation showers, a jacuzzi, a clay room, and an experience sensation pool with waterfalls, water bubble beds, a sensory pebble walkway for feet, a cervical neck jet, a bubble volcano and a warm water pool.
Spa Ojai, meanwhile, offers the Kuyam, a self-guided application of different mineral rich muds in a sauna like environment while listening to a meditative sound sequence. Kuyam, is Chumash Native American Indian word meaning "a place to rest together," is a memorable experience for individuals or small groups.
As you are planning your next event, see if the property's spa offers a wellness circuit that may appeal to your attendees. Some are complimentary with a service and some may have a fee for use, so be sure to clarify.
About Face
Massages continue to be a popular option for spa-goers. After all, after this stressful year-and-a-half, what is better than working out the kinks? But one treatment that has become wildly popular post-pandemic is the facial. In fact, spa directors from a variety of locales have noticed a huge increase in popularity of skincare services.
"While massages tend to account for 50 percent of a spa's revenue, they took a backseat to facials and skincare this year, which makes sense," says Hilton Sandestin's Lucas. "During the pandemic, Zoom became important for online meetings as a safe alternative that didn't require masks, so more people put their time and energy into taking care of their skin."
Pechanga's Naputi says there are even more reasons for the increased popularity of facials. "It may also be a product of people wearing masks so often," she says. "There's also more emphasis on the need for deep skincare, especially because a lot of women are wearing less makeup than they may have before the pandemic.
With this in mind, it's a great idea to make sure your venue's spa has a number of skincare options available for meeting-goers. You may field more requests for treatments that allow them to put their best faces forward, an aspect that is important to remember when you are in planning sessions with your property.
Another possibility: take-home kits, like those offered at Hilton Sandestin, as a fun gift for attendees who are ready to step up their skincare regimens. "Along with facials, retail sales increased specifically in skincare because of clients getting back into their daily routine after hiding their skin behind masks for so long," says Lucas. "We even had one of our skincare lines, Circadia, put together a great step-by-step take home kit to help continue desired results for those who were not quite ready to return to the treatment room."
The Well World of Golf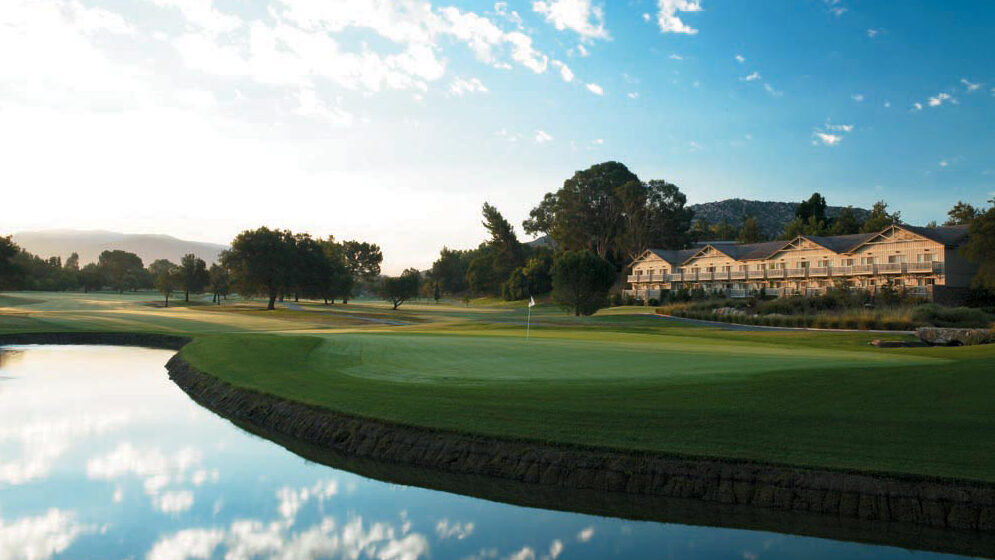 One healthy activity that has exploded in popularity since the pandemic is golf. People are hitting the links in record numbers. According to the National Golf Foundation (NGF), more than 24.8 million people played golf in the U.S. in 2020, up more than 2 percent year-over-year and the largest net increase in 17 years. Through the end of July, which is the peak of golf season in the U.S., the number of rounds played in 2021 was up 16.1 percent compared to 2020, according to NGF data.
Resorts around the country certainly support those stats. Overall rounds are up by 32 percent from 2019 at Ojai Valley Inn. Scott Mallory, director of golf for Journey at Pechanga, a 7,219-yard, par-72, championship 18-hole golf course, says interest in group tournaments jumped up significantly in the spring 2021 and shows no signs of slowing down. "Even if a group outing drops out or has to be postponed by the meeting planner for some reason, there's another group waiting in the wings to take their place."
There are several fun, safe group golf outings that can enhance a meeting, such as:
Peter Wininger, director of golf at Temecula Creek Golf Club, has created several out-of-the box experiences, including erecting a 15-foot-high riser to tee off from to a nearby green for hole-in-one and closest to the pin contests; nighttime putting contests for groups utilizing the outdoor Stonehouse event facility on the 8th hole of the Stonehouse course; and glow-in-the-dark golf for smaller groups.
Ojai Valley Inn's golf professionals offer personalized event services tailored for groups of any size, from assisting with all aspects of event preparation to arranging custom logo gifts. Some unique offerings include a driving range challenge and glow in the dark putting challenge.
Even with the increase in popularity, safety continues to be an important part of successful golf outings. At Ojai, for example, all golf carts and rented equipment are sanitized between every use. If guests are requesting single-driver carts because they don't feel comfortable sharing a cart, the request is accommodated at no charge.