Hilton Orlando Pool
Juice up meetings at Orange County Convention Center
Think of Orange County Convention Center (OCCC) as a fruitful tree with pedestrian bridges as branches that connect it to four hotels—Hilton Orlando, Hyatt Regency Orlando, Rosen Plaza and Rosen Center. If it were a tree, it's trunk would have 35 rings to represent the number of years it's been open. It originally began as the civic center for ticketed events before the trade show business boomed.
This quadfecta of adjoining hotels, offering more than 5,000 guest rooms, is only a small slice of the whole. Orlando is such a popular destination for business and leisure travelers that all the hotels that Smart Meetings visited on a recent familiarization trip arranged by Visit Orlando were booked to capacity. Orlando experienced more than a 5 percent increase in 2017 by welcoming 72 million visitors. It became the first destination in the United States to surpass hosting 70 million annual visitors and held on to its reign as the nation's most visited city.
In 2017, 1.53 million people attended events at OCCC, an increase of 5 percent from the previous year. More than 60 percent of businesses have made a return trip. A prime example is National Plastics Expo, which meets every three years. It had been loyal to Chicago for many years, until Orlando lured it in 2012.
The expo returned in 2015, is back in 2018 and plans to return in 2021 and 2024. One of the more outrageous expos it has hosted involved flying in 50 helicopters, and another one featured reptiles. Doctors have also performed live robotic surgery remotely from the convention center during a neurological association conference.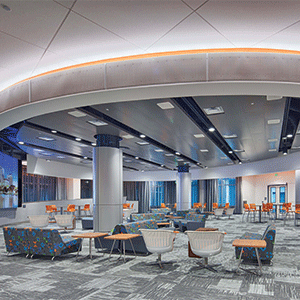 Second in size to Chicago's McCormick Place, OCCC ranks No. 2 in space in the entire nation. With 7 million sq. ft. under one roof (2.1 million of that is exhibit space), it is the largest LEED Gold-certified building in the world. Still, OCCC is in the midst of pouring $187 million into renovations. Some of the changes can already be seen. Tangerine Ballroom was converted from an exhibit hall into a ballroom at the request of clients. It has programmable LED lighting, offering a rainbow of colors.
Florida is the Sunshine State after all, and planners can let those rays beam into meetings in the new Sunburst Room, and attendees can soak in some Vitamin D on its terrace. The new 7,000-square-foot Destination Lounge is where it's at for a consortium of gatherings that can benefit from high-tech capabilities and a modern atmosphere.
ARRIVE: Aside from sky travel, Orlando Airport (MCO) also has a lot of foot-and-wheel traffic. From sneakers and ballet slippers to strollers and wheelchairs, you'll find it all at MCO. The airport's senior director of public affairs and community relations, Carolyn M. Fennell, said Orlando is a city people visit "from cradle to wheelchairs." Last year, MCO became the busiest airport in the state, with 44.6 million passengers. March 2018 was the busiest month in its history, with almost 5 million passengers. It is the largest airport rental-car market, with the rental counters conveniently located on-property near baggage claim.
MEET AND SLEEP: Hilton Orlando has 1,417 guest rooms and 236,000 sq. ft. of meeting space, including an outdoor promenade so expansive that your VIPs can make a grand entrance riding an elephant. The hotel is building a 13,000-square-foot event patio by the pool. Hyatt Regency Orlando provides 1,641 guest rooms and 315,000 sq. ft. of meeting space.
DO: As part of Orange County, OCCC is a non-profit institution and open to the public to view its museum-like art installations. A walking tour and coffee-table book are on their way soon. One of the most photographed spots is a piece called Under Magnitude, created by artist Marc Fornes. The two-story exhibit, which resembles an oversize chunk of white coral reef, is suspended in a massive atrium. Viewers can look up at it from underneath or take a selfie with it from eye level on the second-floor balcony.