Rossi Ralenkotter is President & CEO of the Las Vegas Convention and Visitors Authority
Why did you decide to pursue a career in the hospitality industry? How did your career progress prior to joining LVCVA?
After experiencing the joys of growing up in Las Vegas, a career in the hospitality industry was a natural fit for me. The tourism industry is the largest driving force for Southern Nevada's economy and I wanted to utilize my marketing education to be a part of this industry.
On my first day at the LVCVA in 1973, I had no idea what could and would be achieved over the next several decades. There have been a lot of 'wow' moments over the years, and it has been a pleasure to see the destination grow into one of the nation's most thriving metropolitan areas. There were about 8 million people coming to Las Vegas [each year] back then. That number was sure to grow, but it's truly incredible to celebrate milestones like the historic 42 million visitors we welcomed in 2015.
Why did you join the LVCVA?
I am passionate about Las Vegas. At the LVCVA, I am surrounded by a team that possesses the same drive and sentiments as me. Regardless of position, each one of us plays a very significant role in reaching our organization's goal of maintaining Las Vegas' reputation as the world's leading destination for business and leisure travel.
What have been some of your most significant accomplishments?
During my time at the LVCVA, I've been fortunate enough to celebrate many accomplishments, and there are many more on the horizon. The continued success of Las Vegas relies heavily on the destination's ability to reinvent itself by providing new reasons for people to travel here and experience these offerings firsthand. We all work together with the Las Vegas resort industry to make it the greatest travel brand in the world.
One of the LVCVA's most notable accomplishments is the launch of the most successful branding campaign in tourism history, which is best known for its oft-repeated tagline, 'What Happens Here Stays Here.' It was selected as the No. 1 campaign by the voting public and was inducted into the Madison Avenue Advertising Walk of Fame in 2011.
In my personal career, I've had the honor of serving a number of outstanding organizations and committees to help the tourism industry reach new heights.
What has it been like to serve as CEO and president of LVCVA?
Everything we do here at the LVCVA is a team effort that can't be accomplished without the hard work and dedication of every one of our employees. I have the privilege of working for the best organization in the world, with the best employees and colleagues in the industry, as well as a very supportive board of directors. I am constantly impressed with the commitment, knowledge and passion demonstrated in every department at the LVCVA.
What are the biggest challenges facing you and LVCVA, in general?
Making sure that Las Vegas maintains its prominence in the leisure and business travel communities is always top of mind. We have nearly 150,000 hotel rooms to fill every night and we understand that there is competition globally for that business. To overcome these challenges, the LVCVA works closely with our resort and community partners to keep Las Vegas the industry leader by maintaining a fresh and exciting product while always adding new experiences.
Why are meetings important to Las Vegas? How much revenue do they generate?
The meetings industry is a vital part of Las Vegas' economy, supporting nearly 54,000 jobs and generating an estimated $7.4 billion in local economic impact. Convention and meeting attendees are critical to the destination's overall economy, occupying rooms midweek when leisure visitors are traditionally not there.
What are the biggest annual conventions that take place in Las Vegas each year?
Las Vegas has been the No. 1 trade show destination in North America for 21 years running, according to Trade Show News Network, and we intend to do everything we can to maintain our place at the top of that list. Las Vegas is home to 60 of the 250 largest trade shows in North America.
In fact, during just the month of March, Las Vegas will welcome more than 176,000 convention delegates to shows like ASD Las Vegas, Healthcare Information & Management Systems Society, Nightclub and Bar Show, and Western Veterinary Conference. Las Vegas has nearly 11 million sq. ft. of meeting space, including three of the 10 largest convention centers in the United States—the Las Vegas Convention Center, Mandalay Bay Convention Center, and Sands Expo and Convention Center.
Was 2015 IMEX America a success for LVCVA?
Hosting events such as IMEX America allows the LVCVA to showcase the destination and demonstrate that we are a serious place to do business. Seeing Las Vegas is selling Las Vegas, and it's critical for us to keep the destination top of mind for meeting planners and travel buyers—particularly international buyers, who represent a key growth market for us.
In 2015, Las Vegas was well-represented at IMEX America, with dozens of resort and industry partners joining us on the show floor. Collectively, we conducted more than 500 meetings during the event. We look forward to celebrating the continued successes of IMEX America, and we are determined to participate in similar events moving forward to bring as much business to Las Vegas as we can.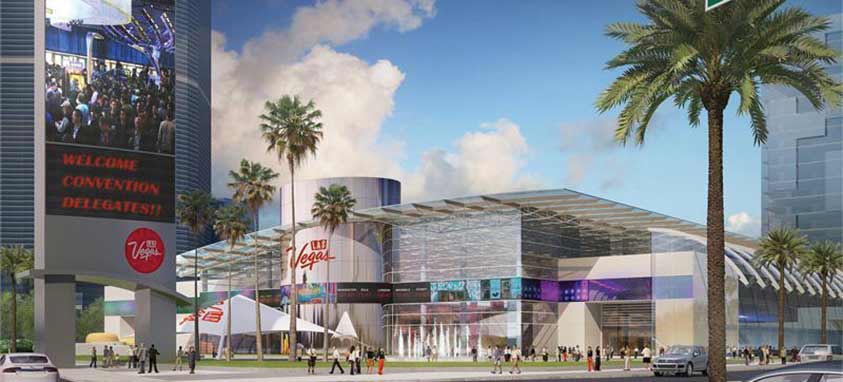 Las Vegas Convention Center
The planned expansion and renovation of the Las Vegas Convention Center has attracted a lot of interest. What will the expansion consist of, when will it be completed and how will it help to attract more meeting groups to Las Vegas?
The convention business is extremely competitive and other destinations are continually improving to try to lure away our business. Convention delegates represent a critical part of our visitation mix. Business travelers stay longer and spend more while they are at the destination, so it's vital to continue to focus on attracting more meetings and conventions to continue our growth. That's why the LVCVA is moving forward with plans to expand and renovate the Las Vegas Convention Center.
The first phase is currently underway, with the purchase of the Riviera Hotel property and the upcoming demolition of those structures. The property will be cleared and utilized for outdoor exhibit space in early 2017. The next phase will include a 1.4 million-square-foot expansion, including 600,000 sq. ft. of new exhibit space. The third phase will focus on the renovation and expansion of the current campus.
The new space will allow our current clients to grow their shows and allow us to attract new business. Attracting this new business will provide jobs, economic growth and development, and help increase average daily rates for our hotel partners.
What are some other exciting new developments in Las Vegas?
There is so much excitement on the horizon! We are particularly looking forward to hosting the final presidential debate of 2016 on Oct. 19 at the Thomas & Mack Center on the UNLV campus. With 3,500 media representatives and 800 delegates expected to attend, we plan to showcase our destination as a city where business gets done, not only to the participants and attendees, but also to the millions of people from around the world who will tune in to watch the debate.
Additionally, our resort partners continue to invest in Las Vegas, once again improving the experience for our visitors. The T-Mobile Arena and The Park by MGM Resorts and AEG will provide an incredible venue for sports, concerts, meetings, corporate events and more when they open this spring. Mandalay Bay Convention Center just wrapped up their expansion, adding 350,000 sq. ft. of meeting space and a 70,000- square-foot ballroom. The Tropicana Las Vegas added 26,000 sq. ft. to their Pavilion, as well as various other hotel renovations.
Downtown Las Vegas continues to thrive, with updated or expanded meetings facilities at the Golden Nugget, The Venue Las Vegas, Downtown Las Vegas Events Center and the D Las Vegas. Caesars Palace is celebrating their 50th anniversary this year, which includes the $75 million renovation and rebranding of the Julius Tower. Construction has begun on Genting Group's $4 billion Resorts World Las Vegas and the Lucky Dragon Hotel is expected to open this year.
The addition of Topgolf Las Vegas on the Las Vegas Strip is scheduled for spring 2016, providing meeting venues, entertainment space and golfing games for all ages and skill levels. These projects and the prospect of others, including Alon Las Vegas, are taking shape, adding to the billions of dollars that have already been invested in the famed Las Vegas Strip and downtown over the past several years.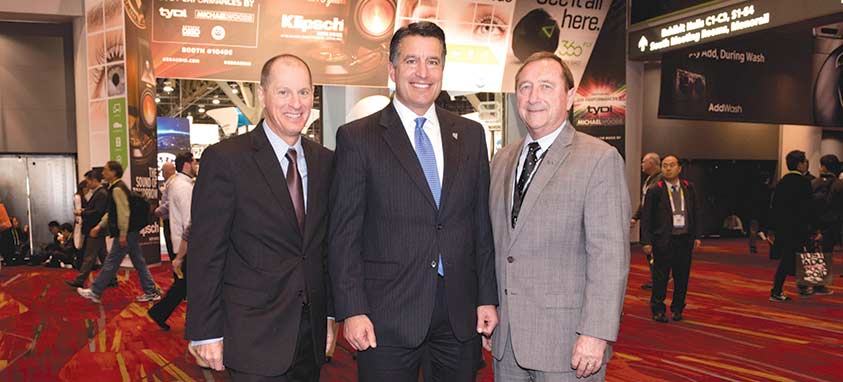 Consumer Technology Association President and CEO Gary Shapiro, Nevada Gov. Brian Sandoval and Rossi Ralenkotter at CES 2016 in Las Vegas
What new trends have you observed in the meetings industry?
Today's convention attendees, particularly the millennial generation, are looking for experiences that take them beyond the meeting room. Meeting planners and exhibitors alike are finding new ways to engage attendees and provide them with valuable takeaways.
Technology has taken the convention experience to new heights. Virtual-reality advancements, like the Oculus Rift, represented some of the most talked about displays at CES 2016. With this trend in mind, the LVCVA recently incorporated a series of 360-degree videos in its marketing efforts, providing customers a virtual perspective of the destination that can be used anywhere to help plan a vacation or an event.
Another recent development is the concept of incorporating health and wellness into meetings. Some of the emerging trends include guided meditation to start meeting sessions, 'pop-up spas' outside of meeting areas and the incorporation of healthy culinary options. Some trade shows have even added 5K races to their agendas.
The LVCVA has appointed a sales manager who specializes in assisting meeting planners of all organizations and industries with incorporating wellness into their events. She can also aid in making introductions to local spa, wellness and fitness experts; suggest creative ways to include wellness into your events; and be your destination guide to finding healthy resources to make your event planning worry-free.
How have Las Vegas' offerings changed to satisfy the changing tastes and needs of visitors, especially meeting groups?
Much like our visitors' interests, Las Vegas is a destination that is constantly changing and evolving. Our city is home to some of the world's best resorts, culinary venues, entertainment, special events, spas and golf courses, and the list goes on. In 2015 alone, major events like the Mayweather-Pacquiao fight, Rock in Rio, EDC, NFR and Life is Beautiful helped attract hundreds of thousands of people to Las Vegas.
Whether the visitor is interested in the latest gaming, productions, concerts, sporting events or another form of entertainment, there is always something new to see and do in Las Vegas, and an activity to suit every taste. All of these new offerings also provide reasons for conventions to return to Las Vegas year after year.
---
Rossi Ralenkotter
Hometown: Las Vegas
Education: Master's degree in business administration, University of Nevada, Las Vegas; Bachelor of Science degree in marketing, Arizona State University, Tempe
Career: Has been in his current role since 2004; began serving LVCVA in 1973 as a research analyst, and worked his way up to executive vice president and senior vice president of marketing
Military service: First lieutenant with the 468th Medical Service Flight in the U.S. Air Force
Awards: Has received many prestigious honors in the hospitality industry, including inductions into the U.S. Travel Hall of Leaders and Destination Marketing Association International Hall of Fame.