Advice for the next generation planning a hospitality career
The event and hospitality industry has come a long way. Over the last few decades, the profession has grown more complicated, goal-oriented and, well, professional than ever before. As a new generation joins the ranks of planners, managers, hoteliers and suppliers, it is our turn to share the insights we have gleaned over a career of trying new things, learning from our successes and failures, and doing our best to move forward day after day.
In an attempt to capture that intelligence and set guide posts for those looking to follow in your footsteps, we asked you how you got to where you are, where you went to school and, more critically, what you wish you had known along the way.
ADVICE FOR THE NEXT GENERATION
"Wear the best shoes possible when working the trade show floor!"
–Susan Bartlett, independent planner
The good news is that more opportunities for training at all stages of a career are now available. Many veterans who took our survey had to learn from what they call the school of hard knocks. Now, event planning and hospitality are specialties at the graduate and undergraduate level at many universities. Those are not the only paths, however. Many successful careers are grounded in business, marketing and—in one instance—neuropsychology. And continuing education has become an essential part of delivering quality events.
The results that follow are a snapshot of the resources that brought us to where we are, but we suggest you take it as a challenge to reach out and help someone else learn.
Major Lessons
Hospitality was the most popular college major overall for respondents, followed by business, marketing and liberal arts. This was particularly true for those with the title of event management (75 percent) and hotel management (45 percent).
Independent planners seemed to take more varied routes to their current role. One out of four studied hospitality, while almost one out of three marked the "other" category (with education being a popular launchpad). Communications and public administration were common backgrounds for those with careers in the industry. We also counted forensics, psychology, fashion merchandising, political science majors and at least one pre-med student in our midst.
The emphasis on communication is not a surprise. Mike Bowman, president and CEO of Valley Forge Tourism and a graduate of Purdue's International Hotel Management program, said the secret to success in this career is having passion and listening to your staff and the customer.
Many stressed the importance of learning to communicate in multiple tongues. Tom Norwalk, president and CEO of Visit Seattle, said, "In today's hospitality world, knowing multiple languages opens more doors than education or degrees."
Learning by Doing
As many respondents said, the best education is doing. Two out of three people worked at least part time in the industry while going to school. More than 20 percent worked full time and many participated in internship programs to try on the career for size as they were hitting the books.
Kari Westlund, CEO of Travel Lane County in Oregon and a graduate of University of Alaska Fairbanks (travel industry management), suggested starting early and experiencing a variety of jobs. "That's what I did, and the perspective is invaluable," she said.
Many, including Elisa Putman, senior vice president and chief operating officer for Music City Center in Nashville, advised that working your way up is the best way. "Don't be afraid to start at the bottom. You learn the most there," she said.
ADVICE FOR THE NEXT GENERATION
"Take more risks; volunteer for anything and everything; and never stop networking!"
–Alli Shebek, AlliedPRA
Ellen Federico, founder and president of The Event Group in Manhattan, said working in banquets at a luxury hotel "was like being paid to go to school." The front desk job at a hotel can be an education in itself.
Many also suggested experiencing lots of different places—domestic and international. "Be willing to travel wherever there are opportunities to advance your career, especially if you want exposure to all brands and leadership positions," said Siobhan Love, director of national accounts for Global Cynergies in Flagstaff, Arizona.
The most-offered advice was to network fearlessly and reach out to mentors wherever you find them. The opportunities in the many branches of the hospitality industry are abundant, but the burden of advancing is up to each individual. Networking and volunteering were a steady drumbeat of advice given in our survey. As Linda Hampton Norris, owner of Norris Conference Centers in Austin, Texas, says, "Be open to opportunities, even if they don't fit your current direction." You never know where a job or committee assignment will lead.
Lindsey Heilmann, conference coordinator at Keystone Symposia in Denver, may have put it most urgently: "Connections and networking are super important! Get in on that immediately!"
Lifelong Learning
Managing events can feel like a life lesson every day, but industry organizations are making it easier for young and mid-career professionals to continue to learn and grow.
Gary Sherwin, president and CEO of Visit Newport Beach, ended his year as Destinations International chair in July, proud of the emphasis he placed on education. "Education has to be the foundation for this industry because the responsibilities are always evolving. Many of us [DMOs] started in hotel sales and are learning that we also have to master the skills of marketing, advocacy and management," he said. "To be successful, you must have a hunger and a thirst for new, integrated knowledge."
ADVICE FOR THE NEXT GENERATION
"Listen more and talk less. When you get out of college, be patient. You don't know everything yet. Knowledge and respect are learned and earned."
–Barry Brown, The Broadmoor
This is true at all stages of a career. Destinations International's 30 Under 30 program is designed to encourage young people to consider the industry by recognizing them publicly. "It is critically important we have a pipeline," Sherwin said. "A lot of kids don't even know this is a choice."
Sherwin also made it a priority during his time on the board to build on the success of the Certified Destination Management Executive (CDME) program to offer "an endless staircase of professional development." A Fellow CDME program will be revived to go along with the core program, which is now being run internally by the organization. The new Professional in Destination Management Program offered in partnership with George Washington University in Washington, D.C., offers online and in-person classes. Additionally, a Global Leaders Summit will showcase thought leaders to keep industry veterans challenged and excited.
"No matter how long you have been in the business, there is always something to learn," Sherwin said.
Meeting Professionals International Academy offers Certified Meeting Professional (CMP) and Certificate in Meetings Management (CMM) programs, which their data show can add $8,000 and $29,000 a year, respectively, to the annual salary of a planner. More than 300 people earned their certification in the first half of 2017. A full one-third of those were graduates of the Women in Leadership: Executive Leadership Skills certificate program.
Kristi Casey Sanders, director of the academy, warned, "If you're not learning and growing, you're standing still. If you're standing still, when you finally look up from your desk, you'll see the world has passed you by."
The good news, she says, is that event professionals don't have to gorge on information or drop everything to learn something brand new. "Change comes in small, incremental steps. As an adult learner you just need to find information that builds on what you already know or fills in the gaps," she said. MPI Academy's weekly webinars and on-demand content allow for baby steps before jumping into certificate courses.
Over at PCMA, the online courses, conferences, boot camps and CMP certification prep courses keep planners current with trends and certifications that allow them to shine.
---
Been There, Done That: Advice for My Younger Self
We asked several pros we have featured in past years to share their insights from stellar careers in the industry. Not surprisingly, they had some great advice.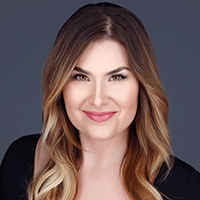 Carrie Abernathy
Title: President and Co-Founder, Association for Women in Events; Director of Meetings, Association of PeriOperative Registered Nurses (AORN)
University: Virginia Polytechnic Institute and Victoria University (Australia)
Major: Psychology
Aha moment: I was the event-planning ring leader at my dorm, and I was told by someone that I should do that as a living. I laughed and said, 'You can't do event planning for a living!' Well, I was obviously wrong. I changed my plans and studyed events for a year abroad in Australia. I fell in love with the industry and the rest is history!
Advice for a younger self: You can never start your search for a mentor, peer group or internship too early! Find your passions and champions early and keep your eyes and mind open. Be humble, available and flexible. You may start your career in one part of hospitality but learn that you love another part of it, and that is OK!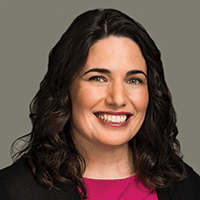 Julie Liegl
Title: Senior Vice President, Strategic Events, Salesforce
University: Stanford University and The Wharton School
Major: English, and marketing and strategic management
Aha moment: I fell into events by accident. In the beginning, I knew that I wanted to be in marketing. I ended up in enterprise software marketing right out of college, and all of my first projects were direct mail. I was given ownership to drive an entire product, and that's when events became part of my domain. I had several jobs along the way that pulled me out of events, but I always ended up gravitating back to them. I loved the pace, the complexity, the impact they leave and the way events require you to flex a bunch of different muscles.
Advice for a younger self: Look at every opportunity as a learning experience. You often gain more leadership experience running a student group than in a junior internship.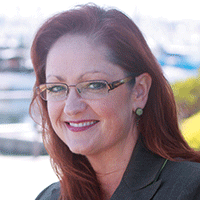 Tammy Blount
Title: President and CEO, Visit Monterey; incoming Destinations International Chair
University: Learned by doing (aka University of Tourism Vancouver)
Aha moment: After graduating at age 16 from high school and trying a hand at barbering, I thought it would be glamorous to work at a hotel. Some 30 years later I can't imagine doing anything else.
Advice to younger self: Be hungry and eager for feedback. Don't be afraid to make mistakes. You will meet extraordinary people and travel all over the world. Enjoy.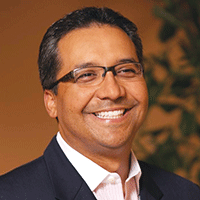 Michael Dominguez
Title: Senior Vice President and Chief Sales Officer, MGM Resorts International
University: University of Texas San Antonio and University of Texas, Austin
Major: Business administration
Aha moment: It was purely by accident, when I started busing tables at 15. In college, I received my first taste of management and I was hooked!
Advice to younger self: Take all the opportunities for extra work and watch the people you work with. Learn from their experience; it will shorten your learning curve.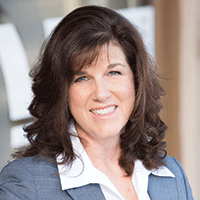 Jeanne Robb
Title: Director of Global Events, Cisco
University: San Jose State University
Major: Liberal studies and K-8 clear teaching credential
Aha moment: I was 23 and substitute teaching. I took a summer job with a friend's mom and she offered me a job with travel. I couldn't say no to the travel—and I never looked back.
Advice for younger self: Ask yourself what motivates you… is it the thrill of the challenge? Is it the satisfaction you get by completing a large, complex project with multiple moving parts and all eyes on you? Is it making magic happen? If these questions sound familiar to you, then you are pursuing the right career. And it's definitely a career, not a job. It's a role that will use all of your super powers–the ones you always knew you had and the ones you never dreamed you could muster–patience, people skills, relationship/conflict management, thinking quickly on your feet, making snap decisions and owning them and not accepting that it can't be done.
Travel–while it seems glamorous, it's not. Before and during the event you'll be lucky to see the light of day, so make the time after the event to see some of the sights.
Schedule time off and TAKE IT. Hopefully you'll have a good manager, but you need to be your own advocate. If you're working long hours and weekends (or a holiday, birthday, etc.), ask for comp time, and never leave PTO on the table. There's never a good time to take it off, but trust me, the work will be there when you get back.
Finally, flexibility is KEY to success in event management. Change is the only constant in this field, no matter how hard you plan. If you keep an open mind, your focus on the attendee experience (and not your version of it), you will own the success.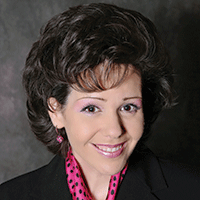 Michele Polci
Title: Director of Citywide Catering and Sales, Caesars Entertainment, Las Vegas
University: University of Nevada, Las Vegas
Major: Hotel administration
Aha moment: Growing up in the city, I don't remember ever wanting to do anything else. How could you not want to be in this business?
Advice to younger self: Be at peace with yourself. Strive to be respected rather than liked.
Jonathan M. Tisch
Title: Chairman & CEO, Loews Hotels & Co.
University: Tufts University
Major: Political science
Aha moment: As a third-generation hotelier, going into the hospitality industry was somewhat inbred in me at a very early age. I often refer to myself as the male Eloise as I literally grew up in hotels; during high school my family lived at the Loews Regency Hotel at 61st and Park Avenue in New York City.
During my childhood, I had the privilege of watching my father, Bob Tisch and uncle, Larry Tisch, create Loews Hotels and what is today Loews Corporation. From a very young age, I would help in various departments of our hotels, and at 16, I held my first paying job in the industry at what is today the Sheraton City Center in New York City.
At Loews Hotels & Co we look for team members who have the "hospitality gene", meaning that taking care of others is in their DNA. For me, working in the travel and tourism industry was not a requirement, it was really about having that gene, coupled with being born into a family that was rooted in the industry. More than three decades later I can't imagine doing anything differently.
Advice for a younger self: Hospitality is a rewarding industry. There is tremendous opportunity for advancement and you have the ability to interact with many different people from all walks of life.
One of the messages I always convey to our team members at Loews Hotels & Co, is that mistakes will happen. It is the nature of the business. What is important to remember is that it is about the recovery. In hospitality, you have the ability to make a good experience great for someone. A simple gesture can often turn a bad situation around if you are willing to listen and show compassion.
The other bit of advice I offer young people starting their careers is to get a job, any job. Your first offer may not be exactly what you are hoping for but you can learn from all experiences.
The arena of hospitality is fulfilling and constantly changing. Embrace that change, be open minded and enjoy what you do.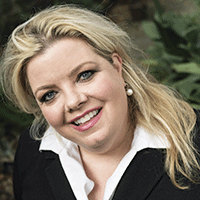 Cara Banasch
Title: Senior Vice President of Business Development and Strategy, New Orleans Convention & Visitors Bureau
University: University of Alberta
Major: Commerce
Aha moment: I didn't choose it deliberately. I came out of university and didn't like the field I had chosen, so I tried a number of things, and hospitality was one of them. It appealed to me that there were so many opportunities to have multiple careers within the framework and to learn multiple roles.
Advice for younger self: Don't be afraid to try new things, to make mistakes, to learn different roles, to meet people. It's all knowledge and everything you do will help you in some way when you least expect it.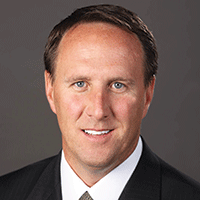 Pete Sears
Title: Group President of the Americas, Hyatt Hotels Corporation
University: Purdue University
Major: Restaurant, hotel, institutional and tourism management
Aha moment: I was in the business school at Purdue when I switched over to hospitality half-way through college. After interacting with students in the hotel management program and discussing the hospitality industry as a career, I realized that's where I wanted to be. Hospitality—its operations, sales and general management—really piqued my interest. I knew I would benefit from a curriculum that was more focused on hospitality.
Advice to younger self: Keep an open mind as you grow in your hospitality career—as it relates to your function and position. Jump into different departments—rooms, F&B, sales; learn as much as you can from the functions and sectors the industry offers. From private clubs to hotels, try to experience it all—it will make you a more well-rounded hospitality professional. My experience, exposure to many different areas, regions, functions within hotel management at Hyatt has led me to where I am today.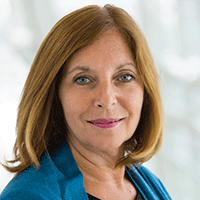 MaryAnne Zoldak
Title: Senior Vice President of People and Development, Maritz Global Events
University: Westfield State College and Harvard University
Major: Elementary/special education and business administration
Aha moment: I spent the early years of my career working in the environmental testing industry, a highly regulated scientific community; then moved to the meetings and incentives travel industry.
Advice for younger self: Seek out people who are already in the industry to learn about their start, what has worked for them and what the obstacles have been. This can be done through joining an industry association or doing research on companies within our industry and reaching out to key people within those companies—just to have an informal discussion.
---
Top Universities
Survey respondents were from all over the United States and Canada, but a handful of alma maters popped up repeatedly.
University of Nevada, Las Vegas (UNLV)
Program established: 1967
Need to know: Home of The William F. Harrah College of Hotel Administration and The International Gaming Institute. UNLV partners with industry to offer 600 internships annually, access to recruiters from 100 hospitality brands and 175 industry mentors.
The new 93,000-square-foot Hospitality Hall, including an industrial kitchen, student-run cafe and PGA Golf Management Learning Center, opens in 2018.
Mascot: Rebel
University of Central Florida Rosen College of Hospitality Management
Program established: 1983
Need to know: Resort-style campus on Universal Boulevard in downtown Orlando; 18 high-tech classrooms; executive education center; a 200-seat training dining room and bar; beer and wine laboratory; two test kitchens; 400-seat auditorium; student-run cafe.
Mascot: Knightro
Purdue School of Hospitality and Tourism Management
Program established: 1918
Need to know: New Marriott Hall facilities offer undergraduate and graduate programs, entrepreneurship certificate, 400-hour internship requirement and three research centers with opportunities to focus on food service, lodging and tourism.
Mascot: Boilermaker Special
Michigan State School of Hospitality Business
Program established: 1927
Need to know: A Big Ten research university in The School of Hospitality Business within the Eli Broad College of Business. Two paid internships are required as part of undergraduate program. Optional minor in Hospitality Business Real Estate Investment Management offered.
Mascot: Sparty
Arizona State University Tourism Development and Management
Program established: 1980s
Need to know: Under the School of Community Resources & Development with focus on heritage tourism, sustainable tourism, resort management, and meeting and convention planning; certificates in convention sales and meeting planning, and special events management. Internship required for degree.
Mascot: Sun Devil
Ryerson University Hospitality and Tourism Management (Toronto)
Program established: Early 1950s
Need to know: Study of marketing, accounting/finance, organizational behavior and human resources management integrated with research and technology; 1,000-hour internship required.
Mascot: Eggy the Ram