Traveling for business can be alienating and one can get engulfed with their work without appreciating the destination. Art can bring culture to life, spark conversation among strangers and even transcend language barriers. Smart Meetings has compiled a list of hotels domestically and around the world famous for their innovative art installations and collections.
Kimpton Hotel Born–Denver, Colorado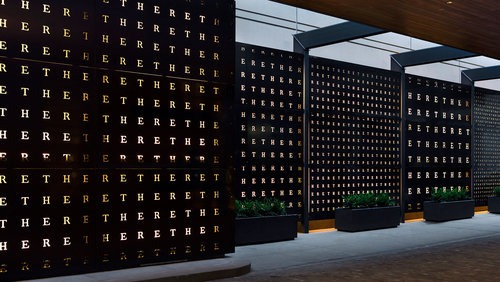 Kimpton Hotel Born displays a collection of original works of art by local Denver artists. Through its partnership with Museum of Contemporary Art, Kimpton Hotel Born uses art to surround guests with the "spirit of Lower Downtown Denver." The neighborhood, referred to by locals as "LoDo", is known for its art scene and ambiance of creativity. Kimpton Hotel Born projects the LoDo spirit with its exclusive art collection featuring over 30 Denver artists.
Perhaps the most notable name featured in the Kimpton Hotel Born Art Collection is Joel Swanson. His installation T/HERE is an aluminum, steel and light piece spanning the length of one of the hotel's hallways. The backlit industrial pieces spelling the name of the piece.
Read More: 5 Ways to Create an Unforgettable Event
The hotel is steps away from Union Station, two blocks from Museum of Contemporary Art, and less than two miles from the Colorado Convention Center and Denver Art Museum. The hotel offers over 14,000 sq. ft. of both indoor and outdoor meeting/event space and can accommodate up to 200 guests at a time.
The Dolder Grand–Zurich, Germany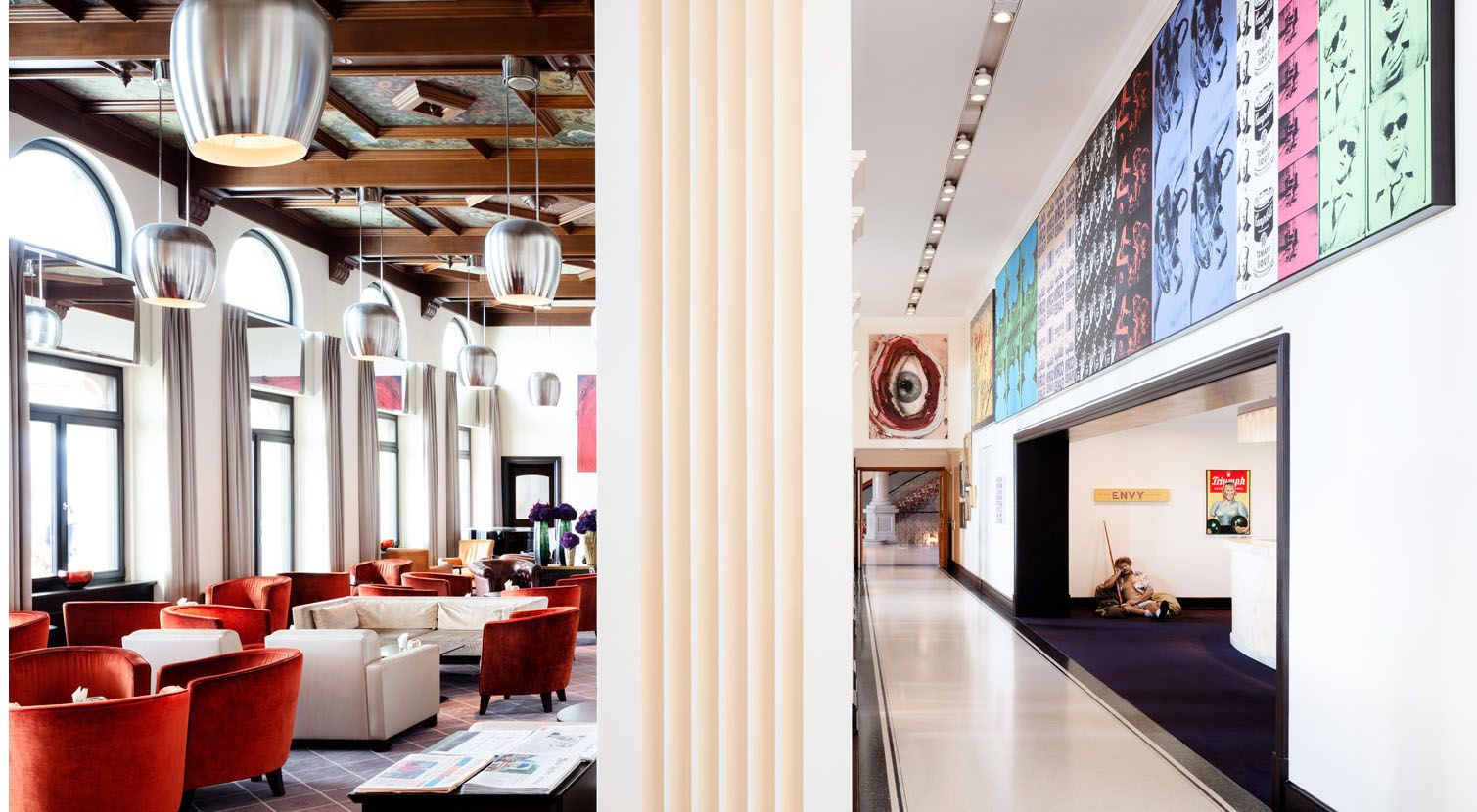 The Dolder Grand reopened in 2008 after an extensive remodel of the 1899 building and has used modernist art to catapult the historic architecture into present day Zurich. The hotel provides guests with a virtual tour guide via iPad to inform and educate guests on the art as they peruse the premises. The iPad allows guests to learn more about the artists and their work, as well as provide QR codes for some selected works for even further information.
The Gallery Gmurzynska curated over 100 works of art for The Dolder Grand, including works by famous artists such as Salvador Dali, Fernando Botero and Henry Moore.
Grand Bohemian Hotel Charlotte—Charlotte, North Carolina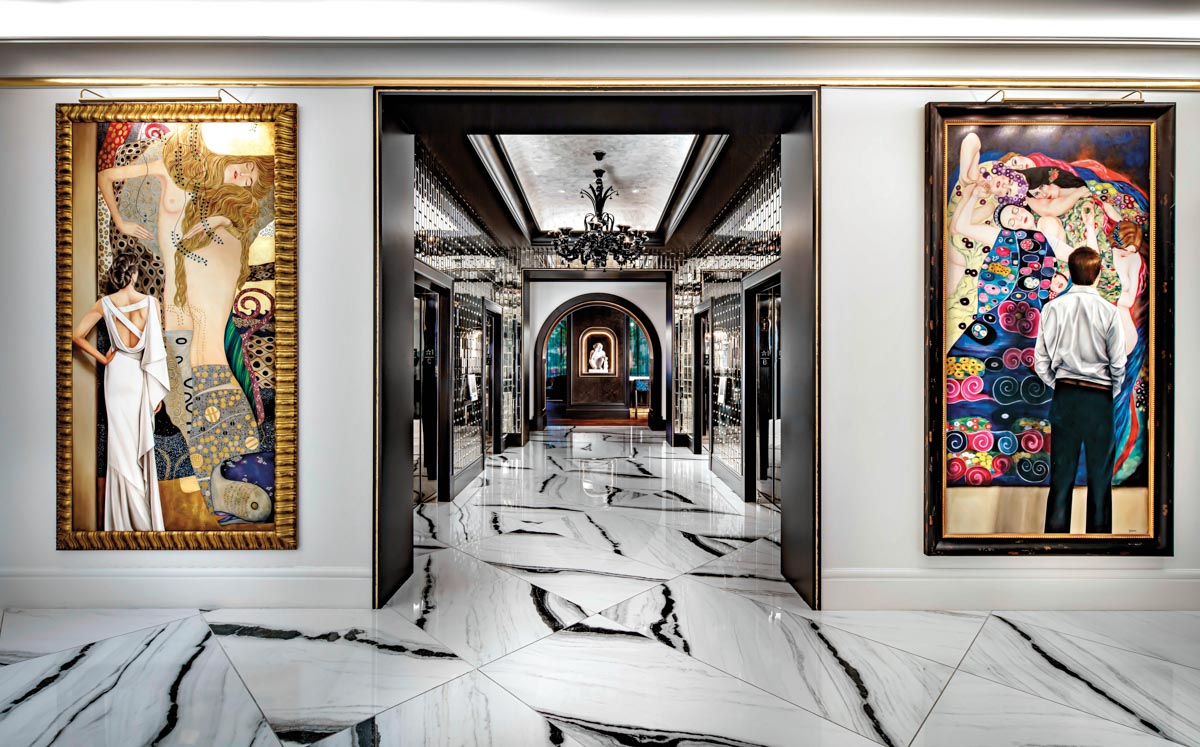 Grand Bohemian Hotel Charlotte dares to go bigger and bolder. With a striking interior design aesthetic and one-of-a-kind paintings filling the hallways, guest rooms and meeting spaces of the hotel, visitors will not soon forget their time at the luxurious Grand Bohemian Hotel Charlotte.
Read More: North Carolina: History Takes Flight
With over 16,000 sq. ft. of function space for both indoor and outdoor events and three meeting galleries, Grand Bohemian Hotel Charlotte brings an old European flare to their ornately carpeted ballrooms with elaborate chandeliers and the marble floor hallways lined with original artworks. With an eclectic and unapologetically bold global style, Grand Bohemian Hotel Charlotte will inspire and provoke thought. The hotel encourages visitors "to give your ideas an unexpected twist" and "to elevate your story to bold new heights."
La Fonda On the Plaza–Santa Fe, New Mexico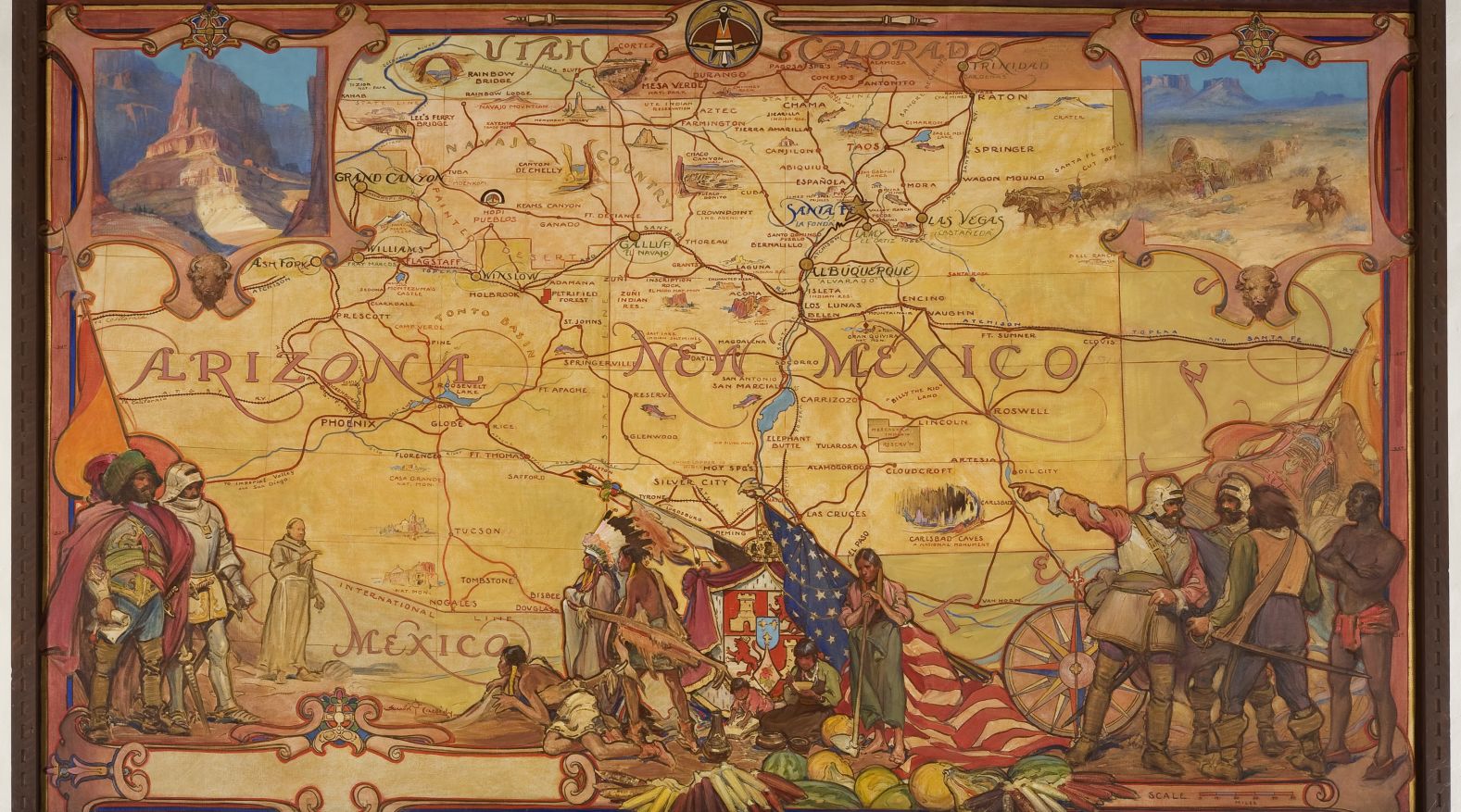 Artworks from local artists adorn the guest rooms at La Fonda On the Plaza. Much of the furniture in the hotel is hand-crafted by local woodworkers, the chandeliers are made from local manufacturers out of tin, glass and copper and the tiles are hand-crafted glass by local artisans. Native-American culture and New Mexico style is abundant in the art of La Fonda On the Plaza and brings a vibrant and an authentic Santa Fe ambiance to the hotel.
Ten of Gerald Cassidy's works depicting life in New Mexico are hung in La Fonda as well as his signature map of the Southwest hanging in the New Mexico room of the hotel. The artworks in La Fonda On the Plaza are described by the hotel to have a cohesive theme—"where art and history meet."
La Fonda On the Plaza is also in walking distance of several well-known art galleries. New Mexico Museum of Art is located just across the Santa Fe Plaza while IAIA Museum of Contemporary Native Arts (MoCNA) is only one block away. A short distance further and visitors can find Georgia O'Keeffe Museum built to celebrate one of Santa Fe's most famous artists.
South Place Hotel–London, England
I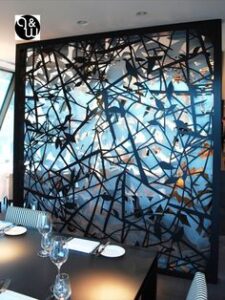 nspired by London's cultural diversity and modern aesthetic, South Place Hotel brings the contemporary vibe of Liverpool and Moorgate into the hotel's interior. South Place partners with Hoxton Art Gallery and Jealous Gallery to adorn the guest rooms, walls and lobby. The lobby features a screen wall with digital art and guests have access to a hidden secret garden atrium bar featuring intricate laser cut metal panels by Grace & Webb.
The small hotel with 80 bedrooms features avant-garde works by well-known artists such as Damien Florebert Cuypers' two-minute illustrations. The five private rooms on the first floor take the art to an immersive experience by styling the exclusive wing like a private night club for international spies in the 1920s. For events and meetings, these rooms can be transformed into board rooms or used for catered dinners while maintaining an artsy film noir style.