Marriott invites planners for experiences like no other
Dinner has just come to an end. As you chat with fellow meeting professionals you hear the faint sound of a trumpet. As the clock ticks, the sound of the trumpet gets louder and louder, so much so that you question if you're just imagining things. It isn't long until a trumpet player enters the doorway of the room, beckoning your group to follow him.
Outside are even more trumpet players, along with tuba players and drummers, and extravagantly clad dancers and stilt walkers. The walk to the next destination through New Orleans' Bourbon Street will be anything but normal. What follows is a 0.5-mile-long musical trek through the well-known street to post-dinner drinks and snacks. This is the Marriott "Meet with Momentum" experience in New Orleans. And it's only the first night.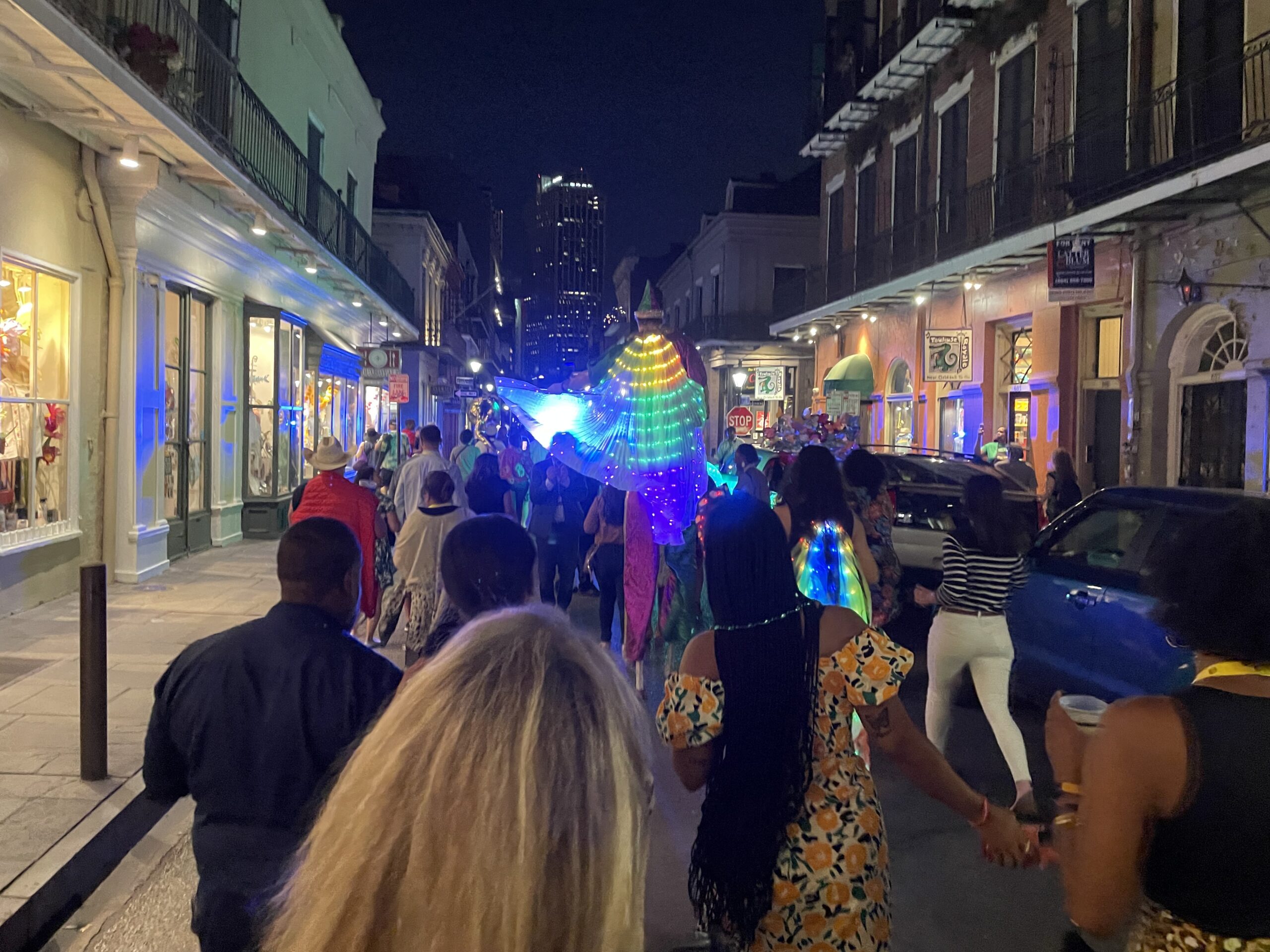 This four-day experience by Marriott International is one of many currently offered by the company's Meet with Momentum program, now in its third year. This time around, the company invited 29 event and meeting professionals and 15 representatives from Marriott's convention and resorts network (CRN) properties, including JW Marriott Miami Turnberry Resort & Spa, Sheraton Denver Downtown Hotel, Atlanta Marriott Marquis, as well as New Orleans' local hotels.
Read More: Marriott Plans to Win War for Talent by Emphasizing Culture
Since Marriott CRN began its portfolio has grown to 120 hotels throughout the United States, Mexico, the Caribbean and Canada, designed to offer the best hotel options for meeting profs.
Behind the Growth
The program, which has seen tremendous growth since it premiered in 2021, brought the 39 attendees to New Orleans for Jazz Fest, along with opportunities to get familiar with the city and network with Marriott properties. According to Jim Fein, director of sales at New Orleans Marriott and Sheraton New Orleans, these two properties have been inviting event profs they do business with for this occasion for some time now, but this is the first time they've done it in collaboration with Marriott CRN on this scale.
On the morning of the third day, Marriott hosted a panel at New Orleans Marriott Warehouse Arts District, which consisted of four Marriott representatives, including Pfeffer; Jeremy Shears, area director of finance operations; Richelle Castillo, senior account executive for associations;  from different sectors of the company, moderated by Amanda Cox, area director of sales for Marriott's south region; Scott Jernstrom, complex director of sales and marketing for New Orleans Marriott and Sheraton New Orleans.
The panelists touched on several topics, including the economy and its impact on the industry, challenges hoteliers are having and F&B concerns. This part of the program, which allows planners to get up close and personal with those on the other side of the industry, remains the same across all events, except with different Marriott reps based on the location of the event, and of course, different questions.
"A lot of the events you go to in the industry, there are 2,000 people there and you might spend five minutes talking to somebody one-on-one," says Bob Pfeffer, senior director of CRN. "[In] these events you're spending two or three days getting to know people personally and getting to know them on a different level than just business." Pfeffer says the feedback they've gotten from planners and hoteliers has been positive.
"They love it," he adds. And it's safe to say the jubilation among meeting planners in New Orleans served as corroboration.
When the event first began in Nashville in 2021, that was the only location that year. In 2022, the program hosted five events. In 2023, Marriott CRN will host 14 events throughout the year, what Pfeffer calls "mini-bucket list experiences."
"We also try to hit cities that have been slower to recover from the pandemic," he says.
Read More: New Orleans Celebrated GMID by Illustrating Why Meetings Matter 
Just before New Orleans, CRN hosted an event in Hawaii; before that, the program took event profs to a Yankees pre-season game in Tampa in March. In July, the program is heading to Windy City Smokeout in Chicago. Next year, Pfeffer says they plan on attending the 150-year anniversary of the Kentucky Derby. He says he doesn't see them slowing down any time soon.
New Orleans Marriott Wants to Fuel Festivals
While Jazz Fest was going on, New Orleans Marriott held an activation in its lobby, "bloodys & bennys," as part of a new concept, dubbed Festival Fuel. The hotel plans to use Festival Fuel to add to the guest experience during the city's more than 130 festivals and make festival recovery more accessible.
Currently, guests have access to two separate carts in the lobby, one that sells Bloody Marys and another that sells beignets for a few hours a day. The hotel welcomes  everyone to stop by and enjoy the festive offerings.
The concept is still in its development stage and more will be revealed soon.