Are you a modern meeting planner? What are the duties and roles required of modern meeting planners?
Social Tables, a leading provider of cloud-based hospitality software, decided to dig deeper into these questions by surveying 350 event professionals to find out what it takes to be a meeting planner. Of course, Social Tables was also interested in what technology modern meeting planners use to stay on top of dozens of events at the same time.
"We know that meeting planners are some of the hardest working people out there across any industry," says Dan Berger, CEO of Social Tables. "So we conducted a study, and collected some of the latest research to see if we could quantify what that meant. In this report, we took our findings and turned them into actionable insights to help planners use their time more wisely, collaborate more efficiently and put on even better events."
Modern Meeting Planners
Here are a few key findings from the survey:
• The average planner manages 37 events each year.
• Over 100,000 meeting planners are employed in the United States and the industry is growing faster than the average across growth rate of all other industries.
• Washington, DC, has the highest concentration of event planners in the United States.
• The average planner spends over 100 hours each year on site visits.
• 61 percent of planners still record information primarily with pen and paper.
• 50 percent of planners said the primary way they source events is online.
The report provides lots of insights about the careers of modern meeting planners, including tops cities for salaries. Who would have guessed that planners in Coeur d'Alene, Idaho, would have a higher average salary that those working in San Francisco and New York City? In the resort town of Coeur d'Alene, planners make an average of $69,201 a year.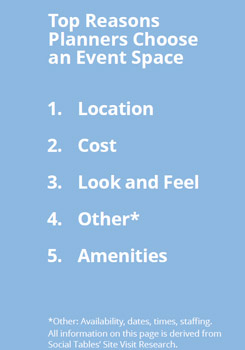 Another interesting fact revolves around site selection and site visits. The survey data shows that planners who support more than 50 events each year tend to make fewer site visits. Due to their increased number of event, modern meeting planners identify properties they trust and stick with them more frequently.
When selecting where to hold meetings and events, planners said that location was the No. 1 factor, followed by cost and the look and feel of a venue.
The report concludes: "Modern planners are like alchemists. They either need to be able to immediately imagine the event as soon as they walk into a venue, or take a raw space and turn it into a gold. Meeting planners are uniquely equipped to balance logistics, event flow, and creativity. It's this category that makes site visits, the make or break moment in the event planning process."
---
---