When it came time to celebrate Global Meetings Industry Day and the power events have to fuel economies, drive medical and scientific discoveries, and create meaningful relationships, the most logical place to go was the city named top conference destination for each of the last 25 years—Las Vegas.
So, I packed my bags and headed for Southern Nevada. I soon discovered that despite the rich history of gathering and entertaining generations of attendees, we ain't seen nothing yet. Vegas' best days may still be ahead for three powerful reasons.
Bigger and Better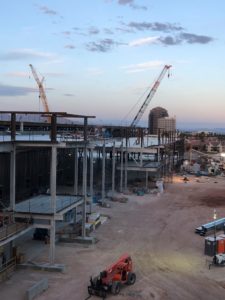 You could say the future is bright for 3 million reasons. That is how much meeting space is being added over the next five years, according to John Schreiber, vice president of business sales at Las Vegas Convention and Visitors Authority. Those meeting rooms are being paired with an additional 10,000 guest rooms.
From the largest pillarless ballroom at Caesars Forum (550,000 sq. ft. of meeting space and 100,000 sq. ft. of outdoor terrace, opening in March 2020) to The Ideation Studio's healthy, smart space at Park MGM, more groups than ever can book the city that attendees say they want to visit.
More: Caesars Forum Hits Another Milestone
Mike Dominguez, senior vice president at MGM Resorts, says this is good news for associations because the extra space gives his team more flexibility to book a group four years out and still have room for a corporate event that comes in less than two years ahead of a date that falls during load-in time for the association.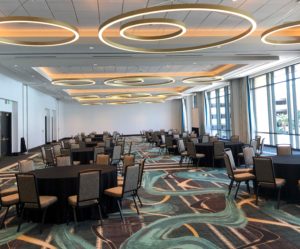 Park MGM's Conference Center, with meeting space that can be broken into 16 break-out rooms, is the last piece of an expansion project that brings a total of 850,000 sq. ft. of new space at Mandalay Bay, Aria and Park MGM. This leaves MGM Resorts with 4 million sq. ft. of meeting space on The Strip.
The extra wiggle room and more flexible ballrooms fit the demands Dominguez predicts in the wake of a wave of mergers and acquisitions. "M&A is disruptive in the short term, but good news for Las Vegas in the long term as it is one of the few cities that can hold groups that large," he said.
Sports Explosion
Las Vegas welcomed 6.5 million visitors in 2018, and more are expected in 2019. "The destination keeps reinventing itself, giving people more reasons to come," Schreiber said.
One of those reinventions is as a sports destination. What started with the rodeo and was a prime location for NASCAR and UFC blossomed with a beloved ice hockey team, the Golden Knights; a minor league baseball team, Las Vegas Aviators; a new home for WNBA's Las Vegas Aces; a professional soccer team, Las Vegas Lights; and now the NFL Raiders, whose stadium is quickly growing out of the ground just steps from Mandalay Bay.
Las Vegas offers dozens of other sports, from bowling to archery. And video game championships are staking a place on The Strip, reported Jeremy Aguero, principal analyst for Applied Analysis, during a GMID19 celebration on the stage of HyperX eSports Arena, inside Luxor.
Related: San Francisco Celebrates GMID
Aguero sees the intersection of sports and meetings as a mutually beneficial one. He estimates that 300,000 seats are now available in sports venues—seats that could easily be used for conventions and closing receptions. He predicts more are on the way: "Major league basketball and baseball have been sniffing around."
Future Focus
Las Vegas is not just building the empty boxes that made up your grandfather's exposition hall, Dominguez told me. MGM Resorts is investing in using artificial intelligence to arm employees with the real-time data analysis needed to anticipate attendee needs, deliver the right amount of food, maintain optimum temperatures for learning and help deliver inspired content.
An entire floor of MGM Grand Conference Center's expansion is made up of Stay Well meeting spaces with air filtration systems and lighting that adjusts to fit attendee's circadian rhythms—bluer during the day to keep them awake and warmer in the evening to relax them.
For the pods in The Ideation Studio at Park MGM, MGM Resorts worked with wellness research company Delos, furniture-maker Steelcase and computer company Cisco to outfit rooms that put people in the mood to be creative, and make it easy to access files and save brainstorms. Forget the napkin:  Ideas scribbled on these screens can be captured, encrypted and pulled back up whenever needed.
"The development being built now will allow us to do much better if there is a slowdown," echoed Steve Blanner, senior vice president of hotel sales at Wynn and Encore, which is building a convention center with an 85,000-square-foot ballroom in the middle of a golf course just off The Strip. Attendees can step out on the 40,000-square-foot terrace and see only green and hear birds.