Nobu Hotel Caesars Palace is taking a page from Japanese design history in the recreation of 182 redesigned rooms and suites. The refurb is part of a multimillion-dollar renovation of the luxury boutique hotel ensconced within Caesars Palace Las Vegas complex and is available to book now with more improvements rolling out this spring.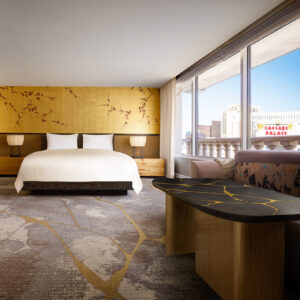 Why We Love It: Rockwell Group has taken one of Japanese design's most fascinating concepts—kintsugi, the art of gold reclamation work—and developed it into a theme for the new rooms, suites and hallways. Kintsugi means "golden seams" or "golden repair" and was developed in Japan in the 16th and 17th centuries to reclaim shattered or cracked pottery. Putting gold into broken places to make a more beautiful object than before is a life lesson that makes a stunning theme for Caesars' boutique gem.
How Meeting Planners Can Use It: Nobu Caesars Palace refurb includes the Hakone, Sake, Nobu Penthouse and Nobu Villa suites—all prime accommodations for VIPs and CEOs. The property also has a private conference room and an eight-seat table available for hourly or daily rental. Caesars Palace itself offers 300,000 sq. ft. of meeting space nearby.
More Nobu to Come: A new Nobu restaurant will open in Paris Las Vegas in early 2022, followed by the opening of Nobu Hotel Atlantic City and restaurant within Caesars Atlantic City this summer. In 2024, Nobu Hotel New Orleans and restaurant will open within Caesars New Orleans, which is currently under construction.
Tri-State Transformation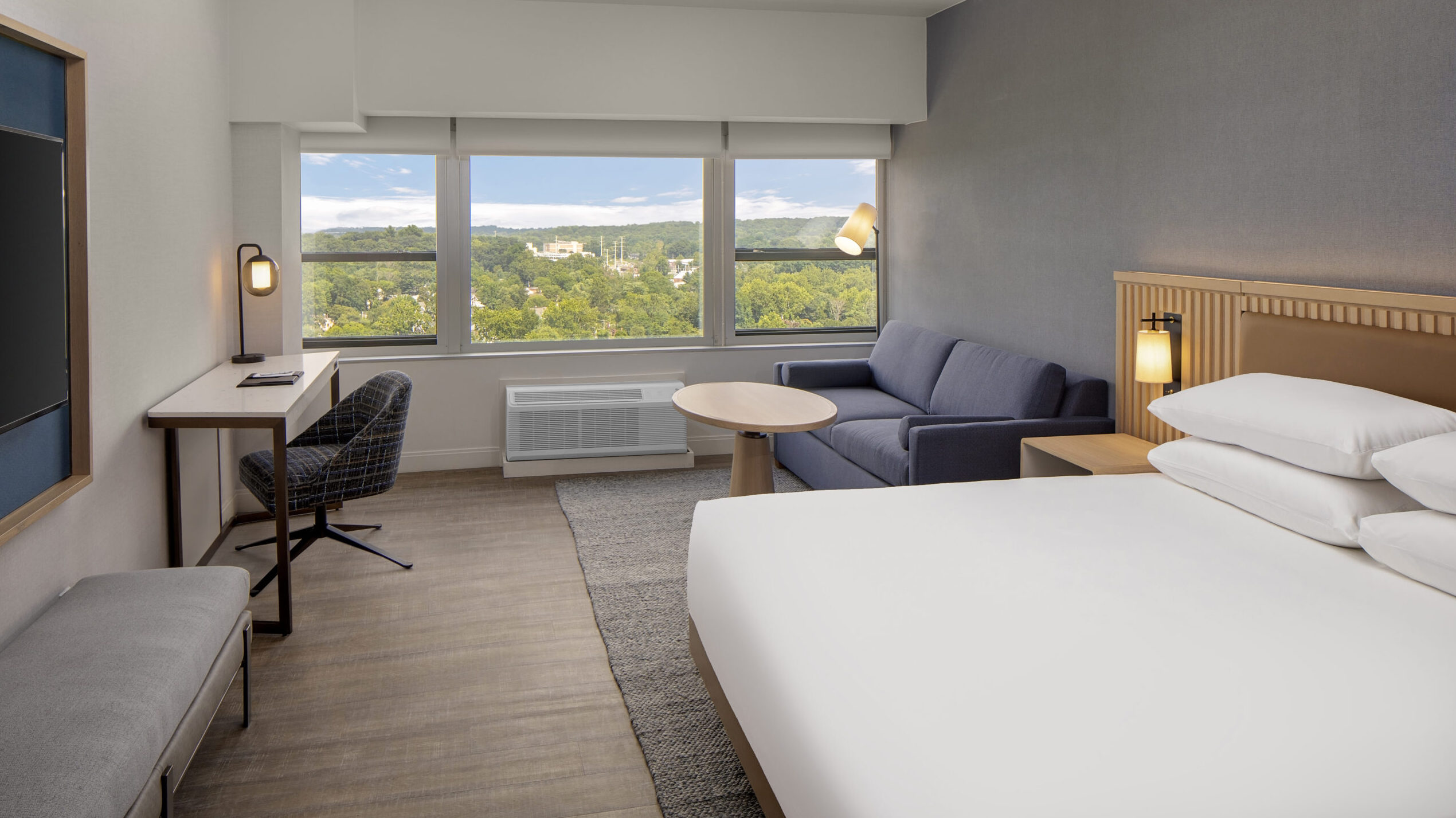 Hyatt Regency Morristown, a 40-minute drive from Morristown, New Jersey to New York City, located within Headquarters Plaza has debuted a multi-million-dollar renovation. The hotel's guestrooms, lobby, food and beverage offerings and indoor meeting spaces have all been refurbished by Gensler, a global design firm with local, Morristown roots.
Check out last week's news: New and Renovated: Hard Rock Hotel New York; Hybrid-Friendly Outdoor Options
The property's 31,000 sq. ft. of conference space have been updated, including flexible meeting rooms and the Terrace and Plaza ballrooms. Groups will now have the availability to host events at a new outdoor venue at adjacent Pioneer Park courtyard beginning in April. The hotel's former restaurant has been converted into a new meeting venue and all spaces include updated lighting, new furniture, and modern artwork.
The theme of the renovation evokes Morristown's unique Revolutionary War history, with military blue and brass predominating.
The hotel's double rooms have been converted to queen rooms with two queen beds, and king bedrooms have been outfitted with modern glass showers. The hotel's 50 studio suites were redesigned to provide more spacious accommodations with comfortable and well-appointed seating areas including sleeper sofas.
The property is a quick, 30-minute drive from Newark Liberty Airport. Train service is also available to NYC.
Cali Coastal Redux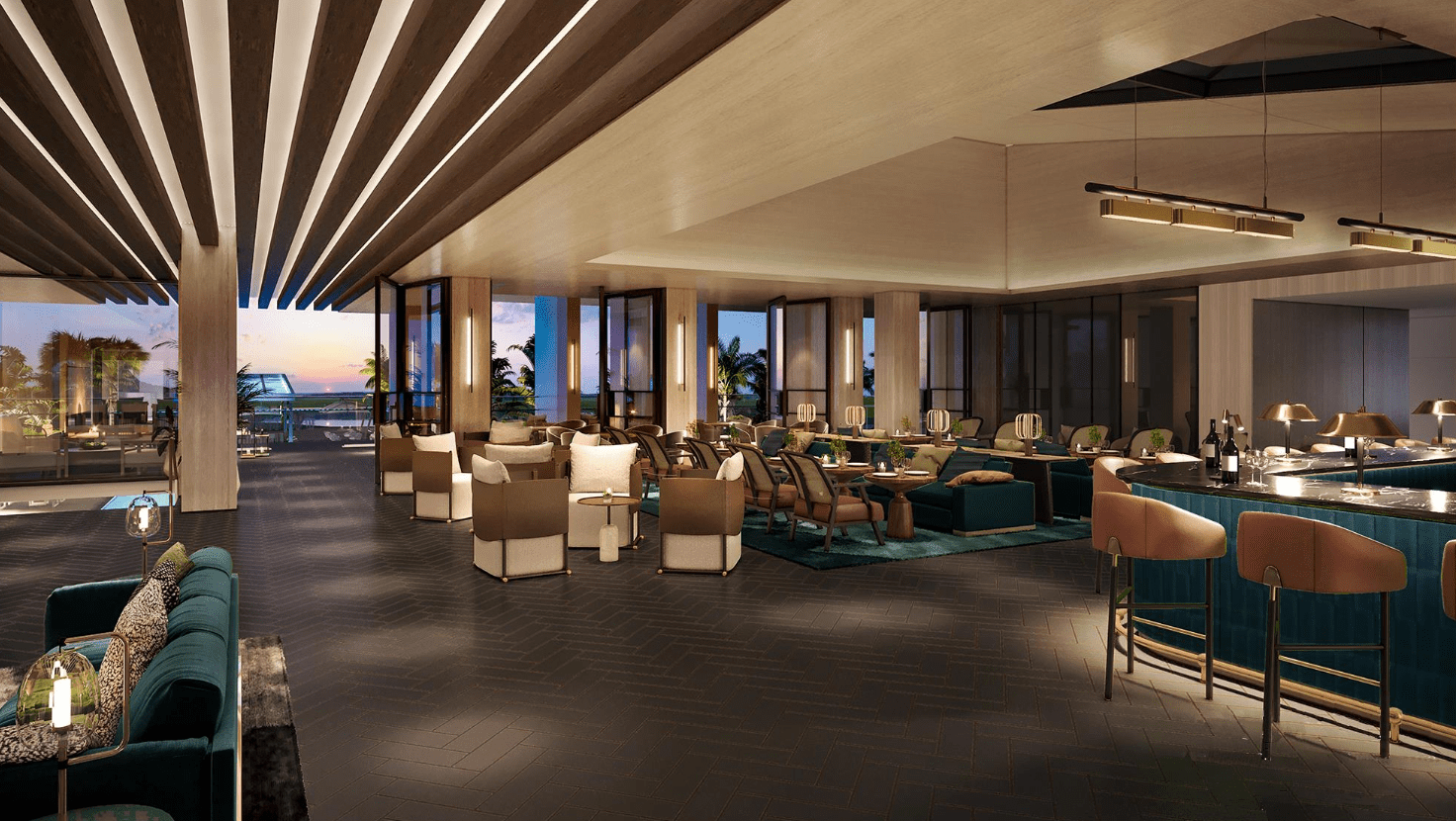 Newport Beach Marriott in California has been renovated and rebranded as VEA Newport Beach, a Marriott Resort and Spa under the ownership of Eagle Four Partners and Lyon Living.
The property will now include over 60,000 sq. ft. of indoor/outdoor event space. The spaces include an ocean-facing event lawn, an outdoor lawn adjacent to the ballrooms and an indoor/outdoor flex event space overlooking the California coast.
The redesign, by HBA, Gensler, Burton Studio and Houston Tyner Architects, is evocative of coastal woods, wind-washed muted neutrals, marble and open-viewing glass.
Other amenities will include firepits in some premium rooms, Frette robes and bath towels, Molton Brown bathroom amenities and Nespresso machines.
More in California: New and Renovated: These Spaces are Made for Meetin'…
Four-Bedroom Group Suites feature a full kitchen with Bosch, Fisher & Paykel, U-Line and Perlick appliances, and a living room with views of the Pacific Ocean. Wellness/Mindful-Focused Suites were designed with soft, muted colors and natural elements like wood, marble and stone.
Bourbon Boutique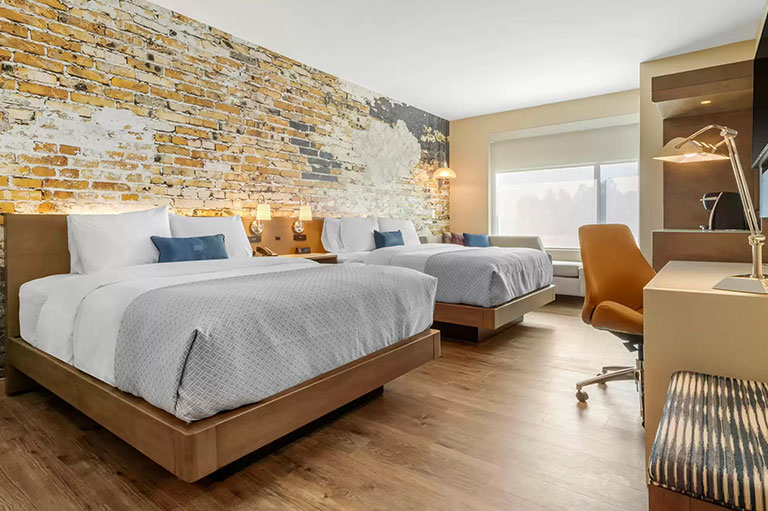 Louisville, Kentucky's entertainment district is now the home of the new 128-room Cambria Hotel Louisville Downtown-Whiskey Row.
The Cambria offers 1,965 sq. ft. of total event space accommodating up to 160 people. The 1,475-square-foot ballroom can be divided into two smaller meeting spaces: Backstretch and Homestretch (named for the fact that the Louisville Slugger baseball bat was born here). The Jockey boardroom offers 490 sq. ft. for small groups and breakouts.
Whiskey Row is the original home of the Kentucky Bourbon industry, a theme you'll see in the property's Jackdaw Coffee & Bourbon Bar and on the menu at the Magnum Moon Hayloft Bar & Grill which sports a model of its namesake, a full-size replica of the winning racehorse of the Kentucky Derby.
The Cambria is in walking distance of Museum Row, Louisville Slugger Field and Kentucky International Convention Center. It is also close to Louisville Slugger Museum & Factory and the Muhammad Ali Center.