Meeting professionals are not just in the events business, we are in the business of helping people define who they are. That was a reminder from Greg Bogue, chief experience architect at Maritz Global Events and keynote speaker last week at Smart Meetings Incentive Experience in Riviera Maya at the all-inclusive Hotel Xcaret Arte.
"Experiencing new things and offering new perspectives helps people find themselves," he said. "It is not a coincidence that of the millions of pictures posted on social media, most aren't pictures of money, but experiences. We have gone from trophy value to selfie value. Experiences are the new status symbol."
Authentic Experiences Create Powerful Connections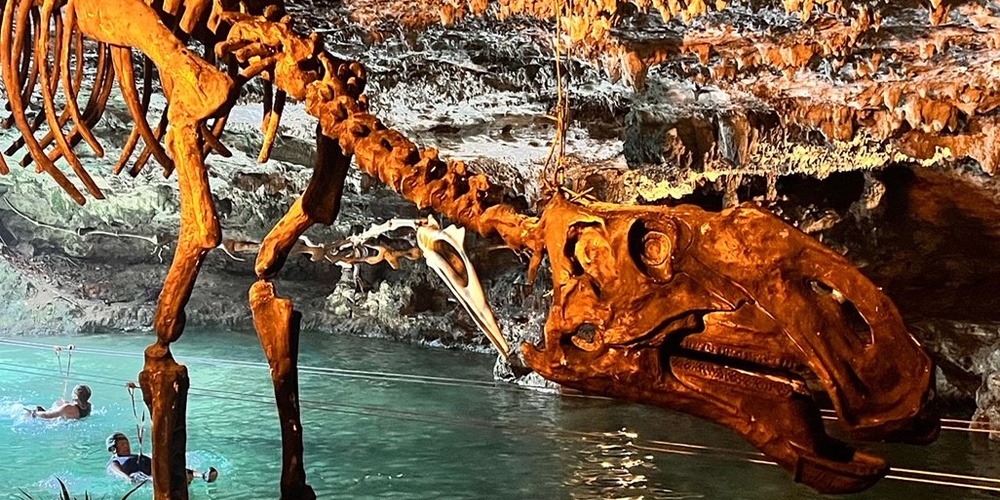 Incentive meeting professionals are masters of designing motivating experiences by personalizing the adventure based on guest data. Attendees at this exclusive resort learned over three days how to engineer those emotional moments by living them.
Read More: Western Mexico: An Incentive Paradise
The immersion started with a dramatic Mayan ritual at registration. That flowed into a Dia de Muertos (Day of the Dead) party on the shores of a cenote that meanders through the property. The gathering ended with a white party catered as a five-course gourmet meal. The caviar in a coconut shell, Wagyu beef and lobster courses were accompanied by authentic local musicians and a laser fountain show in a stunning outdoor amphitheater at sunset.
The white party @HotelXcaretArte shone with local music, a water fountain show and an exquisite meal. pic.twitter.com/D0OzLJU7CJ

— JT Long (@SmartMtgsJT) September 20, 2022
Because Hotel Xcaret Arte, which was completed in Playa del Carmen in 2021 with 900 guest rooms, is part of a complex that includes Hotel Xcaret Mexico's 900 guest rooms and Xcaret Park, team building was built in. Underground rivers for swimming and canoeing, five extreme zip lines, ATVs and cultural attractions were the backdrop for competitive exploration.
To really bring a group together, sometimes you have to go to the heart of a prehistoric cave for underground swimming and zip lining. This is what team building looks like @XcaretPark @RivieraMaya #MeetSmart pic.twitter.com/aIYTv0VztE

— JT Long (@SmartMtgsJT) September 19, 2022

In addition to this fast-growing destination, the state of Quintana Roo, which includes Cancun and Riviera Maya, has become one of the largest hotel destinations in North America with 120,000 guest rooms (third only to Las Vegas and Orlando, Florida), many in exquisite resort settings.
Gifting was also taken to a higher level with local bags coordinated by Terramar, a DMC Network company and Revo sunglasses from Wet Paint Group.
Starting with spirit @HotelXcaretArte #MeetSmart pic.twitter.com/6SGhA8t3LR

— JT Long (@SmartMtgsJT) September 18, 2022
To ensure everyone remembers the experience vividly, live painting artist John Bukaty captured a colorful sketch during the opening night accompanied by Grammy Award-winning DJ Logic. Attendees are being gifted a print as a keepsake.
A true work of art in action! https://t.co/C6q73XhcyR

— SmartMeetings (@SmartMeetings) September 19, 2022
The Great Retention
In the era of "quiet quitting" and The Great Resignation, incentive travel is a secret weapon that can keep employees happy and engaged. It is no secret that the industry lost mind share during the pandemic as long-time employees retired, were forced to stay home with kids, started their own businesses or switched industries.
And those who do still show up are not staying as long because millennials and Gen Z behave differently than their boomer counterparts. They average 2 years rather than 8 years. Dick Finnegan, inventor of the "Stay Interview," shared that increased pay, while part of the solution, will not be enough to bring them back without better engagement.
The solution, he said is to have meaningful conversations on a regular basis instead of waiting for the exit interview to find out what went wrong. Here is a sample script from his Stay Interview format:
What do you look forward to?

What are you learning? 

Why do you stay here? 

When was the last time you thought about leaving our team and what prompted it? 

What can I do to make your experience better? 
Smart Tip from Dick Finnegan, the inventor of the Stay Interview. Bosses top money as retention tool. Ask employees why they look forward to coming to work. #incentive #MeetSmart #DickFinnigan pic.twitter.com/W3j8JESPXT

— JT Long (@SmartMtgsJT) September 18, 2022
Maritz executive Greg Bogue agreed that personalizing our interactions is how we create transformation. "The pandemic changed the way we value our time," he said. "The experience economy is here."
Smart tip from Greg Bogue of @MaritzGlobalEvt: We should not waste our time together doing things we can easily do when we are apart. #MeetSmart #Incentive pic.twitter.com/Mu9Uj0Kyqb

— JT Long (@SmartMtgsJT) September 19, 2022
When it is time to build an incentive experience, Bogue suggested starting with empathy. Make the announcement of an event in itself so people start anticipating and become hungry for it. Make the earning process fun and easy to track. Go through the registration platform yourself to test it out. Engage everyone on their terms during the incentive trip and extend the excitement by sharing photos and gifting after they have returned so they start getting excited about the next year all over again.
"Scarcity and novelty are two powerful human motivators," Bogue said. "Our brains get caught in autopilot. Only by interrupting the ordinary, do we get people's attention.
"When a group of people experience a sense of awe together, it creates prosocial behavior."