Meeting planners are discovering a different side of Mexico
 The region called Los Cabos ("The Capes") is at the southern end of the 1,000-mile-long Baja California peninsula, just to the west of mainland Mexico. But it has a history and a climate and a charm that's distinct from the rest of the country.
Happily, it also has a bunch of other qualities that make it attractive to meeting planners, among them a variety of excellent resorts and a rapidly growing record of hosting successful meetings and, increasingly, incentives. All of which take place in a benevolent climate with 350 days of sunshine a year, and a landscape that offers mountains, desert and ocean all in one place.
Even though Los Cabos sits near the Tropic of Cancer, it's got a dry climate, with no bugs and temperatures settling comfortably into the seventies most of the year. In addition, because of the unique topographical features and wide-open spaces, planners can host events for up to 3,000 people here.
There's also another interesting bonus for meeting/incentive planners. The two biggest economic engines of the region by far, according to local officials—are tourism and meetings/events. As a result, the local hospitality infrastructure is geared toward these demographics.
The major population centers are San Jose del Cabo, with about 136,000 residents, and Cabo San Lucas, with 202,000. Linking them together is a 20-mile corridor of world-class beaches, 85 hotels, excellent spas, over a dozen championship golf courses (most of which overlook the ocean) and superb meeting/convention facilities.
What Covid Recession?
Los Cabos welcomed over 800,000 visitors in this year's first quarter—a jump of 13%—and nearly 3 million last year. As a result, Los Cabos International Airport (SJD), which already has 500 weekly flights to/from 26 American cities including New York, Los Angeles, Houston and Denver, is embarking on a 30% increase in traffic with the U.S.
Meeting planners feel comfortable bringing groups here for meetings and/or incentives, as the destination responded very early and very efficiently to the pandemic. Not only did Los Cabos enact comprehensive health and safety procedures, but local officials also did an excellent job of keeping both residents and visitors in the information loop.
In fact, in contrast to some growing meetings areas, most residents believe that the influx of visitors has helped create a greater awareness of environmental issues and protection of the region's resources. As a result, attendees can gather for special events on beaches, on the desert, in the mountains, on the water, in scenic towns or in splendid isolation.
"Not only did Los Cabos enact comprehensive health and safety procedures, but local officials also did an excellent job of keeping both residents and visitors in the information loop."
Small wonder then, that Los Cabos has 15 of the most highly-rated hotels in Latin America.
Meeting Hotel Stand-Outs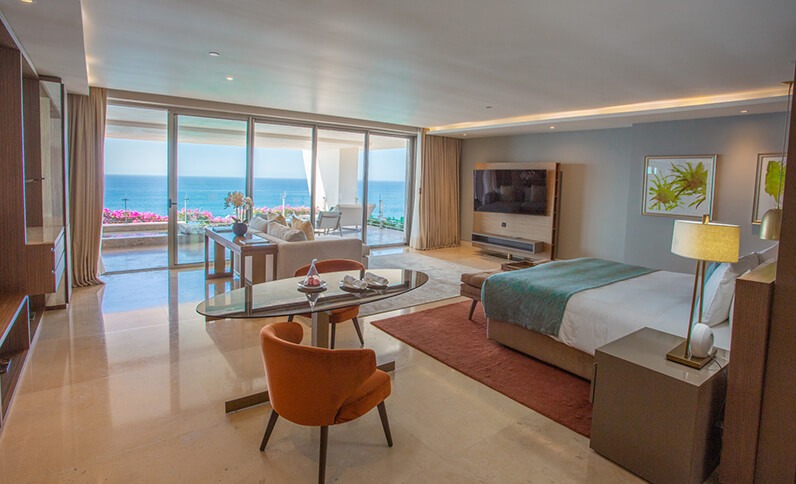 Grand Fiesta Americana Los Cabos is a longtime favorite of planners. With 527 guest rooms, 15,000 sq. ft., nine restaurants and seven bars, a spa and beach access, a program called Express Events tailored for smaller groups, and the renowned SOMMA WineSPA, this hotel hosts a busy schedule of meetings, incentives and special events.
Its adjacent sister resort, Live Aqua Private Residences Los Cabos, offers 35 high-end residences with up to 2,079 sq. ft. for upscale board retreats and VIP incentives, and special upgrades for CEOs with employees staying at Grand Fiesta Americana. Here, Terraza MAI Terrace has an outdoor location with spectacular views of the Sea of Cortez, and two world-class golf courses are within walking distance of both resorts.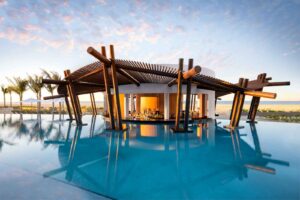 Hard Rock Hotel Los Cabos boasts 639 sound-proofed guest rooms with 24-hour room service, 60,000 sq. ft. of meeting/event space, the Rock Spa and the Body Rock fitness center, several pools, and world-renowned golf courses nearby.
Grand Velas Los Cabos has oceanfront views and a striking design that makes it seem to curve gently toward the Sea of Cortez. The hotel has 307 luxury suites, 16,370 sq. ft., a beautiful oceanfront terrace for events, a spa, three infinity pools, seven distinct restaurants and nightly entertainment.
Hyatt Ziva Los Cabos offers 591 guest rooms, 31 of which are swim-up suites. The 35,000 sq. ft. of event space includes the Grand Theater, with 1,078 seats and 18 meeting rooms. You won't go hungry or thirsty at Hyatt Ziva, either with seven restaurants and eight lounges. You can hold events or dine-arounds right on the beach, or on the expansive outdoor patio Lagoon.
Viceroy Los Cabos is in the scenic Colonial town of San Jose Del Cabo, whose sidewalks are lined with art galleries and atmospheric restaurants. This hotel has 185 guest rooms and 11 casitas/villas, with 13,621 sq. ft. indoors and 21,853 sq. ft. outside, along with six restaurants, five pools, a 24-hour fitness center, spa, movie theater, and giant outdoor water mirrors giving the impression the buildings are floating.
Los Cabos also boasts one of the world's most esteemed hotel brands. Waldorf Astoria Los Cabos Pedregal is popular for incentives because its 119 guest rooms each feature private plunge pools, terraces with ocean views, and a bottle of Clase Azul Reposado, considered by some the best tequila on Earth. There's 3,556 sq. ft. of meeting space indoors and out, two of Mexico's finest restaurants and three casual restaurant/bars, and you'll enter the hotel through Mexico's only private tunnel.
Hacienda Del Mar Los Cabos has 270 guest rooms and 18,016 sq. ft. on the beach, a golf course and three restaurants. It's located near attractions such as Medano Beach and the Arch of Cabo San Lucas, a world-famous golden-rock formation with giant holes in it (you've seen the photos) where the Pacific meets the Sea of Cortez. Hacienda Del Mar is also filled with Old-Mexico architecture and brilliantly-colored design elements.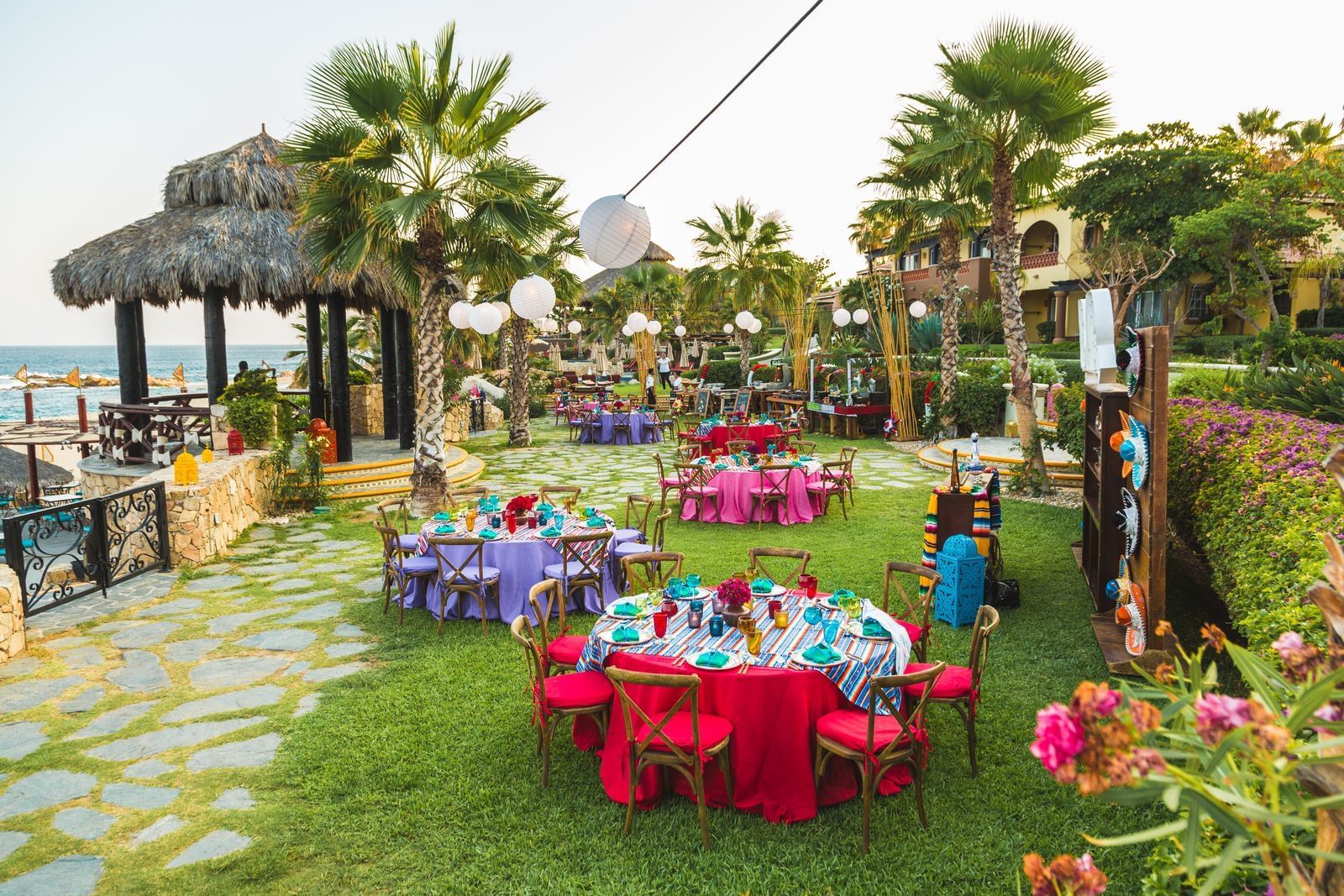 The 350-room Paradisus Los Cabos is a beachfront resort between Cabo San Lucas and San Jose del Cabo, and its 24,210 sq. ft. of meeting space includes a 13,500-square-foot convention center with cutting-edge technology. This hotel offers stunning views of the Sea of Cortez, seven restaurants, a fitness center, strolling paths through traditional Mexican gardens and terraces, a spa, and special excursions around the region.
Also popular with planners is the beachfront Hilton Los Cabos, with 264 guest rooms (some with private plunge pools), 60,000 sq. ft., including terraces, eight restaurants and lounges, the Enclave Beach Club, eforea spa, three pools, a fitness center, tennis courts and a wellness program with meditation and yoga. The Hilton also offers a wide range of special activities such as tequila tastings, showcases with local artisans, Friday fireworks and watching newly-hatched turtles make their way to the sea.
JW Marriott Los Cabos Beach Resort & Spa offers 299 well-appointed guest rooms, 32,485 sq. ft. of meeting space and a 38,500-square-foot outdoor amphitheater. The hotel sits on a beachfront setting where the Sea of Cortez meets the Pacific Ocean, with six restaurants and bars, the Jasha Spa, a Jack Nicklaus-designed golf course, a fitness center and several pools and whirlpools.
Four Seasons Resort Los Cabos at Costa Palmas has two miles of beachfront on the Sea of Cortez, with 141 guest rooms and 5,860 sq. ft., and offers an authentic Mexican farm-to-table experience at its Limon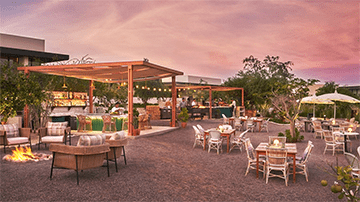 Restaurant. Nearby is Cabo Pulmo National Marine Park, with 891 species of fish and great deep-sea diving, a favorite pastime around here. You can also try your hand at organic gardening on the 18 acres of plantings at Costa Palmas, which provides food for the hotel.
Another big name in the hotel industry is coming to Los Cabos next year. The St. Regis Los Cabos will have 120 guest rooms, several restaurants and meeting/event spaces.
Great Experiences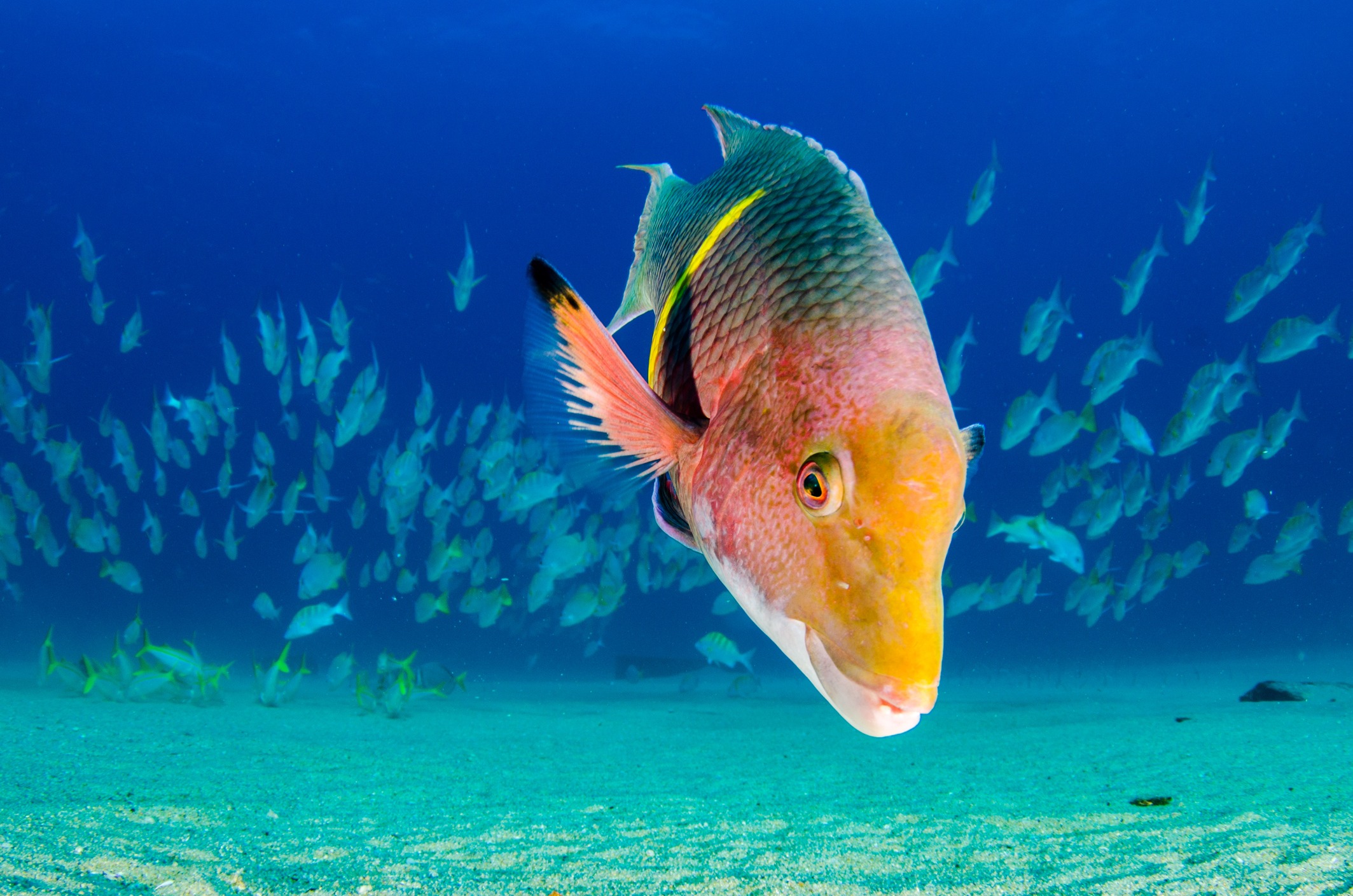 Unique dining experiences abound in Los Cabos, and the village of San Jose del Cabo has a scenic downtown filled with them. For example, at the Sunset Monalisa Restaurant, in front of the landmark Arch, 400 attendees can dine on an open-air terrace while they watch the sun slip down into the ocean. Sunset dinners on the Sea of Cortez, on dinner boats with great views of the Arch, are also popular with groups.
San Jose del Cabo's scenic downtown is also perfect for groups to stage dine-arounds, moving to a new restaurant for each course, so they can experience a bunch of different restaurants in the same evening. This town also has its own Gastronomic District, a popular area for incentive groups. You can also arrive back home with some newly-acquired skills in Mexican cooking, as a variety of cooking classes are available for groups.
Attendees also enjoy visiting the colorful small towns and hamlets in the area. In the village of Santiago, a short hike will bring you to a waterfall cascading down from cliffs of granite. In the old mining town of El Triunfo, dating from 1748, several classic old Mexican buildings have been transformed into atmospheric eateries and galleries.
In Los Cabos, your group can explore 10,000-year-old cave paintings or old Spanish missions dating back to the late-1600s. Unique adventures and team-building options include frolicking with sea lions; getting an up-close-and-personal look at the ocean's largest inhabitants on a whale-watching cruise; or exploring the rugged desert and hills on an ATV adventure (or on a motorcycle, a dune-buggy, or even a go-kart).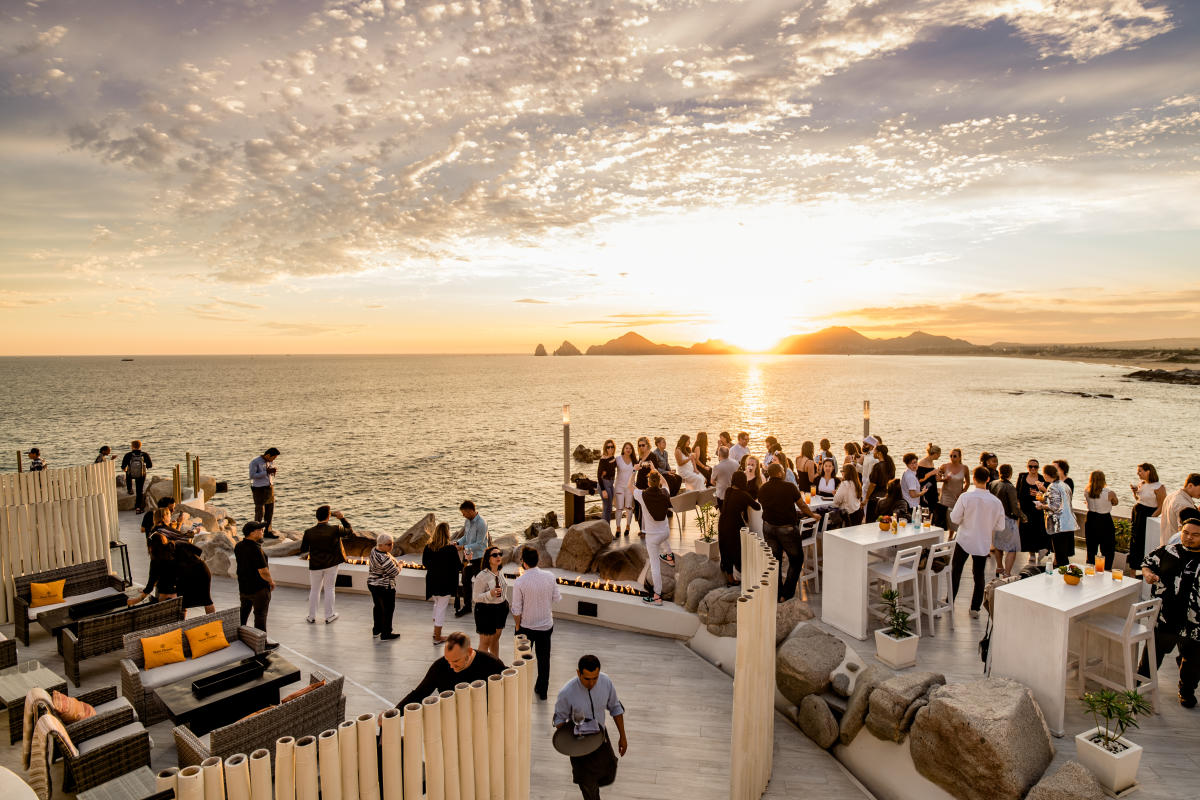 Cabo Pulmo National Park is one place—even though it encompasses a big swath of ocean—where fishing is not allowed. But you'll most likely be taken in so totally by the breathtaking beauty of the place that it won't matter.
You probably won't want to leave your Los Cabos event without an artistic remembrance; and there's plenty to choose from. This region is known for its brilliantly-hued original paintings and carvings and for its Talavera Pottery, developed first in Spain and now flourishing in Mexico. You'll also find artistic treasures in aged pewter and traditional weavings.
Los Cabos is also widely-known for its blown glass, and The Glass Factory in Cabo San Lucas is one of the best places to discover it.
In Cabo San Lucas, your attendees will run out of time long before they run out of things to do.
Resources
Visit Los Cabos
This article appears in the June 2022 issue.