Editor's note: This Week in Travel (TWT) is your essential guide to smoothing the road from here to there for your attendees and yourself.
Food Service Workers Announce Strike Votes at U.S. Convention Centers
UNITE HERE, the hospitality workers union representing Sodexo Live! food service workers in five major meetings markets, has announced the possibility of strike votes over wages and working conditions.
Union members in Orlando, Las Vegas, New Orleans, Sacramento and Detroit held a press conference on Monday, Nov. 21, to warn of potential strikes in Las Vegas and Orlando and labor disputes in other markets.
According to a release from UNITE HERE, "cooks, dishwashers, banquet servers, concession cashiers, and other Sodexo Live! workers at the Orange County Convention Center in Orlando announced that they have voted to authorize a strike by 100%. Centerplate workers at Las Vegas Convention Center will hold a strike vote on Dec. 7 and 8. Centerplate was purchased by Sodexo in 2017."
At the press conference, UNITE HERE union officials said that meeting levels in 2023 and 2024 are expected to surpass numbers from 2018, but the union says that job salaries and benefits are not enough to keep up with the cost of living.
Read More: Could Gig Workers Solve Hotel Staffing Shortage?
At issue as well are reductions in Sodexo workforce, which UNITE HERE says amount to a loss of about 38% across convention centers. D. Taylor, international president of the union, said "strikes at the country's second and third largest convention centers are a real possibility if Sodexo doesn't start treating workers with the respect they deserve."
A Sodexo spokesperson told Smart Meetings that "meeting planners in all of the cities should be assured that we are wholly optimistic of new CBAs being worked out."
He also said, "there are always contingency plans for any scenario, but we fully anticipate striking a long-term, mutually beneficial deal in the near future."
IHG and Iberostar Ink Deal
InterContinental Hotels Group and Iberostar Hotels & Resorts have announced a long‑term commercial agreement for resort and all-inclusive hotels. Up to 70 hotels (24,300 rooms) will be added to IHG's system under the Iberostar Beachfront Resorts brand, which will become the 18th brand for IHG. The first properties set to join the IHG system this December include resorts in Mexico, the Dominican Republic, Jamaica, Brazil and the Canary Islands (Spain). Further properties in Spain and other popular resort destinations in Southern Europe and North Africa will join IHG's system through 2023 and 2024.
Read More: IHG Hotels & Resorts Celebrates 6,000-Hotel Milestone with Revamped Rewards Program
Iberostar will retain 100% ownership. Some of the properties in the portfolio include: Iberostar Grand Paraiso (Riviera Maya, Mexico); Iberostar Selection Hacienda Dominicus (Bayahibe, Dominican Republic); Iberostar Grand Rose Hall (Montego Bay, Jamaica); and Iberostar Selection Anthelia (Tenerife, Spain).
 AAA Predicts Thanksgiving Travel Return to Pre-Pandemic Levels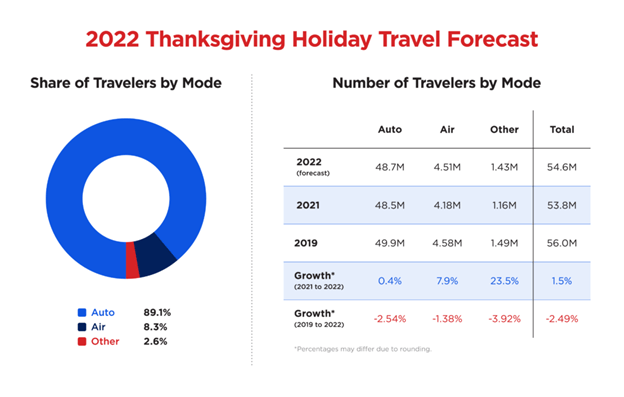 American Automobile Association (AAA) is predicting that 54.6 million people will travel over 50 miles from home this Thanksgiving, a 1.5% increase over 2021 and 98% of pre-pandemic levels. AAA says the year will be the third busiest for Thanksgiving travel since the association started tracking levels in 2000.