One of the biggest brands in hospitality announced on June 7 that it had surpassed the threshold of 6,000 hotels owned. Guests staying with one of IHG's 17 brands are being treated to a completely renewed loyalty program—IHG One Rewards. With locations in more than 100 countries, there is a strong incentive for meeting planners to take advantage of all the benefits available to Rewards members.
IHG CEO Keith Barr marked the occasion by ringing the bell marking the end of the day in the New York Stock Exchange. Surrounded by fellow executives and top hotel managers, he praised the hard work of owners and the trust of guests.
Read More: NYU International Hospitality Industry Investment Conference Starts with Hopeful Vision of Return to Travel
The Road to 6,000
IHG has had steady growth over the past few years, even in the face of the pandemic hitting the travel industry especially hard. Since 2017, it has acquired or launched six brands to add to its portfolio. Each brand falls under one of four categories, accommodating guests with all kinds of travel needs; Luxury & Lifestyle, Premium, Essentials and Suites.
At the moment, IHG holds 6,028 hotels with a combined total of 884,820 rooms. Even with this massive collection, the company already has 1,800 more locations planned for development. In his remarks celebrating the milestone, Barr said, "I'm looking forward to IHG's next chapter of growth and to celebrating plenty more milestones to come."
What's In It For Guests?
The redesign of the IHG One Rewards program has been optimized to give members a wide variety of benefits. With the new mobile app, patrons can look at their points, make bookings on the go and check in online. The hospitality industry is shifting more towards technology as guests do more on their phones—this is the latest development in the tech-savvy future of travel.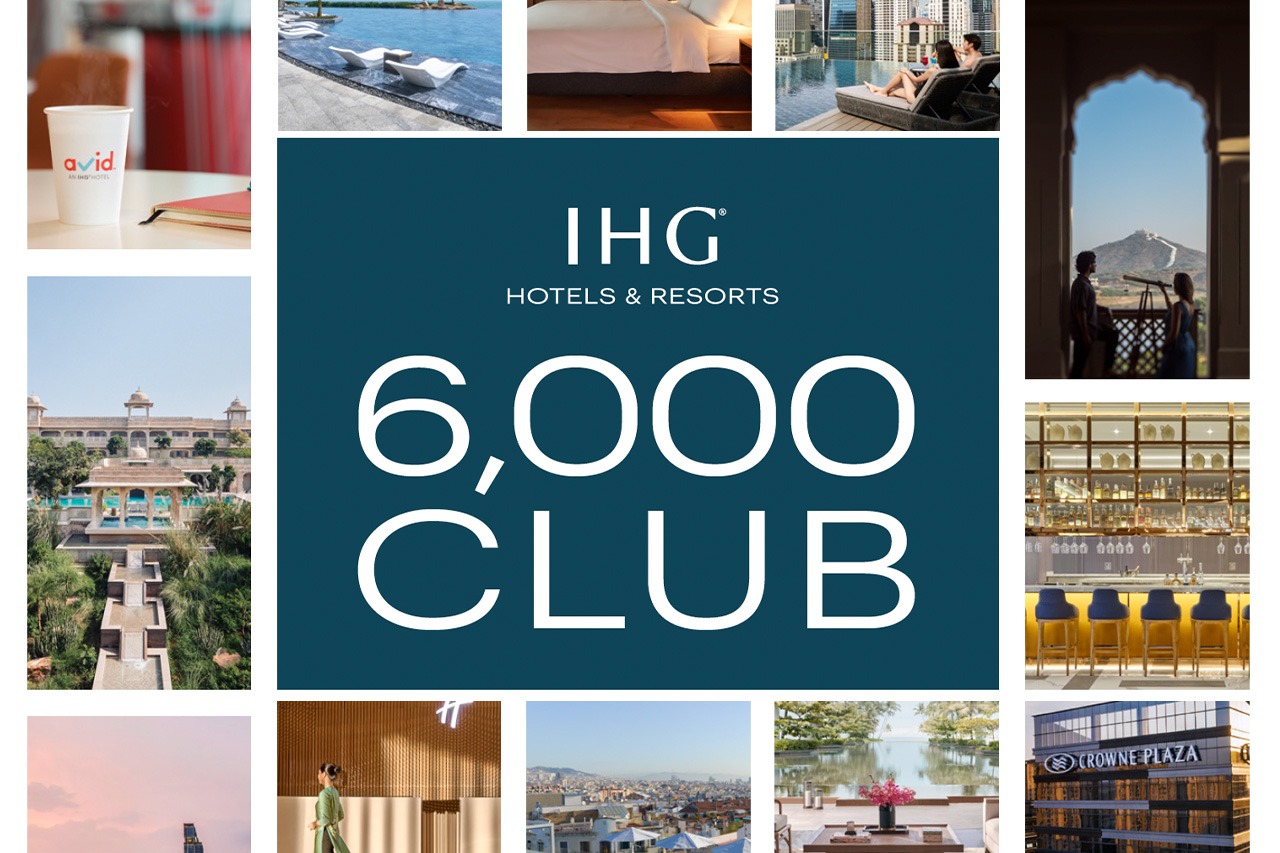 In addition to previous perks of the IHG One Rewards program, such as exclusive discounts, free Wi-Fi and late checkout, IHG announced a promotion called the "6,000 Club." The company chose some of its newest hotels to surprise random guests with an extra 6,000 points to put towards rewards. A full list of participating locations can be found on IHG's website.
Read More: IHG Hotels Launches Vignette Collection, a 'Conversion Brand'
New Partnerships with IHG
IHG has even more in store for IHG One Rewards members. Thanks to a series of partnerships, guests have the opportunity to participate in exclusive experiences in events such as:
Music Festivals:

Members can go backstage or hang out in VIP lounges at The Governors Ball, Lollapalooza, Reading and Leeds Festivals, Music Midtown and Ohana Festival

Soccer Tournaments:

IHG is sponsoring Major League Soccer for the next few years, securing its members special access that can't be bought.

Rugby Cups:

Though the big May tournaments have passed, members will get exclusive benefits in the coming season. The 2022/2023 European Professional Club Rugby tournaments start again in December.
Barr said about these collaborations, "Our new partnerships will connect more of our IHG One Rewards members with memorable moments, as travel continues to return." As the United States drops Covid testing requirements for international travelers, this return to travel is set to continue.
Rewards for individual guests and meeting planners can be used in destinations all over the world. With the massive milestone of 6,000 hotels, booking events and traveling with IHG looks more attractive than ever. Take advantage of what they have to offer the next time you take a trip.