Where to celebrate March 17 on the Las Vegas Strip
Green Beers and Guinness, corned beef and cabbage (not actually an Irish dish, but we love it anyways) and the festive spirits of partyers drenched in green set to extreme are just a few of the details that make St. Patty's Day a joyous occasion. So, lift up a pint of the black stuff and yell "slainte" (which means cheers in Gaelic pronounced slawn-cha)!
But first, a history lesson. Who was Saint Patrick and why do we party down every March 17th in his name? Well, the special day stems from the anniversary of the saint's death in the fifth century with the good folks of Ireland observing the Roman Catholic feast day of St. Patrick on March 17th first starting around the ninth or tenth century. However, the party didn't officially kick off until 1601 with the first-ever St. Patrick's Day parade in 1601 in a Spanish colony that is now St. Augustine, Florida. The event was organized by the colony's Irish vicar, Ricardo Artur. Then, in 1772, Irish soldiers serving in the English military marched in the streets of what is now New York City to honor the patron saint and the enthusiasm for the event blossomed there and in other early American cities, such as Boston.
On a side note, Patrick wasn't Irish but English. He was born to a wealthy family and was taken prisoner at the age of 16 by Irish raiders that attacked his family's estate. He escaped after six years of captivity, claiming that he heard the voice of God instructing him to leave Ireland, which entailed a 200-mile hike to the Irish coast. Having found solace in Christianity during his time as a prisoner, Patrick began religious training after returning to England and was ordained as a priest 15 years later. He was then sent back to Ireland to minister to Christians living there as well as converting non-Christians. Patrick was never officially canonized into Sainthood as the Catholic Church had no formal process for that during the first millennia.
St. Patrick on The Strip
Now, roughly 1,500 years after St. Patrick walked the earth, the celebration of his name is boasted around the world with no other place better suited for the emerald-hued occasion than Las Vegas. Celtic Feis is returning to Vegas this year on Friday, March 17 at New York-New York Hotel and Casino with a lively party stretching from 10 a.m. to midnight.
Read More: Las Vegas: It Takes an Events Village
The St. Patrick's Day spirit will kick off with a parade led by the Las Vegas Emerald Society Pipe Band starting at Bliss in The Park at 10 a.m. and will maneuver through the casino and end at the Brooklyn Bridge at New York-New York.
"Celtic Feis at New York-New York delivers a celebration like no other and we're excited to continue that tradition in 2023," said Mike Neubecker, president and chief operating officer of New York-New York. "We're proud to host Las Vegas' largest St. Patrick's Day event and we welcome everyone to join in on the fun." The day-to-night celebration will feature live music from DJs and local bands, Celtic Chaos, Las Vegas Emerald Society Pipe Band, Sin E Ri Ra, Celtic Rockers and the Sticky Wicket Duo.
The Celtic-inspired event will also offer food from Nine Fine Irishmen, such as corned beef cabbage spring rolls with Guinness mustard; Irish whiskey braised short rib with mashed potatoes, whiskey and mushroom demi; and corned beef and cabbage served with potatoes, carrots, cabbage and parsley sauce.
St. Patty's Celebration Dropkicked into High Gear
Meanwhile, in Bean Town, The Dropkick Murphys will perform at MGM Music Hall at Fenway—the first time the band will belt out their raucous, Celtic-themed punk at the stunning new venue located adjacent to Boston's storied Fenway Park. The Dropkick Murphys launched their St. Patty's Day tour on the first of March and will land at MGM Music Hall on March 16, with a follow-up event available by livestream on St. Patty's Day proper.
With 91,500 sq. ft. of space and a maximum capacity of over 5,000, the green-clad mayhem at the new state-of-the-art venue will be a whale of a time.
Good Humor and Tasty Treats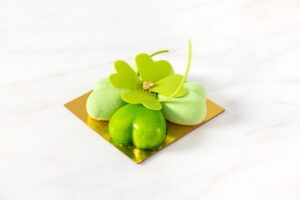 And what would St. Patty's Day look like without green beer? The tradition of serving up emerald suds will be flowing through O'Sheas Pub at LINQ Hotel + Experience on the Vegas Strip ringing in the luck o' the Irish. For the first time since 2019, partygoers can enjoy 16-ounce drafts of green beers for only $10.95 at the pub. The Irish-inspired party is a popular spot for groups looking to unwind in a casual, high-energy environment with special events, activities, beer pong and other table games. And the party at O'Sheas doesn't quit until 4 a.m.
Read More: Las Vegas Gives a Preview of What's to Come
For those seeking a more mellow St. Patty's Day experience, look no further than the pastry shop elevated to the next level that is Dominique Ansel Las Vegas, located at Caesars Palace. Visit the home of the treasured Cronut created by James Beard Award-winning pastry chef, Dominique Ansel, crowned the World's Best Pastry Chef in 2017, and pick up one of his new and delicious St. Patty Day-themed four-leaf clover.
"Our Four Leaf Clover is part of our Lucky 7 collection, with 7 different lucky symbols transformed into pastry, each representing good fortune across all different cultures. And since we're in Las Vegas after all, it was only fitting that one of these would be a lucky four leaf clover," says Ansel, adding, "It's one of my favorites."
Ansel, who was also bestowed the l'Ordre du Mérite Agricole, France's second-highest culinary honor, created the new scrumptious treat using coffee mousse with hazelnut dacquoise, feuilletine and dark chocolate crémeux. The four-leaf clover is part of Ansel's Lucky Seven pastry collection, which includes the cronut, frozen s'mores and the cookie shot—made and served from an automated vending machine powered by Robochef's SmartKiosk and serves up delicate handmade cookie shots "precisely" filled with chilled Madagascan vanilla milk. Perhaps it's not the shot you'd expect on St. Patty's Day, but they'll definitely give the green beers a run for their money.