As travelers post "OOO" on their cell phones and head out to vacation time this long Memorial Day weekend, lower fares but full flights are indicative of some trends that may continue this summer.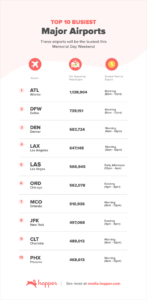 Travel agency Hopper's Memorial Day and Summer Travel research posts say that domestic airfare dropped 26% or $100 per ticket from 2022 and are a further 6% below 2019 levels. However, 2023 is predicted to be the most expensive for international travel in more than five years with fares to Europe up over 50% from 2022.
Hotel prices in the United States have dropped from 2022 down to $208 per night over Memorial Day Weekend, -6% from this time last year.
Read More: Elevating Holiday Cheer Through Culinary Creativity
Car rentals for the holiday weekend are averaging $44 per day, with prices down 17% from Memorial Day Weekend last year. Travelers are extending the weekend even more this summer with most looking for rentals lasting five days, up from four days last year.
Airports will be packed this Memorial Day Weekend, with nearly 17 million passengers expected to depart from U.S. airports from Thursday to Monday of the holiday weekend. Seat capacity is currently scheduled to be 17% higher than Memorial Day weekend 2022, growing by more than two million seats in the last year.
Hartsfield-Jackson Atlanta International Airport (ATL), Dallas Fort Worth International Airport (DFW), Denver International Airport (DEN) and Los Angeles International Airport (LAX) will be the busiest departing airports for Memorial Day weekenders, most airports will be busiest in the morning or early evening.
In its research on projected summer stats, Hopper says current domestic airfare is averaging $306 per ticket, down 19% from last year and up only 6% compared to summer 2019.  However, airfare to Europe and Asia this summer is already the highest it's been in more than five years, with trips to Europe averaging over $1,100 per ticket and trips to Asia averaging over $1,800 per ticket. Both have increased more than $300 per ticket compared to last summer.