Plan with Confidence
Orlando has long been a favorite destination for attendees for numerous reasons, with world-famous theme parks and attractions, ample sunshine, and the state-of-the-art Orange County Convention Center (OCCC) topping the list. And now, business groups have even more motivation to meet in Orlando.
From new hotels and enhanced safety protocols to a host of fresh additions, Cvent's No. 1 U.S. meeting destination has much to offer groups who seek big-city cultural amenities with a memorable vibe. We will also be included in an expanded Michelin Guide coming out this year, showcasing the abundance of culinary superstars making their home in Florida.
See how we've grown since the last time you met in Orlando—and start making plans for your organization's triumphant return.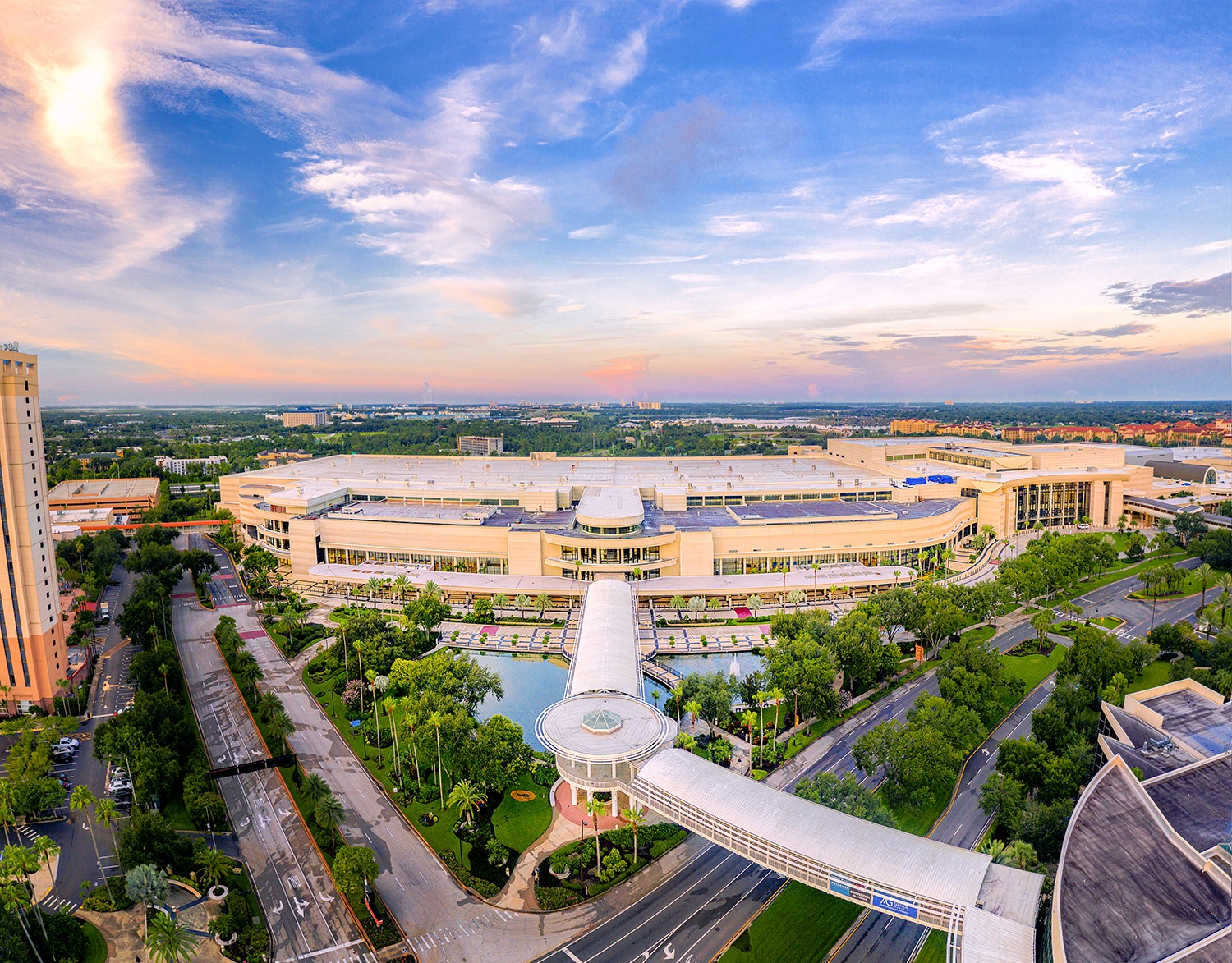 Event-ful Experiences
From July 2020 and January 2022, the Orange County Convention Center hosted more than 200 events of all sizes, making Orlando one of the few U.S. destinations to welcome conventions, trade shows, meetings, and consumer and sporting events during that time.
Secret to success? The unity of the destination coming together to adhere to strict health and safety guidelines. The OCCC was one of the first convention centers to receive GBAC accreditation and the first convention center to receive reaccreditation globally.
One example: Reed Exhibitions moved its Vision Expo East show from New York to Orlando in June 2021. Marie Browne, group vice president with Reed Exhibitions, which managed the production, reported the group had "very favorable results" from the partnership. "They worked with us to solve our problems and grow our event," she said.
SuperCorrExpo®, the hub of corrugated machinery business, gathered in Orlando in August 2021. Haley King, event planner for the Technical Association of the Pulp & Paper Industry Inc., shared the enthusiasm for meeting her attendees expressed.
"Everyone is just so excited to get back and talking again, networking face-to-face is so important," said King. "We benefit so much from being around each other."
King also noted the OCCC's attention to detail to make sure attendees felt safe, right down to switching to touchless water cooler stations. The convention center was even big enough to accommodate the group's oversize machines on the trade show floor, making in and out easier. As a result, the group is already planning to return in 2024.
New Options
Orlando is home to more than 480 hotels and nearly 130,000 guest rooms, enough room to accommodate groups of all sizes and budgets. The convention district also boasts over 75 restaurants and 100 entertainment venues.
New accommodations include JW Marriott Orlando Bonnet Creek Resort & Spa adjacent to Walt Disney World® Resort, with 50,000 sq. ft. of space that includes a 22,000-sq.-ft. ballroom.
Nearby, Walt Disney World Swan Reserve is a new tower expansion at the Walt Disney World Swan and Dolphin Resort complex, adding 15,853 sq. ft. of meeting space, including two new ballrooms, and an elevated pool deck with 13,835 sq. ft. of outdoor event space. The complex now boasts 2,600 rooms, 350,000 sq. ft of meeting space, including a new rooftop meeting space perfect for watching fireworks.
Lake Nona Wave Hotel is located within minutes of Orlando International Airport. This wellness and technology-focused property has 234 guest rooms and more than 12,000 sq. ft. of flexible meeting space.
Another new option, AC Hotel Orlando Downtown offers 180 modern guest rooms with a sleek European-inspired design, three meeting spaces, a fitness center, and the SkyBar Rooftop Terrace with 360-degree city views.
Closer to the OCCC, Tru by Hilton Orlando Convention Center Area features 259 guest rooms and 2,200 sq. ft. of meeting space. Complimentary breakfast, parking and Wi-Fi are included for all guests.
Hyatt Regency Orlando has completed a $20 million renovation of the property's indoor meeting space, including all five ballrooms and more than 100 breakout rooms with a new contemporary design highlighting the Florida landscape.
Similarly, Caribe Royale Orlando has completed a $125-million renovation, including a new 50,000-sq.-ft. grand ballroom. The property now has 220,000 sq. ft. of total meeting space.
And more is on the way. As part of an ongoing renovation to be completed in 2022, Orlando World Center Marriott will fully update its 2,010 guest rooms and suites while adding 24 breakout rooms for a total of 450,000 sq. ft. indoors and outdoors. The Tuscan-inspired, 126-room ette Hotel Orlando is set to open in spring 2022 near Walt Disney World.
Focusing on wellness as an alcohol-free property, the hotel offers culinary experiences in partnership with Michelin Star Chef Akira Back, along with The Spa at ette, with services for everyone from the modern minimalist to the unruly naturalist.
Of course, all of these new guest rooms and meeting spaces are in addition to the evolving attractions at the theme parks, so your attendees will have lots to discover on both sides of the park gates.