What's the best way to elevate a gift basket? Put it in a box.
Many CVB's have caught onto this compact and convenient way to send local goods to their favorite planners. Still, packaging a neat collection isn't enough. Planners are spoiled with gifts, so you need to include something memorable.
Fortunately, kicking it up a notch doesn't require a bigger budget. On the contrary, the best CVB gift boxes are those which convey a city's true flavor, providing something useful or sentimental. These boxes will teach you a few key lessons in the art of box giving.
Valley Forge's Rock, Paper, Scissors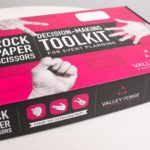 Just look at that hot pink packaging—it looks fun, doesn't it? Valley Forge's tourism board gives rock-paper-scissors a major upgrade, serving a relevant purpose as well. The game raises awareness of the meeting and event offerings in Valley Forge. Specifically, the organization's Revolutionary Events brand.
"We wanted something universal," said Scott Higgins, Valley Forge tourism board's associate director of sales. "The rock, paper, scissors game is a universal language. Regardless of your age, you know how to play it."
This brings up another key element. The box's theme is something anyone can identify and associate with. Perhaps it even evokes childhood memories. The kit includes: rock candy—to get a solid start with Montgomery County's 75 hotels and 1,600 restaurants, a notebook—to stick out from the rest with a noteworthy meeting and scissors—to be cutting edge.
Travel Portland's Experience Maker
Travel Portland showcases its finest local goods in their box.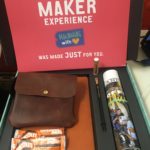 It includes: a custom-made Spooltown leather hip back, a Portland map, a Leatherman micra, Portland bee balm, Skout Backcountry organic energy bars and an issue Travel Portland Magazine.
The package supports a vibrant image of Portland. For instance, the map and organic energy bars paint an active, outdoorsy image of the city. Ultimately, the set stands out for its high-quality, variety and distinct character in each product. More often than not, the better the gifts embody the city, the more attracted planners will be to traveling there.
Smart Meetings' Spooky Sweets
We don't mean to brag, but we think our Halloween crate is a pretty awesome example of box giving. Christmas and even Thanksgiving gifts are fairly expected. By sending something on a less publicized, holiday, planners get the thrill of something unexpected. The set includes Halloween-themed Olive & Cocoa treats, such as festively-shaped sugar cookies. It's not only what's inside the box though. The wooden crates is a bonus gift as well.