Today it seems like everyone with a selfie stick enjoys being in the limelight. At events, planners with smartphones can shine a spotlight on attendees with easy-to-use video apps that create instant, professional-looking short movies that can be downloaded and shared on popular social media channels.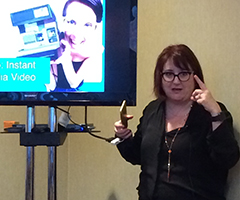 At MPI's 2016 World Education Congress held recently in Atlantic City, tech consultant, public speaker and self-proclaimed nerd Beth Ziesenis showed just how easy it is to create videos that put your attendees in the spotlight. During a presentation, it took her just 91 seconds to whip up a video, dispelling the myth that creating digital movies is a long and laborious process.
Using one of the many technology tools on the market, Ziesenis says planners can capture and share the excitement of an event, stimulate genuine engagement and make a real production over attendees. She points out that the format is also useful for highlighting event sponsors … rather than simply showing their logos, you can visually introduce them to an audience.. highlighting their humanness with funny pictures and videos.
Ziesensis, who favors free or bargain tech tools, recommends the following three video apps:
Launched in 2007, Animoto has grown to include millions of registered users who, with no professional editing expertise, can easily create an impressive-looking video on their Apple or Android smartphones, laptops or tablets. Their movie can incorporate still images and short video clips, as well as music from a royalty-free library containing thousands of songs from all genres.
Users simply select one of 90 customizable styles, upload the content, choose the music and in minutes, the program meshes it all together into a lively video montage with transitions and text captions.  The videos can then be posted and shared via email, Facebook, Twitter and YouTube, or embedded into a blog. Planners can schedule videos to be sent out on a given date—a great idea for before or after a conference.
Businesses can custom-brand the videos with logos, and create slideshows or marketing videos. Animoto offers a 14-day free trail of the product. After that, prices range from $8-$34 per month, depending on the options selected. To see some practical examples of what you can do with the program, click here.
This app is ideal for those insecure about their skills, as Magisto employs artificial intelligence to do most the work for you. The company's sophisticated algorithms analyze your uploaded photos and videos, selecting specific footage to create an emotional response and capture a mood. It utilizes only what it determines is most interesting and share-worthy; stabilizing and color correcting when necessary and choosing audio that fits best with the images. It then automatically generates a script based on a video style you have pre-selected, synchronizing the music so the tempo fits.
Depending on the style you selected (Sentimental, Party Beat, Roaring Twenties, Love, etc.), video effects and enhancements will create a mood for your project. The result is professional-looking movies that can help companies launch a new product, create short tutorials or communicate unique aspects about their businesses. Custom branding, styles, captions and commercially-licensed music can be added.
The program adds a lot of comic book-like effects, and can make pictures appear animated. Unlike Animoto, movies made with Magisto take about 15 minutes to process. Videos can be no longer than 2.5 minutes.
The company offers several subscription levels. Magisto for Business costs $9.99 per month with the purchase of an annual plan. This level gives users a bit more flexibility to edit and reorder scenes, and save a movie numerous times. A nice feature is that users can create themed video albums (such as Travel, Food or Animals), and can invite others to post their videos to these albums.
Magisto is available for Apple and Android devices. To see some examples of videos, click here.
Using an assortment of different size frames, this simple app by Mixcord Inc. allows users to combine different types of media such as photos, videos, GIFs and music into live collages. These sharable "postcards" are great to send out to attendees after an event. The basic app is free, but can be enhanced with custom packages that range from $1.99 to $9.99.
After they are created, PicPlayPosts can be shared on social networks like Facebook, Instagram, Tumblr and YouTube. The app is available for Apple and Android phones and tablets.
Apple users who have iPhone 6S and S+ devices can take advantage of several advanced features, including Live Photos.  Live Photos are not GIFs but images that move when you press on the iPhone 6S and S+ screen.  This feature used to be limited to iPhone 6S and 6S+ devices with 3D Touch, however now anyone running iOS 9 can create and view Live Photo Collages.
Using PicPlayPost is easy. A planner simply selects a layout from dozens of choices, adds the GIF, Live Photo or video clips, and saves the project to their camera roll. It can then be posted, downloaded or emailed.
To view a YouTube video about how to create a PicPlayPost collage, click here.