The Empire (State) Strikes Back
It's New York State's time to rule as meetings thrive
By Gretchen Kelly
New York State's $450 million "Bring Back Tourism, Bring Back Jobs" recovery package includes the $25-million Meet in New York grant program to help convention centers and conference venues lure back events, spending and jobs (applications due by June 2023). More funds are being funneled into the famed I LOVE NY campaign. But this is just one more example of how New York State is back to claim its place as master of the meetings universe.
Local Expert Tip
"Ithaca is centrally located in the heart of the Finger Lakes Region in Upstate New York at the base of Cayuga Lake.  Our 150 waterfalls and four state parks offer a stunning backdrop for conference attendees to explore beyond the boardroom, sparking innovation and creativity.  Visitors enjoy hiking, cycling, paddling, snowshoeing or just relaxing in the wide-open spaces of our "naturally Gorges" destination.  And now, with direct flights to JFK from Ithaca/Tompkins International Airport (ITH) getting to this hidden gem is easier than ever!"
–Lisa Conarton, conference sales manager, Ithaca/Tompkins County Convention & Visitors Bureau
5 Reasons Meeting Profs Love New York State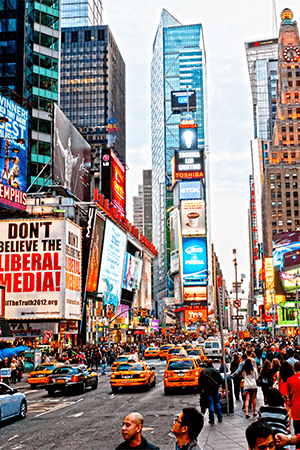 It's NYC but so much more. Meetings in NY include but are by no means limited to great venues in NYC. Upstate New York (Rochester, Saratoga, Ithaca, Syracuse and more) have large convention centers, charming mid-sized resorts and miles of wilderness and wild places to explore nearby. New York's famed wine industry in Long Island and Upstate is giving California a run for its money.
Seasons. Yup, New York has all four: a green spring, a mellow autumn with brilliant foliage, snow-bound winters and long, indolent summers. All have bounties for meeting planners to share with lucky clients.
Gilded Age history. Before Newport, Rhode Island became the playground for the Gilded Age's glitterati, Saratoga Springs, New York was the hot spot for the rich and famous. Today, Saratoga Springs' venues includes properties like The Inn at Saratoga, the town's oldest hotel which sports a boardroom and a Victorian ballroom.
Underground Railroad heritage. Frederick Douglas lived and worked as one of the first station masters of the Underground Railroad in Rochester, New York and his heritage is still very much celebrated here. A self-guided walking tour at Douglass Tour shows the way.
Flexible, large venues near transportation and city hubs. Upstate cities like Rochester, Saratoga Springs, Ithaca and Albany all have a variety of large, flexible venues and conference centers near easy-to-access transportation and walkable city-centers.
5 Fantastic Places to Meet
Elevated Empire City Meetings

New York City is looking up. In 2022, Empire City welcomed 56.4 million visitors, up from 32.9 million in 2020. That number is expected to grow to 61.7 million in 2023 and surpass 2019 levels by 2024. The city is set to add more than 10,000 rooms by 2024, for a total of 135,000 keys.
When you bring groups back to the City of Dreams, set your sights high. New York City is filled with rooftop and elevated dining and meeting spaces designed to be a picturesque backdrop for a reception, award ceremony or even the main event.
We collected some of the unique view options available for your next NYC gathering.
Edge at Hudson Yards:  The city's newest and tallest outdoor observation deck in the western hemisphere perches on the skyline 1,000 feet in the air. Panoramic views of the Hudson River and the New York City skyline stretch as far at the eye can see. Look down through the glass floor to spy the city at your feet. Indoor spaces on the 100th and 101st floors feature a champagne bar, restaurant and event space. The bronze Vessel spiral staircase nearby offers its own scenic experience.
Empire State Building: This completely reimaged interactive museum is topped by a 102nd floor observatory with 360-degree views through floor-to-ceiling windows. While you are there, check out NYC: Above & Beyond, an itinerary-building experience that helps your guests plan their five-borough adventures in partnership with NYC & Company.

Statue of Liberty Museum: The stairway to The Crown recently reopened to afford unobstructed views of Lower Manhattan and Liberty Island for those who make the 162-step circular ascent. Advance reservations are required.
One World Trade Center: The tallest building in the western hemisphere houses One World Observatory—three levels of floor-to-ceiling glass windows, a cafe and bar. Sign up for interactive guided tours for the full experience.
Top of the Rock Observation Deck: Queue up for views of New York City on all sides of this Rockefeller Center icon—including stunning Central Park visuals. Bar SixtyFive, across from the renowned Rainbow Room, serves up more city views and a seasonal menu.
New York Marriott Marquis: In the heart of Times Square, the redesigned convention hotel offers more than 100,000 sq. ft. of event space, a whopping 1,971 guest rooms and Broadway Lounge for the best seat in the house to watch the action in the streets below.
1 Hotel Brooklyn Bridge: In Brooklyn Heights, Harriet's Rooftop serves up inventive cocktails and bites rooftop poolside paired with views of Lower Manhattan and the Brooklyn Bridge.
Hotel Hendricks: Daintree Rooftop & Lounge recently shook up the city's rooftop bar scene with a distinctly Aussie point-of-view. Skyline views and comfortable seating set the stage for a curated menu of cocktails and a wine list with an Australian accent.
Manhatta: The brainchild of restauranteur Danny Meyer is a 60th-floor restaurant, bar and event space in the Financial District. He calls the cuisine a "love letter to New York City" and your guests will fall in love with the views.
TWA Hotel: This kitch-forward property at JFK Airport in Queens features a rooftop heated infinity pool and bar overlooking the tarmac, so visitors can see airplanes taking off and landing as they sip their mid-century cocktails.
Javits Center: Crowned with a state-of-the-art nearly 7-acre green roof with gardens and honeybees, the 3.3-million-square-foot convention center offers arguably the best view of Hudson Yards the City has to offer.
Walk it Out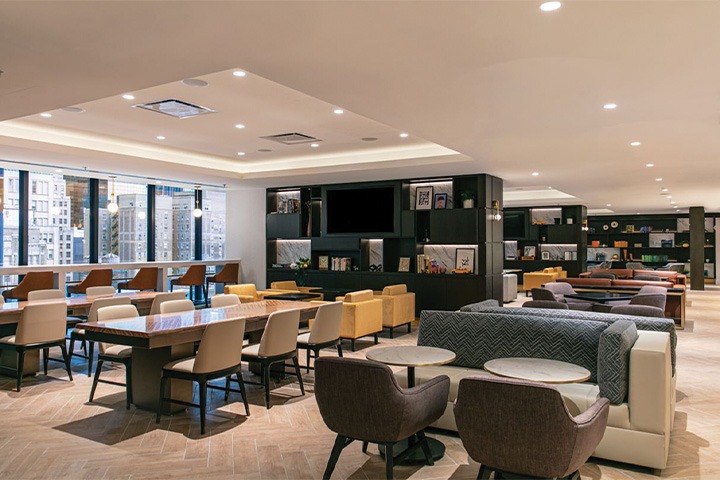 Get above it all by taking a stroll along the High Line, a 1.4-mile-long elevated walkway along Manhattan's west side built on an old freight rail line. The newest portion, the High Line Plinth, features public art sprinkled among the sweeping views.
This article appears in the March/April 2023 issue. You can subscribe to the magazine here.