Sydney, the capital of New South Wales, ranks among the top 20 cities in the world according to the International Congress and Convention Association (ICCA). Besides robust development throughout the city, including a state-of-the-art convention center, Sydney relies on collaboration among government agencies and business and community support to build its meeting clientele.
Melbourne, also among the international leaders for meetings, just keeps getting better. From planned improvements and expansions at the Melbourne Convention and Exhibition Centre (MCEC) to redevelopment of Melbourne Park that will further enhance the popularity of the Australian Open, the capital of the state of Victoria puts meetings front and center.
In the capital city of South Australia, the Adelaide Convention Bureau reports it has built strong relationships with key industry sectors, including government departments, to secure $116 million in future business during the 2013−14 fiscal year. That's a return investment of 58:1, in addition to creating 1,100 new jobs.
The Perth Convention Bureau, which promotes the capital city of Western Australia, is specifically targeting high-yield events. For 2013−14, it experienced the best financial year in its 42-year history.
These strategies have helped push Australia to No. 16 in the world based on the ICCA rankings. That's higher than Argentina and Switzerland and Mexico and South Africa. It obviously pays to have a plan.
Sydney
International Convention Centre Sydney rendering
"Sydney is not the same city it was 10 years ago or even 10 months ago," says Lyn Lewis-Smith, CEO of Business Events Sydney (BESydney). "There is so much happening that continues to add to our proposition as one of the world's best places to meet. And I'm not just talking about the infrastructure developments and upgrades being made solely to benefit the meetings industry. I'm talking about a transformation that is changing the face of the city as we know it and is helping to enhance Sydney's ability to continue to contribute to the knowledge outcomes of meetings that are held here."
The obvious starting point to discuss Sydney's eye on the future is the new International Convention Centre Sydney (ICC Sydney), which is scheduled to open in late 2016 adjacent to Darling Harbour. The New South Wales (NSW) government is investing more than $1 billion in the convention, exhibition and entertainment center to ensure Sydney's long-term productivity and competiveness.
ICC Sydney will feature 428,000 sq. ft. of exhibition space, a 12,000-seat plenary and outdoor event space for up to 25,000. The 600-room Sofitel Darling Harbour Sydney hotel will open in 2017.
Lewis-Smith reports that BESydney has already secured 19 events for the new convention center, worth an estimated $150 million, and most conferences match NSW's priority sectors. The state is home to 64 percent of Australia's technology start-ups and around 40 percent of the nation's total creative workforce.
Another project changing the face of Sydney is Barangaroo on the western edge of the Central Business District (CBD). The former container port has emerged as an extraordinary $6 billion urban renewal project, which will reconnect the CBD and waterfront. Plans call for a 350-room six-star hotel with meeting space.
Dockside Pavilion Darling Harbour opened in July to rave reviews. The unique venue sits on a series of floating pontoons in the heart of the waterfront district. Offering 15,729 sq. ft. of event space, the pavilion can accommodate up to 2,000 guests and features amazing city and water views.
"We've got some amazing talent here in Sydney and as a global city, we fiercely compete for the hearts of the world's thinkers, discoverers and creators," Lewis-Smith says. "These hubs of innovation and creativity are not only good news for the state and Australia, but they're great news for the global meetings industry and the events that choose Sydney as their host."
Melbourne
Sofitel Darling Harbour Sydney rendering
Determined to stand out among world-class conference destinations, the Melbourne Convention Bureau (MCB) has set up international offices in Asia, Europe and the United States. The extra effort has paid off, with the MCB experiencing its most successful two years on record, attracting 70 conferences and 85,000 delegates who spent $420 million.
To maintain that high level of interest for Melbourne meetings, the Victorian State Government announced a proposed expansion of the Melbourne Convention and Exhibition Centre (MCEC) in October. The proposal calls for new retail space, additional parking, a new hotel and multipurpose convention and exhibition facilities. MCEC, which offers 321,000 sq. ft. of exhibition space, reportedly turns away about 20 percent of new business due to lack of available space.
"The proposed expansion of MCEC is exciting news," says Karen Bolinger, CEO of the convention bureau. "MCB is currently working on a significant pipeline of opportunities for the next few years. Therefore, this investment by the Victorian State Government is very welcome news as it will enable both organizations to continue to deliver high-yield, large-scale business events to the state for many years to come."
As popular as Melbourne has become for meetings, it is equally renowned for being home to the Australian Open tennis championship, which ranks as the biggest sporting event anywhere in the world during the month of January and largest annual event in the Southern Hemisphere. The $338 million Melbourne Park Redevelopment plan includes the addition of a new retractable roof for Margaret Court Arena, giving the complex three facilities that can be enclosed for play during inclement weather. AAMI Park, which opened in 2010, can seat more than 30,000 for rugby and other sporting events and is part of the sports precinct.
About 90 minutes outside Melbourne, Phillip Island Nature Parks offer international guests the unforgettable opportunity to see penguins emerge at dusk from a day of fishing to feed their babies. The parks are undergoing a $1.2 million development project in partnership with the World Wildlife Fund. A new exhibition is scheduled to open in November and will highlight the habitats, species and environment of the Great Southern Ocean between Phillip Island and Antarctica. Reflecting the importance of conservation efforts throughout Victoria, the exhibition is designed to inspire and inform visitors about environmental protection.
Adelaide
Margaret Court Arena, Melbourne
The Adelaide Convention Bureau (ACB) has a lot to be proud of following a productive 2013−14 fiscal year that garnered $116 million in future business. Through the first three months of the 2014−15 calendar, it secured an estimated $41 million for conference and attendee spending, with $200 million in the pipeline.
The most prestigious conference to commit to Adelaide is the 2017 International Astronautical Congress, which will draw 3,000 delegates and exhibitors, and generate $18 million in expenditure. Among the 150 companies that will be exhibiting are Lockheed Martin, Boeing, BAE Systems, Com Dev and space agencies NASA, ESA and JAXA.
To better promote its destination to industries that specialize in scientific innovation and research, the ACB helped found the Global Science & Convention Alliance, which also comprises Daejeon (South Korea), Hyderabad (India), Toulouse (France) and Prague (Czech Republic). The alliance shares leads and information pertaining to convention opportunities and enhances attendee experiences.
The health sector is also important for Adelaide, with the opening of the South Australia Health and Medical Research Institute (SAHMRI), the new Royal Adelaide Hospital and other associated institutes key to its outreach strategy. ACB has confirmed 37 health-sector events through 2017, accounting for a projected 98,800 room nights and $97.4 million to the state economy.
"The value of exposing South Australia and its capabilities and achievements of its on-ground teams within the conference genres is priceless," says Damien Kitto, CEO of the Adelaide Convention Bureau. "Networking, the knowledge transformation around innovation and creativity, the opportunities for investment, and collaboration on a national and global scale cannot be underestimated."
In October, Adelaide Airport (ADL) unveiled a 30-year plan to become a business center in Asia Pacific. With a projected cost of more than $2 billion, plans call for tripling the size of the airport, increasing international traffic and adding a four-star hotel.
"Adelaide Airport's vision is to be a top-tier airport business center in Asia Pacific, recognized for delivering exceptional outcomes to our customers, partners, shareholders and community," says Mark Young, managing director of Adelaide Airport Ltd. "For us, top tier doesn't mean being the biggest. What it does mean is we will exceed the expectations of an airport our size in the Asia-Pacific region."
Perth
South Australia Health and Medical Research Institute, Adelaide
By targeting high-yield events, the Perth Convention Bureau (PCB) achieved record financial results in 2013−14 for its highest revenue in its 42-year history. And with many new projects aimed at meetings and conventions, the capital of Western Australia has emerged as a force in the industry.
"A change in strategy has led to record growth," says Paul Beeson, CEO of the PCB. "The benefits to Western Australia from these high-yield events are more significant than from a large quantity of conferences from mixed industries. The targeting of high-yield events has promoted PCB to introduce new methodology in how we go about bidding for conferences. By approaching those at a high level within the local arm of associations and bidding with their support, this results in a far better-qualified bid."
PCB's Aspire Scholarship program pays for local association members to travel to international conferences and explore the potential for that event to be staged in Western Australia. This increased profile has resulted in PCB securing a number of conferences, including the International Victimology Symposium 2015, which will draw 500 international delegates and could generate as much as $1.4 million.
To support the new business events strategies, Perth is investing billions in new projects that add to the city's meetings and conventions infrastructure. Elizabeth Quay is a waterfront entertainment development that will open in the spring. The project calls for the development of the 204-room The Ritz-Carlton, Perth and the 241-room DoubleTree by Hilton Perth Waterfront.
The $700 million overhaul of Perth Airport (PER) is partially complete. The project includes upgrading terminals, and tripling the size of the customs, quarantine and baggage reclaim areas. These improvements are designed to improve access and create a well-connected city, according to Beeson.
The new Perth City Link will connect the central business district with the popular Northbridge entertainment district. Besides serving as a transportation hub, the project includes the creation of Yagan Square, which will feature event space for up to 8,500, an amphitheater, a market, gardens, public art, a digital tower to broadcast real-time events and a canopy for light displays at night.
"We really don't have a place where people can gather at night in Perth at the moment, so I think Yagan Square, together with Elizabeth Quay, is really going to enliven our outdoor experience, particularly at night," says Evan Hall, chief executive of the Western Australia Tourism Council.
Meeting Spotlight
Who: International trade show for meetings, events and incentive travel; 4,000 attendees
What: Asia-Pacific Incentives and Meetings Expo (AIME)
When: Feb. 24–25, 2015
Where: Melbourne Convention and Exhibition Centre (MCEC)
Why: "The Melbourne Convention and Exhibition Centre has provided wonderful support to the Asia-Pacific Incentives and Meetings Expo throughout our 23-year partnership. As the leading business events industry exhibition, AIME continues to choose the world-class MCEC year after year to host the two-day event. As a venue, MCEC understands our need to evolve and deliver a memorable event. MCEC offers some of the most flexible, integrated and comprehensive meetings facilities available in Australia."
—Jacqui Timmins, exhibition director
Resources
Major Meeting Venues
Adelaide
Integral component of Riverbank Precinct, which also includes the stadium and convention center; $350 million expansion will begin this year; new Marble Hall features a 24-foot handcrafted chandelier with more than 2,000 crystals.
Adelaide Oval
The region's biggest stadium completed a $535 million renovation last year; cornerstone of Riverbank Precinct; meeting space for up to 3,000; stadium can seat 53,500. q
Opened in 2014; near Central Business District and convention center; 311 guest rooms; conference facilities; adjacent to Rundle Mall.
New four-star property in the heart of the city; 179 suites; event space for up to 100; located in historic Colonial Mutual Life Building.
Melbourne
New meeting space opened in October; walking distance to convention center and Central Business District; set in trendy South Wharf precinct; can accommodate 465 for banquets and 900 for receptions; 180-degree views of city skyline.
Adjacent to Crown Conference Centre; 658 guest rooms; 6,383 sq. ft. of meeting space; fresh seafood and al fresco dining.
Internal access to the convention center; 396 guest rooms; 60,000 sq. ft. of meeting space; near local attractions such as South Wharf Promenade and Melbourne Aquarium; innovative meeting space on the Yarra River.
Melbourne The Rialto, An Intercontinental Hotel
253 guest rooms; Alluvial Restaurant serves locally sourced food; spa blends ancient holistic healing and modern therapies; executive guest rooms have separate check-in area.
Five-star property has 363 guest rooms; 20,624 sq. ft. of space in four ballrooms; 200-seat theater; can seat up to 501 for banquets; award-winning dining; artwork throughout property.
Located on the banks of the Yarra River; 388 guest rooms; 3,767 sq. ft. of meeting space; leading green hotel, from waste management to water conservation; two restaurants; bar and lounge area.
Perth
Five-star property in heart of city; 306 guest rooms; Club Lounge located on top floor and overlooks Swan River; nine meeting rooms, with a dedicated function floor on the lower lobby level.
Near Central Business District; 278 guest rooms; 4,542 sq. ft. of meeting space; largest is 2,476 sq. ft.; fitness center; tour desk; shopping and entertainment within walking distance.
Three ballrooms and six function rooms; 367 guest rooms with Swan River views; heated outdoor pool; renovated fitness center; tennis court; business center; in-room spa service.
Located 20 minutes north of Perth; 70 guest rooms; 27 holes of championship golf; seven function rooms, including Lakeview Ballroom, with golf course and pool views; great poolside space; new $12 million Lakeview Ballroom. q
Luxury hotel near the city's famous gardens and Perth Concert Hall; 390 guest rooms; 22,818 sq. ft. of space; hotel began a multimillion-dollar renovation in December.
Sydney
Ballroom can accommodate 500 for a reception; 531 guest rooms; 14,176 sq. ft. of meeting space; exclusive group arrival area includes satellite check-in; hospitality room and lounge great for welcome parties; brewpub.
Four-star hotel received TripAdvisor Certificate of Excellence; 517 guest rooms; five-minute walk to Sydney Railway Central Station; 14,940 sq. ft. of event space; 24-hour indoor rooftop pool.
PARKROYAL Darling Harbour Sydney
Located in heart of Central Business District; $20 million renovation included contemporary design and technology upgrades; 340 guest rooms and suites; 4,215 sq. ft. of meeting space; plans call for smartphones to replace room keys; fitness center; 10-minute walk to convention center.
QT Sydney
New, stylish boutique hotel nestled in the heart of the historic Central Business District; formerly a historic theater; 200 guest rooms and suites; spa; trendy lounge. q
All 563 guest rooms have harbor views; 35,521 sq. ft. of meeting space in 18 conference rooms; ballroom can accommodate 850 for a reception; private dining room for 18 atop hotel.
Five-star hotel with French elegance; 436 guest rooms; 11 meeting spaces; located in shopping district; near attractions such as Sydney Harbour Bridge and Royal Botanic Gardens; ballroom can accommodate up to 1,200.
Boutique luxury property located within The Star Event Centre complex; 171 guest rooms; named one of the Top 60 Best New Hotels in the World by Conde Nast Traveller; spa features La Prairie skincare treatments; casino.
Smart Meetings Related Posts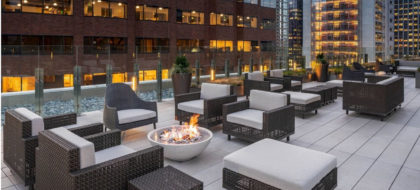 New views are popping up all over Seattle, from the Space Needle's revolving glass floor to the recently opened, 45-story Hyatt Regency Seattle.