Old Mission Santa Barbara
Missions influence history, towns and wineries along California's Central Coast
Like the string of historic Spanish missions that parallel California's Pacific Ocean boundary, luxury resorts offer respite and opportunity for reflection. Nowhere is that more true than California's Central Coast, where expansive and boutique getaways accent an inspiring environment that is still nurturing to this day.
Twenty-one California missions were built between 1769 and 1833, each about 30 miles apart, a day's travel on horseback from one another. Many missions continue to serve as parish churches for their communities, and all offer a glance into a time gone by, before California was even a U.S. state.
According to California Missions Resource Center, Franciscan padres helped develop the missions to convert Native Americans to the Catholic faith. Towns often sprung forth around the missions, and many of those pueblos have evolved into today's gathering cities.
Another key Franciscan contribution is the founding of California's wine industry, which dates to 1769, when the first sustained vineyard was planted at the urging of Father Junipero Serra. Missions in Santa Barbara and San Luis Obispo were major wine operators by 1800, not only producing wines for sacramental purposes, but also to support new missions being built farther north.
Join us on a road trip up the coast from Santa Barbara to Santa Cruz, stopping along the way to experience California history and amazing resorts.
Santa Barbara: Queen of Central California Coast
Santa Barbara Inn
Regarded as "Queen of the Missions," Old Mission Santa Barbara was founded in 1786 on a hilltop overlooking the city, with views that stretch all the way to the Pacific Ocean. The mission was patterned after an ancient Latin chapel in Rome, with twin bell towers and a Doric facade. The church was destroyed by an earthquake in 1925, but has been fully restored.
This mission exudes a sense of strength because of its sheer size, which is coincidently what Santa Barbara brings to California's Central Coast meetings and events industry. Santa Barbara has history, culture and plenty of luxury accommodations and venues to host memorable events.
"Like Old Mission Santa Barbara, referred to as the Queen of Missions for its beautiful facade, Santa Barbara is known for its natural beauty and stunning Spanish-style architecture," says Natalie Bovee, communications manager for Visit Santa Barbara. "Planners enjoy the manageable and pedestrian-friendly size of the destination, and the diversity of venues and activities that can be worked into programs."
While the Spanish missions were conceived to feed the soul, Santa Barbara is big on feeding attendees' appetites for unique F&B experiences. The city's urban wine trail, known as the Funk Zone, features more than 20 tasting rooms within walking distance of one another. It's so popular that many visitors forego the drive out to wine country to do tasting in town.
The Funk Zone's latest addition is a new complex called Waterline, which has popular taproom Lama Dog and Nook, a globally inspired comfort-food eatery located inside a refurbished shipping container.
Santa Barbara Inn, located along the city's ocean-facing Cabrillo Boulevard, reopened Aug. 1 following an extensive multiyear renovation. It boasts a new eating experience, Convivo, which offers "nomad Italian" cuisine that draws from Santa Barbara's bounty of seafood and wood-fire roasted meats. The restaurant and bar accommodate up to 170 people indoors and outdoors.
The hotel has 70 deluxe guest rooms and suites, each with its own balcony, offering stunning ocean and mountain views. New event space seats up to 80 for banquets and conferences.
Four Seasons Resort The Biltmore Santa Barbara is the city's only AAA Five Diamond resort. Built in classic Spanish Colonial style, it offers 207 guest rooms and 15,000 sq. ft. of meeting space, including two ballrooms. The resort features its own version of a dine-around: Begin with cocktails at Coral Casino Beach and Cabana Club, catch the sunset over Butterfly Beach with appetizers at Tydes, enjoy dinner at Bella Vista and wrap up the evening with a drink and dessert at Ty Lounge.
Canary Santa Barbara, A Kimpton Hotel is a downtown hideaway with 97 guest rooms and 7,300 sq. ft. of event space, including a sixth-floor rooftop bar and lounge with amazing views.
A major gathering destination just north of Santa Barbara in Goleta is Bacara Resort & Spa. It features Angel Oak restaurant, which opened in June. The modern seafood and steakhouse features Old and New World wines housed inside the restaurant's 12,000-bottle cellar. The expansive cellar doubles as a unique event space for up to 40.
The Forbes Four Star beach resort offers 358 guest rooms, many with ocean views. There is 70,000 sq. ft. of meeting space, including the Executive Conference Center, which is housed in a separate building for privacy.
Bacara's beachfront location and solitude create a get-away-from-it-all nuance that fosters brainstorming and outside-the-box thinking. From an outdoor yoga class that overlooks the Pacific to its own wine-tasting room, Bacara bottles up all that California's Central Coast is known for in one neat package.
"Santa Barbara combines small-town appeal with big-city amenities to provide a truly unique Central Coast meeting experience," Bovee says. "Santa Barbara is the queen of California meeting destinations."
Solvang: Mission & Native American History
Hotel Corque, Solvang
Founded in 1804, Mission Santa Ines, located in what is now Solvang, was a late-comer to the Franciscan collection, but now stands out as one of the best-preserved Spanish mission complexes in the United States. The mission provides insights into the cultural heritage of the area, which was controlled by Spain, then Mexico and ultimately became a United States territory in 1848 and state in 1850.
In the early 1900s, the Danish town of Solvang was built up around the mission and now adds another interesting component to local tourism. But long before the Spanish and Danes, Chumash Indians called the Santa Ynez Valley area of Santa Barbara County home. The mission complex still features archeological remains of a Native American village, two mission wings and a portion of the convent.
The Santa Ynez Band of Chumash Indians owns the boutique Hotel Corque. The AAA Four Diamond property in downtown Solvang has 122 guest rooms and 7,500 sq. ft. of event space. Chumash Casino Resort, located in Santa Ynez, northeast of Solvang, has 375 guest rooms and suites.
The Alisal Guest Ranch & Resort, also located in Santa Ynez Valley, is a 10,000-acre, working cattle ranch that dates to 1843. It became a dude ranch in 1943 and has hosted celebs such as Clark Gable and Doris Day. Featuring Western decor, it offers 73 guest rooms, 6,000 sq. ft. of meeting space and two 18-hole golf courses.
San Luis Obispo: Wine Legacy
The first vineyard in San Luis Obispo County was planted at Mission San Luis Obispo de Tolosa in what is now the Edna Valley Appellation. Father Luis Antonio Martinez, who managed the mission for 34 years, was a renowned winegrower and oversaw a large vineyard. Some wine was sent to other California missions that were unable to grow their own, and the mission exported wine to England and as far away as Russia.
Today, the namesake Tolosa Winery & Vineyards produces award-winning chardonnay, pinot noir and syrah, allowing nature to define the character of each vintage, thus emulating the area's early winemaking heritage. One of its wine labels even depicts the mission. Tolosa employs comprehensive sustainability practices, including the production of solar energy since 2009. The impressive array of special-event options includes sit-down dinners amid vineyard rows; a covered, outdoor tasting bar; and lawn space for up to 150.
Historic Sycamore Mineral Springs Resort & Spa features naturally heated mineral water. The natural hot-sulphur mineral water has been an attraction since 1886, and its visitors have included Hollywood celebrities en route to the late William Randolph Hearst's mansion in nearby San Simeon. The resort offers 72 guest rooms and suites and a three-bedroom guest house. Meeting space has dramatic vaulted ceilings and room for up to 100 attendees.
Madonna Inn has been an iconic property in the region for 50 years. Colorful and creative, the San Luis Obispo property has 110 guest rooms. The expo center has 20,000 sq. ft. of space, with room for up to 1,000 for receptions and 2,200 for concerts. There's a 23-acre meadow, which is used for events such as car shows, and there are five banquet halls.
The Cliffs Resort in Pismo Beach has 10,000 sq. ft. of indoor and outdoor event space, including a 6,750-square-foot terrace. The 160-room resort has a spa, fitness center and oceanfront pool. The 98-room Inn at Morro Bay is surrounded by an 18-hole golf course and Morrow Bay State Park. Among the six rooms for private events are a 2,500-square-foot meeting room and a 4,860-square-foot deck.
Paso Robles: Treasure Trove
Allegretto Vineyard Resort, Paso Robles
Paso Robles is a treasure, starting with Mission San Miguel, less than 10 miles north of downtown. Here you will find California's best preserved Native American murals, which were painted on mission walls and ceilings in the early 1800s. Mission-era fermentation vats are on display, as well. With an adobe building more than 200 years old, the mission is a State and National Historic Landmark.
Native Salinan Indians introduced Spanish padres to thermal springs and their healing powers. By 1891, a bathhouse was built over a sulphur spring, in addition to a three-story hotel. Today, downtown Paso Robles Inn is a member of Historic Hotels of America and it features 18 deluxe mineral spa rooms, plus 98 guest rooms and a 3,600-square-foot ballroom that accommodates 350 for receptions.
"Paso Robles is known for its welcoming environment, inviting visitors to live like locals and leave feeling like old friends," says Lauren Tognazzini, destination manager for Travel Paso Robles Alliance. "This sentiment is felt throughout the city and is echoed in tasting rooms, at farmers markets and at front desks as guests check in for their stay. The personalities of Paso will share their passions and show guests what truly makes this a unique and memorable destination."
Allegretto Vineyard Resort is a 171-room Mediterranean-inspired refuge surrounded by vineyards and orchards. It offers 35,000 sq. ft. of indoor and outdoor meeting space, including a ballroom and conference center for up to 375. The tasting room features the resort's own private wine label and space for up to 40. The property also has a spa, pool, manicured gardens, walking paths, French-inspired Abbey and hundreds of antiques, art and artifacts from around the world.
"This resort was built to magnify all of the wonderful things that Paso Robles is already about: history, family, food, wine, beauty and community," says Anna Olson, general manager for Allegretto Vineyard Resort. "We want the Allegretto to be a touchstone in Paso Robles, hailing back to the days when the local inn was a central social place for a community."
Monterey & Carmel: Crown Jewels
Monterey waterfront
The second of the 21 Spanish missions built in California was originally going to be located in Monterey, but in 1771 was moved to Carmel to be close to a fresh-water supply and prime land for agriculture. Just as Monterey and Carmel form a key meeting destination on the central coast, San Carlos Borromeo de Carmelo Mission was headquarters for mission work up and down California. Four museum galleries provide insight into the history of the California missions, including interpretive displays at Convento Museum. The museum includes the cell where Father Serra lived and died; he is buried at the mission site.
San Carlos Cathedral in Monterey marks the site where the mission was going to be built before it was ultimately moved to Carmel. The present sandstone church, which dates to 1794, was maintained as a royal chapel for Spanish soldiers guarding the mouth of Monterey Bay. It is the state's oldest continuously functioning church and first stone building. The stone facade and Moorish influence make the chapel an architectural jewel that is unmatched at any other California mission property. A National Historic Landmark, the church is within walking distance of Fisherman's Wharf and welcomes pilgrims from around the world.
Casa Munras Garden Hotel & Spa, Monterey
Casa Munras Garden Hotel & Spa dates to 1824, when the ranch was developed by Spanish diplomat Don Esteban Munras. The 32-inch-thick, handmade adobe walls are displayed in the meeting space. The conversion from ranch to garden lodge began in 1941, making Casa Munras Monterey's first hotel. Located in downtown Monterey, the 163-room hotel offers 5,000 sq. ft. of meeting space, including a 2,240-square-foot ballroom.
If Santa Barbara is queen of California's Central Coast, then downtown Monterey ranks as the meeting king of the region. Monterey Conference Center is undergoing a $60 million renovation that will wrap up in spring 2017. Expected to achieve LEED certification, the facility will offer more than 40,000 sq. ft. and have an event capacity of 3,200.
"The conference center provides an incredibly inspiring venue to go with an incredibly inspiring destination," says Tammy Blount, CEO and president of Monterey County Convention & Visitors Bureau. "The renovation is a critical project in building our tourism economy. It has a bright future."
Adjacent to the conference center is LEED certified Portola Hotel & Spa, a AAA Four Diamond property with 379 guest rooms and 50,000 sq. ft. of meeting space. Monterey Plaza Hotel & Spa has 290 guest rooms and 17,000 sq. ft. of event space.
Carmel Valley Ranch, about 8 miles east of the mission, features innovative guest experiences. There's beekeeping at the onsite apiary, landscape photography classes with a renowned photographer and equine-based communication exercises. A spa and golf course provide traditional resort opportunities. The 500-acre all-suite property has 181 units and more than 46,500 sq. ft. of event space.
Slice of Heaven
The cities, towns, ranches and resorts on California's Central Coast have an inviting aura that is mesmerizing. An inspiration to authors, poets and artists, the ocean air, vineyards and unforgettable history help create magical meetings and events.
Robert Louis Stevenson, one of several literary geniuses to reside in Monterey, wrote, "We are all travelers in the wilderness of this world, and the best we can find in our travels is an honest friend."
From Santa Barbara to Monterey, California's Central Coast is meeting friendly.
---
Santa Cruz & Ventura: Central Coast Bookends
It's hard to pinpoint one factor that has helped define and mold Santa Cruz, the northernmost tip of California's Central Coast. Part surfing mecca with a historic beach boardwalk and part haven for alternative-leaning nomads, Santa Cruz's reputation is further diluted due to its status as a Silicon Valley suburb.
"In terms of Santa Cruz, neighboring Silicon Valley—the pulse of technology and innovation—plays a part of our story," says Krista Rupp, director of sales for Visit Santa Cruz County. "Santa Cruz County is blessed with nearby amenities like an international airport, while emanating the mellow vibe of a coastal surfing town."
Of all destinations on California's Central Coast, Santa Cruz enjoys the best airlift by virtue of its proximity to Mineta San Jose International Airport (SJC), which is 33 miles away. Santa Cruz's location also means beautiful beaches, redwood forests and fresh, locally grown organic food.
Chaminade Resort & Spa is the perfect spot for small meetings and executive retreats. The historic, mission-style, AAA Four Diamond property wrapped up a $7.9 million renovation in March. Complementing Santa Cruz's proximity to Silicon Valley, the redesign reflects the evolution of technology, and originality and the entrepreneurial spirit of the region. There are 156 guest rooms and 12,000 sq. ft. of meeting space.
Hotel Paradox is located adjacent to San Lorenzo River. It offers 8,000 sq. ft. of meeting space, including 4,400-square-foot Sequoia Ballroom, the largest meeting space downtown. There are 170 guest rooms and suites. Santa Cruz Dream Inn (pictured) will begin a property-wide renovation of guest rooms and public spaces next winter. This popular beachfront hotel has 165 guest rooms and nearly 3,500 sq. ft. of meeting and event space.
The new 106-room Hyatt Place will open in spring 2017 and feature 1,650 sq. ft. of meeting space. Construction on a new 151-room Courtyard by Marriott is scheduled to begin this fall.
South of Santa Cruz on Monterey Bay, Seascape Beach Resort in Aptos is a meeting destination with a tennis center and nearby golf. Seascape features 17,000 sq. ft. of event space and 285 suites and beach villas. The 12-court tennis center annually hosts a United States Tennis Association Challenger tournament, considered the minor leagues of the pro tour. Players love this facility, with an intimate 150-seat show court.
Ventura County is undergoing a renaissance, with major renovations slated at key meeting and event properties. Crowne Plaza Ventura Beach will begin significant updates later this month, including its 255 guest rooms. With 19,000 sq. ft. of meeting space, Crowne Plaza can accommodate up to 600. Ventura Beach Marriott began a renovation in September. It has 285 guest rooms and suites and 11,132 sq. ft. of meeting space. In neighboring Oxnard, Embassy Suites by Hilton Mandalay Beach Resort has 250 recently renovated guest rooms and 16,000 sq. ft. of event space.
---
Major Meeting Venues
Monterey County
Asilomar Conference Grounds
Pacific Grove retreat on 107 beachfront acres; 313 guest rooms; 30,000 sq. ft. of meeting space; 24,000-square-foot exhibit area.
Bernardus Lodge & Spa
Boutique lodge in Carmel Valley; Forbes Four Star rated; 73 guest rooms; 4,300 sq. ft. of meeting space; winery; spa; fitness center; major renovation in 2015.
Carmel Valley Ranch
Luxe 500-acre property about 15 minutes from the coast; 181 suites; 10,000 sq. ft. of meeting space; 18-hole golf course; 10,500-square-foot spa; team-building activities include beekeeping and photography.
Hyatt Regency Monterey Hotel and Spa
Modern property on championship Del Monte Golf Course; 550 guest rooms and suites; 40,000 sq. ft. of meeting and event space; two pools; 12,000-square-foot spa.
InterContinental The Clement Monterey
Luxury property offers ocean views and direct access to famous Cannery Row; 208 guest rooms; 16,000 sq. ft. of meeting space, including terrace and oceanfront courtyard; spa; outdoor pool.
Monterey Bay Aquarium
Major event venue can host up to 2,500 guests; planners encouraged to incorporate conservation themes for events; more than 35,000 creatures and 200 exhibits.
Monterey Conference Center
Downtown meeting venue is undergoing major renovation; working toward LEED Silver certification; combines with Monterey Marriott and Portola Hotel & Spa at Monterey Bay to create meeting corridor, with more than 70,000 sq. ft. of event space.
Monterey Marriott
High-rise hotel in the heart of downtown; 341 guest rooms; 16,500 sq. ft. of conference space; can host up to 800; connected by footbridge to Monterey Conference Center, creating meeting district; pool.
Monterey Plaza Hotel & Spa
Located directly over Monterey Bay; Forbes Four Star rated; 290 guest rooms; 17,000 sq. ft. of meeting space; lower terrace offers quintessential coastal experience; two restaurants; Vista Blue Spa on top floor of hotel has panoramic views.
Portola Hotel & Spa at Monterey Bay
Elegant waterfront property adjacent to Monterey Conference Center; LEED certified; 379 guest rooms; more than 100,000 sq. ft. of indoor and outdoor event space; De Anza Ballroom can seat 1,000 theater-style; spa; outdoor heated pool.
Ventana Big Sur
Located 28 miles south of Carmel; adjacent to state park; 59 guest rooms; more than 8,000 sq. ft. of meeting space; full-service spa; two outdoor pools; award-winning, sustainable restaurant.
San Luis Obispo County
Allegretto Vineyard Resort
Located in Paso Robles; Mediterranean architecture; 171 guest rooms; 35,000 sq. ft. of indoor and outdoor meeting space; surrounded by vineyards and orchards; spa.
Hearst Castle
Opulent seaside palace built by publishing magnate William Randolph Hearst in 1919; located in San Simeon, about 45 minutes north of San Luis Obispo; can host groups of up to 250; Hearst Castle Theater lobby features collection of 17th-century tapestries.
The Cliffs Resort
Oceanfront resort located on a Pismo Beach bluff; 10 minutes south of San Luis Obispo; 160 guest rooms; 10,000 sq. ft. of indoor and outdoor event space; can host up to 500.
The Madonna Inn
Imaginative interior design; minutes from downtown San Luis Obispo; 110 guest rooms; 20,000-square-foot Alex Madonna Expo Center, plus outdoor venues; spa.
Santa Barbara County
Bacara Resort & Spa
Forbes Four Star beach resort in Goleta; 358 guest rooms; 70,000 sq. ft. of meeting space, including self-contained Executive Conference Center; wine-tasting room.
Four Seasons Resort The Biltmore Santa Barbara
AAA Five Diamond resort; 207 guest rooms and suites; 15,000 sq. ft. of meeting space; indoor banquet space for up to 350; six restaurants and lounges; two outdoor pools; award-winning spa; access to nearby country club.
Hotel Corque
AAA Four Diamond boutique hotel in Solvang; walking distance to wine-tasting rooms; 122 guest rooms; 7,500 sq. ft. of meeting space.
The Alisal Guest Ranch and Resort
Located in Santa Ynez Valley on 10,000-acre ranch; 73 guest rooms; 6,000 sq. ft. of meeting space; two 18-hole golf courses; 50 miles of horseback riding trails.
Santa Cruz County
Chaminade Resort & Spa
Major renovation completed in March; AAA Four Diamond rated resort in Santa Cruz; 156 guest rooms; 12,000 sq. ft. of International Association of Conference Centers-approved meeting space; banquet space for up to 230.
Santa Cruz Civic Auditorium
Key event venue for 75 years; hosts events ranging from symphony to roller derby; fixed seating for 1,000; expanded seating on main floor can accommodate more than 2,000; Art Deco design.
Seascape Beach Resort
On Monterey Bay in Aptos; 285 suites and beach villas; 17,000 sq. ft. of meeting space; 12 tennis courts; nearby golf; property conducive to executive retreats and incentive travel; great location for day trips to Santa Cruz and Monterey.
Smart Meetings Related Posts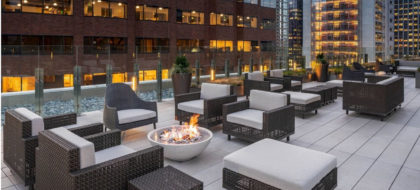 New views are popping up all over Seattle, from the Space Needle's revolving glass floor to the recently opened, 45-story Hyatt Regency Seattle.