"Everything has been expanding in China," says Jim Holthouser, executive vice president of global brands for Hilton Worldwide. "We've been doing business in China since 1988, and we now have 50 hotels there and more than 160 in the pipeline. But the growth of full-service and luxury hotels still is in its nascent state."
The nation's tourism revenue grew by 14.7 percent to $551 billion in 2014. Revenue from inbound tourism accounted for $56.9 billion, up 10.2 percent from the previous year, due to factors such as improved international airline capacity and more favorable tourism policies.
China
More than 540 first-class luxury hotels are in the pipeline in China, and 231 of them are scheduled to open this year. The growth is indicative of the rapid rise and increasing modernization of the country's major cities.
Mainland China cities are grouped into tiers determined by a host of factors, including population, development of services, infrastructure and cosmopolitan features. Tiers are arranged in descending order, with Tier 1 cities (Shanghai, Beijing, Guangzhou and Shenzhen) at the top.
Several foreign hotel companies that initially opened luxury hotels in Tier 1 cities recently have been striving to capture the underserved midscale market and have broadened their focus to include Tier 2 destinations. They're doing so in a market characterized by fierce competition between domestic and international brands, higher operating costs and a recent slowing in economic growth.
"The key cities are, of course, of prime importance, but we anticipate that most of the growth is actually going to occur in Tier 2 and Tier 3 cities, which is why our development pipeline is also focused there," says Jeff Senior, executive vice president and chief marketing officer for FRHI Hotels & Resorts.
Foreign hotel companies' push to make inroads in the midscale market coincides with an effort by some Chinese firms to have their hotels downgraded from a five-star rating as a result of the Chinese government's ban on lavish spending and emphasis on frugality. In 2013, 56 Chinese hotels asked to have their five-star ratings downgraded and many four-star establishments stalled planned improvements to avoid a potential ratings upgrade.
While downgrades can affect groups' experiences at hotels, there's plenty to do outside of the walls. All of the major mainland cities in China boast outstanding attractions, and by "major cities," we're not just talking about the Tier 1 destinations. China has six cities with more than 10 million residents and 40 with more than 2 million inhabitants. To put this in perspective, the United States has only four cities with a population above 2 million.
Smart Meetings has concentrated on recent hotel developments in three of the Tier 1 cities—all with a solid clientele of meeting groups.
Shanghai
Situated on the estuary of the Yangtze River in East China, Shanghai, with more than 24 million residents, is the fourth most populous metropolitan area in the world. It is the most influential cultural and technological center in East China.
The city boasts lots of historical attractions and traditional structures, but is now also renowned for its modern, multicultural elements. This is clearly displayed in the city's skyline, which consists of old Shikumen alongside modern skyscrapers. Chinese traditions are intertwined with Western customs, creating a stimulating, progressive blend.
"We always say Shanghai is the city where East meets West because it was opened to the world 200 years ago," says Patrick Chen, deputy director for the Shanghai Municipal Tourism Administration's Industrial Tourism Promotion Department. "So, the people have learned a lot from Western countries—not just about architecture and city development, but also about such things as the thoughts and concepts of Western people."
This makes Shanghai a particularly intriguing and accessible meeting spot.
Hotel Pullman Shanghai South
Hotel Boom
Shanghai added several luxury hotels, mainly in secondary business districts and suburban areas, from July 2013 to June 2014.
Hotel Pullman Shanghai South, an international upscale business hotel with 338 guest rooms and 19,375 sq. ft. of meeting space, opened in January 2014. It's situated in Star Plaza, which is located in Shanghai's central business district and consists of a commercial building and a four-story shopping mall.
Hyatt Regency Chongming, Chongming Island, Shanghai
The following month, Shanghai Marriott Hotel Parkview (317 guest rooms. 30,139 sq. ft.) was unveiled in the heart of Zhabei District, neighboring Daning Lingshi Park. The property provides a peaceful environment and is surrounded by nature trails. Hyatt Regency Chongming, located on the east end of Chongming Island, China's third largest island, opened in March 2014 with 235 guest rooms (all with spacious balconies) and 19,267 sq. ft. of meeting space.
Several international hotels are slated to open soon, including the 338-room W Shanghai–the Bund and 503-room Sofitel Shanghai Jingan Huamin Hotel, both in 2016, and 120-room Bulgari Hotel in Shanghai in 2017.
Shanghai Marriott Hotel Parkview
Beijing
Beijing, the capital and second most populous city in China, is widely regarded as its political, cultural and educational center. Located in the northeast part of the country, the city, often called "Jing," boasts 7,300 historical sites and more than 200 tourist attractions, many of which reflect the dazzling modernization that has taken place.
One of the most visited cities in the world, Beijing was widely praised for its successes in hosting the 2008 Summer Olympics and now is considered a favorite to host the 2022 Winter Olympics.
Hotel Boom
Some 2,358 high-end hotel rooms were added to the Beijing market from July 2013 to June 2014. Many of the properties opened in the first half of 2014, including Crowne Plaza Beijing Lido (466 guest rooms, 17,222 sq. ft.), situated in the Chaoyang District in the Lido area, famous for its upscale ambiance, international medical centers, restaurants and bars.
Waldorf Astoria Beijing
Waldorf Astoria Beijing, situated in the heart of iconic Wangfujin (known for its famous "snack street" and night market), has 171 guest rooms and 5,000 sq. ft. of meeting space. JW Marriott Hotel Beijing Central features outstanding views of the capital city, and has 404 guest rooms and 26,910 sq. ft. .
A total of 623 new five-star hotel rooms were added in the second half of the year, but due to the sluggish economy, some owners postponed the opening of their new hotels. Among the new hotels is the five-star Rosewood Beijing, which is Rosewood Hotel Group's first property in Asia. It's located in the Chaoyang District, surrounded by businesses and offices, and provides 283 guest rooms and 36,059 sq. ft. of meeting space.
Rosewood Beijing
The 340-room W Beijing Changan (340 guest rooms, 12,917 sq. ft.)—located just steps from the mystical Forbidden City, vibrant Silk Market and famed Tiananmen Square—lights up downtown's exclusive Diplomatic District with a mix of high style, fascinating history and pulsating nightlife.
Guangzhou
W Guangzhou
The new, international five-star hotels in the city are concentrated in North Tianhe and Pearl River New City, while older five-star hotels can be found in Yuexiu District. Baiyun is also becoming a hotel hot spot thanks to the expansion of Guangzhou Baiyun International Airport (CAN) in 2012.
During the second half of 2013 and first half of 2014, some major five-star hotels opened downtown. Located on the banks of the iconic Pearl River and just steps from ancient sites, W Guangzhou has 317 guest rooms and 21,528 sq. ft. of meeting space. DoubleTree by Hilton Guangzhou (301 guest rooms, 11,000 sq. ft.) is situated in the Central Business District and its guest-room windows showcase stunning views of the city or Yuexiu Park.
Langham Place, Guangzhou (500 guest rooms, 90,427 sq. ft.) is in the center of the convention and business hub of the city, just a stone's throw from the China Import and Export Fair Complex, home of the world-renowned Canton Fair. Aloft Guangzhou University Park opened in November with 272 guest rooms and 7,158 sq. ft.
By the end of June 2014, Guangzhou had 13,331 five-star hotel rooms.
Wrapping Up
While inbound tourism continues to thrive in China, outbound tourism is growing even faster.
"Ten years ago, hardly any people were leaving China to visit other destinations, but now 100 million people are doing so each year," Holthouser says. "And yet, just 5 percent of the people in China have a passport. This percentage will soar, as will the number of Chinese travelers.
"This has implications for every meeting facility in the world."
Enticing Hotels in Tier 2 Cities
Hilton Qingdao Golden Beach
While Tier 1 cities in China are on everyone's radar, in many ways Tier 2 cities compare favorably in terms of quality of products, competition in the marketplace and foreign entry into the markets. Many hotels have opened in Tier 2 cities since January 2014, including the following:
Hilton Qingdao Golden Beach (430 guest rooms, 45,000 sq. ft. of meeting space) is located in northeast China, adjacent to the soft, wide sands of Golden Beach, with the Laoshan Mountains as a backdrop.
JW Marriott Hotel Chongqing (454 guest rooms, 9,000 sq. ft.) is in Chongbin Poly International Plaza, one of the tallest skyscrapers in Chongqing, a municipality of China as well as an economic hub in the western region.
Fairmont Nanjing (359 guest rooms, 26,900 sq. ft.) occupies the upper half of the Jin Ao Tower in the East China city of Nanjing, which has a prominent place in Chinese history and culture, having been the capital of the nation for several periods.
These significant properties are among those scheduled to open soon:
Sheraton Zhanjiang Hotel
Sheraton Zhanjiang Hotel, slated to open this month, is set amid lush greenery and surrounded by mountains, on an inlet of the South China Sea on the Leizhou Peninsula. It's 259 miles southwest of Guangzhou, and will provide 440 guest rooms and 40,583 sq. ft.
Sheraton Harbin Xiangfang Hotel (400 guest rooms, 84,776 sq. ft.) is in Harbin, located in the northeast and known as China's "Ice City" because of its month-long Harbin International Ice and Snow Festival. It's scheduled to open in September.
Sheraton Chuzhou Hotel is located in Chuzhou, which is at the western fringe of the Yangtze River Delta and just 51 miles northwest of Nanjing. The property, which is slated to open in October, offers 348 guest rooms and 36,597 sq. ft.
Radisson Blu Resort Chongqing Beibei, a re-build, is set to open in 2015 in an area of Southwest China widely acclaimed for its hot springs and natural beauty. The property will provide 280 guest rooms and a variety of meeting spaces.
Resources
Beijing Municipal Commission of Tourism Development – english.visitbeijing.com.cn
China National Tourism Administration – en.cnta.gov.cn
China National Tourist Office – cnto.org
Greater China Hotel Report 2014 – knightfrank.com
Shanghai Municipal Tourism Administration- meet-in-shanghai.net
Tourism Administration of Guangzhou Municipality – visitgz.com/eng
Los Angeles and Orange County Target Growing Chinese Market
Perfect China Company at Anaheim Convention Center
For the fourth consecutive year, Los Angeles set a tourism record in 2014 with 43.4 million visitors, including a 20.4 percent increase by Chinese tourists. Los Angeles Tourism & Convention Board reports that nearly 700,000 Chinese tourists visited the city in 2014, spending an estimated $1.1 billion.
L.A. Tourism has been targeting the China market since 2006, when it became the first U.S. municipal tourism marketing organization to operate a full-time office in China. The Beijing office proved to be so valuable that it opened a second office in Shanghai in 2013.
Last year, L.A. Tourism implemented a training program to help local hotels, attractions and other businesses meet the cultural preferences of guests from that country. The NiHao China tourism campaign also includes increased marketing, a Chinese language website, and an online and printed shopping guide.
"L.A. Tourism values the Chinese visitor market enormously, and we are investing considerable resources in this area accordingly," says Ernest Wooden, Jr., its president and CEO. "In fact, today we are deploying more of our marketing resources in China than any international country. Our robust marketing program engages multiple business and consumer platforms to ensure Los Angeles is the first destination of choice on any Chinese visitor's U.S. itinerary."
A key component of the campaign is the China-Ready Training and Destination Program, a professional-education initiative designed to provide insights, tips and best practices for the Chinese visitor market. The goal is simple: Increase the likelihood that Chinese visitors return to Los Angeles and that they recommend it to friends and family.
---
-Holly Woolard
Smart Meetings Related Posts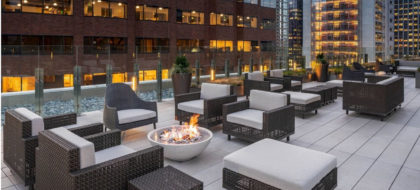 New views are popping up all over Seattle, from the Space Needle's revolving glass floor to the recently opened, 45-story Hyatt Regency Seattle.