Narrow streets strung with red and yellow banners…pagoda-roofed buildings and dragon-shaped street lamps…markets displaying mahogany-bronzed ducks, ocean-fresh seafood and just-delivered produce…old men playing elephant chess in a park…laughing, uniformed schoolchildren weaving through the crowded sidewalks…and on the breeze, the aroma of sizzling wok-fried food and the multi-toned sounds of Cantonese.
These might seem like scenes from Hong Kong or Guangdong Province in mainland China, but actually they're from a city more than 6,000 miles away—San Francisco.
With Chinatown as its heart, San Francisco is home to a flourishing Chinese community that, based on 2013 totals, accounts for 34.4 percent of its residents. They're joined by a Pan-Asian population of Japanese, Vietnamese, Thai, Korean, Filipino and other ethnicities both in the city proper and other parts of the Bay Area, particularly the East Bay and Silicon Valley.
"Diversity is one of San Francisco's greatest strengths," says Joe D'Alessandro, president and CEO of San Francisco Travel Association. "The city's Asian population is especially diverse, with communities from nearly every part of the Asian world represented. These cultures bring great vitality to the city and make it a fascinating place to visit."
What's good for visitors to San Francisco and the Bay Area in general is also good for meetings, as residents "are proud of their heritage and happy to share their customs and traditions," D'Alessandro says. "Holding meetings in San Francisco can be like an international experience."
Here's a glimpse into what arguably is the biggest and best hub of pan-Asian culture, cuisine and festivals in the country.
San Francisco
San Francisco, the epicenter of the Bay Area's Asian communities, boasts distinct cultural communities such as Chinatown, Japantown and Little Saigon, and plenty of shops and restaurants.
Neighborhoods
Chinatown
Announced by the iconic Dragon's Gate on Grant Avenue, downtown Chinatown is the largest—and best known—of the city's four Chinatowns (the others are in the Richmond and Sunset districts). This enclave was established in 1848, then swelled during the gold rush and continues to expand, pushing the boundaries of North Beach and the Financial District while retaining its own identity. Stockton Street is the shopping nexus, while alleys and backstreets harbor an intriguing mix of herbal shops, temples, social clubs and a fortune cookie factory.
Japantown
The oldest and largest of the Japanese enclaves in the United States, Japantown stretches about six square city blocks, where red banners adorned with cherry blossoms define the area. The soaring Peace Pagoda, a five-tiered commemorative monument given by the people of Osaka, Japan (a sister city of San Francisco), is the focal point of the neighborhood, which hosts Japan Center's East and West malls, plus dozens of shops, grocery stores and restaurants.
Little Saigon
A more recently emerging neighborhood is Little Saigon, located in the Tenderloin, on Larkin Street between Eddy and O'Farrell streets. About 2,000 of the city's 13,000 Vietnamese Americans reside in the Tenderloin, and this two-block stretch imbues the community with its native language, as well as familiar shops and cuisine. A small but formal entrance marks the area, while colorful green and yellow banners line the streets.
Yank Sing, San Francisco
Dining: Off the Cart and on the Menu
Asian restaurants, from storefronts to mega-palaces, abound throughout the city. In Chinatown, cavernous Great Eastern Restaurant features the traditional dim sum small-plates lunch—but without the cacophonous blend of rolling carts and clattering dishes for typical point-and-serve dining (a menu is used here, easier for visitors unsure of the ingredients used in the preparation of dishes). Renowned Yank Sing (complete with carts for purists) is dim sum rival to Great Eastern Restaurant in the Financial District. For dinner (groups up to 80), Hong Kong Lounge II in the Richmond District gets raves for its seafood and vegetables, particularly the salt-and-pepper options and rustic clay-pot dishes.
San Francisco's Japanese restaurants give you plenty of options to use or perfect your chopstick and noodle-slurping techniques. Even before the current craze, Tanpopo in Japantown was satisfying noodle cravings with 13 different bowls of ramen, including a favorite, Karamiso (ramen with spicy miso broth). In the Union Square area, aided by a new chef, the highly acclaimed Akikos focuses on sustainable, organic and local products for its sushi.
Slanted Door, San Francisco
Vietnamese food? You say it in the same breath as The Slanted Door, a modern Vietnamese restaurant in the Ferry Building that has been named the James Beard Outstanding Restaurant in the country, among other accolades (make reservations before departing on your trip).
Cherry Blossom Festival, San Francisco
Festivals
With sights and sounds worthy of a Hollywood production, San Francisco's Chinese community celebrates the Lunar New Year in February or March, culminating with an exuberant annual parade that dates back to the 1860s. Colorful floats, ferocious lions and the crowd favorite—a spectacular 201-foot golden dragon—make their way through Union Square, the Financial District and Chinatown, accompanied by clanging drums and cymbals and, of course, exploding firecrackers.
The Cherry Blossom Festival, held each April in Japantown, is exciting and showy in another way, as the gorgeous pink and white flowers come to life in spring. The two-weekend celebration features crafts, foods, exhibitions and a parade from Civic Center to Japantown.
The Asian Heritage Street Fair, one of the largest Pan-Asian events in the country, is held annually
in May near the Asian Art Museum and Little Saigon. It features live entertainment and more
than 50 vendors.
---
Oakland
With more than 125 languages spoken throughout its 56 commercial districts, Oaklandis consistently ranked as one of the most diverse cities in the country. Located across the bay from San Francisco, Oakland has harbored an Asian community since the 1850s Gold Rush, when Chinese immigrants were the first to settle here, followed by waves of others from Pacific Rim countries (they now comprise 16.8 percent of the city's residents).
Neighborhood
Oakland Chinatown
Every Chinatown has its own distinct flavor, and these days Oakland Chinatown (so named to lessen confusion with its counterpart across the bay) is Pan-Asian, welcoming Japanese, Korean and Vietnamese residents, shops and businesses. Within the 16-block cluster between downtown's Oakland City Center and Jack London Square—and marked by street signs in Chinese and English—are Vietnamese jewelers such as Kim Van Jewelry Store, Golden Gate Fortune Cookie Factory, Chinese herbalists, seven-days-a-week grocery and fresh produce stores, and Cam Huong Deli, which has become a favorite largely through word-of-mouth and boasts amazing Vietnamese banh mi sandwiches. Oakland Chinatown's anchor is Pacific Renaissance Plaza, a multicultural retail and dining complex near city center and the Jack London waterfront, which also houses Oakland Asian Cultural Center and the Asian branch of the Oakland Public Library.
Yoshi's Oakland
Dining: Banquet to Jazzy
Within Chinatown, the newly renovated Peony Seafood Restaurant (300-plus guests) at Pacific Renaissance Plaza has an extensive dim sum lunch, with menus that you fill out.
Not limited to neighborhood borders, Le Cheval on Clay Street offers upscale Vietnamese dining, with French, Chinese and Southeast Asian influences—notably the calamari, soaked in toasted curry oil. Yoshi's Oakland in Jack London Square continues to draw crowds for its Japanese and fusion dining, plus its renowned jazz club next door.
Festivals
Oakland celebrates the traditional Chinese New Year (also known as Lunar New Year or Vietnamese Tet) with festivities and an extravagant indoor/outdoor holiday bazaar. In August, the hugely popular Chinatown Street Festival, headlined by dueling kung fu lion dancers, draws crowds of 60,000.
---
Berkeley
Berkeley is a place unto itself, offering a kaleidoscope of colors, cultures and cuisine that reflects not only its Pan-Asian residents, who make up 19.3 percent of the population, but also the annual crush of University of California, Berkeley students from around the world.
Dining: Beyond Alice Waters
In addition to its fame as the birthplace of California cuisine, Berkeley is a hotbed for ethnic eateries, without a Chinatown or Thai Town or Little Saigon focus—although it's not unusual to find a cluster of similar themed restaurants within a few blocks of one another. The newly reopened, group-friendly Great China Restaurantis highly regarded; favorites here include Peking duck and "double skin," mung bean noodles mixed with a variety of vegetables, seafood and pork.
Foodies with a yen for adventurous Japanese cuisine flock to the new 42-seat Iyasare restaurant, where buyouts are possible and the maguro tartare with avocado and spicy miso is divine. An Hong, a Vietnamese restaurant specializing in "7 Courses of Beef or Bo 7 Mon," is large and offers banquet service.
Berkeley Kite Festival
Festivals
In an eclectic city such as Berkeley, many business districts have Lunar New Year celebrations. Also, a citywide special event held annually in July, the Berkeley Kite Festival, has a strong Asian angle, says Dan Marengo, communications manager for Visit Berkeley. The festival features a Japanese-style Rokkaku kite battle for the skies, giant creature kites as big as houses and thundering, energetic taiko drummers.
---
Diablo Valley
Step into the 99 Ranch Market in Concord and you'll be immersed in a microcosm of the Pacific Rim, where throngs of Pan-Asian shoppers debate the merits of the shrimp, mackerel and white-fleshed swai; examine the shingo pears, pink pummelos and taro; and pluck groceries from shelves packed with 23 kinds of soy and spicy chili paste. The energy is high—and vocal.
This market and the popular Seafood City
Supermarket are testament to Concord's Pan-Asian population, which, at 11.1 percent, is the largest portion of any city in Contra Costa County. The figures reflect the Bay Area's typical Asian communities, from Japanese to Chinese, Vietnamese, Filipino and Korean, who reside throughout the city.
Dining: All over the Map
The dining scene, as you'd imagine, is all over
the map, both figuratively and literally. But thumbs up go to Concord's Hunan Restaurant for its
beef chow fun and prawns with honey glazed walnuts, Golden Willow Chinese restaurant for its
Hunan chicken, and Sushi Momoyama for its sushi and teriyaki meats, and specialties such as yellowtail collar.
Festivals
Diablo Valley's close proximity to San Francisco and Oakland offers major Lunar New Year celebrations, while August brings cultural fun with the Diablo Japanese American Summer Festival, featuring Japanese food, bonsai and flower exhibits, taiko drum performers, martial arts demonstrations and Japanese dancers.
---
Silicon Valley/San Jose
The jury's still out on whether Silicon Valley is just the nickname for the Bay Area's high-tech region, or whether it has specific boundaries, such as the stretch of Santa Clara Valley from Palo Alto to San Jose, the Santa Clara county seat.
No matter what your take on the subject, San Jose (population 945,942) weighs in as the ethnic cultural hub of Silicon Valley, where more than one-third of the city's residents identified as Asian in the 2010 census. The figure has grown in San Jose and Santa Clara County over the past few years, in tandem with the expansion of Silicon Valley's high-tech world in general.
Neighborhoods
Little Saigon
San Jose has the most Vietnamese residents of any city outside of Vietnam, and Little Saigon is the heart of the community. Southeast of downtown, the area encompasses shopping and dining options, primarily in several malls. Nearby, Viet Museum, the first Vietnamese museum of its kind in the world, pays homage to Vietnamese refugees ("boat people") and the Republic of Vietnam.
Japantown
Japantown, or Nihonmachi, is north of downtown San Jose and was formed around, then meshed into a former Chinese settlement. Despite the years of internment and toll that World War II took on many residents, the area is a vibrant neighborhood, and is celebrating its 125th anniversary this year. Japanese American Museum of San Joseshowcases exhibits that chronicle the immigration of Japanese to America, their leaders, incarceration during World War II and today's issues and challenges.
Pho 69, San Jose
Dining: Downtown and Uptown
In Little Saigon, Bun Bo Hue An Nam boasts some of the best traditional pho soups, as well as more adventurous soups such as bun bo hue (ox penis soup), while Pho 69, near the San Jose McEnery Convention Center, has namesake soups, noodle bowls, sandwiches and rice dishes.
Tsugaru in Japantown offers a wide array of Japanese dishes, while Fuji Sushi, also near the convention center, features traditional options such as sushi, bento boxes and donburi.
With a hip setting, complete with anime cartoons and electronic DJ music, Blowfish on Santana Row corners the traditional/innovative market for sushi. Also on Santana Row, Sino serves up delicious dishes with a modern twist (think char siu sea bass with Chinese ratatouille).
Festivals
The city holds its own version of cherry blossom festivities by offering Nikkei Matsuri each year in April. Kicked off by the ever-popular taiko drummers, it features Japanese-themed delicacies, dancers, aikido demonstrations, arts and crafts, and more.
Also popular is the Vietnamese Tet Festival, held in February this year, which celebrates the culture and beauty of Vietnam.
---
Summing Up
Several generations of immigrants have settled in the San Francisco Bay Area, some in urban communities, some in the suburbs. The region is truly a melting pot, whether it's served in a bowl of egg-drop soup, ramen noodles or pho.
---
Resources
---
Major Meeting Venues
Berkeley
New LEED Platinum center downtown with multiple event spaces, from intimate to grand (up to 250 guests).
Historic boutique hotel near UC Berkeley; five restaurants feature farm-to-table cuisine; 8,000 sq. ft. of meeting space; 199 guest rooms.
The Claremont Hotel Club & Spa
Historic resort in the Grand Hotel tradition; 279 guest rooms; 30,000 sq. ft. of flexible meeting space; award-winning spa; three pools.
---
Diablo Valley
Premier outdoor music venue seats 12,500, including large lawn area; available for rental.
Crowne Plaza Concord/Walnut Creek
Next door to Buchanan Field Airport in Concord; 321 guest rooms; 26,300 sq. ft. of meeting space in 13 meeting rooms.
Hilton Concord
Just off Interstate 680 and Willow Pass in East Bay; free shuttle to BART; 329 guest rooms; 20,000 sq. ft. of flexible function space.
---
Oakland
Within walking distance to Jack London Square and Chinatown; 64,000 sq. ft. of convention, exhibit and meeting room space.
Newly renovated property adjacent to convention center; near Jack London Square; 489 guest rooms; 89,000 sq. ft. of meeting space.
Waterfront Hotel
Joie de Vivre hotel in Jack London Square; 145 guest rooms with harbor views; 13 versatile event spaces for up to 300 guests.
---
San Francisco
Hilton San Francisco Financial District
Steps from Chinatown; 543 guest rooms; 20,000 sq. ft. of indoor and outdoor function space; Chinese Culture Center is on the third floor.
Hilton San Francisco Union Square
Convenient to Union Square, Moscone Center; 1,915 guest rooms; 134,500 sq. ft. of meeting space; 30,000-square-foot ballroom.
Boutique hotel in Japantown; 218 guest rooms; 16 event spaces for up to 1,200 guests; Asian, European and California cuisine.
On the waterfront across from Ferry Building; 804 guest rooms; 67,000 sq. ft. of function space and 8,456 sq. ft. of prefunction space.
InterContinental San Francisco
Sleek, elegant property adjacent to Moscone Center; LEED Gold certified; 10-room spa; 550 guest rooms; 43,000 sq. ft. of meeting space.
Undergoing expansion of flexible meeting space, including a 50,000-square-foot ballroom; 106 meeting rooms and up to 256,225 sq. ft. of meeting space; 700,000 sq. ft. of exhibit space.
Parc 55 San Francisco, a Hilton Hotel
Union Square-area property recently acquired by Hilton (formerly Wyndham); 1,024 guest rooms; 30,000 sq. ft. of meeting space.
San Francisco Marriott Marquis
Downtown property next to Moscone North; 1,500 guest rooms; 17,000 sq. ft. of total space.
Renowned luxury hotel atop Nob Hill; 591 guest rooms; 55,000 sq. ft. of function space; famed Tonga Room & Hurricane Bar.
Ritz Carlton
The Ritz-Carlton, San Francisco
Cable car stop out front; 336 guest rooms; 23,000 sq. ft. of meeting space; Parallel 37 restaurant features contemporary cuisine.
Formerly The Huntington; features a blend of Chinese heritage and high-fashion luxury; 134 guest rooms; four meeting rooms, with largest having 2,400 sq. ft.
Landmark hotel on Union Square; 1,195 guest rooms; 56,000 sq. ft. of event space; Michael Mina's award-winning Bourbon Steak restaurant.
Silicon Valley/San Jose
Connected to San Jose McEnery Convention Center; 353 guest rooms; 7,800 sq. ft. of meeting space.
Easily accessible to convention center; 234 guest rooms; 7,000 sq. ft. of meeting/banquet space.
Directly connected to convention center; 506 guest rooms; 21,000 sq. ft. of meeting space.
San Jose McEnery Convention Center
Expansion and renovation project now complete; 372,754 sq. ft. of meeting and event space, including new 35,194-square-foot grand ballroom.
Luxury hotel; 805 guest rooms; 65,000 sq. ft. of function space accommodating up to 3,000.
---
Smart Meetings Related Posts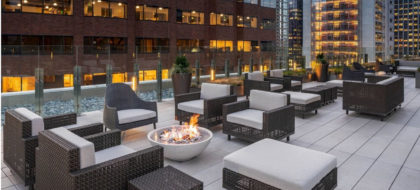 New views are popping up all over Seattle, from the Space Needle's revolving glass floor to the recently opened, 45-story Hyatt Regency Seattle.