We are living in a polarized world with extreme opinions on every side. Divides in taste, preference and lifestyle can cross over to the event world, leaving you with difficult decisions. Do you book the corporate retreat at a ski-in/ski-out luxury resort with a world-class spa…or a cozy lodge overlooking a championship golf course with dining at one of the most scenic restaurants in America? Do you bring the conference to a 24-hour, mega-casino with live music, dining for every taste and budget and flexible ballroom…or a nongaming, nonsmoking property that boasts the world's tallest climbing wall and a 1,000-capacity concert venue?
Groups craving the best indoor and outdoor meeting experiences may not have to choose. An escape to Reno-Tahoe blurs the lines between nature and nurture, sporting and gaming, adult and inner-child pleasing, winter wonderland and summer paradise, even California and Nevada. The biggest challenge may be squeezing all those experiences into one trip. But it could be fun to try. We mapped out a draft agenda to help you see all the opportunities on offer.
Day 1: Arrival in Reno
When you arrive at Reno-Tahoe International Airport (RNO), check out the city's first airport lounge, between concourses B and C. The Escape Lounge is an 1,800-square-foot haven stocked with pastries, salads, sandwiches, wine and spirits from a menu designed by chef Colin Smith of Roundabout Grill in Whitney Peak Hotel. All this nourishment is paired with cozy lounge chairs andspectacularrunwayviewswiththefoothillsbeyond. It is open to all travelers—free for American Express Platinum Card holders, or $40 when booked in advance.
Reno is truly a year-round destination, with 18 ski resorts and 50 championship golf courses, plus hiking, biking and climbing. And, of course, Olympic-level meetings. Even the city's nickname, The Biggest Little City in the World, seems to cover it all.
BenMcDonald, communicationmanagerfor Visit Reno-Tahoe, says the city is getting bigger every year, and for good reason. More than 50,000 new jobs are expected over five years as tech companies large and small set up operations in the high desert.
Reno Events Center
First stop, drop the bags. Downtown Reno boasts 6,600 guest rooms. Eldorado Resort Casino and the adjoining Silver Legacy Resort & Casino and Circus Circus Reno Hotel & Casino join forces to make a convenient home base. This hospitality trifecta has undergone a $50 million renovation that includes refreshed rooms and new restaurant choices. And if Eldorado's 10,000-square-foot Crystal Ballroom and 580-seat theater, as well as Silver Legacy's 19,360-square-foot Grande Exposition Hall and 20 restaurants under one roof, are not enough space, the 56,000-square-foot Reno Events Center and 33,000-square-foot The Reno Ballroom are a block away.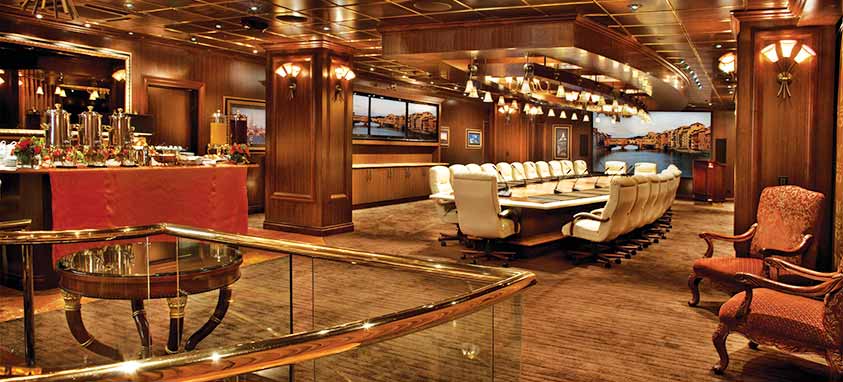 Peppermill Resort Spa Casino, Reno
SMART TIP: To bring more of the mountain vibe into the meeting, schedule a breakout in Eldorado's Panoramic Boardroom with its views of white-capped peaks. If you have business at the 500,000-squarefoot Reno-Sparks Convention Center, the 2 million- square-foot Peppermill Resort Spa Casino is steps away, and filled with newly remodeled event and restaurant space for mixing up the scenery. Case in point: At the new Edge Nightclub, 1920s style meets 2020 technology, and it can provide a colorful cap to a day of demos and dialogue.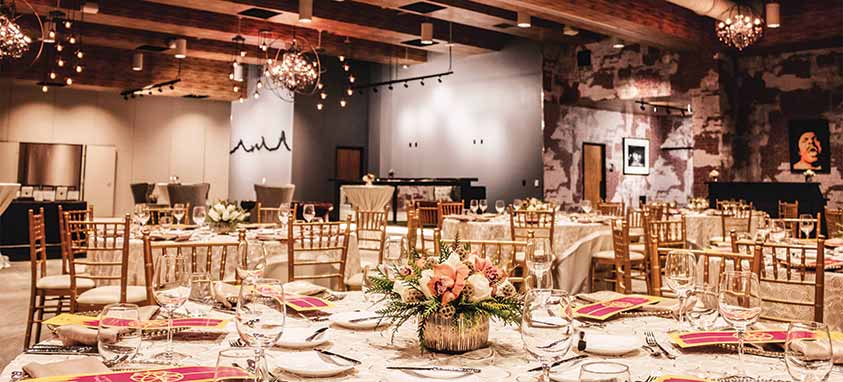 Whitney Peak Hotel, Reno
Ifyouwanttoavoidtheslotsandgamingtables, Whitney Peak Hotel and Marriott's new Renaissance Reno Downtown Hotel (formerly the site of Siena Hotel Casino and historic Holiday Hotel) play off of the modern, outdoorsy vibeofthecity. ThehighlightofRenaissanceisanexpanded restaurantdeckwithawrap-aroundfirepitthathoversover re-energized TruckeeRiver. Eightindoorandoutdoorbocce ball courts could score high on attendee surveys, as well.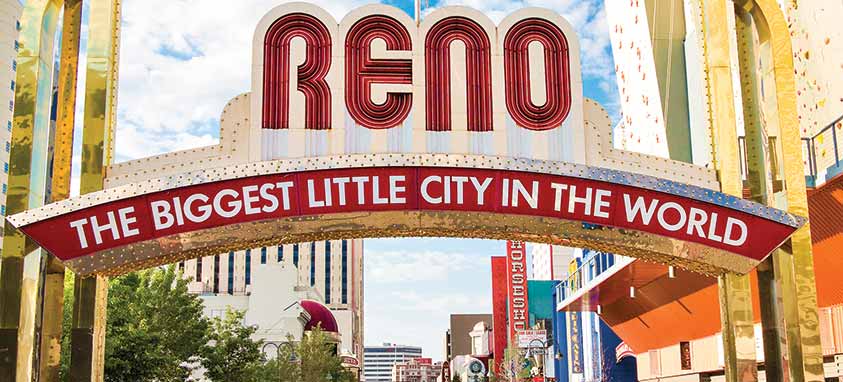 Reno Arch
KristinaOvies, nationalgroupsalesmanagerfor Whitney Peak, says Reno's newest resident tech companies—Tesla, Microsoft and Google—add to the local demand for the modern-industrial functionality of The Third Floor, 20,000 sq. ft. of event space with two outdoor balconies overlooking the Reno Arch. But out-of-state business, including Silicon Valley companies looking for an affordable destination that speaks tech, is a growing presence on hotel calendars. "It is the perfect place to inspire camaraderie," Ovies says. If it works for Elon Musk, maybe BaseCamp bouldering would make for perfect team building for your group.
For dinner, you could head to nearby Sparks, where Marnell Gaming, new owner of Nugget Casino Resort, is in the middle of a planned $25 million renovation of the 800-room west tower that includes 110,000 sq. ft. of convention space. Look for rich, chocolaty tones in place of mauve and taupe carpet, plus new lighting and serving hardware. A new steakhouse will soon follow.
After hours, Atlantis Casino Resort Spa, Reno is steps from Reno-Sparks Convention Center, and in addition to two ballrooms in the 50,000 sq. ft. of AAA Four Diamondrated meeting space, offers live shows in the cabaret.
SMART TIP: The Sky Terrace at Atlantis offers panoramic views of the city and a diverse selection of sparkling and flavored sake-based drinks.
Day 2: South Lake Tahoe
Getting to South Lake Tahoe is now faster than ever. Improvements to Interstate 580 have shaved off 15 minutes, making the scenic trip a 45-minute journey by car or South Tahoe Airporter, which whisks passengers away from just outside the RNO baggage claim area.
That is great news for the 1,100 planners and suppliers from more than 35 countries who will be attending the Mountain Travel Symposium in April—the largest mountain planning and contract event in the world. During MTS Talks at Heavenly Lake Tahoe, attendees of the two-day forum will discover what a lot of veteran Tahoe event professionals already know: The combination of fresh air and relaxed vibe speeds up the work of making lasting business connections.
On the shores of America's highest alpine lake, South Lake Tahoe straddles the line between Nevada and California and offers a walkable mix of hotels, dining and shopping—plus year-round activities via a gondola. In snow season, this includes some of the best skiing in the world. "There is a new energy in Heavenly Village, and the concentration of properties eliminates the need to drive once you arrive," says Stuart Maas, sales and marketing manager for Lake Tahoe Visitors Authority.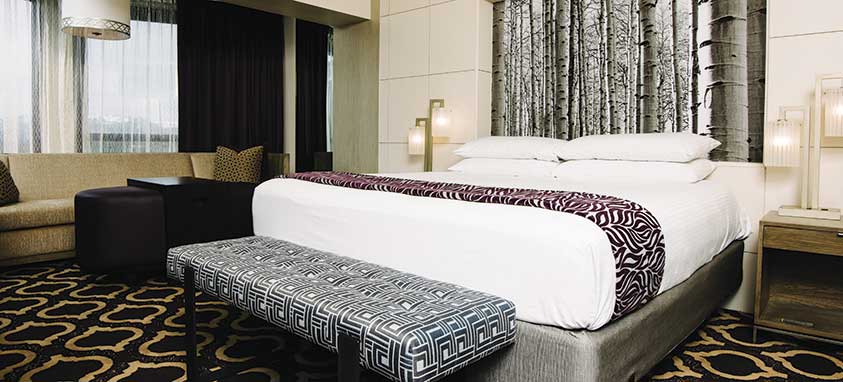 Guest room at Harrah's Lake Tahoe
The fresh approach is visible inside and out at Harrah's LakeTahoe, where Caesars Entertainment recently completed an $11.8 million renovation. The 25,000-squarefoot Special Events Center was remodeled last year with new furniture, lighting and surfaces for a modern, cosmopolitan look. A total of 317 guest rooms and 39 suites were also updated. Next up is a $5 million refresh of the guest rooms at Harveys Lake Tahoe.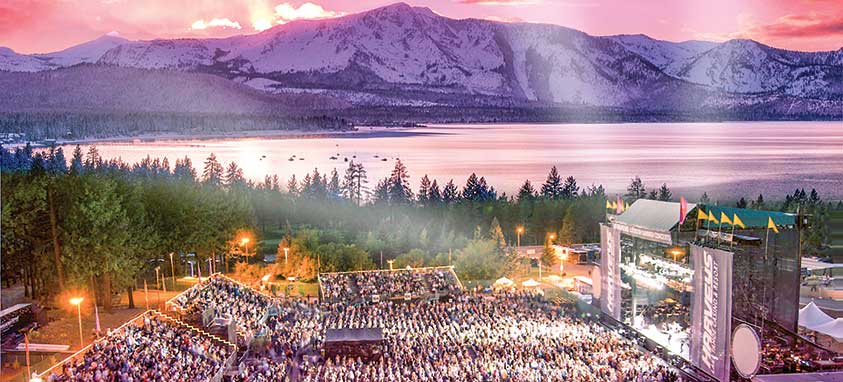 Summer concert at Harveys Lake Tahoe
SMART TIP: Schedule your meeting a couple of days before or after The Lake Tahoe Outdoor Summer Concert Series (first up this year is Charlie Puth in August), and interested guests can plan accordingly to enjoy.

The Lodge at Edgewood Tahoe
Nestled by the lake, The Lodge at Edgewood Tahoe, with 154 guest rooms, features in-room gas fireplaces and a fire pit area for nightly s'mores and libations, and a championship golf course with beach-front putting and mountain views for daytime excursions.
SMART TIP: Edgewood Tahoe Golf Course will challenge even your resident Jack Nicklaus, so a scramble will keep the afternoon friendly.
Or meet on the lake at Beach Retreat & Lodge at Tahoe's new 7,100-square-foot conference center. This light, bright space is open to the views, with oversize glass doors leading onto a 1,000-square-foot deck. You can even encourage attendees to get some sand between their toes and gather in the beachfront tent.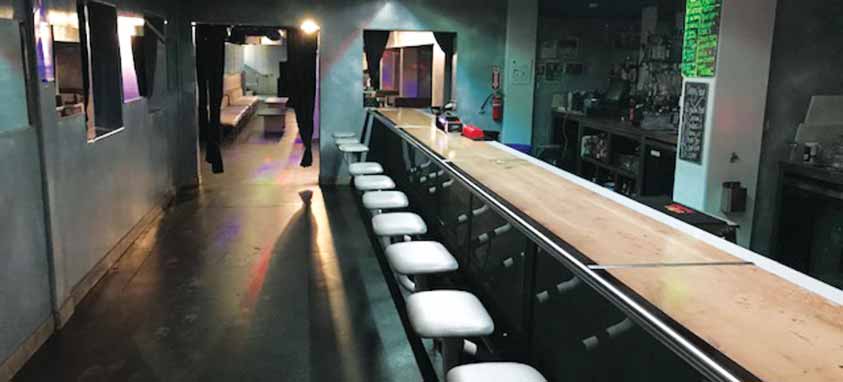 Bar and lounge at Puzzle Room Tahoe
After the meeting, introduce a little friendly competition to the team building in one of two new escape rooms. Trapped in Tahoe and Puzzle Room Tahoe encourage groups to work together to solve problems based on carefully placed clues in themed rooms, including an underground mine, a gilded pyramid chamber and Dracula's Castle.
For another change of pace, take your group out on South Shore Beer Trail, consisting of eight tasting rooms in walking or biking distance, with the fun spilling out onto heated patios. Lake Tahoe AleWorX offers a selfserve tapas bar and outdoor amphitheater with live music and fire pits nightly.
Day 3: North Lake Tahoe
Difficult choices present themselves again when you venture to the north side of the lake—you have your pick of 7,000 rooms and 200,000 sq. ft. of meeting space in 12 communities.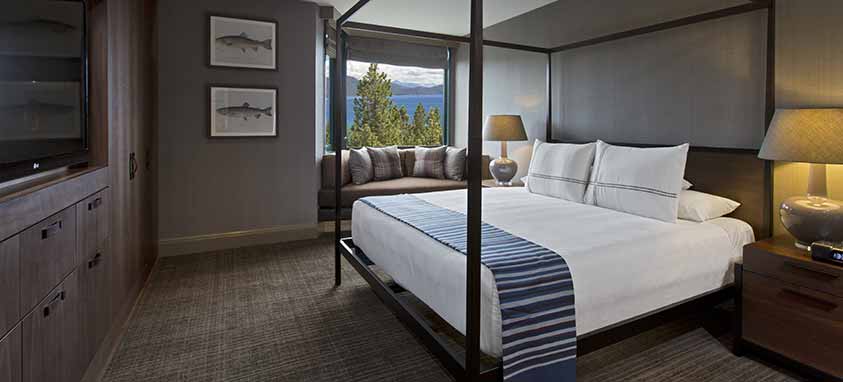 Lobby at Resort at Squaw Creek
Your group could bunk at the newly renovated Resort at Squaw Creek, with its 33,000 sq. ft. of indoor and 14,750 sq. ft. of outdoor meeting space. It offers skiin/ ski-out access to the Olympic playground that serves as a backdrop to the heated pool, spa and outdoor dining. Or you could opt for AAA Five Diamond The Ritz- Carlton, Lake Tahoe, with its 15,000-square-foot Fireside Terrace, two ballrooms with breathtaking mountain views, ski valet and gondola to nearby Northstar California. A slope-side spa and Lake Club are also available for truly sparkling gatherings.
SMART TIP: Be sure to schedule outdoor time. One way to get the group acclimated to the elevated terrain is with a helicopter tour of the valley, lake and meadows through Pacific North Helicopters.

The Lodge at Edgewood Tahoe
For lunch, you can continue your pursuit of suds on the North Lake Tahoe Ale Trail. Visit Lake Tahoe offers interactive maps for stand-up paddleboarders, hikers, bikers and groups looking for an adventure-centric experience that ends with a cold one. A popular stop on the list by land or lake is Pier 111 at Hyatt Regency Lake Tahoe Resort, Spa and Casino, in Incline Village.
Plan on a Return Trip

Almost everything old is being made new again in Reno and Tahoe, thanks in part to tech money moving to the area. Ben McDonald, communication manager for Visit Reno-Tahoe, estimates some $500 million has been invested in downtown Reno alone in the last four years. A significant portion of that has gone to getting meeting space up to speed to satisfy tech companies using the Wi-Fi, audiovisual and lighting systems when they bring their teams together for business and pleasure.
 
Some future meeting wonderlands to keep in your sights include the following.
 
Cal Neva Lodge & Resort Reboot: Larry Ellison of Oracle fame recently offered to buy this vintage 1926 resort on the eastern shore of North Lake Tahoe. This scenic, erstwhile celebrity playground was in the midst of a restoration to its Frank Sinatra-era prestige when the former owners went into bankruptcy.
 
Sands Regency Casino Hotel Reinvented (pictured): Jacobs Entertainment, developer of Reno's Fountain District, purchased this colorful landmark and three surrounding blocks for more than $90 million to create a destination that includes entertainment, dining and event space.
 
Innevation Center: One mile from the research institution founded in 1874, partnership between University of Nevada, Reno and the local tech community resulted in the creation of a creative space that includes a podcasting studio, breakout room for 48, Ideation conference room and venture lounge available for rental by the day or hour.