The world-renowned Shakespeare's Globe Theatre has followed suit—its basement hideout, the UnderGlobe, can be rented for special events. This slick parlor comes with a secret side entrance, mezzanine and its own stage for up to 350 guests.
Who would have predicted that London's grandest icons would become 21st century social halls? Almost no place is off limits when you want to host a special occasion. This goes for the more modern attractions as well. Since the 2012 Olympics, the city has become crowded with new hotels, top-notch international cuisine and major-league activities and points of interest. In London, not one moment is mediocre.
"London's ability to stage an event like the Olympics so flawlessly is a great demonstration of the city's ability to put on big events," says Tracy Halliwell, director of business tourism and major events at London & Partners, the city's convention bureau. "Fantastic new venues are launching almost every day or reinventing their offer to stay at the cutting edge. We're seeing real vibrancy and creativity."
The commingling of historic and new venues appeals to first-time visitors and returnees. Clearly, the time to meet in London is now.
Attractions & Activities
The Classic
The plethora of historic attractions can be overwhelming, but that means meeting planners have plenty to choose from. A private tour of Buckingham Palace or the House of Parliament will be a cherished memory for every attendee. Corporate groups can visit the Tower of London's Jewel House and admire the Crown Jewels without distraction from outside tourists.
Planning a royal reception is no problem, either. The Alexandra Palace in the north of the city, built in 1873, hosts up to 10,000 for impressive events. And while it sounds creepy, the crypt at St. Paul's Cathedral is open for parties of up to 350 guests.
When people clamor for shopping, planners can send attendees off with city maps, highlighting significant streets and stores. Hamleys, more than 250 years old and the world's oldest toy store, delights the kid in all of us with seven floors of wonder. Oxford Street, the largest shopping avenue in Europe, is home to high-end fashion and designer labels. Harrods department store, established in 1849, occupies seven floors on an entire city block and is stocked with European goods and elegant clothing.
Borough Market, more than 250 years old, is a foodie's playground. Stuffed with restaurants, cafes and pubs, the market takes pride in its produce, baked goods, British-reared meat and international sweets and savories.
More than 11 major museums, including the National Gallery and Victoria and Albert Museum, can entertain culture mavens for days and feature group tours. Several offer space for special events, such as the Museum of London, Tate Britain and Tate Modern. Smaller galleries also worth visiting are the Sherlock Holmes Museum and Geffrye Museum.
Attendees may want to immerse themselves in activities that make the British experience real. With more than 150 playhouses throughout the city, delegates can see a play any night of the week. Groups can record a song at Abbey Road Studios, where the Beatles mixed their music. They can horseback ride through Hyde Park or glide on the River Thames in a glass-covered boat.
The New
Now that the Olympics are over, remaining structures are giving tourists more reasons to visit. "Since the games, [more than $455 million] has been spent on transforming Queen Elizabeth Olympic Park into a public space featuring parklands, waterways and world-class sporting events and event events," Halliwell reports.
Most unique is the 376-foot ArcelorMittal Orbit, the United Kingdom's tallest public artwork made of tentacled, twisted steel that looks as if a roller coaster should be riding the red rails. This year, adventurers can rappel from the top via a tethered rope.
At the O2 Arena, teams can climb the massive Millennium Dome structure with a guide. Called Up at the O2, the excursion takes trekkers across the dome on a safety wire and harness.
Tour the city from high above on the Emirates Air Line cable car, a 10-minute gondola ride above the River Thames. Guests willing to get soaked can take a speedboat ride on the Thames RIB Experience (boats are available for hire for small groups). For another perspective, groups of up to 25 can ride in a private capsule on the London Eye, Europe's tallest Ferris wheel.
Going behind the scenes of the Harry Potter film series at the Warner Brothers Studio Tour London is a treat. In March, the studio unveiled its 20,000-square-foot expansion that includes the original Hogwarts Express engine and full recreation of the Platform 9 3/4 train station movie set.
Hotels
The Savoy Hotel
The Classic
For a conference that will inspire, book a historic hotel chosen by princes and captains of industry. Stunning Claridge's (203 guest rooms; more than 11,000 sq. ft. of meeting space) opened in 1854 with a reputation for Art Deco elegance and service that remains to this day.
The Savoy Hotel (268 guest rooms; 13,000 sq. ft. of meeting space), another five-star property, is like new after a top-down renovation. The 1889 Edwardian near the River Thames maintains a staff of butlers that exceed expectations.
Opened in 1929, the Grosvenor House offers 494 contemporary and traditionally designed guest rooms, seven restaurants, and nearly 61,000 sq. ft. of flexible space. The Royal Horseguards hotel, with 280 guest rooms, is splendid with its marble staircase and Victorian-era ballrooms. The hotel is connected to One Whitehall Place, an opulent space adorned with chandeliers and pillared majesty; together, the venues offer 13 meeting rooms and can host up to 340.
Established in 1873, the Gothic Revival architecture at St. Pancras Renaissance London Hotel (245 guest rooms, 12,034 sq. ft. of meeting space) is the subject of popular tours.
Shangri-La Hotel at The Shard
The New
Last summer the Hoxton, Holborn opened its doors with a playful edge. The 174 guest rooms come in four categories from the tiny Shoebox to Roomy. According to its website, the 1,600 square-foot, seven-room meeting space called The Apartment is popular for "bashing heads or throwing parties."
The Shangri-La Hotel at The Shard debuted last May as Western Europe's tallest hotel at 1,016 feet. It occupies the upper 18 floors of the new Shard Tower that resembles a vertical glass city. The space boasts 202 guest rooms and suites, four wine and dining venues and an infinity pool. Three meeting rooms totaling 2,333 sq. ft. provide city views.
Many are looking forward to the late 2015 ribbon cutting for the 453-room InterContinental London–The O2 on the banks of the River Thames. With a spa and two restaurants, the 18-story hotel and conference center will feature a 32,000-square-foot ballroom, the largest pillar-free space of its kind in Europe.
Restaurants
The Classic
London now boasts some 8,000 restaurants, not counting the small cafes and eateries, with more than 60 Michelin stars—dispelling the myth that British food is bland, bad and boring.
At traditional eateries that have seen centuries of customers, chefs are upping the ante with the freshest of local ingredients and informative servers. "Tearistas" help and advise customers on what to sip during afternoon tea at Fortnum & Mason, the Queen's grocery dating back to 1707. Rules, established in 1768 and London's oldest restaurant, excels in traditional British fare including game, oysters and puddings.
Teams can steep themselves in history at Ye Olde Cheshire Cheese, the oldest pub in London. The 17th-century landmark retains its charm with wood furnishings, dark curtains and portraits of former monarchs.
Gourmands of meat and fish have been flocking to Simpson's-in-the-Strand since 1828. Its specialty is roast beef on the bone, carved tableside on a trolley, and it has two event rooms that can accommodate up to 250.
Sky Garden
The New
"The wealth of new restaurants underlines the strength and diversity of London's ever-changing food scene," Halliwell says.
Not only is the food good, but the ambience is keenly inventive. At the fairy tale-inspired Fable Bar and Restaurant, available for buyouts, a curved dining booth is bordered by books stacked several feet high. Ting at the Shangri-La resembles a contemporary Chinese living room with softly lit lamps and cushioned chairs.
In the 20 Fenchurch Street skyscraper, nicknamed the Walkie Talkie, three new food and drink venues have opened their doors. They are Fenchurch Seafood Bar & Grill for formal dining (private space available for up to 18), casual Darwin Brasserie and Sky Pod Bar for seasonally crafted cocktails. These hot spots are part of the unveiled Sky Garden, a public garden occupying the Walkie Talkie's uppermost three levels, which can be rented out for events.
Touting everything from Scottish lobster to pig's trotter, City Social made the big reveal last May in the modern Tower 42 building. This bar restaurant, which has small-group dining space, has already attained a Michelin star.
Housed in a refurbished electrical power station, Big Easy, Covent Garden is stealing appetites as it wheels out slabs of barbecue ribs and mounds of seafood. The American barbecue and crab shack offers a stimulating atmosphere on three levels, with warehouse timber beams, industrial lighting and steel girders. It can be reserved for events and parties.
Summing Up
Shakespeare's Globe Theatre
The classic and the new London tempt the old and young, the museum and nature lover, and adrenalin geeks and foodies.
Getting around is easy. Five international airports feed into the city, and the Underground runs superbly, as do buses, ferries and trains. After a visit, attendees will return home quoting Shakespeare: "Parting is such sweet sorrow."
---
Kathy Chin Leong is a freelance writer based in Northern California and has written for The Dallas Morning News, The Los Angeles Times and Sunset magazine.
Resources
• London and Partners—londonandpartners.com
• London Convention Bureau—conventionbureau.london
• Transportation for London—tfl.gov.uk
• Visit London—visitlondon.com
Local Travel with an Oyster Card
London offers sublime public transportation: Subway lines, buses and trains are plentiful and easy to navigate. Groups can take advantage of this by obtaining a Visitor Oyster Card for multivehicle passage in advance.
This electronic smartcard saves time and money and can be ordered online, reloaded and transferred to others. Oyster can be used across the famous London Underground (the Tube), Overground rail network, Tram link electric tram and the DLR (Docklands Light Railway) that serves East and South East London.
A $4.65 activation service fee is charged for each card. If staying three or four days, a $51 card is advised, which provides $46 worth of travel service. The card is only available to adults, but visitors can bring up to four children under age 11 for free on the Tube, DLR and London Overground.
To use, guests tap the plastic Oyster card on the face of a station's yellow card reader at the beginning and end of each journey.
visitorshop.tfl.gov.uk/oystercard.html
London by the Numbers
London has…
5 international airports: Heathrow (LHR), Gatwick (LGW), Stansted (STN), City (LCY) and Luton (LTN)
60+ Michelin restaurant stars
150+ theaters
1,000+ meeting places
2,000 years of history
8,000 restaurants
120,000 guest rooms
Helping Planners Make It Happen
Chris FJ Lynn is vice president of North America & Emerging Markets–Business Tourism, for London & Partners, the convention bureau for the city. He offers insights on organizing an event in London.
What are the first steps a meeting planner should take when planning, for example, a conference for 100?
Meeting planners should reach out to London & Partners' team once they have a complete request for proposal (RFP). London is a large and diverse city, and often a discussion with us about geographic regions or neighborhoods can help narrow down the broad range of options. Our website, conventionbureau.london, is also a wonderful resource.
Do you give planners a single point of contact?
Yes, you will also be partnered with a CVB adviser in the London office to provide support and guidance. We also have a team in New York.
How many months ahead should someone plan?
This is a moveable feast, but as much notice as possible is always recommended, as London is a city in demand. At least 6-12 months is preferable for an event of 100 people, but London is a fluid city that may have some value dates when you least expect. Let us find you the perfect fit to make your event a success.
Does your office do the reservations and bookings for planners in the United States?
Yes. The CVB team will undertake venue/hotel research and secure availability. We will assist them with contract negotiation as required. The commercial relationship and contract will always be between meeting planners and the hotel/venue.
Can your office help plan the budget; get a final itinerary; book hotel, meal and restaurant reservations; plan group activities; and handle airline reservations?
London & Partners will work with a planner to shortlist venues, hotels and restaurants for group bookings within agreed budgets, but all commercial quotes come from our partner venues and hotels. Where a complete destination program is needed with multiple elements such as airlines reservations, we recommend the use of a destination management company.
Is there a fee charged for your assistance?
There is no charge for London & Partners' services. We are a not-for-profit public-private partnership, funded by the mayor of London and our partners. This means that our experts can share their entire wealth of knowledge and contacts with you, providing free and impartial advice and assistance.
Major Meeting Venues
Eco-friendly
Formerly the Royal Agricultural Hall; ideal for trade shows, accommodating up to 2,500 attendees; 22,359 sq. ft. of event space.
Royal Horticultural Halls & Conference Centre
Architecturally stunning venue; 33,000 sq. ft. of meeting space, including two mammoth halls and a conference center.
Modern
Technically advanced stadium; 77,000 sq. ft. of fully equipped suites for power meetings, with views.
Light- and glass-filled conference site; 26,000 sq. ft. of meeting space across 14 rooms; includes theater, boardroom, classroom and a main hall that holds 400.
Exhibition space of 1 million-plus sq. ft.; supports up to 30,000 delegates; includes six onsite hotels.
Connected to the South Terminal at Gatwick Airport (LGW); 95,191 sq. ft. of event space; 821 guest rooms.
Radisson Blu Edwardian Heathrow Hotel
Glamorous five-star property near Heathrow Airport (LHR); 459 guest rooms; 43,440 sq. ft. of event space.
Linked to the new Terminal 5 at Heathrow Airport; 500 guest rooms; 46,117 sq. ft. of meeting space.
Historic
Central London's largest conference venue supports up to 2,160 delegates in a century-old facility recently remodeled; 37,098 sq. ft. of meeting space.
Warship moored on the River Thames and operated by the Imperial War Museum; holds up to 400 with over 6,000 sq. ft. of meeting space; seven function rooms.
Up to 1,000 guests can fill the rooms of this Elizabethan country manor, famed for hosting the first performance of Shakespeare's Twelfth Night.
In the Mayfair district; Art Deco property; 302 rooms; 20,564 sq. ft. of meeting space.
1914 Edwardian building turned five-star luxury hotel in 2013; 306 guest rooms; 11,660 sq. ft. of meeting space.
Unusual
Modern skyscraper unveiled in 2004; features a glass-dome pinnacle; meeting and dining rooms available for up to 260.
As many as 400 can stand on London's highest bi-level viewing platforms for 360-degree views.
Modernized tobacco warehouse; 20,400 sq. ft. of meeting space.
Wine-tasting attraction; approximately 12,200 sq. ft. of meeting space; Victorian architecture amid modern facilities hosts up to 750.
---
Smart Meetings Related Posts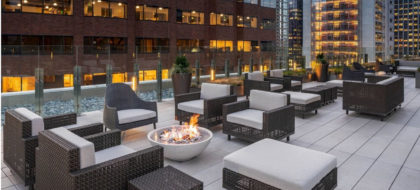 New views are popping up all over Seattle, from the Space Needle's revolving glass floor to the recently opened, 45-story Hyatt Regency Seattle.