Carnival even has its own official colors—purple representing justice, green for faith and gold for power. They were selected in 1872 to honor the house colors of visiting Russian Grand Duke Alexis Romanoff. It is now customary for revelers to wear the colors when not in costume during the festival season.
As French-Canadian explorer Pierre Le Moyne d'Iberville and his men traveled the Mississippi River about 60 miles south of New Orleans in March 1699, he fondly remembered that Mardi Gras was being celebrated in France at the time, so he christened the site Pointe du Mardi Gras. More than 300 years later, the party lives on.
This year, Mardi Gras is celebrated on Feb. 17. Also known from its French heritage as "Fat Tuesday," the day before Ash Wednesday (when Lent begins), Mardi Gras is reserved for indulging in rich food and drink in preparation for the upcoming Lenten season. And rightfully so, as no place serves up a finer feast or festival than Louisiana, where Mardi Gras has been declared a state holiday in many parishes.
Starting Jan. 6 of each year, the Twelfth Night, a host of crowd-pleasing celebrations, pop up throughout Louisiana, with street parties and music attracting locals and thousands of tourists. Continuing through Fat Tuesday, chances are good that you'll get a touch of Mardi Gras fever somewhere in the Bayou State.
New Orleans
French Quarter during Mardi Gras New Orleans
Often regarded as the largest free party on Earth, Mardi Gras New Orleans should be on everyone's bucket list. The city's Carnival season is known around the globe for its display of cultural revelries. With flamboyant parades such as Krewe of Endymion (krewes are local organizations that host Carnival and sponsor floats), New Orleans has set the bar for Mardi Gras celebrations in the United States.
While a party can be found in New Orleans most any time of year, Mardi Gras is when the city really shows off, with King Cakes found on most dessert tables, and elaborate costumes and floats illuminating the Crescent City. Everyone becomes part of the celebration as parades roll by with celebrities riding on floats, electrifying the crowds.
Carnival season is a cultural tradition for the locals, and brings in hundreds of thousands of visitors, with some estimates nearing 1 million on Fat Tuesday. Mardi Gras 2015 marks the 10th Carnival after Hurricane Katrina and boasts additional parades and even larger krewes.
To experience the New Orleans Carnival year-round, Mardi Gras World on the banks of the Mississippi River has compiled the history, traditions and behind-the-scene tours under one roof, including the Float Den, where all the magic happens as floats are brought to life. Enjoy a slice of King Cake and free shuttle service from 20 convenient downtown locations to this destination. Better still, schedule your next conference at Mardi Gras World, where attendees will savor the sounds of a genuine brass band and a street parade, possibly from their hotel!
Mardi Gras: It's Carnival Time in Louisiana!—a new exhibit at the Presbytere in the Louisiana State Museum—displays a collection of magnificent costumes, Carnival artifacts, engaging videos and interactive activities to set the mood.
Lake Charles
Krewe of Barkus Parade, Lake Charles
Hosting the second-largest Mardi Gras in the state, Mardi Gras in Lake Charles/Southwest Louisiana presents more than 50 krewes with alcohol/tobacco-free designated areas along the parade route to accommodate visitors of all ages.
Lake Charles has plenty to boast about during Carnival season, including being the only statewide location presenting krewes' regal courts in full ceremonial dress at its Royal Gala. The public is invited to see kings and queens, royal dukes and duchesses, captains, courtesans and jesters in museum-quality costumes. The Krewe of Barkus Parade, featuring animals in costumes, is one of the main crowd-pleasers.
A popular event in the nearby town of Iowa is the Iowa Chicken Run on Fat Tuesday. This re-enactment of a Cajun tradition has rural residents traveling on horseback or in hay-filled trailers to neighbors' homes "begging" for ingredients to make a gumbo for the community. The day's festivities conclude with a Zydeco dance and tossing a chicken in the air for children to chase.
The lake provides a stunning backdrop for meetings at Lake Charles Civic Center. Also, take time for a side trip to the Mardi Gras Museum of Imperial Calcasieu, with the most extensive and impressive costume collection in the South.
Baton Rouge
Baton Rouge Mardi Gras revelers
Louisiana's capital city offers a family-friendly destination for Mardi Gras revelers reminiscent of centuries-old traditions such as decorous masquerade balls. Baton Rouge Mardi Gras visitors will be enthralled with the many parades including Krewe of Mutts, with fully costumed canines.
Each krewe sponsors its own parade and special events, with live music and other entertainment. The season starts with the Mystic Krewe of Artemis Parade and includes Krewe of Mystique, Krewe of Orion and Krewe of Southdown parades. There's also the popular Krewe of Spanish Town, which adorns the lakes at Louisiana State University with custom-made wooden flamingos.
The updated Baton Rouge River Center and several conference hotels offer amazing views of the Mississippi River and in some cases, the capitol building or Louisiana State University campus. Meeting attendees can hike and bike on trails, and kayak on the many lakes between work sessions and parades.
Lafayette
Courir de Mardi Gras, Lafayette
Mardi Gras in Cajun Country is equally captivating and unique. Honoring the rich French traditions of the late 17th century, the city's galas boast distinctive floats during Mardi Gras Lafayette, with krewe members throwing beads, doubloons and trinkets to crowds begging, "Throw me something, mister!" along the parade route. The rural areas also play out the ceremonial begging from house to house by masked revelers who dance and sing for live chickens and gumbo ingredients. The day typically ends with a fais do-do (Cajun dance party).
Almost a dozen events, including the Krewe of Carnivale en Rio Parade, Krewe of Bonaparte Parade and Le Festival de Mardi Gras a Lafayette, are held in the city, while the more rural Courir de Mardi Gras hosts bashes including Old Time Boucherie (French for butcher shop) and Tee Mamou-Iota Mardi Gras Folklife Festival.
Hot tip from the Lafayette CVB: If you're from out of town, make a sign for the parade stating where you are from, because float riders enjoy welcoming non-locals with a shower of beads.
Alexandria
A bit more conservative but just as fun, Alexandria, in the heart of central Louisiana, kicks off the Mardi Gras au Coeur de la Louisianne with its annual Krewes Parade, proudly displaying 24 floats and 23 krewes. This event attracts 120,000 visitors and is followed by the wildly anticipated Taste of Mardi Gras, presented by the Louisiana Restaurant Association Cenla Chapter, both at the Alexandria Riverfront Center and downtown. More than 3,000 guests visit 40-plus food booths for sensory sensations at Taste of Mardi Gras each year.
Another popular parade is the Hixson Classic Cars & College Cheerleaders Parade, where college and university cheerleaders from Louisiana and Arkansas are chauffeured through town in classic cars in a tribute to the military; a U.S. Army installation is nearby at Fort Polk.
With all the rivers, lakes and bayous in Louisiana, you're never far from water. In Alexandria, the Red River flows beside the Riverfront Center, Alexander Fulton Hotel & Conference Center and other meeting sites.
A Fabulous Place for Meetings
It's no secret that Louisiana is revered around the globe for its extravagant Mardi Gras festivities, which always include ridiculously amazing cuisine.
The state has declared 2015 the "Year of Food," and is celebrating it with large servings of the region's vast array of mouth-watering dishes. During the celebrations, cities throughout Louisiana challenge groups to find a more jovial, inviting atmosphere for any conference, especially during Carnival, when they just might catch some beads between meetings.
Mardi Gras Traditions
Parade throws: Beads, doubloons, stuffed animals, cups and other trinkets are tossed from parade floats into the crowds during celebrations. Krewes often design custom throws featuring their crests, which many locals collect. The most highly desired prize is the hand-decorated coconut given to someone in the crowd during the Zulu parade on Fat Tuesday.
Mardi Gras balls: A king and queen are selected for each krewe, leading up to an extravagant ball, where their identity is revealed. An invitation to these elaborate festivities is most coveted. The royal court presides in full costume as guests are dressed in very formal attire for the events.
Krewes and floats: Krewes are organizations that host Carnival and sponsor floats. Their names are taken from Greek, Roman and Egyptian mythology. Each krewe is part of a larger organization called Krewe of Krewes that formed in 1979, when Southwest Louisiana krewes joined together to create a parade for community enjoyment. Krewes create many elaborate floats throughout the year, and they are crowd-pleasers. Riders on the floats wear masks as they toss throws to the crowd, a tradition hailing from the European masquerade ritual to "escape society and class constraints," according to Mardi Gras New Orleans. Floats are typically led by flambeaux carriers, who light the way with large torches or lanterns as they entertain and excite crowds.
King Cake: A sweet yeast dough with a cinnamon, sugar and pecan filling rolled into a ring and baked. Other popular fillings include cream cheese, strawberry and praline. The cake is glazed and dusted with purple, green and gold sugar, and a plastic baby is pushed inside the pastry. In 12th-century France, King Cakes were baked on the eve of January 6 as part of Twelfth Night celebrations to honor the three kings who visited the Christ Child, explaining the tiny plastic baby hidden inside the cake. Whoever gets the slice of cake with the baby is declared the 'king' and has to provide the next King Cake or host the next party. More than 500,000 King Cakes are sold in New Orleans between Jan. 6 and Fat Tuesday, with more than 50,000 shipped outside Louisiana.
King Cake Recipe (No Filling)
King Cake
1 package yeast
1/4 cup of warm water
6 tablespoons milk, scalded and cooled
4 cups sifted all-purpose flour
1 cup (2 sticks) butter
3/4 cup sugar
1/4 tablespoon salt
4 eggs
Melted butter
In a medium glass bowl, dissolve yeast in warm water (about 110 degrees) and let rest until yeast reacts (about 10 minutes). Yeast reaction is determined by smell. If yeast does not react, sprinkle with small amount of sugar and wait 10 minutes. If yeast still does not react, it is old and should be discarded. To obtain a good reaction, never touch yeast with metal prior to reaction. Add milk and enough flour (about one-half cup) to make a soft dough.
In a second bowl, use an electric mixer or food processor to combine butter, sugar, salt and eggs, and mix thoroughly. Remove from mixer or processor and add soft ball of yeast dough. Mix thoroughly. Gradually add 2 1/2 cups of flour to make a medium dough. Place in a greased glass bowl and brush top of dough with melted butter. Cover with a damp cloth and allow to rise until it doubles in size (about three hours). Use remaining cup of flour to knead dough and roll into a rope shape.
Place on 14-by-17-inch greased cookie sheet and form into an oval. Center should be 7-by-12 inches. Connect ends of dough by dampening with water. Cover with a damp cloth and let rise until it doubles (about one hour). Bake at 325 degrees until lightly browned (about 35 to 45 minutes). Decorate by brushing top of cake with corn syrup (or a glaze made with confectioner's sugar and milk) and alternating 3-inch bands of purple, green and gold-colored granulated sugar. (To color sugar, add a few drops of food coloring and shake in a tightly covered jar until desired color is achieved.) When cake has cooled, insert a plastic baby.
Recipe courtesy of Ann Benoit, author of New Orleans Best Seafood Restaurants (2015) 
Meeting Spotlight
Who: Louisiana Gulf Coast Oil Exposition (LAGCOE); 17,000 attendees
What: LAGCOE 2013
When: October 22–24, 2013
Where: Cajundome & Convention Center, Lafayette
Quote: "Lafayette, Louisiana, is LAGCOE's home and one of the most culturally inspiring areas in the United States. One of the country's largest energy expositions, LAGCOE showcases cutting-edge innovation in the onshore and offshore industry and is located amid more than 1,000 energy companies, in the very heart of industry innovators. We will continue to build on our momentum, which translates to a great showcase for Lafayette."
–Angela Cring, executive director
Resources
• Alexandria/Pineville Area Convention & Visitors Bureau – alexandriapinevillela.com
• Lafayette Convention & Visitors Commission – lafayettetravel.com
• Lake Charles/Southwest Louisiana Convention & Visitors Bureau – visitlakecharles.org
• New Orleans Convention & Visitors Bureau – neworleanscvb.com
• Visit Baton Rouge – visitbatonrouge.com
Major Meeting Venues
Alexandria
Alexander Fulton Hotel & Convention Center
Along the banks of the Red River; 100 guest rooms; 13,088 sq. ft. of meeting space; Convention Hall seats 1,000 theater-style.
Alexandria Riverfront Center
More than 35,000 sq. ft. of usable space; 31,500-square-foot Main Exhibit Hall can accommodate up to 3,400 attendees theater-style and 1,250 for banquet seating.
Parc England Boutique Hotel
Adjacent to OakWing Golf Course; one mile from Alexandria International Airport; 48 guest rooms; 5,500 sq. ft. of meeting space.
Sai Hotel & Convention by Magnuson–Alexandria
Offers more than 33,500 sq. ft. of event space; catering staff onsite; 171 guest rooms.
Baton Rouge
Baton Rouge River Center
Baton Rouge Marriott
Near LSU, shopping and nightlife; 297 guest rooms; 20,000 sq. ft. of meeting space.
Baton Rouge River Center
Multipurpose facility located along the Mississippi River, with 93,000 sq. ft. of exhibit/meeting space; 13 meeting rooms; 27,170-square-foot galleria; arena seats 8,900. q
Hilton Baton Rouge Capitol Center
AAA Four Diamond historic hotel with 290 guest rooms; 20,000 sq. ft. of meeting space includes two ballrooms; renovated Heidelberg Hotel.
Houmas House Plantation and Gardens
Once a sugar baron's plantation, this restored site offers 16 new cottages; 5,000 square-foot pavilion; 2,500-square-foot ballroom with adjoining courtyard; Turtle Bar.
Lafayette
Cajundome, Lafayette
Cajundome
Includes 40,000-square-foot arena; can host a seated meal for more than 2,000; the adjacent $16.7 million Cajundome Convention Center offers 72,000 sq. ft. on two levels including 37,300 sq. ft. of exhibition space. q
Hilton Lafayette
Situated on the Vermillion River; 22,000 sq. ft. of meeting space; 9,506-square-foot ballroom; 327 guest rooms; large sun deck and pool overlooking the river.
Vermilionville
Living history museum on 23 acres portrays Cajuns, Creoles and Native Americans (1765-1890); 2,770-square-foot Performance Center can accommodate 350.
Lake Charles
Golden Nugget Hotel Casino Resort
New resort provides 740 luxury guest rooms with private balconies; 30,000 sq. ft. of event space with a grand ballroom.
Lake Charles Civic Center
Lakeside space offers 62,000 sq. ft. of flexible meeting space; seating for 7,500 in the coliseum and more than 2,000 in the Rosa Hart Theater.
L'Auberge Casino Resort
26-story resort; offers 26,000 sq. ft. of meeting space; 995 guest rooms, suites and villas; Las Vegas-style gaming; 18-hole championship golf course; lazy river pool; luxury spa.
West Cal Events Center & Arena
Opened in 2014; 14,000 sq. ft. of event space can accommodate up to 700 attendees banquet-style and 1,200 theater-style; 4,500-square-foot lobby and three meeting rooms with 900 sq. ft. each; covered arena provides 135,000 sq. ft.; 65 RV slots.
New Orleans
Hyatt French Quarter, New Orleans
Four Points by Sheraton French Quarter
Located in the heart and soul of New Orleans, at the crossroads of Bourbon and Toulouse streets; 186 guest rooms; Cafe Opera features seafood specialties; 4,500 sq. ft. of flexible meeting space.
Hyatt French Quarter New Orleans
Landmark hotel adjacent to Bourbon Street; 254 guest rooms with expansive 12-foot ceilings: 10,660 sq. ft. of meeting space. q
Hyatt Regency New Orleans
Premier convention hotel; 200,000 sq. ft. of conference space with two ballrooms; 1,193 guest rooms; chef John Besh's Borgne Restaurant.
Mardi Gras World
Next to convention center; more than 72,000 sq. ft. of event space; can host 10,000 guests in a 30,000-square-foot ballroom; parade floats constructed onsite; includes a full-size antebellum mansion providing 17,000 sq. ft. of event space.
Mercedes-Benz Superdome
A universal landmark; seats 76,468 within 146,000 sq. ft. of space for conferences; chic club lounges are bonus areas.
New Orleans Ernest N. Morial Convention Center
Offering 1 million sq. ft. of meeting and exhibition space; one of the nation's most technologically advanced facilities; rooftop terrace and 60,000 square-foot ballroom.
Omni Royal Orleans
AAA Four Diamond, elegant property in the French Quarter; 345 guest rooms; 14,000 sq. ft. of meeting space, including 17 rooms and 6,868-square-foot Grand Salon Complex.
Sheraton New Orleans 
Just steps from Bourbon Street; recently underwent $50 million revitalization; panoramic views of the French Quarter and Mississippi River; 105,700 sq. ft. of meeting space; 1,110 guest rooms.
Smart Meetings Related Posts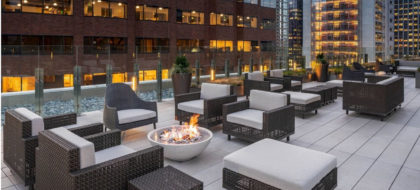 New views are popping up all over Seattle, from the Space Needle's revolving glass floor to the recently opened, 45-story Hyatt Regency Seattle.