Lights, Camera, Action
Maybe it's the ever-present sunshine and relatively mild climate, or perhaps the landscape that morphs into a variety of locations (including the moon!), but filmmakers are drawn to New Mexico. As the first state in the country to offer a film-tax rebate, many movies have been shot in New Mexico, including blockbusters such as The Avengers, The Lone Ranger and numerous Transformers films. Drury Plaza Hotel in Santa Fe was a set location in the Oscar Award-winning Crazy Heart, as well as 2011's action/adventure film, Thor.
However, the production that has probably brought the most notoriety (and financial windfall) to New Mexico is the hit show, Breaking Bad. The TV series, which aired 2008–13, reportedly pumped nearly $1 million per episode into the
local economy. Clever entrepreneurs are still cashing in on the craze.
Visitors to Great Face & Body in Albuquerque can purchase "Bathing Bad" bath salts, lotions and scrubs designed to mimic the blue meth cooked up by the main character, or can learn to prepare "rock" candy at one of the store's cooking classes. Albuquerque business owner Debbie Ball, aka "The Candy Lady" created the edible crystal meth used as a prop in the show. In addition to the candy,
she peddles Breaking Bad hats and hand-painted Pez dispensers depicting the main characters.
She also coordinates three-hour, guided limo tours of
key location sites.
Ball is not the only one providing glimpses of Breaking Bad locales. Routes Bicycle Rentals & Tours offers guided "Biking Bad" tours where riders cruise to sites in Albuquerque that figure prominently in the cult classic. The company also arranges more general touring/exploration packages on bike or foot for meeting planners who want to create lasting team memories for attendees.
Llama Trekking
Llama trekking in the Columbine Hondo Wilderness, outside of Taos.
If traveling by foot seems a bit pedestrian, planners arranging meetings in the Taos area can book llama treks. Tours are led by naturalist Stuart Wilde, who educates participants about New Mexico's pristine wilderness. His eco-adventure outfitting company, now in its 20th year, is called Wild Earth Llama Adventures.
Wilde blends hiking in the high desert with hands-on demonstrations and information about local ecology, medicinal plants, indigenous
life skills and natural history. One of his most
popular treks is the "Take a Llama to Lunch Hike." Hikers can experience the majestic Sangre de Cristo Mountains or Rio Grande Gorge at
a leisurely pace, while the wooly animals haul packs filled with food.
Interesting Architecture
Much of the architecture in New Mexico appears to be old adobe, but not all of the buildings are actually old. In Santa Fe, local zoning ordinances require all new downtown buildings, additions and restorations to conform to the distinctive style of yesteryear. Skilled craftspeople have made it challenging to discern the difference. For example, Santa Fe's The Palace of the Governors was constructed in the early 17th century. It is a bona fide adobe structure and registered National Historic Landmark. The New Mexico History Museum, located next door and opened in 2009, is "faux-dobe" but blends right in.
One of the most interesting traditional adobe structures is Albuquerque's KiMo Theatre. It was commissioned in the 1920s by Oreste Bachechi, who dreamed of building a palatial theater that would rival the Greek, Chinese and Moorish-styled theaters of the day. KiMo Theatre represents a unique architectural fusion of Native American and Art Deco influences called Pueblo Deco. Vaudeville performances and musical events were staged in the space, which had chandeliers shaped like war drums, wrought iron birds, indigenous funeral canoes and swastikas—symbols of peace and prosperity in the Hopi and Navajo cultures.
The adobe building, listed on the National Register of Historic Places, fell into disrepair and was slated for demolition in the late 1960s. However, the city of Albuquerque purchased it in 1977 and restored it to its former glory. Today, KiMo is a thriving performing arts center that seats 650 and can be rented out for events.
Art Abounds
While modern New Mexico is home to thousands of artists working in all sorts of mediums, its early art was religious in nature. When Spanish settlers introduced Catholicism to the Southwest some 400 years ago, imagery was needed to familiarize the newly converted with the saints and their stories.
Lacking traditional icons, parish clergy appealed to village artisans who carved and/or painted figurines, called santos, using indigenous materials. The folk art figures are revered by New Mexico's largely Catholic Hispanic and Native American populations. Very old santos are prized by
collectors and housed in museums; colorful modern versions handcrafted from tin, clay, wood and recycled objects can be purchased in shops.
Santa Fe abounds with talented artists, and strolling through some of its beautiful galleries is a pleasant reprieve after a meeting-packed day. Planners can turn everyone into an artist at Liquid Light Glass, a contemporary glass studio and gallery that offers classes in glass blowing. For $60 per person, participants get to transform molten glass into a keepsake paperweight.
While plenty of New Mexico souvenirs can be carried home, the cave dwellings created by Ra Paulette must be admired onsite. The devout artist has spent the past 25 years hand-carving roughly a dozen caves in northern New Mexico. Working alone with simple tools such as shovels, axes and scrapers, Paulette has created elaborate wilderness shrines. Spiritual and otherworldly, most of his underground cathedrals have been commissioned by patrons who want to own livable art. Two of the unique caves are presently for sale, along with surrounding land. One features a 30-foot-tall, intricately carved "Tree of Human Kindness."
Out-of-the-Ordinary Museums
New Mexico has many fine art and history museums—don't miss The Georgia O'Keefe Museum in downtown Santa Fe. But for a real blast, arrange a tour of Los Alamos Historical Museum in Los Alamos. That is where top physicists, chemists, explosive experts and military personnel gathered during World War II to work on the "Manhattan Project," a code name for America's first nuclear weapons project. At its peak, more than 2,000 American families were required to live in the secret city, taxing the resources for permanent residents in the remote outpost. The free, interactive museum features films about the making of the nuclear bomb.
Another offbeat museum is Roswell International UFO Museum and Research Center. It is located in Roswell, a sparsely populated region of southeastern New Mexico, where it is rumored that a spacecraft filled with extraterrestrials landed in 1947. The U.S. government officially claimed that an Air Force surveillance balloon crashed, however, conspiracy theorists maintain that the military recovered the aliens and then tried to cover it up. The incident still fascinates fans of UFOs, who gather annually at the museum to discuss the phenomenon. Other exhibits in the unusual museum focus on crop circles, Area 51 and mysterious abductions.
Fabulous Festival
s
Burning of Zozobra, Santa Fe
Long before Burning Man made its way to the Nevada desert, there was Burning of Zozobra in Santa Fe. At this unique ritual, a 50-foot-tall wooden puppet is torched—signaling the kickoff of the Fiesta de Santa Fe. The annual event was launched in 1926 by artist Will Shuster Jr., who patterned it after the Holy Week celebrations of Mexico's Yaqui Indians. Since 1963, it has been hosted by the Kiwanis Club of Santa Fe. This year's festivities take place Sept. 4 at Fort Marcy Park.
The giant marionette, nicknamed Old Man Gloom, is stuffed with thousands of scraps of paper describing the woes suffered by locals over the past year. After a traditional ceremony that includes fire dancing and music, the effigy is set ablaze and the crowd cheers his demise. The eerie, flailing character lights up the night sky and allows participants to symbolically release their feelings of doom. The popular event also raises funds for the Santa Fe Downtown Kiwanis Foundation.
Another not-to-be-missed festival is the Albuquerque International Balloon Fiesta, which takes place every year in early October. During the event, which draws thousands from around the world, New Mexico's azure skies burst with color as hundreds of giant hot-air balloons lift off from Albuquerque's 365-acre, custom-designed Balloon Fiesta Park. For ballooning fans worldwide, the annual event is a sacred pilgrimage. Daytime and evening events occur throughout the celebration, which this year is scheduled October 3–11. 
Colorful Cuisine
One of the state's most popular food events, Hatch Chile Festival, celebrates the chili pepper. Another Mexican staple, the enchilada, is honored at the Whole Enchilada Fiesta. A highlight of that festival is the 10 1/2-foot-wide enchilada prepared by the owner of Roberto's Mexican Food in Las Cruces.
When it comes to unique beverages, many in Santa Fe recommend Kakawa Chocolate House. The company specializes in historic drinking chocolates, as well as unusual chocolate creations, prepared in small batches. For a beverage with a different kind of twist, check out Zing Red Velvet Vodka. The spirit, with a flavor that hints of cherry, vanilla and cocoa, comes in an octagon-shaped bottle that lights up with a red hue. It was created by the Maloof family, which has its roots in New Mexico. The inspiration, says son Phil (who served as a New Mexico state senator in the late 1990s), was their mother's red velvet cake, which she baked on their birthdays.
Choose New Mexico
Throughout New Mexico it is common to see strings of dried red peppers hanging from storefronts and the porches of private homes. They are called ristras, and were traditionally hung to welcome visitors. It is a charming touch, although visitors to physically unspoiled, spiritually enlightened New Mexico will certainly feel welcome the moment they step off the plane.
Albuquerque Renovates Convention Center
Albuquerque Convention Center
The 600,000-square-foot Albuquerque Convention Center recently underwent a $22 million facelift—everything from the exterior facade to the interior decor was revamped. New additions include an outdoor deck, a gas fireplace in the atrium and a carpet featuring a topographical map of the city. Modern upgrades include laptop bars, as well as sophisticated, color-changing LED lights in the main ballroom.
More than 900 hotel rooms exist within walking distance of the convention center, located in the heart of downtown Albuquerque, and more than 17,000 additional hotel rooms can be found in the surrounding environs.
Major Meeting Venues
Albuquerque
Hyatt photo courtesty of Hyatt Regency Tamaya Resort and Spa
Albuquerque Convention Center
900 hotel rooms within walking distance; 167,000 sq. ft. of exhibit space, 106,000 of which is contiguous and column-free; 31,000-square-foot ballroom; Kiva Auditorium seats 2,300.
Albuquerque Marriott Pyramid North 
Pyramid-shaped hotel near Balloon Fiesta Park in the north of town; near amusement park; restaurant and bar; fitness center; two pools; 310 guest rooms; 27,000 sq. ft. of event space.
Crowne Plaza Albuquerque 
Midtown location across from the University of New Mexico; three dining and drinking options; 261 guest rooms including executive-level rooms on 10th–12th floors; Olympic-size outdoor pool; 26,000 sq. ft. of meeting space.
DoubleTree by Hilton Hotel Albuquerque 
Upscale property near Old Town and Civic Plaza; 295 guest rooms; connected to Albuquerque Convention Center via underground concourse; complimentary Wi-Fi and airport shuttle.d
Hotel Albuquerque at Old Town 
Gorgeous property with the feel of old Spain; set in the heart of Old Town; 188 guest rooms; 62,000 sq. ft. of event space; restaurant, bar and club.
Hyatt Regency Albuquerque 
AAA Four Diamond hotel downtown; near convention center; 395 guest rooms, most with views of the city; 30,000 sq. ft. of event space.
Hyatt Regency Tamaya Resort and Spa 
30 minutes north of Albuquerque; 350 guest rooms; 83,000 sq. ft. of event space; seven restaurants; stables offer horseback-riding tours. q
Sheraton Albuquerque Airport Hotel
Conveniently located on Albuquerque International Sunport; 276 guest rooms; 15th floor Sheraton Club Lounge;12,000 sq. ft. of meeting space can handle groups of up to 200.
Sheraton Albuquerque Uptown 
Near Coronado Center shopping; 295 guest rooms; 17,000 sq. ft. of meeting space; Link@Sheraton business center; large indoor pool.
Santa Fe
Hilton Santa Fe Historic Plaza
Drury Plaza Hotel in Santa Fe
Newly renovated downtown property; 182 guest rooms, many with fireplaces and balconies; fitness center; rooftop bar; 24,297 sq. ft. of meeting space.
Eldorado Hotel & Spa 
AAA Four Diamond property with Southwestern flair; 219 guest rooms; two blocks from The Plaza; Nidah Spa; acclaimed Old House restaurant.
Four Seasons Resort Rancho Encantado Santa Fe
In the foothills of the Sangre de Cristo Mountains; spa; Terra restaurant; 65 guest rooms; 13,700 sq. ft. of event space.
Hilton Santa Fe Buffalo Thunder
Four-star hotel; 395 guest rooms; full-service spa; 10 restaurants; 60,000 sq. ft. of conference space; 30 meeting rooms; free train station pickup.
Hilton Santa Fe Historic Plaza 
Downtown property in a 300-year-old hacienda; 158 guest rooms; 7,000 sq. ft. of meeting space; pastry chef bakes fresh treats daily. q
Inn and Spa at Loretto 
136 guest rooms; shares grounds with famed Loretto Chapel; resembles local pueblos, with Spanish accents; 9,604 sq. ft. of event space.
La Fonda on the Plaza
Santa Fe's oldest and best-known hotel; located across from iconic cathedral and plaza; renovations finished in May; hand-painted decor in each of its 179 guest rooms; 21,300 sq. ft. of meeting space.
La Posada de Santa Fe, a Luxury Collection Resort & Spa 
Six-acre resort near major attractions and Canyon Road with 157 guest rooms and 4,500 sq. ft. of meeting space; includes famed Staab House from 1882; Southwestern decor and art throughout; spa.
Santa Fe Community Convention Center
72,000-square-foot facility offers 40,000 sq. ft. of flexible indoor meeting space; traditional Navajo rugs, Spanish Colonial tin accents and carved furniture made by local artisans throughout. q
Santa Fe Community Convention Center
Other
Angel Fire Resort 
Four-season resort in northeast region; 122 guest rooms; 20,000 sq. ft. of meeting space; skiing, ziplining, hiking, mountain biking and golf. 
Hotel La Fonda de Taos
Made famous by D.H. Lawrence (whose art collection still hangs there); 25 guest rooms; 700 sq. ft. of meeting space.
Inn of the Mountain Gods Resort & Casino
In Mescalero; 273 guest rooms; 40,000 sq. ft. of meeting space; four onsite restaurants; three nearby golf courses; indoor pool; fitness center.
Snakedance Condos 
Located at Taos Ski Valley; 33 condos; meeting capacity for 50 and access to larger meeting areas in the ski village.
The Kachina Lodge 
Located in Taos; 118 guest rooms; 7,000 sq. ft. of meeting space; Native American dance demonstrations at sunset and a huge Frederic Remington bronze in front.
Resources
• Albuquerque Convention & Visitors Bureau – itsatrip.org
• Las Cruces Convention & Visitors Bureau – explorelascruces.com
• New Mexico Tourism & Travel – Newmexico.org
• Santa Fe Convention & Visitors Bureau – santafe.org
• Town of Taos – taos.org
Smart Meetings Related Posts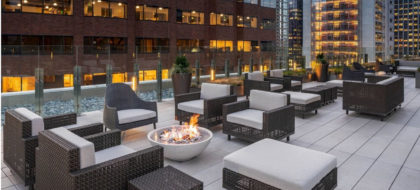 New views are popping up all over Seattle, from the Space Needle's revolving glass floor to the recently opened, 45-story Hyatt Regency Seattle.