Ponzi Vineyards, Sherwood
Willamette Valley features 150 miles of green-event options
Back in the 1800s, Fort Vancouver, Washington, just north of Portland, was the finish line for The Oregon Trail. Thousands of fur trappers, pioneers, business owners and missionaries traveled 2,170 miles across seven states as part of the American Pacific Northwest expansion that literally changed the U.S. border.
Once in Oregon Country, emigrants dispersed throughout Willamette Valley, publicized back then as a "promised land of flowing milk and honey." How insightful! Today, as a pioneer of sustainable dining, viticulture and tourism, Oregon has seen six straight years of travel industry growth, accounting for $10.8 billion and employing more than 105,000 in 2015.
The Willamette Valley wine region, which stretches 150 miles from Portland through the state capital of Salem to Eugene, was named 2016 Wine Region of the Year by Wine Enthusiast Magazine in November. It is home to more than 500 wineries, drawing international acclaim for its pinot noir, pinot gris, pinot blanc, chardonnay, riesling and gewurztraminer varietals. Many wineries offer event space, plus provide attendees with fun excursions before and after meetings.
"People are already traveling from all over the world to experience great wine and breathtaking scenery," says Jimmie Lucht, board president of Willamette Valley Visitors Association, a nonprofit that supports tourism in Oregon's wine country. "We are thrilled that this recognition will bring Willamette Valley to the forefront and give more attention to our wine growers, wineries and this wonderful place we call home."
Oregon Convention Center, Portland
Portland
The City of Roses is in full bloom. Here's what Lonely Planet had to say about Portland, which made its list of top 10 places to visit in 2017: "This gem of a town is what all towns should be: friendly and sustainable, with an emphasis on living well."
Those early adventurers seemingly inspired a legacy of respectfulness for the earth, which helps define Oregon to this day. From Oregon Convention Center, which is LEED Platinum certified, to sustainable wineries and innovative farm-to-table menus, the state's largest city features a certain freshness that attendees find refreshing.
"Portland is sure to delight meeting attendees whether they are repeat visitors or they are experiencing the city for the first time," says Jeff Miller, president of Travel Portland. "Just when visitors think they know what to expect in Portland, the New Year brings another thrilling chapter to our city."
Construction on a long-awaited convention center hotel is expected to begin this summer and scheduled to be complete by fall 2019. Plans call for a new 600-room Hyatt Regency across the street from Oregon Convention Center (OCC) in Portland's burgeoning Central Eastside. Amenities will include a full-service restaurant, room service, meeting and banquet rooms, and guest parking. Hotel proponents believe the new property will result in five to 10 new midsized conventions a year.
J. Frank Schmidt Jr. Pavilion, Silverton
OCC serves as a sustainability beacon for the entire state. It ranks as the first venue in the world to achieve the highest level of the APEX/ASTM green meeting standards. Verified by the Green Meeting Industry Council (GMIC), the certification offers a road map for planning sustainable events, helping vendors and guests practice green habits and working with the community to support the environment.
The largest convention center in the Pacific Northwest features nearly 1 million sq. ft. of event space, including 255,000 sq. ft. of contiguous space for exhibitions. Its waste diversion program encourages planners to minimize the amount of waste generated at events, and encourages the use of materials that can be recycled, composted or donated. OCC has a long-term goal of reaching at least an 80 percent waste diversion rate.
OCC also has 6,500 rooftop solar panels, making it the second-largest solar installation at a convention center in the nation. The panels are expected to produce 25 percent of the facility's electricity within the first year. In the first 20 years, the rooftop solar system is estimated to generate enough energy to power approximately 184 Portland homes annually.
Headwaters restaurant, Portland
F&B Pioneers
Renowned Pacific Northwest chef Vitaly Paley opened Headwaters restaurant in the historic 150-room Heathman Hotel in November. It's one of four Portland restaurants owned by the James Beard Award winner and his wife, Kimberly.
Paley is driven to rediscover Pacific Northwest cuisine, following in the footsteps of Oregon's own James Beard, whose mother once operated a Portland boarding house.
"Over the past 20 years, I have watched us become a mature, diverse and at times thrilling dining scene," Paley says. "There are no food traditions to follow, no rules on how to cook, just great ingredients—oysters, Dungeness crab and salmon; morels, chanterelles and truffles; elk, rabbit and lamb—these are just a few of my favorites. We are inventing a unique Portland style and are having a blast doing it."
Portland is often referred to as "Beervana" due to its renowned craft-brew scene. Its unique venues and tasting opportunities are awesome for groups, providing a convenient way for attendees to immerse themselves in local culture.
Wayfinder is part brewery and part American fine dining. One of Portland's coolest brewing projects, it is the result of a collaboration between Charlie Devereux, co-founder of Double Mountain Brewery; Matthew Jacobsen, co-founder and owner of Sizzle Pie, Quality Bar and Relapse Records; and Rodney Muirhead, co-founder and owner of La Taq and Podnah's Pit. With a woodsy, modern setting, Wayfinder serves local brews and upscale, tasty pub fare, such as sockeye salmon fillet, pork belly banh mi and Schnitzengruben, a bratwurst served with peppers, onions and beer cheese.
Century Bar opened in June 2016. Founders of four of Portland's most popular bars transformed a former printing shop into the sports bar, with a capacity of 318. There's a two-level stadium-style space surrounded by large retractable screens for viewing games and movies. The open space can be transformed into a dance floor with a built-in digital photo booth to document the fun.
By the way, Beard attended the former Washington High School, which has been renovated into an amazing music and event venue. Revolution Hall features an 850-seat performing arts auditorium and a rooftop deck for private events.
Willamette Heritage Center, Salem
Salem
Salem is a city of surprises. For example, did you know that the Oscar-winning film One Flew Over the Cuckoo's Nest was filmed at the city's Oregon State Hospital in the '70s?
Today, the one-of-a-kind Oregon State Hospital Museum of Mental Health is located on the first floor of the property's Kirkbride Building, where the 130-year history of mental health is revealed. It's noteworthy that the hospital's former superintendent, Dr. Dean K. Brooks, initiated innovative mental health practices and became a national leader for reform during his nearly 30 years in Salem.
The city also is the birthplace of the Oregon wine industry, with its origins dating to 1933. Originally called Columbia Distilleries when it produced fruit brandies and liqueurs, Honeywood Winery changed its name when its focus became premium wines, and now ranks as the oldest producing winery in the state.
Salem Convention Center is LEED Silver certified, with 30,000 sq. ft. of event space, including 11,400-square-foot and 8,750-square-foot ballrooms. Chefs at the convention center rely on local growers and farmers to create fresh, seasonal dining experiences for attendees, elevating the sustainability factor.
Preserving Pioneer History
Salem stands as a monument to Oregon's earliest settlers, with numerous historic sites throughout Marion County.
Willamette Heritage Center is dedicated to preserving and interpreting the history of Mid-Willamette Valley. The 5-acre campus features 14 structures on the National Register of Historic Places. Among its more than 10,000 sq. ft. of meeting space, the center has a 6,384-square-foot hall located in Thomas Kay Wooden Mill, which dates to 1896.
Historic Deepwood Museum & Garden is an 1894 Queen Anne Victorian mansion located on nearly 5 acres of gardens and nature trails. The nature trails were designed by Lord and Schryver, the Northwest's first women-owned landscape architecture firm. There are two gardens that hold up to 250 each for receptions; the tennis court can be tented for up to 350 guests.
Groups can harken back to the days when the river was the state's main transportation source by taking a ride on the 87-foot Willamette Queen. The twin paddle-wheeler departs year-round from Salem's Riverfront Park. The vessel holds up to 80 for private events.
"As the state capital, Salem is steeped in history, from the capitol building itself to storied homes and unique museums that tell the story of Oregon's pioneers, Salem residents and stakeholders who have worked hard to not only preserve pioneer history in our area but to make it accessible and inviting to visitors," says Kara Kuh, public relations manager for Travel Salem.
Lane Events Center, Eugene
Eugene
Home to University of Oregon, Eugene exudes a vibrant, innovative spirit sure to energize meetings. The university's Erb Memorial Union (EMU) completed a $95 million expansion and renovation in July, adding an upgraded, green venue to Eugene's meetings portfolio. LEED Platinum certified, it offers 23,000 sq. ft. of rentable space, including a ballroom that accommodates 800.
"University of Oregon is absolutely a strong generator of conventions, sports and leisure visitors," says Kari Westlund, president and CEO of Eugene, Cascades & Coast–Travel Lane County. "UO has a deep well of knowledgeable and internationally known experts on a variety of subjects that are willing keynote speakers and educational session leaders."
Hilton Eugene Center is located in the city's art and entertainment district, and serves as a key event venue for all types of functions. The 274-room hotel offers more than 30,000 sq. ft. of meeting space, including 11,800-square-foot Playwright's Hall. (Most meeting rooms are named after writers and composers.)
Attendees meeting at the Hilton will enjoy access to the best of Eugene. Only a mile from University of Oregon, the hotel is adjacent to Hult Center for the Performing Arts, which features a 2,448-seat concert hall, a 496-seat theater and lobby space for up to 400. Bijou Historical Theater, Cuthbert Amphitheater and David Minor Theatre are within a mile or closer.
Fifth Street Public Market, Eugene
Historic Fifth Street Public Market adds eclectic downtown shopping. The multilevel marketplace features local craftspeople who lease small spaces to sell their handiworks and international food booths that showcase the region's ethnic diversity.
"Downtown Eugene has really come to life with great restaurants and entertainment venues," Westlund says. "What I especially love about both Eugene and Springfield is that their downtowns are lively but laid back, and they offer plenty of sunshine and an easygoing vibe as compared to denser urban areas with tall, shade-creating buildings and noisy, congested traffic. That doesn't exist here."
Located just beyond the downtown corridor and minutes from University of Oregon, Lane Events Center offers more than 200,000 sq. ft. of event space, including 75,000 sq. ft. for exhibitions and a 22,000-square-foot performance hall that can host 1,500. The Rink Exchange is used for sports, including ice hockey and skating.
Home2 Suites by Hilton Eugene Downtown University Area opened in November in the heart of downtown. It offers 120 suites with living rooms and kitchens, and 624 sq. ft. of meeting space. Wine-Growing Pioneer
King Estate Winery was nominated as the 2016 American Winery of the Year by Wine Enthusiast Magazine in November. Known as the King of Pinots, King Estate is the largest biodynamic vineyard in the United States. The 1,033-acre vineyard and winery has event space for up to 200.
"It is testimony to the grit and determination of King Estate's people to go beyond organic and do our part to protect the Earth for future generations," says Ed King, winery co-founder and CEO. "Stewardship of the land is a core value that guided our family when we established and built King Estate Winery 25 years ago, and it continues to this day."
The South Willamette Wineries Association is so proud of its varietals that it opened an interactive display and wine-tasting bar at Eugene Airport (EUG). The bar is located between the two new baggage carousels, allowing travelers to taste wine while waiting for their bags.
Also, travelers flying home from Eugene on Alaska Airlines can check one case of wine from participating wineries for free.
Now those are airport experiences to savor.
---
Major Meeting Venues
Eugene
Hilton Eugene
Great downtown location; 1 mile from University of Oregon; 274 guest rooms; more than 30,000 sq. ft. of meeting space.
Inn at the 5th
Boutique downtown hotel; 70 guest rooms; next to Fifth Street Public Market; 3,000 sq. ft. of meeting space, including 1,400-square-foot Maple Room.
University of Oregon Erb Memorial Union
Completed renovation in July; 23,000 sq. ft. of meeting space; ballroom accommodates up to 800, open-air market; pub; catering.
Valley River Inn
Located on the Willamette River; 257 guest rooms; 15,000 sq. ft. of meeting space; near 12 miles of paved trails for walking, running and biking.
Portland
Courtyard Portland City Center
LEED Gold certified downtown hotel; 256 guest rooms; 8,960 sq. ft. of meeting space; complimentary Wi-Fi in guest rooms; 24-hour fitness center and business center; MAX Light Rail stop across the street.
Hilton Portland & Executive Tower
A short light-rail ride from Oregon Convention Center; largest convention hotel in the state, with 66,000 sq. ft. of meeting space divided among two buildings; 782 guest rooms; indoor lap pool; 24-hour fitness center.
Hotel Eastlund
Popular rooftop bar; 5,300 sq. ft. of event space, including 3,600-square-foot Cosmopolitan Grand Ballroom, which offers sweeping views of the city with floor-to-ceiling windows; 168 guest rooms.
Hotel Lucia
Set in a 1909 landmark building; 127 guest rooms; fitness center features new equipment with cable TV on each machine; 3,000 sq. ft. of meeting space.
Jupiter Hotel
Popular meeting property for companies such as Nike, Apple and Patagonia; 4,492 sq. ft. of indoor and outdoor space; 81 guest rooms; upcoming expansion this year will add 60 guest rooms and 5,000 sq. ft. of meeting space.
Oregon Convention Center
Largest convention center in the Pacific Northwest; one of two convention centers in the United States with LEED Platinum certification; 255,000 sq. ft. of contiguous exhibition space.
Ponzi Vineyards
Located 40 minutes southwest of Portland in Sherwood; tasting room can hold up to 150 for receptions after hours; seasonal plaza hosts up to 350; family business established in 1970.
Portland Marriott Downtown Waterfront
On the banks of the Willamette River; views of Mount Hood; 506 guest rooms; 44,104 sq. ft. of meeting space, including pillar-less ballroom; 15,000 sq. ft. of exhibition space; near public transportation.
Residence Inn by Marriott/Pearl District
Located in vibrant Pearl District; 6,045 sq. ft. of meeting space, including Everett Ballroom for up to 200 guests; 223-room property opened in 2014.
Rose Quarter
30-acre sports and entertainment district; 20,000-seat Moda Center is home to NBA Portland Trail Blazers; Veterans Memorial Coliseum has 12,000-seat arena and 40,000 sq. ft. of exhibition space.
Sentinel Hotel
Historic property comprised of two buildings that date to 1909 and 1932; 23,000 sq. ft. of meeting space; popular Jackknife Bar; local products featured throughout the hotel.
The Allison Inn & Spa
In Newberg, a 45-minute drive from Portland; LEED Gold certified; 85 guest rooms and suites; 12,000 sq. ft. of function space; Jory restaurant features an 800-label wine list.
The Heathman Hotel
Member of Historic Hotels of America; AAA Four Diamond rated; Vitaly Paley's Headwaters restaurant opened in November; 150 guest rooms; 3,800 sq. ft. of meeting space; short walk to Portland Art Museum.
Salem
Grand Hotel in Salem
Connected to Salem Convention Center; 193 guest rooms and suites; 1,204-square-foot boardroom can host up to 75.
Oregon Garden Resort
Located in Silverton on 80-acre botanical garden; full-service spa; outdoor event space for up to 2,000; more than 18,000 sq. ft. of indoor event space, including J. Frank Schmidt Jr. Pavilion; 103 guest rooms; free Wi-Fi.
Oregon State Expo Center
Six venues include a 7,000-seat pavilion with space for up to 2,800; L.B. Day Amphitheater accommodates up to 8,900; Columbia Hall offers 36,000 for conventions and trade shows.
Salem Convention Center
LEED Silver certified; catering staff relies on fresh Northwest bounty; 30,000 sq. ft. of event space, including 11,400-square-foot and 8,750-square-foot ballrooms.
Salishan Spa & Golf Resort
About an hour west of Salem; art collection features Northwest artists; 18-hole golf course; four restaurants and wine cellar; pet friendly; recreation center; 205 guest rooms; nearly 15,000 sq. ft. of meeting space.
Smart Meetings Related Posts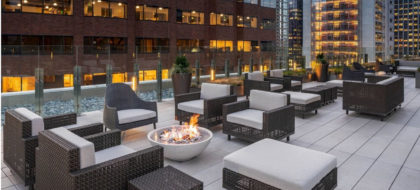 New views are popping up all over Seattle, from the Space Needle's revolving glass floor to the recently opened, 45-story Hyatt Regency Seattle.