Is there any place in the nation more quintessentially romantic than New England? Verdant fall foliage. Cozy B&Bs. Fresh seafood. No state captures this romance better than Connecticut.
"Connecticut is well-known for its scenic and romantic sights," says Laura Soll-Broxterman, spokesperson for the Connecticut Convention and Sports Bureau. Soll-Broxterman points to beaches on the Long Island Sound, sailing, hiking, dining and themed cruises on the Connecticut River and Long Island Sound—not to mention self-guided sojourns along the Connecticut Art Trail, Connecticut Antiques Trail and Connecticut Garden & Landscape Trail.
What does this romantic appeal have to do with meetings? For one, it makes for enchanted corporate events, retreats and getaways, fostering experiences that attendees remember.
For another, it makes the state enticing for attendees, pre- or post-meeting.
"Some attendees arrive with spouses or families a day or two earlier, or they stay a little longer, and can choose from everything from the bed and breakfasts to unique lodgings, such as Madison Beach Hotel, where every room has an ocean view," Soll-Broxterman says. "Spouses have options for activities during the day while meetings take place, and then they can get together for romantic time in the evening."
Here's our guide to romance in this New England
favorite.
Hartford
Society Room of Hartford
The capital of Connecticut is the state's urban hub and the site of its most expansive meeting space: Connecticut Convention Center. The venue marries ample meeting facilities—including 140,000 sq. ft. of exhibition space, a 40,000-square-foot ballroom and 25,000 sq. ft. of flexible meeting space—with visually stunning touches such as a 110-foot glass atrium.
It's just one lovely touch in a city so romantic, Mark Twain once famously remarked, "Of all the beautiful towns, it has been my fortune to see this is the chief."
The center provides easy access to a romantic candlelight dinner, a dreamy stroll along the Connecticut River or a great show at a Hartford theater.
After completing a day of seminars, networking and meetings, head across the street to the Front Street District, where you'll find delectable bites at an array of first-class restaurants.
After a night of refreshing fun, head back to the convention center's attached hotel, Hartford Marriott Downtown, and finish the night with champagne and truffles as part of the Romance in Hartford package.
Twain himself resided in an elegant Victorian mansion that's now the site of the Mark Twain House & Museum, an idyllic spot for private events. The 25-room property features ornate designs by Louis C. Tiffany, the son of the founder of Tiffany & Co. who is well-known in his own right for his glass work. The estate sits on impeccably landscaped grounds that also house a state-of-the-art museum devoted to Twain. Adding to the appeal, particularly for book buffs, next door is the home of Harriet Beecher Stowe, who penned Uncle Tom's Cabin. A great hall, auditorium and theater are all available for private event rental.
Marble columns, a muraled ceiling, brass accents and a grand staircase make up the romantic features at Society Room of Hartford, the former headquarters of a regional bank. The ballroom is ideally suited for larger gatherings; three smaller lounge and function spaces are also available. All are complemented with the services of a first-rate chef and banquet catering team.
Old Hollywood glamour infuses The Marquee/960 Main Street, comprised of three spaces—a mezzanine, a ballroom and an atrium—in one building conveniently situated in the heart of downtown. The structure was built in 1847 as a department store, and then rebuilt to its Art Deco glory in 1918 after a fire.
As is the case throughout Connecticut, the dining scene here is ideally suited to private events or couple dinners. Consider the French- and Italian-inspired Cavey's Restaurant. Or, for something a little different, attendees can head just outside of town to Portland to try the sublime Chocolate Love wine at Arrigoni Winery.
Mystic
Convention Center, Hartford
Picture the most idyllic seaside New England town imaginable. Are you seeing a tranquil waterfront with sailboats bobbing? Historic shops where owners greet you with a warm hello? Perhaps some cozy, candlelit restaurants overlooking the sea?
What you're picturing is, essentially, Mystic—one of New England's most quintessentially charming and romantic seaside towns. Karen Burgess,
spokesperson for Mystic Country, the city's CVB, describes it as a "historic, coastal village that takes you back to simpler times in a beautiful setting"—which includes not only the Atlantic sea, but also the Mystic River.
Even the hotel scene here is romantic. Haley Mansion hearkens back to simpler times with its circa-1904 Colonial Revival aesthetic and lush grounds, where a waterfall, pond and blooming gardens invite reflection and relaxation. The mansion also includes five guest rooms outfitted with wood-burning fireplaces and period furnishings. As part of the same property, the freshly renovated Inn at Mystic adds another 51 elegant guest rooms to the mix.
Water is key to Mystic's ambience, and planners can take advantage of this element by planning an event by the sea or river. Burgess recommends Latitude 41, situated on the shores of the Mystic River, featuring a tap room where up to 25 guests can meet for a private reception or dinner.
Want to convene by the Mystic seashore? Consider a private dinner at the romantically named and themed Swooner along Stonington Harbor. The venue can accommodate groups indoors or out, and features a highly regarded seafood menu and oyster bar.
The sea is also the focus at the renowned Mystic Aquarium, home to nearly 6,000 marine animals and private event spaces flanked by exhibit tanks; even beluga whales are known to make an "appearance" at events. To actually traverse the sea, Argia Mystic Cruises offers group day or sunset cruises out of Mystic Seaport or downtown.
All this romance begs for a partner to come along, Burgess says—while making for a more relaxed and satisfying event. "You could bring a spouse along on a meeting knowing that they would find plenty to do while you were in meetings and during free time," she says. "Most meetings keep attendees very busy, but you could certainly tie the trip to a weekend adventure to take advantage of the New England setting."
New Haven
The Marquee/960 Main Street, Hartford
Connecticut's second-largest city and home to Yale University is a haven for intellectualism, arts—and plenty of romance.
For meeting and staying, it doesn't get more charming than Chatfield Hollow B&B/Farm in nearby Killingworth. The property boasts what Barbara Malmberg, director of marketing for Visit New Haven, calls "midcentury modern meets Daniel Boone decor." Add in a bucolic farm setting—replete with an organic garden and grazing wildlife, including deer and wild turkey—and you have the perfect spot for smaller events or pre- or post-meeting partner getaways.
According to Malmberg, much of the romance in town is connected to—what else?—food. "The charming ambience of our restaurants encourages the connection of couples," she says.
Goodfellas Restaurant brings the tastes and flavors of Italy, one of the most romantic destinations in the world, to the heart of downtown. White tablecloths, marble and orchids help set the amore scene, with Frank Sinatra, Andrea Bocelli, Dean Martin and other classic crooners providing the mood music. The intimate restaurant can be bought out in its entirety for private functions.
John Davenport's at the Top of the Park, located on the 19th floor of the Omni New Haven Hotel at Yale, provides a bird's-eye view of the historic downtown and Yale campus, and offers a menu that focuses on classic New England seafood dishes with a fresh twist. Its romantic ambience is also available for private events.
Outside the dining scene, consider a meeting on the campus itself, which as Malmberg notes, exudes "characteristic charm." The campus comprises more than 200 buildings, and can accommodate up to 2,500 for events.
Around the State
In typical New England fashion, many of Connecticut's finest properties are located away from big cities, in quiet corners of the state.
The New England charm exuded by The Spa at Norwich Inn makes it a popular romantic getaway and one of the best destination spas in the region. A member of the Historic Hotels of America, the inn offers 100 guest rooms, suites and villas; 6,500 sq. ft. of meeting space, including a new executive boardroom; and several three-season outdoor venues.
No visit would be complete without a trip to the Norwich spa, with 37 treatment areas. The salon features hair styling, color and conditioning treatments for those seeking a new look. The fitness center offers group classes and one-on-one personal training.
Several waterfront properties dot the state's eastern shore and make for wonderful locations for pre- or post-meeting couple getaways—not to mention lovely private events. In Old Saybrook, Delamar Greenwich Harbor is a luxurious spot known for its sumptuous spa, where a couples room features heated tables and ambient low lighting. The property's signature restaurant, L'Escale, boasts features from one of the most romantic destinations in the world: the south of France. Touches include stone terra-cotta tiles from Provence and a fireplace imported from a French castle. Exquisite taste is also evident in the meeting spaces, including two event rooms with access to a private outdoor terrace.
Also in Old Saybrook is the Saybrook Point Inn, home to its own highly regarded spa and romantic restaurant, Fresh Salt, serving fresh local seafood. A variety of ballrooms and suites are available for functions, as are a wine room and a garden patio. The inn recently added a new guest house located across the street from the main property. Opened in May, the eight-room Three Stories features comfortable common spaces such as a living room, dining room and pool room, as well as an outdoor garden area and wraparound porch. The inn renovated a historic home built in 1890 to provide this corporate-retreat space.
Westbrook has its own elegant waterfront property—the aptly named Water's Edge Resort & Spa. Set on 20 oceanfront acres along the Long Island Sound, this elegant locale includes a full-service spa, beach access, live entertainment and a handful of first-rate dining options, from the fine-dining Restaurant at Water's Edge to a casual—but no less elegant—bistro and martini bar. Up to 300 can meet here.
In Litchfield Hills in the western part of the state, 18 individually themed cottages comprise the Winvian. This 113-acre oasis fringed by lakes and woods is often selected for corporate retreats, and includes an entire onsite home—the Gordon Brown House—for private events. As for those cottages, themes range from maritime to treehouse to artist, all thoughtfully curated and designed.
While not romantic in the traditional sense, couples and groups alike also flock to the state's casinos, which offer plenty of elegant touches in addition to exciting gaming and nightlife. Mohegan Sun in Uncasville is a standout: One of the largest casinos in the world (yes, world) it offers 100,000 sq. ft. of meeting space and a 10,000-seat arena, complemented by a 1,200-room hotel, spa, pool and golf club.
Resources
Chatfield Hollow B&B/Farm, Killingsworth
• Connecticut Convention and Sports Bureau – ctmeetings.org
• Connecticut Convention Center – ctconventions.com
• Hartford Has It – hartford.com
• Mystic Country – mystic.org
• Visit New Haven – visitnewhaven.com
• Western Convention & Visitors Bureau (including Litchfield Hills) – litchfieldhills.com
Meeting Spotlight
Who: CMB Creative Group; 130 attendees
What: Music at the Mansion, in support of the Mystic Blues Festival
When: October 24, 2014
Where: Haley Mansion/Inn at Mystic/Harbour House restaurant
Quote: "Haley Mansion (high on the hill of the grounds at Inn at Mystic) is truly a standout property. The feeling you are stepping into history is palpable. Humphrey Bogart and Lauren Bacall honeymooned at Haley Mansion. For our event, we utilized the entranceway and restroom facilities of the mansion proper and held the balance of the event in the exterior, year-round tent. The entire staff is fabulous to work with and created a fantastic evening within our budget. A few of our guests also opted to spend the night in the newly renovated rooms of the inn and had a wonderful experience as well!"
–Courtney Moore, co-owner of CMB Creative Group and secretary for the Mystic Blues Festival
Major Meeting Venues
Hartford
Connecticut Convention Center
Boasts the state's most expansive meeting space, with 140,000 sq. ft. of exhibition space and a 40,000-square-foot ballroom among its offerings.
Hartford Stage
Main theater has the capacity for 489 attendees, or groups may enjoy separate use of the upper lobby or lower lobby, each of which can accommodate more than 100 standing.
Hilton Hartford
Connected via skywalk to the XL Center; 15,000 sq. ft. of meeting space includes Hartford Commons; features 393 guest rooms.
Mark Twain House & Museum
A 25-room property caters to private events and features ornate designs crafted by Louis C. Tiffany.
Radisson Hotel Hartford
Changed flags in 2014 and is renovating the lobby, lounge and 350 guest rooms; 8,000-plus sq. ft. of function space.
The Bushnell Center for the Performing Arts
Six separate stages are available for events, including the Seaverns Room for up to 200 and Belding Stage for up to 908; Art Deco-style Mortensen Hall provides space for 2,800.
The Marquee/960 Main Street
The historic structure, originally built in 1847 as a department store, comprises three meeting spaces: a mezzanine, a ballroom and an atrium.
Mystic
Inn at Mystic
Situated on 14 landscaped acres; features a variety of accommodations, including Colonial, cottage-style rooms; onsite Haley Mansion makes for an idyllic event space.
Mystic Marriott Hotel & Spa
AAA Four Diamond, 285-room property features the award-winning Octagon steak house and onsite Red Door spa by Elizabeth Arden; includes 20,297 sq. ft. of meeting space.
New Haven
New Haven Hotel
Conveniently located in the heart of downtown; complimentary wine and cheese reception for guests six nights a week; meeting space for up to 100.
Omni New Haven Hotel at Yale
Located steps from Yale University; features 306 guest rooms and 22,000 sq. ft. of meeting space; John Davenport restaurant serves New England cuisine.
Shubert Theatre
The 1,600-seat theater can be booked for meetings, seminars and other functions; groups can also book the "Backstage Tour" to learn about the history of the theater.
Yale Repertory Theatre
Groups of 10 or more save 20 percent off regular ticket prices, and meeting planners receive a free ticket if bringing groups of 20 or more.
Around the State
Delamar Greenwich Harbor
Luxury property features a spa and French-inspired restaurant; design features include a fireplace imported from a French castle; includes two event rooms and a private outdoor terrace in its Old Saybrook location.
Ethan Allen Hotel
Underwent a major renovation to its 193 guest rooms and 15,000 sq. ft. of meeting space that debuted in May; located in Danbury; pool, spa, exercise room; close proximity to the Tarrywile Park for great hiking and scenic walking trails.
EVEN Hotels Norwalk
Debuted in Norwalk in June; 129-room property features green spaces ideal for team building, as well as a location near state parks; in-room fitness zones for private workouts.
Foxwoods Resort Casino
Massive 2,200-room property in Mashantucket includes four onsite hotels and 150,000 sq. ft. of meeting space, as well as a bowling alley, two spas and an 18-hole golf course and golf academy.
Madison Beach Hotel
Boutique 32-room property located on Long Island Sound's shoreline; each room has water view and furnished balcony; features event space for up to 200 and plenty of outdoor activities such as kayaking, biking and golfing nearby.
Mohegan Sun
Gaming property in Uncasville features 1,200 guest rooms and 100,000 sq. ft. of meeting space, with meeting rooms named after local Native American tribes.
Saybrook Point Inn & Spa
Long Island Sound property features 82 guest rooms and innovative meeting spaces such as the newly opened Three Stories guest house, available for up to 16 attendees.
Water's Edge Resort
Located on 20 oceanfront acres in Long Island Sound; features meeting space for up to 300 and several beach activities for team building.
Smart Meetings Related Posts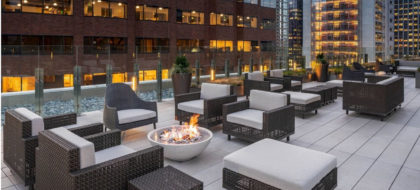 New views are popping up all over Seattle, from the Space Needle's revolving glass floor to the recently opened, 45-story Hyatt Regency Seattle.