Arizona is known around the world for its warm weather, conservative politics, luxury resorts and magnificent Grand Canyon National Park. But the state is much more than these, and one strong feature under the radar is its rich and varied music traditions.
Some meeting groups and other visitors got a taste of this during the Musical Instrument Museum's I Am Arizona Music exhibit, which in 2012 commemorated the centennial of Arizona's statehood by looking at its past and present music traditions.
Artifacts included a double-neck guitar played by seminal rock 'n' roller Duane Eddy on Dick Clark's American Bandstand TV show; a trombone played by the much-heralded Russell "Big Chief" Moore, a member of the Pima Indian tribe; stage clothing worn by rock legend Alice Cooper; and a biography of Billie Maxwell, the first woman to record country and western music.
These artifacts provide only a hint of Arizona's music traditions, which include everything from various types of ethnic folk music to classical and popular genres.
A look at four of the most vibrant cities in Arizona—Tucson, Phoenix, Scottsdale and Tempe—reveals a great deal about its musical history and present-day scene.
Tucson
Located 108 miles southeast of Phoenix and 60 miles north of the U.S.-Mexico border, Tucson is home to 520,116 people. Mexican-American residents comprise 36.1 percent of the city's population, and—along with other ethnic groups—have had a major impact on its musical history.
"As an area originally populated by natives, there's a great deal of musical history among the Tohono O'odham and Pascua Yaqui tribes that still live in the area, followed by the influence of Spanish and Mexican inhabitants, and eventually the sounds of Europeans immigrating across the American West," says Dan Gibson, director of corporate communications for Visit Tucson.
One of the top stars of Mexican-American music, Lalo Guerrero, was born in Tucson and befriended the musical Ronstadt family, including Linda, who lived there on and off until recently.
Gibson says that Tucson was a somewhat sleepy town until the '50s and '60s, when the music scene exploded, with most top touring acts of the day—including Elvis Presley, Jimmy Hendrix, The Rolling Stones and Led Zeppelin—making stops there.
During the "desert rock" period of the mid-'90s, several bands emerged, playing indie rock with a desert flair. Boosted by the vibrant University of Arizona community, Tucson has developed a strong, independent music culture that focuses on locally grown and locally derived musical genres.
Top Music Venues
Rialto Theatre
Many of the big names in classical music and jazz perform at the 5,000-seat Ava Amphitheater at Casino del Sol Resort and the University of Arizona's 2,526-seat Centennial Hall. Also, the Tucson Symphony Orchestra offers a full schedule of programs September–May at the Tucson Music Hall, and Arizona Opera schedules some performances at the same venue October–May.
The heart of original Tucson music, however, is found at the east end of downtown on East Congress Street, home to Club Congress and Rialto Theatre.
"Club Congress has been hosting touring acts and local bands for decades, and has a reputation for catching bands right before they get really famous," Gibson says. "The renovated, historic Rialto features incredible sound and a booking staff that loops in groups that generally don't make it to towns our size or play theaters this size, all at shockingly affordable prices.
"Whether you're interested in bluegrass, EDM, comedy or indie rock, if you like music, there's likely something on Rialto's forthcoming schedule you'll want to grab tickets to."
Fun Festival
Tucson has music festivals throughout the year. The Tucson International Mariachi Conference, offered annually since 1982, is a four-day event that showcases some of the world's top mariachi bands and folkloric dance troupes.
This year's conference, which will include hundreds of mariachi groups, will take place April 8–11 in various locations and will feature many events, including three days of student performances.
Something a Bit Different
Tucson Meet Yourself celebrates the arts of Southern Arizona's and Northern Mexico's diverse ethnic and folk communities. It is a "folklife" festival that focuses on presenting artists and communities that carry on living traditions that are rooted in a group's own definition of identity, artistry and cultural significance.
Each October, the three-day event features hundreds of musicians, artisans, home cooks, dancers and special exhibits that celebrate and honor beauty in all its diverse, informal and everyday forms.
The festival will be held Oct. 9–11 in downtown Tucson.
Phoenix
Phoenix is Arizona's capital and largest city. Boasting nearly 1.5 million people, Phoenix is the most populous state capital in the United States, and the sixth most populous city in the nation. The city has a storied musical history that began with Native Americans.
"There's also the music brought here by Mexican immigrants, including mariachi, banda and corridos," says Scott Dunn, senior director of marketing and communications for the Greater Phoenix Convention & Visitors Bureau. "In so many parts of Phoenix [including my neighborhood], Latin pop and Tejano serve as the soundtrack of the city. The streets are alive with it."
Top Music Venues
Rhythm Room, Phoenix by Dave Blake
Phoenix offers plenty of music venues, ranging from large arenas to concert halls, midsize spots and intimate clubs.
"Like most big cities, Phoenix has a venue for every band," Dunn says. "My go-to venues for smaller acts are Crescent Ballroom and Rhythm Room—and I love the house band [Soul Power] at Char's Has the Blues. That joint is a hidden treasure."
Cool clubs are in every corner of the city, but most of the best venues—such as US Airways Center, Comerica Theatre, Orpheum Theatre, Crescent Ballroom and The Pressroom—are downtown.
Crescent Ballroom, housed in a brick building built in 1917, is midsized venue with a capacity of 550 and live music every day; a lounge with full bar service open daily; and a kitchen, Cocina 10, serving locally sourced dishes. It books touring acts that travel from the West Coast.
Orpheum Theatre photo by Visit Phoenix
Many claim that Char's Has the Blues is the best place in Phoenix to hear live music (including blues, R&B, funk and soul) every day of the week. Soul Power, which takes the stage on Fridays and Sundays, performs great soul, funk and R&B.
Fun Festivals
Heard World Championship Hoop Dance Contest, Phoenix
The annual Heard World Championship Hoop Dance Contest, last held on Feb. 8 at the Heard Museum, attracts American Indian and Canadian First Nation hoop dancers during a two-day competition in which men and women compete together. It's a form of storytelling dance incorporating up to 30 hoops as props. Live powwow-style music is played by Native drum groups, and contestants are judged partly on how well they match their movements to the rhythm of the drums.
McDowell Mountain Music Festival, which has been running for more than a decade, will be held downtown at Margaret T. Hance Park for the first time this year. The festival will take place March 27–29, and headliners include Widespread Panic, Thievery Corporation and Ryan Bingham.
Something a Bit Different
The Pressroom, home to Phoenix's most famous printing press in the early 1900s, was reborn as a music venue last year as part of the larger transformation of the Phoenix Warehouse District.
National acts appear at the venue; most of them are booked by Danny Zelisko, who's worked with such bands as Nirvana, KISS and Bon Jovi. The Pressroom can be rented out for private events. It's one of downtown's best new event spaces, with great staging and lighting and movable bars.
Scottsdale
Scottsdale Center for the Performing Arts Music Venue
This city is adjacent to much-larger Phoenix, but has managed to carve out its own distinct identity in a short period of time. Scottsdale is perhaps most renowned for its luxury resorts, superb restaurants and exciting nightlife. In fact, The New York Times described it as "a desert version of Miami's South Beach," with "plenty of late-night partying and a buzzing hotel scene."
"As Scottsdale has grown as a city over the years, it has spread its wings a bit, especially when it comes to the Entertainment District downtown," says Stephanie Pressler, communications manager for the Scottsdale Convention & Visitors Bureau. "The district is home to bustling bars, as well as live music venues such as Maya Day and Nightclub, and the newly opened LiveWire."
While the nightclub scene mainly features contemporary music, Scottsdale boasts a diverse music heritage that groups can experience in several ways.
"When Scottsdale became a city in the 1950s, it adopted the motto, 'The West's Most Western Town,'" Pressler says. "I think it's safe to say that cowboys on horseback who roamed Scottsdale's (now) Old Town district were fans of cowboy crooners. And country music still is prevalent here."
Top Music Venues
LiveWire, a sleek new live music venue that recently opened in the Entertainment District, features a wide variety of performers, including national touring acts and select up-and-coming local bands.
Groups that want to opt for a casual atmosphere with nightly live music will want to check out Jade Bar at Sanctuary on Camelback Mountain, which offers stunning views of the mountain.
Dierks Bentley's Whiskey Row, located downtown, books contemporary-country performers. It holds up to 300 people and can be bought out by groups. Those who prefer traditional Western music can head to Handlebar J and Rusty Spur Saloon, a downtown staple for more than 60 years.
Salt River Grand Ballroom at Talking Stick Resort hosts everything from headliners such as ZZ Top and REO Speedwagon to performances by local Native-American groups.
Scottsdale Center for the Performing Arts, one of the premier performing arts halls in the western United States, is lauded for its diverse, high-quality presentations of classical and world music, dance and theater.
Fun Festival
Native Trails features Native-American music and dance performances in the outdoor amphitheater at Scottsdale Civic Center Park. The free event, which has taken place for the past 13 years, is offered Tuesdays and Thursdays Jan. 8–April 4. Native-American musicians and dancers perform traditional song and dance from noon to 1 p.m. Native Trails is sponsored by Fort McDowell Yavapai Nation.
Something a Bit Different
Kazimierz World Wine Bar, located downtown, is somewhat of a hidden jewel that offers live entertainment, classic and craft cocktails, small plates featuring foods from around the world, more than 2,000 wines—and nightly music.
The speakeasy atmosphere includes high tables, low tables, front row seating and cozy, dark corners. It also features lush sofas and chairs in vineyard colors, subtle lighting and wooden wine casks that evoke the feel of a European wine cave. An eclectic blend of jazz, Latin and world beat music is played before and after performances.
Tempe
Tempe, bordered by Phoenix on the west and by Scottsdale on the north, has a diverse musical history. One of the city's first prominent musicians, Chapito Chavarria, started playing music in the barrios in the 1920s and eventually became a local big-band leader.
Rock 'n' roll has been popular in Tempe since the '50s. In the mid-'60s, Waylon Jennings launched his country music career from Tempe, and blues and jazz were particularly popular in the '70s.
Tempe enjoyed a thriving alternative music scene throughout the '80s and '90s, producing many popular acts including Gin Blossoms, Meat Puppets, Dead Hot Workshop, The Refreshments, Roger Clyne and the Peacemakers, Hans Olson, Gloritone and The Maine.
Tempe's vibrant music scene has been shaped largely by its many creative residents and the huge student population at Arizona State University (around 82,000 graduates and undergraduates in fall 2014).
Top Music Venues
"Marquee Theater showcases some of the best well-known and up-and-coming musical acts," says Josh Roffler, senior curator of collections at the Tempe History Museum. "Downtown Tempe's Rula Bula Irish Pub is a great spot to see local musicians on weekends and Tempe Marketplace, an outdoor entertainment center, has two stages for free live music on Friday and Saturday evenings.
"Yucca Tap Room, a mainstay in the local music scene, and Copper Blues, one of the newest venues in Tempe, have live acts nearly every night of the week," Roffler says.
Groups also will want to visit Tempe History Museum to see The Tempe Sound exhibition, which includes memorabilia from many Tempe musicians, including Gin Blossoms, Walt Richardson and Meat Puppets. The exhibition will run through Oct. 4 at the museum, which is open Tuesdays through Saturdays and charges no admission fee.
Fun Festival
Pot of Gold Music Festival features some of the best national performers in alternative rock, rap and pop music. This year's festival, set for March 13–17 at Tempe Beach Park, will include acts including Bastille, Kendrick Lamar, Fall Out Boy and Korn. Summer Ends Music Festival, held each September, is another very popular event at Tempe Beach Park featuring top bands.
Something a Bit Different
Vinyl Station at Culinary Dropout at The Yard–Tempe
The Yard at Farmers Arts District, which opened downtown in December, includes Culinary Dropout at The Yard–Tempe gastro pub, two event spaces called The Showcase Room (seating for 250, 4,435 sq. ft.) and The Coop (seating for 86), and a spinning studio called The Madison.
Culinary Dropout offers cutting-edge music every Friday and Saturday, and unique gastro-pub dishes.
Its website states, "From the chefs on the line with silver-studded ears and tomahawk hair, to the inked-up, decked-out bar staff mixologists shaking and stirring some of the most creative cocktails, we're all dropouts here. Culinary Dropout at The Yard–Tempe serves the very best in unique gastro-pub fare and quietly seeks out future musical venue superstars who wouldn't mind being paid at the bar in whiskey and pretzel bites."
Wrapping Up
Planners interested in bringing their groups to Arizona always have had plenty of options for lodging and meetings. They also have an abundance of choices when looking for music activities, including many that can be found only in the state.
From traditional Native-American music to current alternative rock, Arizona has music to more than satisfy the tastes of every group.
Musical Instrument Museum (MIM)
MIM photo courtesy of MIM
Unquestionably the most significant historical music destination in Phoenix, MIM displays more than 6,000 instruments collected from around 200 of the world's countries and territories. Most displays are enhanced by state-of-the-art audio and video technologies that enable guests to see the instruments, hear their sounds and observe them being played in original contexts.
Groups can see instruments from music luminaries such as John Lennon, Elvis Presley, Carlos Santana and Taylor Swift in the Artist Gallery. Guests can also play instruments from around the world in the Experience Gallery.
Guided tours, available for groups ranging in size from 10 to 120, offer an overview of the world's music, focusing on cultures from each geographical region of the world. The tour costs $20.
Some groups might opt for VIP tours, where a specially trained museum guide gives a one-hour tour of MIM through places not accessible to the general public, including a behind-the-scenes look at the museum's collection, the MIM Music Theater and more. The VIP tour costs $25 per group of every four people, and each person pays the museum admission fee. mim.org
Resources
• Arizona Office of Tourism – tourism.az.gov
• Greater Phoenix Convention & Visitors Bureau – visitphoenix.com
• Scottsdale Convention & Visitors Bureau – experiencescottsdale.com
• Tempe Tourism Office – tempetourism.com
• Tucson Visitors Center & Administrative Offices – visittucson.org
Canyon Records
Canyon Records photo by Robert Doyle/Canyon Records
Canyon Records, based in Phoenix, is the world's largest Native American recording company and one of the music industry's oldest operating independent labels.
The company was founded by Ray and Mary Boley in 1951. The Boleys had opened a recording studio in Phoenix in 1948, and their involvement with Native American music began when Ray was asked by Phoenix Little Theater to record a Navajo singer named Ed Lee Natay. Boley was so impressed with Natay's singing that he recorded a collection of songs titled "Natay, Navajo Singer."
The label changed hands in 1992 and began focusing on fusing traditional Native American styles with contemporary genres such as jazz, classical and folk music.
Canyon Records has recorded Native American musicians from many tribes, including Cree, Lakota and Blackfoot, Navajo, Apache Yaqui and O'odham, and was the first studio to record waila music. It has released some 400 titles, covering a wide range of music including dance melodies, medicine chants and non-traditional instrumentals.
Many Canyon artists have received Grammy nominations for powwow and traditional music, as well as general instrumental recordings. Canyon artists R. Carlos Nakai and Tony Duncan are widely recognized as premier Native American flautists.
Major Meeting Venues
Phoenix
Arizona Biltmore, A Waldorf Astoria Resort
Formerly a celebrity hangout, located in the heart of Phoenix; design influenced by Frank Lloyd Wright; 736 guest rooms; 250,000 sq. ft. of meeting space.
Arizona Grand Resort & Spa
AAA Four Diamond, all-suite hotel; located on the doorstep of South Mountain Preserve; 744 suites; six restaurants; full-service spa and salon; seven-acre water park; 18-hole golf course; 117,000 sq. ft. of indoor and outdoor meeting space.
Hyatt Regency Phoenix
Hyatt Regency Phoenix
Situated within the center of the city; 693 guest rooms; four restaurants, including Compass Arizona Grill, which revolves and features seasonal dishes with a regional influence; outdoor pool and hot tub; 48,000 sq. ft. of meeting space. 
Phoenix Convention Center
An architectural masterpiece in the heart of downtown; inspired by the colors and textures of the Grand Canyon; a three-building campus that boasts 900,000 sq. ft. of exhibition and meeting space; three ballrooms, including one that is 46,000 sq. ft.; 106 meeting/breakout rooms.
Renaissance Phoenix Downtown Hotel
A modern hotel; 518 guest rooms; heated rooftop pool; fitness center; cafe; stylish Icon Lounge; 60,000 sq. ft. of meeting space, including grand ballroom, with capacity for 950.
Sheraton Phoenix Downtown Hotel
Located in 31-floor building, a block from convention center; 1,000 guest rooms; rooftop pool and sundeck, situated outside fitness center; more than 80,000 sq. ft. of meeting space, including 29,000-square-foot grand ballroom and 17 meeting rooms.
Sheraton Wild Horse Pass Resort & Spa
AAA Four Diamond property located in Chandler; 500 guest rooms; spa: two golf courses: 180,000 sq. ft. of indoor and outdoor meeting space.
Scottsdale
Fairmont Scottsdale Princess
AAA Five Diamond resort; 649 guest rooms; four award-winning restaurants; two 18-hole golf courses; five pools; more than 150,000 sq. ft. of meeting space, including 53,000-square-foot Palomino Ballroom and Conference Center.
Four Seasons Resort Scottsdale at Troon North
Located in the foothills of Pinnacle Peak; 210 casitas; Native American-inspired art; two championship golf courses; 35,929 sq. ft. of meeting space includes 5,940-square-foot ballroom.
Scottsdale Plaza Resort
Situated on 40 acres in the shadow of Camelback Mountain; 404 guest rooms; five swimming pools; lighted tennis courts; fitness center; Arizona's largest whirlpool spa; 40,000 sq. ft. of meeting space
Scottsdale Resort & Conference Center
AAA Four Diamond property; 326 guest rooms; three restaurants, including the award-wining Palm Court Restaurant; Amansala Spa/Salon; two outdoor heated pools; four tennis courts; 50,000 sq. ft. of meeting space.
Talking Stick Resort
AAA Four Diamond resort covering 240,000 sq. ft.; 496 guest rooms; casino; five dining options; live entertainment; spa; two championship golf courses; 100,000 sq. ft. of meeting space, including 25,000-square-foot grand ballroom.
The Phoenician
The Phoenician
AAA Five Diamond, Forbes Five Star luxury resort situated on 250 acres at the base of Camelback Mountain; 643 guest rooms; dining at J&G Steakhouse, Il Terrazzo and Relish Burger Bistro, among others; spa; 120,000 sq. ft. of meeting space. 
The Westin Kierland Resort & Spa
Each of the 732 spacious rooms has either a private balcony or terrace; eight restaurants; 183,000 sq. ft. of meeting space, including 25,000-square-foot Kierland Grand Ballroom and 37 meeting rooms.
Tempe
Bob Bondurant School of High Performance Driving
Located in Chandler, directly south of Tempe; offers a variety of group and team-building activities.
DoubleTree by Hilton Hotel Phoenix Tempe
270 guest rooms; Milagros Restaurant; 24-hour business center; heated outdoor pool and whirlpool; 30,000 sq. ft. of meeting space.
Phoenix Marriott Tempe at the Buttes
Phoenix Marriott Tempe at The Buttes
Set against a majestic hillside butte; 353 guest rooms; two pools with attached waterslide; sauna; 40,000 sq. ft. of meeting space. 
Tempe Mission Palms
Downtown property with decor reflecting serenity of surrounding landscape; 303 guest rooms; more than 30,000 sq. ft. of meeting space.
Tucson
Casino del Sol Resort, Spa and Conference Center
Located in the high Sonoran Desert, 15 minutes from downtown Tucson; 215 guest rooms; 65,000 sq. ft. of meeting space.
Hilton Tucson El Conquistador Golf & Tennis Resort
AAA Four Diamond resort nestled at the base of Pusch Ridge; 428 guest rooms; 65,000 sq. ft. of indoor and outdoor meeting space, including Sunset Point, which provides a grass, terraced venue.
JW Marriott Tucson Starr Pass Resort & Spa
Nestled against the saguro-covered foothills of Tucson Mountain Park; 575 guest rooms, all with a private balcony; 81,000 sq. ft. of meeting space, including Arizona Ballroom, with 19,836 sq. ft.
The Westin La Paloma Resort & Spa Tucson
AAA Four Diamond 250-acre resort in the High Sonora foothills; 487 guest rooms; Red Door Spa; 64,000 sq. ft. of meeting space.
Smart Meetings Related Posts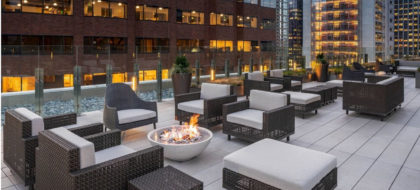 New views are popping up all over Seattle, from the Space Needle's revolving glass floor to the recently opened, 45-story Hyatt Regency Seattle.