To make things happen a little more convenient and eco-friendly, South Florida is undergoing a region-changing project that will connect three primary destinations via rail service by the end of 2016. All Aboard Florida will ultimately extend to Orlando by 2017.
When the new rail project is complete, Miami, already known as the "Cruise Capital of the World," will connect to Orlando in less than three hours. With stops in Fort Lauderdale, the "Venice of America," and the cultural enclave of West Palm Beach, South Florida is embarking on a new chapter in its successful tourism history.
"There's a whole lot of competition out there," says William Talbert, CEO and president of Greater Miami Convention & Visitors Bureau. "I think this is one of our most critical projects. It's great for Florida."
From trains to the cruise industry to water taxis, South Florida makes getting from point A to point B convenient and fun. It's a perk of meeting in one of the world's most popular destinations.
All Aboard Florida
Rendering of All Aboard Florida, Fort Lauderdale station
As a package, Miami, Fort Lauderdale and The Palm Beaches feature amazing amenities for tourists and meeting attendees. Connect these South Florida destinations with Orlando and its world-renowned theme parks via a tourism-centric rail line, and the potential for new visitors in all four locations grows exponentially.
"This is going to tie us to visitors that may not have made it to South Florida," says Nicki Grossman, CEO and president of Greater Fort Lauderdale Convention & Visitors Bureau. "What we hear is 'Where's the train?' There's an expectation that we can't meet. All Aboard Florida meets a demand."
New transportation centers are being built in the downtown areas of South Florida's most popular meeting cities, plus another at Orlando International Airport (MCO). Particularly in the case of Fort Lauderdale and West Palm Beach, the rail stations are expected to enhance areas in need of economic development.
"It's an area we're trying to wake up," Grossman says. "We believe this is a good job creator. Our expectation is that it is going to be very, very good for our business."
In West Palm Beach, several hotel projects are in the works near the site of the new station. According to Jorge Pesquera, president and CEO of Discover The Palm Beaches, the West Palm Beach station will be replacing "a bunch of empty lots. It's a godsend."
Miami's downtown development is already well under way, according to Talbert, with exciting multimillion dollar projects. For Miami, the new rail service will open the door for more visitors to experience a downtown area replete with venues such as American Airlines Arena. A new 1,800-room Marriott and convention center is being added to the downtown area among several hotel developments that will reinforce Miami as a brand.
"For us, it's all about connectivity, bringing people to Miami," Talbert says. "Downtown Miami has already exploded. This project is a further expansion of downtown.
"If you've been to Europe or Asia, this is how you do it. We're starting to catch up with the rest of the world."
From Miami to Cocoa Beach, the trains will use existing tracks that were first laid in the 1890s by Henry Flagler. New tracks will be created northwest to Orlando along the Beachline Expressway.
"This is like when they opened the West," Pesquera says. "All of this is going to create a tremendous flow of traffic. It's one of the truly revolutionary transportation projects in the country."
Cruise Industry
Port Everglades, Fort Lauderdale
Florida ranks as the center of the cruise world, and PortMiami and Port Everglades in Fort Lauderdale are the reigning king and queen, ranking first and second respectively for passenger embarkation. Infrastructure is part of the equation, but according to Miami's Talbert, South Florida's proximity to the Caribbean can't be overlooked.
Besides its location, Miami is the global headquarters for Carnival, Royal Caribbean and Norwegian cruise lines. Miami annually hosts the industry's top show, Cruise Shipping Miami, which took place March 16–19 at Miami Convention Center.
PortMiami's 2015 cruise lineup includes 34 ships and 15 different cruise brands, including Aida Cruises, Azamara Club Cruises, Carnival Cruise Lines, Celebrity Cruises, Costa Cruises, Crystal Cruises, Disney Cruise Line, Hapag-Lloyd Cruises, MSC Cruises, Norwegian Cruise Line, Oceania Cruises, P&O Cruises, Regent Seven Seas Cruises, Resorts World Bimini and Royal Caribbean International.
Although PortMiami and Port Everglades are rivals, both with more than 4 million passengers a year, they are friendly competitors, according to Grossman. "There's no downside," she says. "The cruise ships love to be in South Florida."
So do the passengers. PortMiami is walking distance from downtown and will also be walkable to the new train station when it is built. Port Everglades is near Fort Lauderdale-Hollywood International Airport (FLL), with seamless bus service available.
Airports
Miami International Airport (MIA), which is served by 100 airlines, is the second-busiest airport in the United States for international passengers. It offers more flights to Latin America and the Caribbean than any other U.S. airport. In fact, it's become such an international hub that nearly half of its record-breaking 40.9 million passengers (20.1 million) came from outside the United States in 2014.
In February, MIA started offering Mobile Passport, a new mobile app from U.S. Customs and Border Protection that allows qualified travelers to submit passport and customs declaration information using a smartphone or tablet once they land; travelers can then take advantage of dedicated lines for Mobile Passport users.
"MIA lobbied hard to be one of the very first U.S. airports to offer Mobile Passport to our passengers," says Emilio T. Gonzalez, Miami-Dade County aviation director. "MIA is the perfect fit for Mobile Passport. Our organization is wholeheartedly committed to bringing the latest travel technology to our airport."
Fort Lauderdale-Hollywood International Airport (FLL) also had a record-breaking year in 2014, with 24.6 million passengers. A new runway was opened in September, minimizing delays. The airport also benefitted from a 26 percent increase for international traffic thanks to new airlines such as Azul, Copa, Norwegian, Tame and Volaris, and expanded service throughout Latin America and Europe.
Palm Beach International Airport (PBI) in West Palm Beach was voted the No. 3 best airport in the United States and No. 6 in world by Conde Nast Traveler magazine in 2014. Only 2.5 miles from downtown, PBI features a nine-hole putting green in its pre-security area.
Everglades Boat Tour
Sawgrass Recreation Park, Weston
Located about 30 minutes from Fort Lauderdale and less than an hour from Miami, Sawgrass Recreation Park provides visitors with an opportunity to experience the Everglades via an airboat ride. Drawing close to 1 million passengers a year, the park is very popular with cruise passengers who disembark from Port Everglades cruise terminal, about 20 minutes away in Fort Lauderdale.
Airboat rides are guided by experienced captains who know the glassy waterways and wildlife, including alligators, that call this refuge home. There's also an animal exhibit that includes snakes, lizards, a Florida panther, black leopards and a bobcat. Make sure to get a photo while holding a baby alligator. There's a gift shop and food truck, dishing up specialties such as grilled gator tacos with homemade mangrove margarita sauce.
Private tours can be arranged for groups of three to 35 passengers. The smaller the boat, the better, allowing for tours to go deeper into the Everglades. The park can accommodate up to 300 people for private events, including luncheons, dinners and receptions.
Charter Yachts
To make a splash during opening or closing receptions, consider chartering a yacht for attendees to dine and dance the night away. Of course, daytime voyages are an equally fun way to showcase South Florida's amazing water world.
Windridge Yacht Charters has several boats in its fleet that are perfect for parties. The Lady Windridge can accommodate up to 430 guests, with four spacious decks. The Windridge K completed a $1.2 million renovation in October and can hold up to 149 for receptions. Onboard catering, including plated, buffet and specialty options, is part of the package.
Based out of Fort Lauderdale, Windridge yachts depart from its home dock at Tranquility Marina. The vessels are luxurious and designed for comfort; it's rare that people get seasick during this type of cruising. Also, ships are fully enclosed and climate controlled, so cruising takes place rain or shine.
West Palm Beach Trolley
One of the easiest places for attendees to get around is West Palm Beach thanks to Molly's Trolleys. Launched in 2006 and expanded in 2011 and 2014, the city's free trolley service accounted for 574,505 riders last year, which averages to nearly 48,000 riders per month.
The 1920s-style trolleys are operated by West Palm Beach Downtown Development Authority in partnership with CityPlace and the City of West Palm Beach. Service links CityPlace, which is across the street from Palm Beach County Convention Center, with the Clematis District, dotted with restaurants, shops and entertainment venues.
The West Palm Beach Arts & Entertainment District (A&E District) was launched in November and is complemented by a new trolley line that helps riders explore museums, gardens and art centers. The A&E trolley even crosses the bridge to Palm Beach, home of such cultural institutions as Flag-ler Museum and Norton Museum of Art.
"It's one of those cool things that you find in a small city," Pesquera says.
The trolleys seat 32 passengers and can be rented for corporate transportation to dinners, receptions and site visits.
Fort Lauderdale Water Taxis
Blessed with 23 miles of beaches and 300-plus miles of the Intracoastal Waterway and navigable inland canals, Greater Fort Lauderdale is called the "Venice of America." One of the top ways to see the sights is by water taxis, which make 15 stops from Fort Lauderdale south to Hollywood.
What's cool about the water taxis is that riders can get on or off at any of the stops for the all-day price of $26. The stops are ideally suited for tourists and meeting attendees, featuring locations within walking distance to such places as Las Olas Boulevard, the Broward County Convention Center and Crowne Plaza Hollywood Beach.
"If you're going to be the 'Venice of America' you better make sure people can get around on the water," Grossman says.
Many locals and visitors use the water taxis to get to special events, including the beachfront Tortuga Music Festival April 11–12 and Las Olas Wine and Food Festival May 1. Water taxis may be rented for group transportation, adding much more transportation excitement to an event than, say, a bus ride to the closing reception.
Miami, Fort Lauderdale and The Palm Beaches are already tourism and meeting savvy. When complete, All Aboard Florida will connect these spectacular destinations with each other and Orlando, giving meeting planners more options than ever when holding events in South Florida.
Smart Meetings Related Posts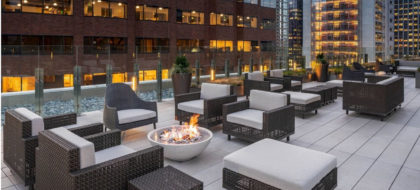 New views are popping up all over Seattle, from the Space Needle's revolving glass floor to the recently opened, 45-story Hyatt Regency Seattle.