Keahiakawelo, Lanai
These two islands west of Maui appeal to groups that desire a quiet, relaxing destination. Known as the "Friendly Isle," Molokai features the world's highest sea cliffs along its northern coast, as well as diversified agriculture and ranching.
"Molokai is one of the few places where a traditional Hawaiian lifestyle is still present and is seen in farming of land and sea, raising fruits and vegetables, and teaching young people the values of sustainable living," says Julie-Ann H. Bicoy, director of the Destination Molokai Visitors Bureau. "Farmers understand the value of moon and tides charts, and when to cultivate and harvest—it's a simple, but not an easy, life."
Lanai features an environment unlike any other Hawaiian island, with tall, stately Cook pine trees and cooler weather due to its elevation. Lanai is drier than other islands, giving its central area a more rustic feel.
"Lanai holds its culture tightly in the very palm of her hands," says Charity Texeria, manager of the Lanai Visitors Bureau. "Although our island boasts beautiful luxury offerings, it is filled with undiscovered history that has now become important to preserve. Though there are 'secrets' that are meant to be hidden, the efforts to emphasize Hawaiian culture on Lanai for visitor awareness is a top priority."
Cultural Treasure Troves
Hawaiian tradition can be found virtually everywhere and in everything on Molokai. Strolling through Kaunakakai is a good way to start.
Molokai's largest town, Kaunakakai feels virtually unchanged since the early 1900s, with no traffic lights and residents who still fish for their dinner. This charming paniolo town is also the island's main harbor.
One way for groups to experience Hawaiian culture is to go to the talk story, featuring a local resident, at the Saturday Market in Kaunakakai. The market also offers locally grown fruits and vegetables, and artwork.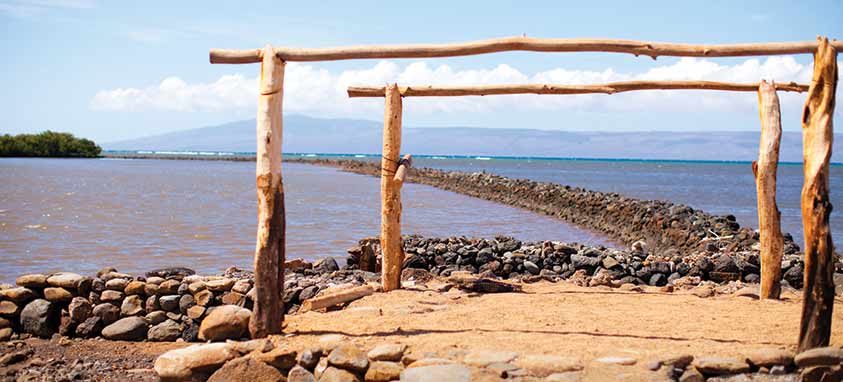 Alii Fishpond wall, Kaunakakai, Molokai
Alii Fishpond in Kaunakakai is one of the best remaining examples of the ancient Hawaiian fishpond. Once reserved for royalty, the pond measures 27 acres across and is bordered by a mangrove swamp. It is a half-mile from One Alii Park.
On Lanai, the Lanai Culture & Heritage Center offers programs that focus on the island's natural history, Hawaiian traditions, diverse heritage and cultures, and the ranching and plantation-era histories.
Keahiakawelo, also known as "Garden of the Gods," is an otherworldly rock garden at the end of rocky Polihua Road. It's a 45-minute drive from Lanai City and has lunar-type topography filled with boulders and rock towers.
According to Hawaiian legend, the landscape is the result of a contest between two kahuna from Lanai and Molokai. Each priest was challenged to keep a fire burning on his respective island longer than the other. The Lanai kahuna, Kawelo, used all the vegetation in Keahiakawelo to keep his fire burning, which purportedly is why this area is so barren today. A four-wheel drive vehicle is necessary to reach Keahiakawelo.
Kaunolu Village, located on the southern tip of Lanai, is also accessible only via a four-wheel-drive vehicle. One of the island's most sacred places, it was a favorite fishing spot of King Kamehameha I in the 1790s, and he retreated here after conquering Maui, Molokai and Lanai. The village contains the remains of Halulu Heiau (sacred temple), petroglyphs and "Kahekili's Leap," where warriors would demonstrate their bravery by diving off a 60-foot cliff.
Learning the Ways
Ka Honua Momona is a nonprofit organization in Kaunakakai on Molokai that develops indigenous education systems by revitalizing natural and cultural resources, and perpetuates traditional knowledge and stewardship while evolving with modern technology. During monthly community work days, participants can engage in such activities as mangrove and limu removal, de-barking mangrove for hale building, exploring mauka lands and kupuna sharing.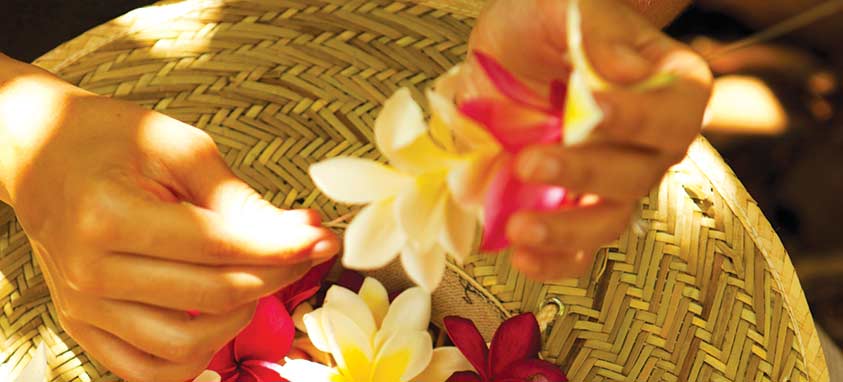 Lei making/Photo Courtesy of Hawaii Tourism Authority (HTA)/Dana Edmunds
Also, Hotel Molokai in Kaunakakai offers lessons in coconut weaving, ukulele, hula, lei making and haku lei making. (Haku is a method of braiding foliage such as flowers and ferns on a natural base material such as ti or banana leaves.)
A Journey Through Sacred Land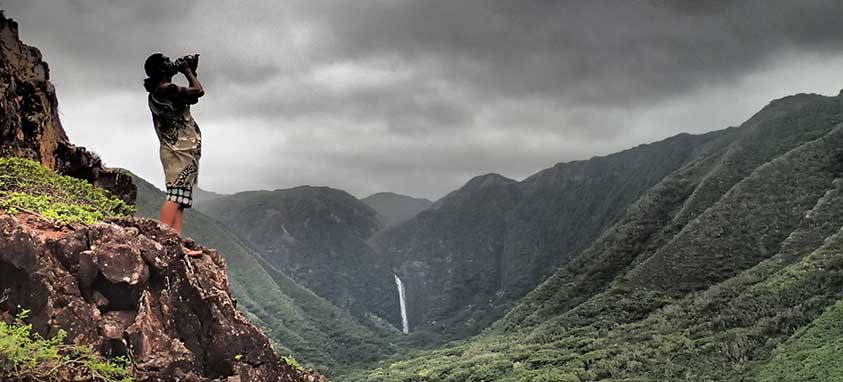 Image Courtesy of Halawa Valley Falls Cultural Hike
One of the most authentic Hawaiian cultural adventures on Molokai, Halawa Valley Falls Cultural Hike is led by Anakala Pilipo Solatorio—the last living Hawaiian descendent to be born and raised in Halawa who still resides there—or by one of his sons.
A guide leads participants on a hike through private, family-owned property and introduces traditional Hawaiian protocol. The presentation provides participants with a better understanding of this sacred place and host culture. Once the ceremony is completed, the guide leads the group along a trail to Moaula Falls. Along the way, the group learns about native and invasive species, ancient taro terraces, historical rock walls and worship sites. Groups are welcome, and are able to customize their visit.