The planets and galaxies of Star Wars will soon become a visceral experience at both Disneyland in Anaheim, California and Disney World in Orlando. At last weekend's D23Expo in Anaheim Convention Center, around 7,500 fans were blown away at the news announced by Disney CEO Bob Iger. Two 14-acre Star Wars themed-lands, already underway, mark the single largest themed land expansion in the history of Disney theme parks. Opening dates have yet to be announced.
The new lands will transport guests to a galaxy far, far away with new Star Wars characters and the latest technologies. Fans received a behind the scenes look at attractions, such as a Millennium Falcon ride that will enable park-goers to take control of the spacecraft and embark on secret missions. Parks and resorts chairman Bob Chapek also showed the audience never-before-seen renderings of other-worldly restaurants and establishments that will be operated by the planet's humanoid, alien and droid inhabitants.
Other attractions include a new Star Tours adventure, Star Wars Launch Bay, a Jedi Training Academy and interactive experiences and special exhibits from the upcoming film, Star Wars: The Force Awakens which opens in theatres December 2015. Disney's Hollywood Studios in Disney World and Tomorrowland at Disneyland Park will also be the sites of more Star Wars attractions, including Hyperspace Mountain, a reimagining of the classic Space Mountain attraction.
"I am thrilled to announce the next chapter in the long and exciting history between Disney Parks and Star Wars," said Iger. "We are creating a jaw-dropping new world that represents our largest single themed land expansion ever. These new lands at Disneyland and Walt Disney World will transport guests to a whole new Star Wars planet, including an epic Star Wars adventure that puts you in the middle of a climactic battle between the First Order and the Resistance."
Also coinciding with the announcement of Toy Story 4, to be released June 2017, is a new Toy Story land at Disney's Hollywood Studios in Florida. Visitors will go to infinity and beyond in an 11-acre park that will be a gigantic version of Andy's backyard with oversized toys. New attractions are to include a family-friendly rollercoaster on the back of Slinky Dog and an alien saucers ride inside a toy machine with a claw looming overhead.
Fans were surprised by an appearance from filmmakers James Cameron and Jon Landau who shared details about "Pandora—The World of Avatar," another themed-land coming to Disney World's Animal Kingdom. Construction has already begun on the site, which is expected to open in 2017. Tropical rainforests, exotic creatures and enormous floating mountains will greet visitors entering the indigenous Na'vi tribe's land.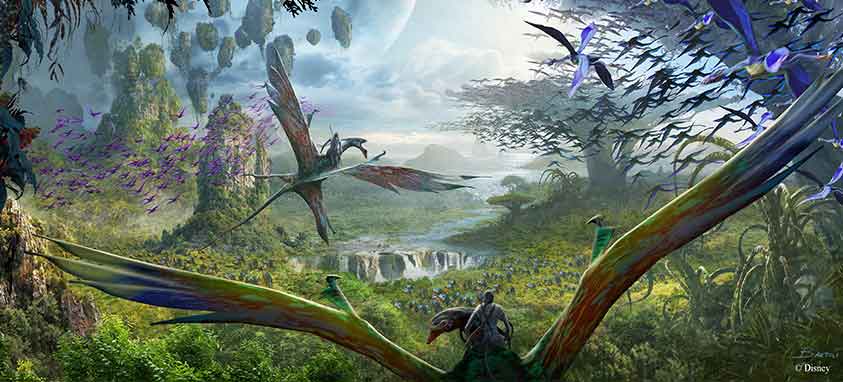 Among the proposed attractions are flying banshees that park-goers can ride and breathtaking bioluminescent settings that spark to life at night. "Rivers of Light" will incorporate floating lanterns, water screens and swirling animal imagery on the Discovery River. Night time adventures also include an extended Kilimanjaro safari with two new animal species: African wild dogs and hyenas.
At both Florida and California theme parks, the popular Soarin' attraction will be reintroduced as "Soarin' Around the World" with advanced imagery of the world's most unique natural landscapes and man-made wonders. A completion date has yet to be announced.
In other news, Disneyland Shanghai is scheduled to open in 2016 with six themed lands and attractions with an emphasis on the latest park technologies. These include new lands of Adventure Isle, Gardens of Imagination, Alice and Wonderland, Frozen and Tron and old favorites, such as Pirates of the Caribbean's Treasure Cove.  Instead of Disneyland's Main Street, visitors will step onto Mickey Avenue lined with stores run by Disney characters. The Shanghai theme park will also have the longest parade route among Disney properties worldwide.
Last but not least, it was announced that Disney's first Marvel Comics attraction will debut at Hong Kong Disneyland in 2016. The Iron Man Experience will begin at the new Stark Expo where visitors will board the Iron Wing and battle alongside Iron Man in a flying adventure above Tomorrowland. Marvel Comics author Stan Lee made a cameo appearance, alongside Iron Man himself during the parks presentation.
"From Disneyland's 60th anniversary celebration to the anticipation of Shanghai Disney Resort, we're in the midst of unprecedented growth and expansion around the globe," said Chapek. "With these new announcements, we continue our legacy in creating innovative attractions, worldwide entertainment, and magical lands that take our guests into the worlds of stories they love."