The ultimate Disney fan event did nothing short of exceeded expectations last weekend at Disney's D23 Expo, filled with limited-edition memorabilia, interactive experiences, celebrity appearances and exciting announcements on the latest films and theme parks worldwide. During the Aug. 14-16 event, I was invited to experience Disney's VIP treatment with a stay at Disney's Grand Californian Hotel & Spa and catch a behind-the-scenes look at how Disney dazzles visitors during its 60th anniversary celebration.
The fun-filled fete began with an up-close viewing of Disneyland's brand new "Paint the Night" electrical parade—a cutting-edge take on the original 1972 Main Street Electrical Parade. The new spectacle features larger-than-life floats decked out in 1.5 million LED lights, special effects and 76 performers dancing to the tune of pulsating techno-pop music. Walt Disney's favorite "Kiss Goodnight" fireworks show also received a birthday update with new projection mapping technology. Scenes from classic Disney movies, such as The Lion King and Sleeping Beauty played across the "It's a Small World" attraction facade.
The next day, lines were already queued out the door to enter the expo, held in Anaheim Convention Center's 12,000 sq. ft. exhibit hall. The Disney Legends Awards Ceremony opened the D23 Expo with a procession of talented animators, ambassadors, actors, directors and musicians. This year's award recipients were George Bodenheimer, Julie Reihm Casaletto, Andreas Deja, Eyvind Earle, Danny Elfman, George Lucas, Susan Lucci, Carson Van Osten, and surprise inductee Johnny Depp.
The star-studded presentation didn't stop there. During a studio animation update, celebrity after celebrity stepped onstage to introduce never-before-seen footage from Pixar's upcoming films. Zootopia (March 2016), a comedy-adventure, will feature Jason Bateman and Ginnifer Goodwin, who discussed playing bunny rabbit policewoman Judy Hopps.  For the South Pacific-inspired animation Moana (November 2016), the crowd went wild when Dwayne Johnson appeared onstage. He asked the audience to participate in a Samoan chant and described his character in the film, a tribal-tattooed hulking islander named Maui (inspired in part by his personae). For the long-awaited sequel to Finding Nemo, none other than Ellen Degeneres presented the movie Finding Dory (June 2016) alongside famous cast members Ed O'Neill and Ty Burrell from the TV sitcom Modern Family.  More animated films were also announced: The Good Dinosaur (November 2015), Toy Story 4 (June 2017) and Gigantic (2018)—a musical version of Jack and the Beanstalk.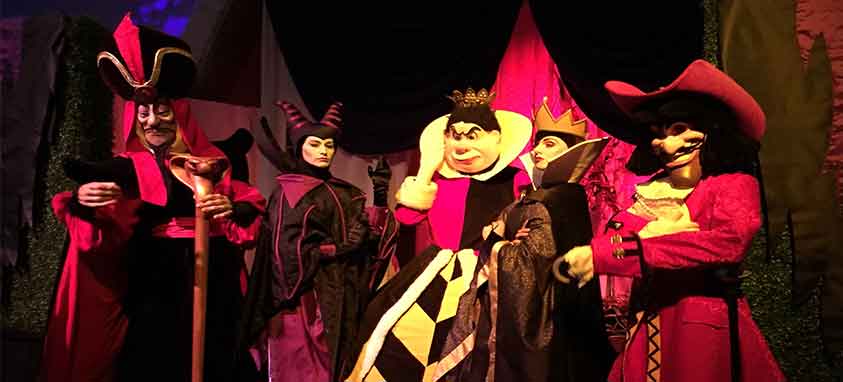 That evening, we were treated to a special dinner in Stage 17 at the California Adventure theme park. In a fairytale-like setting, our group saw a sneak-peak of the next Disney show we were about to experience. Neil Patrick Harris and Disney partnered to produce "World of Color," an updated musical presentation in honor of Walt Disney's magical vision and the theme park's 60th birthday. We also caught a glimpse of a never-before-seen reel of Harris and Mickey Mouse singing a comical tongue-twister rhyme together. The show combines water fountains, mist screens, fire, lasers, lighting and fog—all synchronized with thematic music and image projections. But that wasn't all. The room lights began to dim, and a booming voice with no apparent source announced an evil presence among us, in true Disney-fashion. Out of the fog appeared four Disney villains: Jafar from Aladdin, Maleficent from Sleeping Beauty, the Queen of Hearts from Alice in Wonderland and the Evil Queen from Snow White and the Seven Dwarfs. The villains allowed us to stand next to them and take photos—if we dared.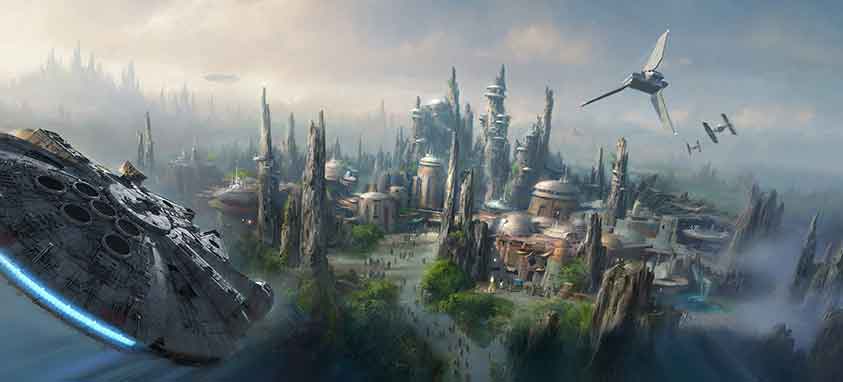 Our final day at D23 Expo was just as action-packed and buzz-filled as the day before. The studios live action update started off with a bang, as Walt Disney Studios chairman Alan Horn announced Marvel's Captain America: Civil War slated for theaters in May 2016. Chris Evans and Anthony Mackie were on hand to share their experience shooting the superhero film sequel. More celebrities, including Ben Kingsley and Lupita Nyong'o came onstage to reveal the upcoming live-action version of The Jungle Book, coming in April 2016. However, fans cheered the hardest at the announcement of Star Wars: The Force Awakens. The new movie marks the franchise's continued legacy with several more Star Wars films in the works. Harrison Ford and director J.J. Abrams further fueled excitement in the room, and anticipation mounted even higher when Disney Chairman and CEO Bob Iger announced the biggest news of the entire expo: Disney is in the process of bringing two 14-acre Star Wars themed-lands in both Disneyland and Disney World parks.  The single largest expansion in the history of Disney includes an Avatar themed-land in Disney World's Animal Kingdom, a Toy Story themed-land in Hollywood Studios and a new theme park opening in Shanghai next year.
All in all, Disney succeeded in putting together a spectacular, unforgettable event for thousands of fans who were blown away by D23 Expo 2015. I know Disney can count me as one of them.