Bliss Dance by Barry Toranto, Las Vegas
The 2016 numbers are starting to roll in, and it's is looking like last year was huge for tourism records as evidenced by reports from Las Vegas and Los Angeles this week.
Las Vegas set an all-time record in 2016 as it welcomed 42.9 million visitors, which surpassed its 2015 total of 42.3 million. Las Vegas Convention and Visitors Authority (LVCVA)  also reports that the city drew 6.3 million business travelers.
"Las Vegas continues to see increased interest in the destination, and we are excited to announce that once again we are celebrating record visitation," says Rossi Ralenkotter, president and CEO of LVCVA. "Together with our resort partners, we look forward to aggressively marketing the destination around the world to continue attracting more visitors and break the record again this year."
Tourism generates nearly $52 billion annually in Southern Nevada and the Las Vegas valley. The industry supports nearly 370,000 local jobs, representing more than 40 percent of employment within Clark County. The destination boasts nearly 150,000 available guest rooms.
Los Angeles welcomed 47.3 million visitors in 2016, breaking tourism records for the sixth consecutive year. The new record is 1.7 million visitors higher than 2015 for an increase of 3.8 percent.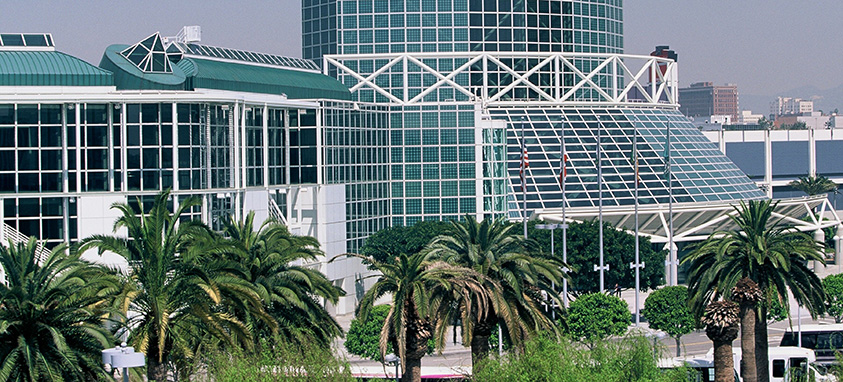 Los Angeles Convention Center
"Global desire for the Los Angeles experience is at an all-time high, a fact largely attributable to our city's celebration of diversity and creativity, from which thriving culinary, cultural and lifestyle scenes have emerged," says Ernest Wooden Jr., president and CEO of the Los Angeles Tourism & Convention Board. "Fantastic new hotels are opening their doors with frequency, chefs are exploring innovative creative territories, noteworthy cultural institutions are choosing to call L.A. home and people want to be a part of the L.A. lifestyle. We are thankful for all of these individuals and entities which make Los Angeles the place that record-setting numbers of people want to visit."
Tourism records were set for domestic and international visitors. Total domestic visitation reached 40.2 million for a 3.8 percent increase over 2015. Los Angeles drew 7.1 million international visitors for a 3.5 percent increase.
The average occupancy rate for Los Angeles County in 2016 reached 81.3 percent, surpassing the 80 percent achieved in 2015. A record 29.2 million hotel room nights were sold countywide with ADR reaching a new high of $171.95, an increase of 8.6 percent.
Los Angles County is the only U.S. market to reach double-digit RevPar growth at nearly 11 percent.
Tourism is among the largest contributors to Los Angeles' economy, supporting an average of more than 500,000 jobs in the leisure and hospitality sector in 2016.