Guest room at Rosewood Inn of the Anasazi, Santa Fe
Santa Fe is nicknamed The City Different, and it won't take groups long to figure out why. It looks, feels and even smells different than any other city in the United States, perhaps because it was founded in 1610, making it more than twice as old as most of them.
Tom Elmo is a meeting planner for Streamline Publishing, a Boca Raton, Florida, company involved in television and broadcasting, art and meeting planning. Elmo is bringing about 1,000 attendees and more than 40 exhibitors to Santa Fe next April for the company's Plein Air Magazine's Plein Air Convention & Expo.
"Choosing Santa Fe was not a difficult decision," Elmo says. "First of all, it's a historic adobe city with so many natural wonders nearby—perfect for plein air (outdoor) painting. We'll be staying and meeting at the Buffalo Thunder Resort & Casino, which is not only a wonderful hotel with great restaurants and entertainment, but also a big enough facility to accommodate all our attendees.
"Santa Fe has a vibrant art scene and, because it's a city of adobe, there's a sort of golden glow around it. It's not hard to convince the international art community that it's a great place to meet."
Now, let's hit the road out of Santa Fe.
Bandelier National Monument
Bandelier National Monument is spread out over 33,000 acres of rugged but beautiful canyon and mesa country, with dramatic vistas everywhere you look. There's evidence of people living there as far back as 11,000 years ago, and as recently as a couple of hundred years ago.
The area is home to dozens of cliff dwellings, mostly in small villages carved into these steep cliffs. There are petroglyphs (prehistoric rock carvings) in the soft rock, and well-designed homes, many with underground rooms usually used for ceremonies. Standing masonry walls pay tribute to the early days of a culture that still survives in the surrounding communities. Attendees can climb Indian-made ladders up the steep cliffs for a memorable look (but don't look down!). The national monument is about an hour north of Santa Fe.
Chimayo
Chimayo is located 25 miles north of Santa Fe and has a population of about 3,000. It was founded in the late 1600s by Spanish settlers, who created a fortified plaza called San Buenaventura, now the Plaza del Cerro. This is truly a place where groups can immerse themselves in another time, as well as the traditional crafts (Chimayo is known for its weavings) practiced in that time.
Don't miss the famed Catholic chapel, Sanctuario de Chimayo, and the "healing dirt" in the back room. The town is also famous for its Chimayo chile, and Rancho de Chimayo, a James Beard award-winning restaurant.
Georgia O'Keeffe Home & Studio
World-famous painter Georgia O'Keeffe was among a large group of painters who moved to New Mexico in the early-20th century, drawn by the light and the striking mountain ranges. Georgia O'Keeffe Home and Studio is in Abiquiu, about 60 miles northwest of Santa Fe. The home and studio is owned and maintained by The Georgia O'Keeffe Museum, and tours are given from mid-March to Nov. 21.
Hyde Memorial State Park
New Mexico's first state park, Hyde Memorial State Park, is set in the beautiful Sangre de Cristo Mountains, among a forest of pines along Little Tesuque Creek. It is a short drive from Santa Fe, winding around spectacular views and offering excellent group facilities and campsites.
The park features beautiful hiking trails, and it seems as if each bend in the trails reveals vistas of great natural beauty. This is a four-season park, with wintertime activities such as snow-shoeing, sledding and cross-country skiing. Just up the road, golden aspen grace the high country in September and October, and snow blankets Santa Fe Ski Basin in winter.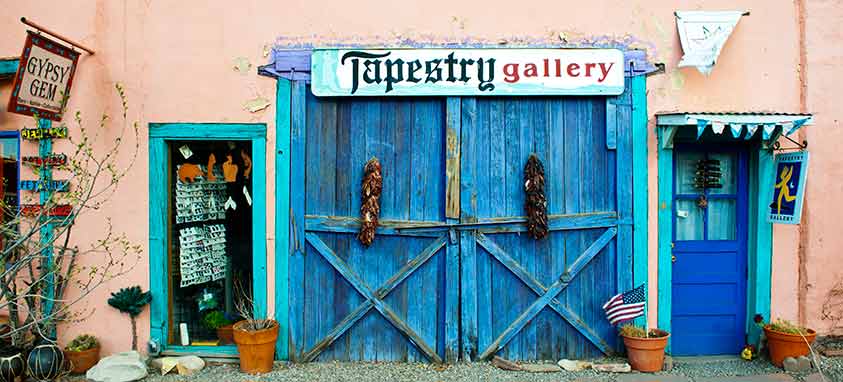 Artist gallery in Madrid
Madrid
Madrid (pronounced MA-drid) is one of the coolest towns in New Mexico, if not the entire country. Home to about 500 hardy souls and 40 shops and galleries, including Tapestry Gallery, it's about 29 miles south of Santa Fe on the Turquoise Trail.
Once a rough-and-tumble mining town with bars, brawls and, most likely, brothels, it's now a quirky combination of Old West and new arts. There's a wood-plank sidewalk down the main street that is lined with working artists in their studios, collections of imaginative copper and metal structures, old wagons, an old-fashioned ice cream parlor called the Jezebel Soda Fountain, Old Boarding House Mercantile Shop and Maggie's Diner, from the Wild Hogs filming location.
There's also an old silver mine that's now an attraction, where you can experience some of the things—such as total darkness—the miners experienced.
Tesuque
The town of Tesuque is a 10-minute drive north from Santa Fe. Tesuque is known for some great restaurants, among them the new El Nido Restaurant and Tesuque Village Market, a local favorite with patio seating and an outdoor pizza oven.
Tesuque is thought to have been established before 1200 A.D. Native artists specialize in brightly colored pottery with traditional designs, and modeled figurines. The most popular Tesuque dances—the Harvest, Deer and Buffalo—are performed in winter months. Pueblo of Pojoaque, just north of town, is the site of Poeh Museum, which provides an intriguing inside look at the art and culture of the Puebloan people.
Further Reading: