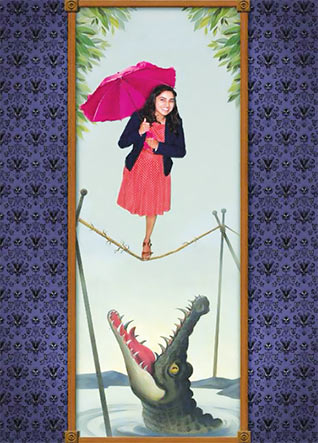 Every Disney fan's expectations were exceeded at this year's ultimate Disney event, D23 Expo, which took place in Anaheim, California, Aug. 14–16. I was invited to experience VIP treatment with a stay at Disney's Grand Californian Hotel & Spa and a behind-the-scenes look at how Disney is dazzling visitors during its 60th-anniversary celebration.
The fun-filled fete began with an up-close viewing of Disneyland's brand new Paint the Night parade—a cutting-edge take on the original 1972 Main Street Electrical Parade. The new spectacle features larger-than-life floats decked out in 1.5 million LED lights, special effects and 76 performers dancing to the tune of pulsating techno-pop music.
The next day, lines were already queued out the door to enter the expo, held in Anaheim Convention Center's 12,000-square-foot exhibit hall. The Disney Legends Awards Ceremony opened D23 Expo with a procession of talented animators, actors and directors. This year's award recipients included George Bodenheimer, Andreas Deja, Danny Elfman, George Lucas, Susan Lucci and surprise inductee Johnny Depp.
Our final day at D23 Expo was just as action-packed and buzz-filled. During Walt Disney Studios' live-action update, chairman Alan Horn leaked some big movie happenings. The Jungle Book will come to theaters in April 2016, and Marvel's Captain America: Civil War is slated for May 2016.
Fans cheered the hardest at the announcement of Star Wars: The Force Awakens, to be released this December. The new movie marks the franchise's continued legacy, with several more Star Wars films in the works. Excitement mounted even higher when Disney Chairman and CEO Bob Iger publicized the biggest news of the entire expo: Disney is in the process of bringing two 14-acre Star Wars-themed lands to Disneyland and Disney World parks.
The single largest expansion in the history of Disney includes an Avatar-themed land in Disney World's Animal Kingdom, a Toy Story-themed land in Hollywood Studios and a new theme park opening in Shanghai next year.
All in all, Disney succeeded in putting together an unforgettable event for thousands of fans who were blown away by D23 Expo 2015. I know Disney can count me as one of them.