So, what's in store for swag, now that in-person events are slowly, steadily returning to the landscape? While physical events were stalled, business was anything but normal for promo companies. They had to get creative, switching focus to PPE-related items and constructing swag boxes for shipping to virtual attendees and WFM employees.
Will anything that changed during the pandemic endure? What's most in demand as live events return? We reached out to prominent promotional companies PMSI, iPromo, Wet Paint and Halo to find out.
Work and Home Life Intertwined
During the shutdowns, tumblers, earbuds, desktop accessories and all things WFH were all the rage. Companies looked to swag for morale boosters, and corporate gifting became a physical way of uniting remote employees. Leo Friedman, CEO of iPromo, says his company saw many clients shift gifting to higher-end products to make up for missed company parties, sales meetings and office perks. He expects this trend to continue as hybrid events continue alongside hybrid work situations for employees.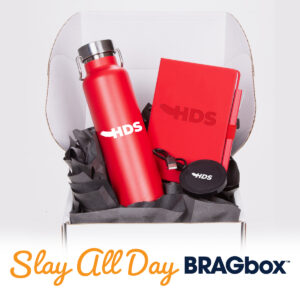 Swag boxes were a star item, growing in popularity so much iPromo came out with signature BRAGBoxes—ascompletely customizable, branded gift boxes. Doug Chorpenning, founder of Wet Paint Group, seconds that development. "We are now a gift box and ecommerce company as much as an on-site gifting agency," he says.
During the pandemic, home and work life intertwined—and gift givers became conscious of ever-present family members. Boxes included games and activities for kids, movie night kits and cooking kits. PMSI President Marty Bear notes that puzzles were a big item during the shutdown months, to keep the youngsters busy after parents commuted from the breakfast table to the home desk.
Chorpenning says his clients wanted to send unique items that were relevant in home life."Riley Land handmade wooden products were a hit—cutting boards and other kitchen items," he says.
Another trend was finding ways to bring team spirit into the WFH atmosphere. Laurie Amigo, strategic branding director at Halo, notes that apparel branding expanded to shirt collars and shoulders so that company and event logos were visible for virtual meetings. "Halo sent out virtual national sales meeting pre-event boxes which included a jacket, a polo and branded pajama bottoms to over 600 account executives. We all wore the pajama bottoms at our Virtual 2020 Awards Ceremony in January!"
The Comeback
When asked about the resurgence of orders for in-person meetings, PMSI cites large orders for in-person events from May to August, with nearly all events including a virtual component (and shipping swag items to virtual attendees as well). iPromo seconds the continuing demand for items to supplement virtual experiences. While Halo is currently working on registration gifts for multiple events in September—with over 1,000 physical attendees expected–most of its gift boxes are still for virtual events, Amigo says.
For events where people are gathering, PMSI notes that antimicrobial items have surged in popularity, especially journals, tote bags, pens and mousepads. Even safer than antimicrobial is when a virtual item can replace a physical one: iPromo has been pitching clients the Popl, a virtual business card which allows for easy, noncontact transfer of contact information.
Forecasts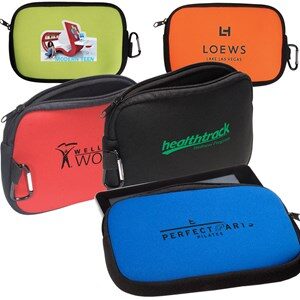 iPromo lists outdoor and golf products as items that will likely see a surge over the coming months, with outdoor summer events and the return of some incentives. PMSI predicts the ongoing hybrid environment will bode well for  self-care items such as candles and stress relief oils for working from home.
Amigo of Halo believes gifts with mobility for hybrid work schedules, employee appreciation and work-at-home gifts will continue to trend into the holidays. She adds that clients are thinking about the return of travel, too. "One of our top sellers is a neoprene airline pocket sleeve that acts as a tray cover and then coverts to an airplane pocket to hold all your electronics."
Trending: Good Vibrations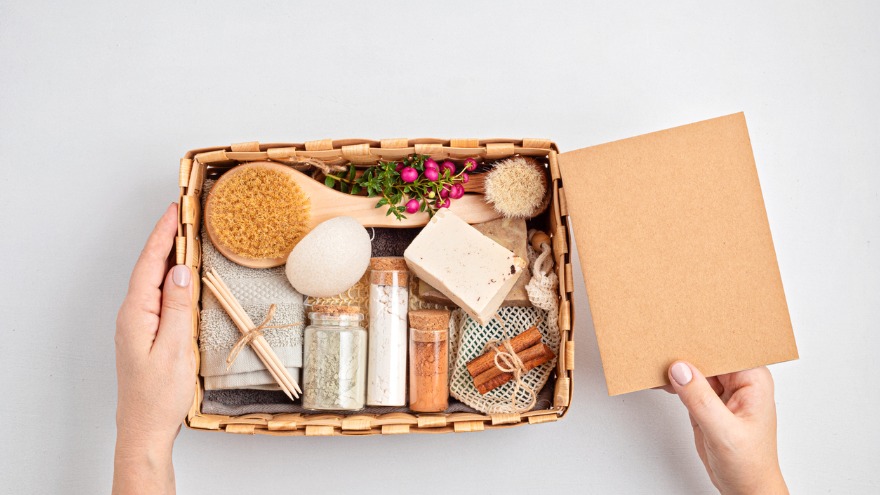 What trend not only survived the pandemic, but picked up steam? "Items that are eco-friendly, sustainable and products with a purpose," Friedman says. "People want to feel good about their swag, and companies can satisfy that by purchasing items with giveback programs."
Three of the four companies interviewed mention rising client interest in gifts that align with Corporate Social Responsibility (CSR), the concept that companies should direct their resources in ways that enhance society and the environment.
"CSR and giving back has been more important than ever," Chorpenning shares, noting that both clients and recipients appreciate the emotional connection forged through gifts that do good. All brands from Wet Paint's options have a charitable component, which the company calls "Gifting with Giveback."
In sum, swag took on more meaning during the pandemic. Items focused on supporting personal safety, enriching home life, and acknowledging greater responsibility to the world around us. Items were symbolic, with delivered objects often standing in for familiar faces and comforting routines during a time of distancing and uncertainty. These trends and their continuation are something the MICE industry can surely celebrate—maybe even with a customized gift box.