From Palm Springs to Albuquerque, venues celebrate First Nation people
When the tides of history recede, the cultural energy in some regions remains palpable. The movement of westward expansion paved nearly all of North America from coast-to-coast, yet the spirit and story of First Nations people around the country continue to be recounted by those who carry the traditions and identity of their ancestors.
Understanding the history of native peoples illuminates the character of a destination far beyond the aspects immediately present in modern life and places visitors in an inquisitive space that instills a greater sense of gratitude for their surroundings. Thanks to some exciting new spaces opening across the country, meeting planners can host events at cultural centers that provide educational experiences that will have a lasting impact. We collected all the resources you need to plan an event that is respectful and enlightening.
AIANTA: A United Voice for Native Hospitality
Since 1998, the American Indian Alaska Native Tourism Association (AIANTA) has worked to address the inequities facing First Nation people in the multi-billion-dollar U.S. hospitality industry. The goals of AIANTA are to assist American Indian, Alaska Native and Native Hawaiian communities engaged in tourism and hospitality, create lines of communications between Native communities, federal agencies and not-for profit organizations to convey the cultural importance of a robust hospitality sector and the significance of visiting authentic Native destinations and to better educate domestic and foreign travelers on the importance of visiting such destinations.
Read More: How to Honor Native American Tribes
The AIANTA network of organizations and destinations helps meeting planners host an event or find accommodations at a tribal property in every region of North America including Hawaii, Alaska and Canada.
AIANTA CEO Sherry Rupert said the first step is a phone call. Her organization regularly connects groups with local representatives to find ways to add cultural elements to any program. "Tribes are everywhere," she said.
The following are some exciting examples.
Aqua Caliente Cultural Plaza: A New and Defining Moment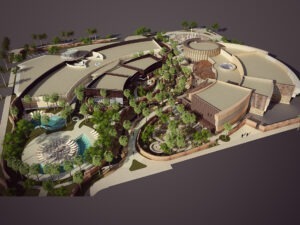 In April, the Agua Caliente Band of Cahuilla Indians announced the opening of the much-anticipated The Spa at Séc-he at the Aqua Caliente Cultural Plaza in Palm Springs, California. The newly debuted spa is operated by Aqua Caliente Casinos and consists of 40,000 sq. ft. of space, including 22 private mineral baths, 15 treatment rooms, a cryotherapy chamber, two float pod suites, a boutique fitness area, a grounding room, an acoustic wellness lounge, tranquility garden, menthol dry sauna, eucalyptus steam room, two halotherapy salt caves, a resort-style mineral pool with four Jacuzzis, luxury cabanas, full-service salon with scalp treatment beds, a cafe and a poolside bar with food service. The new spa and cultural center will open in two phases with the 48,000-square-foot Aqua Caliente Cultural Plaza expected to open later in 2023 as a hub for cultural tourism.
Read More: Visit Greater Palm Springs
The Agua Caliente Cultural Museum will be a gateway to the past, present and future of the tribe that occupied the area for thousands of years. It will include five different exhibit "areas" dedicated to telling the story of the Agua Caliente people, from the native flora and fauna of the Indian Canyons to ancient artifacts, some of which were unearthed during construction of the museum itself. An Education Garden will include brittlebush, creosote and other indigenous plants and a 360-degree animation of the tribe's creation and migration stories.
"The opening of The Spa at Séc-he is a defining moment for the Tribe," said Chairman Reid D. Milanovich. "The hot spring water means everything to us. It's at the heart of tribal life and has been a cultural resource for us and our ancestors for thousands of years. It's not a myth; these waters are truly healing waters."
Indian Pueblo Cultural Center: Gateway to the 19 Pueblos of New Mexico
The Indian Pueblo Cultural Center (IPCC) in Albuquerque, New Mexico allows visitors to explore the world of First Nation peoples in a region that remains steeped in influence cast over the course of history. The center was founded in 1976 by the 19 Pueblo tribes of New Mexico across an 80-acre campus in the heart of the city. The IPCC consists of a gallery and museum space, including Native art and artifacts, a library, two retail shops and a restaurant that serves guests unique and delectable dishes consisting of traditional and contemporary flavors.
Read More: Notes from the Road, Albuquerque, New Mexico
The IPCC is also home to distinct meeting spaces equipped to host groups of five to 500 attendees with onsite catering from the Indian Pueblo Kitchen (IPK) available, rental AV equipment and furniture, with ample outdoor space for banquets. The IPK highlights the culinary talents of the kitchen staff that create dishes inspired by Native communities and includes stews, fresh breads and savory sauces.
The "We Are of This Place: The Pueblo Story" exhibit tells the story of the Pueblo people's legacy and traditions through different exhibits and mixed-media displays. "This exhibit opened as part of our 40th-anniversary celebration," said IPCC Chief Operating Officer Monique Fragua who explained that the exhibit was installed in a lower level of the center when it first opened but was moved to be featured throughout the center to celebrate the milestone in 2016. "One of the things that we wanted in the creation of the exhibit was to make sure that it was our Pueblo story told in our words and our voices Fragua says. "We're really proud of what came together," she said noting that the themes presented through the various displays also reflect the languages of the Pueblo people.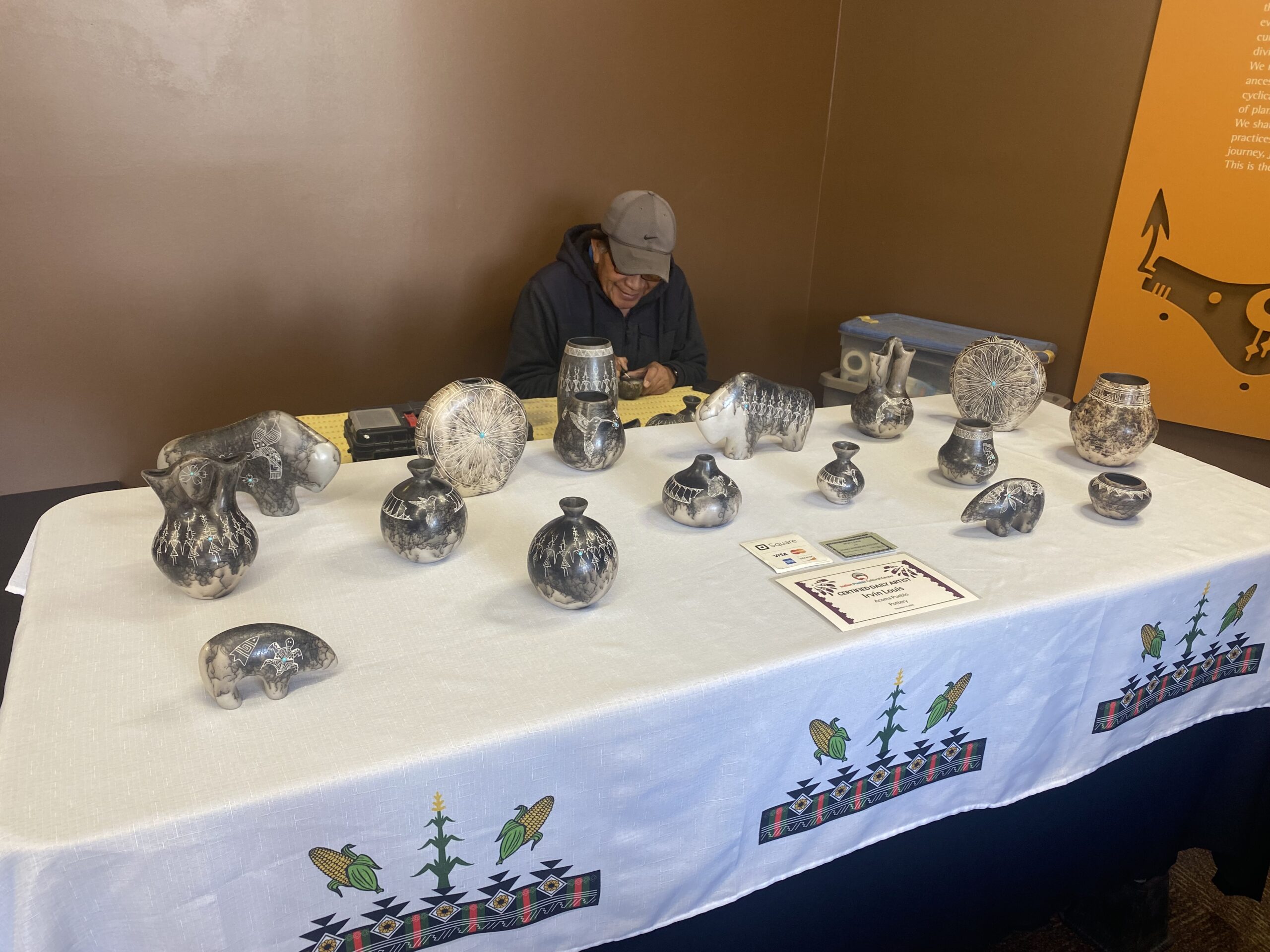 The IPCC hosts a daily artist program that consists of live demonstrations using various mediums and techniques. "It's an opportunity for our guests to meet and see the artwork actually being produced and handmade," she said. "The really cool thing is that every day it could be someone different from a different Pueblo."
The IPCC can accommodate as few as 10 in the Chaco III meeting room, or to up to 200 in the Chaco I & II ballrooms. Meeting spaces retain the unique identity of the center with visual displays such as the Silver and Turquoise ballrooms that are wrapped in Native American art.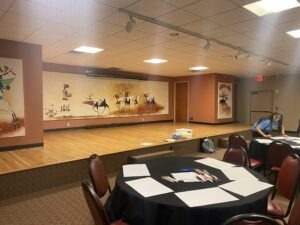 Planners seeking a more intimate setting can book the Private and Pottery Ballroom, conveniently located above the center's kitchen and includes access to a balcony with fire pits and stunning views of the Sandia Mountains. A large patio space with convertible walls for summer or winter months is also available and includes a stage, bar area and fireplace. The Indian Pueblo Center's Courtyard is an expansive outdoor space designed for large banquets or receptions. The Courtyard often serves as the stage for cultural dances that are social or sacred cultural expressions of spirituality.
Santa Ynez Chumash Museum and Cultural Center: A Monument to Tradition
To the West, event professionals can look forward to booking an event at Santa Ynez Chumash Museum and Cultural Center in Santa Barbra County in Southern California beginning in late 2023.  The property includes a 14,000-square-foot facility that serves as a monument to the tribe's history and traditions. The museum will be one of the first LEED-certified tribal museums in the country.
Shoshone Rose Hotel & Casino: Experience More
Located in scenic Lander, Wyoming in the Plains Region, Shoshone Rose Hotel & Casino has an executive boardroom that can accommodate up to 14 and a large event space that can accommodate up to 75. The 60-room resort also features plenty of entertainment including a casino and live entertainment. The location with views of Wind River Mountain Range offers access to Yellowstone and is a day trip from Salt Lake City, Denver or Fort Collins, Colorado. When sustenance is in order, guests can order up a delicious meal from the resort's Deka-Guy Hee restaurant and enjoy classic American fare or try dishes with traditional flare such as the Indian taco or fried bread.
DreamCatcher Hotels: Turnkey Developers
Native American Owned & Operated DreamCatcher Hotels brand has been developing and managing projects across the country, including 725-room The Cherokee at Harrah's Casino Resort in Cherokee, North Carolina, 125-room Angel of the Winds Casino Resort in Arlington, Washington and 405-room Coushatta Casino & Resort Seven Clans in Kinder, Louisiana.
The 200-room DreamCatcher Hotel in Pigeon Forge, Tennessee, of the Eastern Region was made possible through a partnership with DreamCatcher Hotels and Mississippi Band of Choctaw Indians, Seminole Tribe of Florida and the Eastern Band of Cherokee Indians. The AAA Rated Four Diamond-rated resort features 12,000 sq. ft. of meeting space and a rooftop restaurant and bar.
We-Ko-Pa Casino Resort: a Sonoran Escape
In 2020, the Fort McDowell Yavapai Nation unveiled We-Ko-Pa Casino Resort in Scottsdale, Arizona. The 246-guest room property and casino features 25,000 sq. ft. of meeting space with access to trail rides, Segway tours and cowboy cookouts with the Sonoran Desert as a backdrop.