Editor's Note: IMEX announced today that it will require all attendees and exhibitors to be fully vaccinated with a WHO-approved vaccine for IMEX America, happening Nov. 9-11 at Mandalay Bay in Las Vegas. To be considered fully vaccinated, you must have received your final dose of the vaccine by October 25, 2021. Participants will upload proof of Covid vaccination via the event's chosen app.
This is part of a monthly series on the planning process for producing IMEX America, the 10th anniversary of the landmark industry gathering.
"We're now firmly on the road to Mandalay Bay and can't wait to welcome back the business event community to IMEX America," said Carina Bauer, CEO of IMEX Group, when we talked in mid-August. "The past 18 months have been a period of tumultuous change, and the current business landscape looks very different to 2019.
With fewer than 11 weeks to go and counting, 3,000 hosted buyers have registered for the return of the largest annual industry event—outpacing projections. In fact, just one month after registration went live, hosted buyer demand was higher than at the same point in 2019. Visitor buyers are also markedly more senior (by role) than at the same point in 2019.
"We're mindful of both protecting and leveraging the show's strong business legacy while making sure we offer the market an event experience that's fit for the times we're all working in," Bauer continued. "Everyone wants new ideas, fresh content, more momentum, more connections and more memorable experiences, and IMEX America has been carefully designed to deliver all this while making sure it's safe but not sterile."
Watch: A glimpse at the extracurricular entertainment at the new home of IMEX, MGM.
In-Person Focused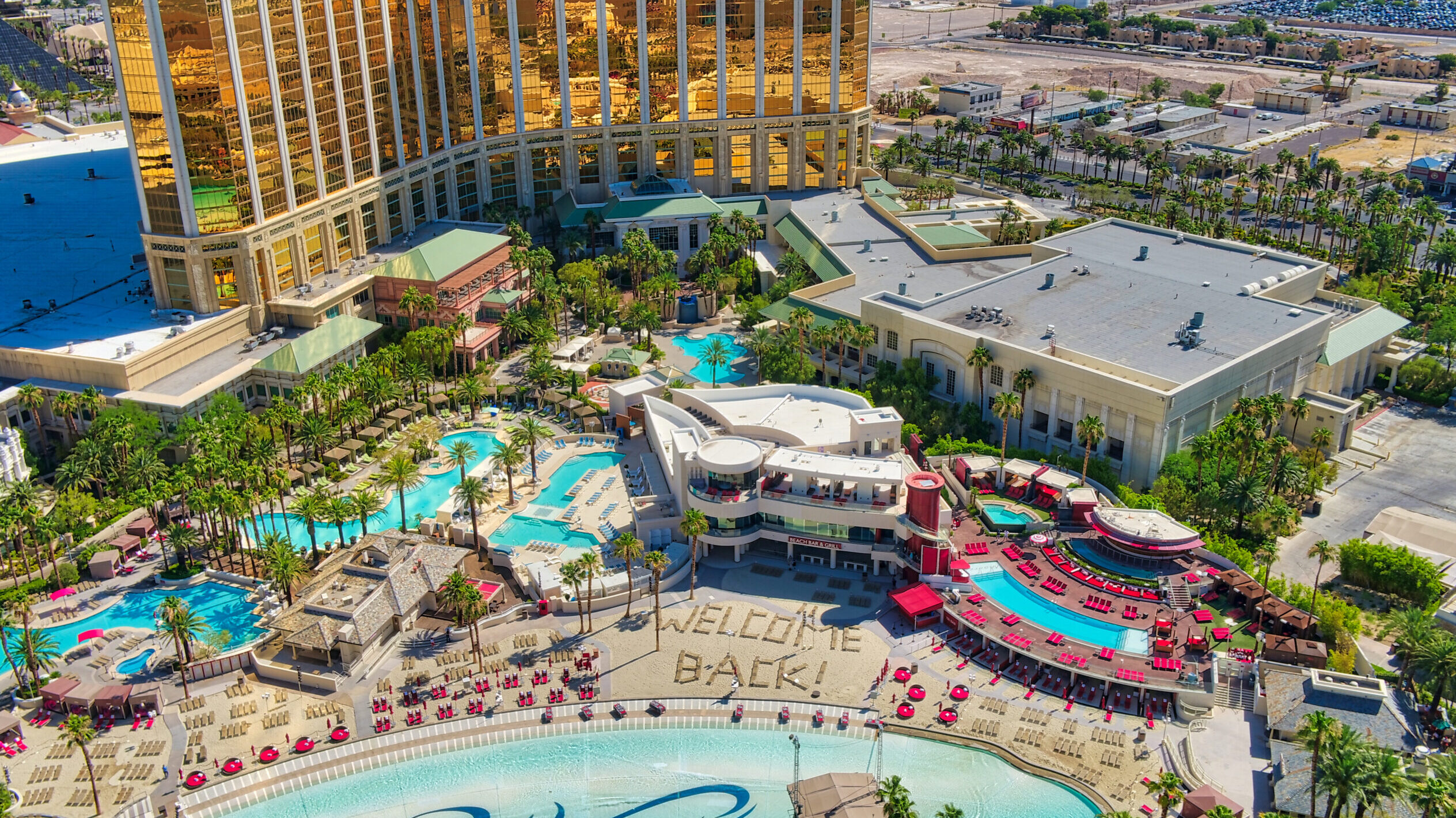 Early on, Bauer's team decided the event would not be virtual or hybrid. While some of the presentations will be broadcast (four hours a day, Tuesday and Wednesday), so those who can't attend can still "get the flavor" of the show, no one is pretending that is the show.
"It is a window into the show," Bauer said. "It is not the show experience."
That decision stemmed partly from product her team saw at other events that have attempted hybrid distribution and partly on the dynamics of human behavior and what people want—and don't want.
Instead, the team will be prioritizing safety. That starts with an expanded footprint at the new Mandalay Bay Las Vegas location, a change announced four years ago, before anyone could have envisioned a global pandemic would necessitate less density. The fortuitous shift allows IMEX to increase the size of education rooms and double the size of the hosted buyer area. Lounges and restaurants will be on the show floor.
Badges will be sent in advance to reduce queues. Smart Monday will bring more outside activities than before, including tours. Communications will focus on making sure people know they shouldn't be there if they don't feel well. Doctors will be on site, and testing will be available so attendees can get back on flights that require testing evidence. The goal is to make following safety protocols as easy as possible.
Over the next six to eight weeks, Bauer will be following news about updated guidance, experiences of other conferences and sentiments about mask wearing and health screening. Then the team will make any needed strategic calls about protocols in October.
See also: Tips for Streamlining Vaccine Verification at Your Event
"As much as we would like to, we can't make all decisions in August for November. We have to stay agile. The main priority is to make sure we have a safe, healthy show," Bauer said.
Some major decision points are still to come based on where borders are opening. The number of people who can make the trip will determine the size of the trade show floor. If Asian and European partners can bring their teams, she ventured that attendance could be 11,000-13,000. The largest IMEX gathering in Las Vegas was 13,500 in 2019.
But if borders aren't open sufficiently, the numbers could be less than that. Many destinations would still have a booth in that scenario, but individual staff and companies might not be there. "Meetings can still happen. We know we can still deliver value," she said.
In the meantime, Bauer will be traveling to Las Vegas in September for site inspections, spending time with the Mandalay Bay team, GES, Las Vegas Convention and Visitors Authority, and other partners. "There is only so much you can do online, and the last time I was there was January of 2020," she explained. "We are very detailed in planning. We want to know everything about signage, security, ventilation, we want to understand it all."
Enduring Elements
Even with the new reality and address, the event won't be fundamentally different. It is still centered around the appointment system. "Exhibitors are spaced out, and there will be some differences in flow, but ultimately IMEX is about getting business done. People come to get education and place business," she said.
Smart Monday, powered by MPI, will offer a free, full day of learning on Nov. 8 before the official conference begins. "It wouldn't be IMEX America without a solid, topical education program woven in," Bauer said.
Instructors include Janet Sperstad, faculty director at Madison College, and Guy Bigwood, managing director of the Global Destination Sustainability Movement, who together will discuss the regenerative revolution. Daniel Fox, an intrepid wilderness explorer, author and nature photographer, shares his off-the-grid experiences. Ruud Janssen and Roel Frissen, founders of the Event Design Collective, will examine future-focused thinking. And David Allison, founder of Valuegraphics, will explains why values—not demographics—influence behavior and will prove the most powerful driver in the event industry's regeneration.
One element that will be enhanced is the sustainability village that debuted in 2019. This year's themes are "People, Planet and Village."
Charitable and educational elements focused on the environment will be gathered in one place. Attendees can join in building a KLH Clubhouse that will be delivered to the kindergarten class of Luna, a child with paediatric cancer.
"This is an opportunity for everyone interested in diversity, equity and inclusion to get peer advice and meet suppliers," Bauer said. "We have done things like this before, built a garden and packed care bags, but now everything from Tourism Diversity Matters and Search Foundation to The Above and Beyond Foundation and ECPAT-USA (Ending Child Slavery at the Source) is in one cohesive area and we are putting a spotlight on it."
IMEX is doubling down on creating a memorable show experience, including faux campfires in the conversation areas, comfortable seating and visual elements that make it fun. And the Be Well Lounge—yoga, meditation and more—is relocating to the Shark Reef!
Inspiration is on the agenda again. Physician, author and global social entrepreneur Dr. Shimi Kang; Daybreaker CEO and Chief Community Architect Radha Agrawal and author and socialnomics thought leader Erik Qualman are scheduled to kick off each day with a brain jolt.
The Inspiration Hub is back to deliver a packed scheduled of learning opportunities curated into new tracks designed to address the business needs of late 2021: creativity in communication; diversity and accessibility; innovation and tech; professional development and upskilling; purposeful recovery; sustainability and nature.
"We've been busy behind the scenes, from our outstanding keynote lineup to planning our brand-new People and Planet Village," Bauer said. "This show marks an important moment when the global events community can reconnect and celebrate meeting again face to face at a live event."